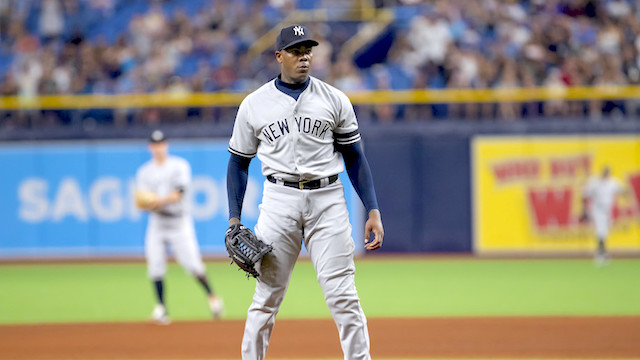 While many early-season trends in baseball can be dismissed as hot or cold starts, bullpens are the one thing you should always pay close attention to and get actionable information. So much of what makes relievers valuable in fantasy is the usage and opportunities they receive. This year, perhaps more than ever, there were more unknowns when it came to teams' late-inning usage. 
About a third of Major League teams had a set closer, so there has been plenty to pay attention to. There have already been a number of closers that have landed on the IL or seen teams turn to multiple options. There have also been a number of teams that have yet to even record a save - making it even tougher to predict. 
And then there are those relievers who do not get saves but can give you really strong ratios and strikeouts, meaning you can stream them instead of fringe starters in deeper formats. This article will go over all of that each and every week!
Featured Promo: Get any full-season MLB and DFS Premium Pass for 50% off. Exclusive access to our Team Sync platform, Premium articles, daily Matchup Rating projections, 15 lineup tools, DFS cheat sheets, Research Stations, Lineup Optimizers and much more!
Sign Up Now!
Changing Pens
The Astros bullpen has been anything but normal to start the season. Closer Ryan Pressly has had diminished velocity all spring and now lands on the IL due to a knee issue. They are saying it should be a short stint, but it now has this entire bullpen in limbo. Luckily for Houston, they have other relievers with closer experience. That means that Hector Neris is likely the next man up but the Astors have other options in Rafael Montero and Ryne Stanek. For now, Neris is the only RP that should be added for fantasy, but this is certainly a situation to monitor moving forward. Continue to hold onto Pressly. 
The Cubs were featured in this article last week after David Robertson secured both of their first two save opportunities. It looked like he was the closer, then randomly the next save chance went to Mychal Givens. Robertson had not pitched the day before so it seemed strange and noteworthy. But, concerns were shortly put to bed as Robertson picked up the next two save chances, including pitching on back-to-back nights. The veteran has looked sharp in his five scoreless appearances so far and is the Cubs closer to roster moving forward. He will need time off at times, meaning that Mychal Givens can be a speculative save flier for those desperate for saves in deeper (15 team) leagues. 
The Rockies bullpen so far seems trustworthy, that was until Monday night. Daniel Bard has picked up four saves and one win for the Rockies while pitching to a 3.60 ERA with a 1.75 xERA. But then on Monday, the save situation went to Alex Colome, who converted. However, Bard was used in multiple outings this weekend so it very well could just be a day off. If anything, this gives us more clarity that Colome is next in line for the Rockies. It is worth monitoring who gets the next save chance here, but do not sweat just yet with Bard. He should be rostered everywhere until we see otherwise. 
Update: Bard once again picked up a save for the Rockies on Tuesday night, pitching a clean ninth for his fifth save of the season. Colome pitched in relief showing that he is still the set up man but also the next man up in the pecking order for saves there. Bard has been a strong draft pick/pickup so far this season. 
The Marlins were an unknown heading into the season after projected closer Dylan Floro landed on the IL. Early on all of the save chances have gone to Anthony Bender. He has converted two of his three chances so far for the fish. His numbers are anything but impressive, as he has pitched to a 5.40 ERA, 4.16 xERA, with a 1.50 WHIP and a super low 7.1 percent strikeout rate after blowing his first opportunity. However, save chances are a big deal in fantasy meaning that despite the pedestrian numbers, he should be rostered. There is really no one in this bullpen you should be rostering currently besides the person getting the save chance, but just know the names Anthony Bass and Richard Bleier as they are the likely next options up if Bender struggles. 
We were not sure if the A's would go with a set closer this season, but so far Lou Trivino has been the guy. He picked up two saves while pitching to a 4.91 ERA, 6.50 xERA, 1.91 WHIP and a 29 percent strikeout rate. Those numbers are not pretty, but he has looked better in his last two outings after a bit of a rocky start. Most importantly, he is the arm the A's seem to trust the most out of the pen and should see the save chances when he is healthy. That means, he should be rostered. Trivino though is currently on the Covid-19 list, so in his absence expect Dany Jimenez, the only other reliever with a save this season, to get the chances. Jimenez should be picked up in daily formats where you can still plug him in. 
The Nationals' Tanner Rainey has only pitched three innings this year, but he already has two saves, showing that they save him for the big situations. He has pitched well in his very small sample size, sporting a 0.00 ERA, 1.45 xERA, 1.00 WHIP and 27 percent strikeout rate. In fact, batters swing and miss nearly a quarter of the time against Rainey. The Nats may not get a ton of save chances, but if they are all going to one option, that player is very much so worth rostering in fantasy baseball. The best part is he may still be out there on the waiver wire in your league. Check, and if so, grab him up. Kyle Finnegan figures to be next in line but the Nats have been using him in high leverage situations and even in the middle innings at times. 
Update: Rainey picked up his third save of the season in the second game of a double header with Finnegan pitching the eighth. It wasn't particularly pretty as Rainey allowed three batters to reach base, but he did not allow a run and secured the save. He is the Nationals closer moving forward. 
Speculative Save Situations
The Red Sox gave an inclination of who the closer was when I wrote this last week. Since then, they have gone in the opposite direction. They have had two save chances so far with one going to Jake Diekman and the other to Hansel Robles. Both have pitched well so far this season as neither has allowed a run and both have a WHIP below one currently. Diekman seems to be the arm they like to use most in high-leverage situations, such as his save chance coming against the heart of the Yankees lineup, but that could work against him as the Sox will not always save him for the ninth. Additionally, with Diekman being a lefty and Robles being a righty, they always have the possibility of playing the matchups. That is what I would expect to see moving forward.
It is possible one runs away with the job, but for now, we should view this as a committee. Both are worth taking a shot on in Roto formats if you need saves. Both may be on the waiver wire and I would recommend around three to eight percent of your FAAB budget on the speculative add. Don't forget that Matt Barnes, he of the diminished velocity, still lingers in the pen and was a reliable option for much of last season. Additionally, Garrett Whitlock is there, who they like using in a multi-inning role, but he is filthy and can become a closer option if needed. 
Update: On Tuesday night the Red Sox had Robles come in in the seventh and he pitched 1.2 clean innings. Diekman came in to get the final out of the eighth before handing things over to Whitlock for his first save of the season. All three each have a save now and things seem murkier than ever. All three can be rostered in Roto formats by teams that are in need of saves. I rank them Robles, Diekman, Whitlock for now, but that is said with very little confidence. Do not spend more than three to five percent FAAB on either. 
The Orioles only have one save chance so far this season and it went to Jorge Lopez. We need to see more before we can proclaim him the closer, but if you are to speculate on any arm in this pen, he would be the one to do so. Dillon Tate and Paul Fry also loom as other options. Given how few save chances they have had so far, and the fact that they do not project to win many games, this is a pen that you can largely ignore until we get more clarity.
The Twins have yet to record a save this season. I mean, c'mon Minnesota - fantasy players need some answers! Especially considering this is a pen with many options, but nothing close to a clear cut top one. The fantasy community certainly is rooting for Jhoan Duran and he did pitch the ninth in a 4-0 game, the closest thing the Twins have to a save chance so far. But they also have some veteran options primarily in Emilio Pagan and Tyler Duffey. My lean would be toward Pagan, who the Twins received in return for their former closer Taylor Rogers (who is crushing it with the Padres). Pagan has closer experience and that goes a long way with managers. Pagan and Duran are the two arms to speculate on the waiver wire, but do not overspend on either. I grabbed Pagan in a league last week for $48 out of $1000 - no one else even had a bid. 
The Rangers are another team that have not yet picked up a save this season. Again,  fantasy players need answers, the least the Rangers could do is win a close game! But, until they do, we will do our best to figure out this pen with what we have. Matt Bush is a name that is often thrown out there and as of now he should be viewed as the favorites, but this is a pen with no shortage of options. Garrett Richards and Joe Barlow remain other options in this pen, and then there is former closer Greg Holland, if they chose to go the gross route. For now, Bush would be the one to roster in deeper leagues, but we simply need more information. 
The Giants seem like a murkier situation on paper than they do if you have been paying close attention. Camilo Doval received the first save chance on Opening Day and was shelled. We then saw Dominic Leone get a save chance and panic set in. Jake McGee, who many thought was the closer coming into the season, picked up a save as well. But, Doval has now converted two saves and has not allowed a run in each of his last four outings. He seems to be the primary option for the Giants. That is not to say they will not mix and match, but Doval should see the bulk of opportunities. He should definitely be rostered and add him if anyone panic dropped him. McGee would be next in line, followed by Leone. Tyler Rogers continues to hold down the eighth inning for the Giants. 
The Reds were the most unpredictable bullpen last season and are projecting to be the same this season. So far in their two chances, Art Warren and Tony Santillan have each picked up a save. But both also currently sport ERAs over six and expected ERAs over five. So neither has been pretty. We do not have enough information to crown either the lead option, but as of now, Santillan has a slight edge as he has been used more than Warren. Although, as of now, both are worth a speculative cheap add off the waiver wire if you are in need of saves. 
The Yankees being included on this list may seem eye-opening to some. I mean Aroldis Chapman was one of the like 10 "safe" closers heading into the season. But, just two weeks into the season it has not been pretty for the Yankees lefty. In his last two outings he has faced five batters and recorded just one out. Against the Blue Jays, he walked the bases loaded and was pulled from the game in a save situation. Michael King came in to finish the job. Then against the Orioles he came in with the bases loaded and walked in the winning run. This is not saying that a change is imminent, but more just something to monitor as we move forward. Jonathan Loaisiga would likely be next in line, but King has been very effective and could be a factor as well. 
Update: Chapman picked up his second save of the season pitching.  lean ninth inning against the Tigers. He is safe and the clear cut option moving forward, but just take notice if his struggles rear their ugly head again. 
Elite Ratio and Strikeout Relievers
Ryan Helsley leads all relievers with a 62.5 percent strikeout rate. Currently, batters are swinging and missing 29 percent of the time against Helsley. He also has pitched to a 0.00 ERA, 0.10 xERA and has not allowed a base runner (0.00 WHIP) in his three outings. We have not seen him pitch a ton, but he has been super effective. He also could be in the saves picture in St. Louis if anything happens to Giovanny Gallegos. 
Andres Munoz currently is second among all relievers with a 60 percent strikeout rate. He currently has a 4.50 ERA, 1.91 xERA, 0.75 WHIP pitching in a setup role for the Mariners. The M's have shown us that their closer situation is a bit fluid, so if there was to be changes, Munoz is an option to get chances. The strikeouts and ratios is the reason to consider rostering him, but the chance at saves only helps. He is in play for deeper leagues. 
Daniel Hudson has struck out 54 percent of the batters he has faced this season. He has also pitched to a 0.00 ERA, 1.13 xERA, with a -0.35 xFIP and a 0.55 WHIP. He's pitched 3.2 innings in his four outings and figures to be in play for saves on one of the best teams in baseball if anything happens to Craig Kimbrel. He remains a strong reliever option to roster if you are looking outside of the ones that get save chances. 
Keegan Thompson has pitched to a 0.00 ERA, 1.67 xERA, 2.81 xFIP and a 0.62 WHIP with a 29 percent strikeout rate. He has done that while leading all relievers in innings at 9.2 pitched. That is more than some starters have provided this season. His role makes him a very useful reliever that you can stream instead of a fringe starter. 
Garrett Whitlock is much like Thompson due to his multi-inning role. He has pitched to a 1.04 ERA, 1.78 xERA, 2.52 xFIP with a 0.69 WHIP and a sky-high 34 percent strikeout rate. He has done so in 8.2 innings pitched, which again, is more than some starters. That is a useful streaming option for those in deeper leagues who do not want to mess with fringe starters. 
Sean Doolittle has not allowed a run or baserunner in his five outings (4.2 innings). He has also pitched to a 0.59 xERA, 1.99 xFIP and has a very impressive 43 percent strikeout rate. The veteran southpaw is showing he still has something left in the tank and is also a dark horse candidate for saves here. If Rainey struggles, the Nats could decide they like Finnegan in his high leverage role and turn to the veteran with plenty of closing experience. Doolittle is worth rostering in deeper formats for those who need strikeouts and ratios. 
Hunter Harvey has struck out half the batters he has faced in his three outings this season. He has pitched to a 0.00 ERA with a 0.78 xERA and 0.60 WHIP in his limited time this season. He also figures to be third in line for saves for the Nationals behind Rainey and Finnegan. He is a deeper league option for those in need of strikeouts and some ratios. 
Keegan Akin has pitched to a 0.26 WHIP with a 20 percent strikeout rate to go along with a 0.00 ERA, 1.47 xERA and 3.04 xFIP. Those numbers are all impressive outside the strikeouts, but its even better when you realize he is in the Top-10 in reliever innings so far this season. Akin is a much deeper option, but the workload helps. 
All information current entering play on Tuesday, April 19th.
Make sure to follow Michael on Twitter, @MichaelFFlorio
Download Our Free News & Alerts Mobile App
Like what you see? Download our updated fantasy baseball app for iPhone and Android with 24x7 player news, injury alerts, sleepers, prospects & more. All free!


More Fantasy Baseball Advice