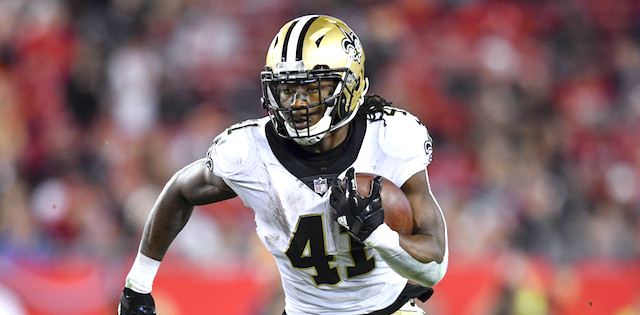 The ranking experts at RotoBaller are aware of your dedication toward building rosters that stockpile fantasy points regardless of which type of league that you participate in. That is why we will continue to provide you with tiered rankings in all major formats, which is just part of our commitment to helping you prepare for upcoming drafts, and improve your chances of winning your leagues in 2019.
This includes those of you who are participating in the immensely popular Best Ball format, which allows you to assemble your teams while simultaneously concluding all roster management for the season. The Best Ball draft process also delivers the added benefit of preparing you for redraft leagues that will emerge during the summer.
We are also supplying detailed analysis of our rankings, including this breakdown of the indispensable running back position in Best Ball leagues. These players are maintaining an unmistakable presence throughout our rankings, as eight backs are located among our top 12, while 26 runners are contained within our top 50. We will continue to update the rankings in every format throughout the offseason and you can find the latest rankings here.
Editor's Note: Get any rest-of-season NFL Premium Pass for 50% off. Our exclusive DFS Tools, Lineup Optimizer and Premium DFS Research through the Super Bowl.
Sign Up Now!
Running Back Best-Ball Rankings
Tier 1
Saquon Barkley, Ezekiel Elliott, Christian McCaffrey, Alvin Kamara, Melvin Gordon, Le'Veon Bell
Anyone who invested a first-round pick on Barkley was rewarded as he quickly evolved from unproven rookie to RB1 in PPR scoring. He also led the NFL in all-purpose yards (2,028), generated more carries of 20+ yards than any other back (16), and finished just behind Elliott in rushing yards (1,307) and carries (261). He also averaged 5.0 yards-per-carry, finished fifth with 11 touchdowns, 13th with 91 receptions, and 20th in targets (131). The 22-year old enters his second year firmly entrenched as the centerpiece for an offense that will otherwise be challenged by a self-imposed shortage of difference makers.
Elliott has captured the NFL rushing title during both seasons in which he has played at least 15 games after pacing all backs in 2018 (1,434). He has also finished first in yards-per-game average during each of his three seasons (95.6/98.3/108.7),  rushed 868 times within that span, and has led the NFL in attempts (304/322) during both years in which he has performed in 15+ games (21.7 attempts per game). Elliott also cemented his status as a top 3 back by achieving new career highs in targets (95), receptions (77), and yardage (567) in 2018.
McCaffrey will not turn 23 until June but has already established himself as an elite all-purpose back. He has also silenced the skeptics on a steady basis during the first two years of his career after initial concerns regarding his ability to fit in Carolina's offense in 2017 were followed by questions about his viability as a workhorse back entering 2018. But after rushing for nearly 1,100 yards on 219 attempts (1,098/5.0 YPC), leading all backs in targets (124), receptions (107), and receiving yardage (867), and finishing at RB2 in scoring, McCaffrey has commandeered a place near the top of all drafts.
Kamara finished at RB4 in 2018, while generating 1,800 all-purpose yards, and 18 total touchdowns. That was propelled by his considerable usage in the red zone, as he finished second in carries (51), and paced all backs with 26 red zone targets. Even with the addition of Latavius Murray, Kamara's effectiveness near the goal line should compel Sean Payton to continue deploying him. He should also confiscate a sizable percentage of the 159 touches that are available after Mark Ingram's exodus, which makes him a justifiable selection with the fourth overall pick.
Gordon finished at RB6 in standard scoring and RB8 in PPR leagues despite missing four contests in 2018. He accomplished it by averaging a career-high 5.1 yards-per-carry and 74 yards-per-game, amassing a career-best 490 receiving yards, and 14 touchdowns. While he did reward owners when he was on the field, his absence included Weeks 13-15, when his point production was crucial. He has achieved sustained health throughout a 16-game regular season just once since entering the league in 2015, which is a fact to consider as you contemplate your late Round 1 options.
Before Bell's prolific career was temporarily placed on hiatus, he had generated the NFL's second-highest total of all-purpose yards (1,946), finished third with 1,291 yards on the ground, easily led the league with 321 attempts (21.4 per-game), and had collected 85 of his 106 targets for 655 additional yards as a receiver. The 2019 Jets will not perform with the same personnel that surrounded Bell when he accumulated those numbers, and Adam Gase was certainly not the decision maker who determined his touch total. Still, it is difficult to ignore the potential for considerable usage that now exists, when compared to the vast majority of options at this position.
Tier 2
Todd Gurley, David Johnson, James Conner, Dalvin Cook, Joe Mixon, 
Gurley's ability to accrue yardage and fantasy points when uninhibited by injury is never in question. But it has become difficult to maintain optimism that he will routinely accumulate 20 carries-per-game as he did from Weeks 1-10 in 2018. Even if he is less encumbered by his knee condition then is currently feared, it is unlikely that he will function with a massive workload when he can be protected for the postseason by sharing touches with Darrell Henderson or Malcolm Brown. Particularly since the Rams traded up 24 spots in order to secure Henderson.
Johnson has reemerged as a viable Round 1 option after a disappointing season that was a byproduct of Arizona's plunge into the statistical abyss. The ineptitude of the Cardinals' coaching staff was responsible for the team's anemic ranking of 32nd in total offense and scoring offense, while also failing to utilize Johnson's strengths. But the franchise has hit an all-encompassing reset button philosophically with Kliff Kingsbury's adaptation of the air raid attack, and the RB1 from 2016 now has the health and offensive structure necessary to achieve a resurgence. Johnson should be deployed more creatively, and receive an increase in his 4.75 targets-per-game average of 2018.
Conner's initial season as a feature back included a sizable workload (16.5 attempts per game), the NFL's third most rushing touchdowns (12), the eighth highest yards-per-game average (74.8), and an all-purpose total that was surpassed by just five other backs (1,470). He was unavailable in Weeks 14-16 due to an ankle issue which was problematic for owners. However, his ability to finish at RB6 in PPR scoring despite missing three games is noteworthy. He remains Pittsburgh's RB1 even though Jaylen Samuels could siphon a small percentage of touches, and Bennie Snell looms behind both backs on the depth chart.
After his first two seasons, Cook's overall production has failed to reach the optimistic vision of owners who continue to select him early in their drafts. He has now missed a total of 17 games after a hamstring issue sidelined him for five matchups in 2018. But Cook did average 87-yards-per-game in Weeks 13-16, which provides the promise that he can still fulfill the aspirations of those who trust him if he can elude further injuries. With only Alexander Mattison below him on the depth chart, there is sufficient rationale for selecting him in Round 2.
Mixon's workload expanded to 21 touches-per-game during his second season after he was allotted 14.8 per game in 2017. That resulted in 237 attempts, which placed him eighth overall, and he capitalized by finishing fourth in yardage (1,168), and third with an 83.4 yards-per-game average. He also assembled that yardage in 14 games due to a September knee issue, averaged 103 per-game during his final four matchups, and finished at RB10 in scoring. Mixon will not even turn 23 until July and should excel in Zac Taylor's new offense.
Tier 3
Devonta Freeman, Leonard Fournette, Nick Chubb, Marlon Mack, Aaron Jones, Sony Michel, Damien Williams, Derrick Henry, Mark Ingram, Phillip Lindsay
After averaging 309.5 touches and 1,588 total yards in 2015-2016, Freeman's usage and output dropped in 2017 (232/1,182). That was followed by a significant plunge last season (19/91) as multiple injuries relegated him to a grand total of just two contests. But a return to health and the migration of Tevin Coleman have provided Freeman with an opportunity reestablish his presence within a lofty region of the fantasy landscape. With no formidable competition for Atlanta's feature back responsibilities, he presents potential owners with a viable third round option.
Fournette's ADP of 1.09 in 2018 is a distant memory, and his plunge to Round 3 is understandable after the events that occurred last season. His less than stellar resume included a 3.3 yard-per-carry average, and eight missed games due to an unnecessary Week 12 altercation, and multiple health issues (hamstring/foot/ankle). Fournette will be presented with an opportunity to garner a massive workload and collect goal-line carries once again. But there is a risk in remaining confident that Fournette is capable of staying on the field and capitalizing on his favorable situation.
Chubb performed as a proficient feature back when he ascended into that role last season, as he averaged 89-yards-per-game from Weeks 7-16. He was also allotted 18.5 carries during that sequence and finished 10th overall in rushing yardage (996) despite minuscule usage from Weeks 1-6 (2.6 carries-per-game). However, John Dorsey's decision to sign Kareem Hunt in February has placed an enormous degree of uncertainty regarding how both backs will be deployed when Hunt becomes available in Week 9.
Mack entered Week 6 with just 34 rushing yards after missing four contests with a protracted hamstring issue. But he took advantage of a favorable workload from Weeks 7-17 (17.3 attempts-per-game) by attaining the NFL's sixth-best yard-per-game average (75.7). He also amassed 85+ yards in six matchups and accrued all nine of his touchdowns following his Week 6 return. Colts' General Manager Chris Ballard has abstained from adding any backs that would present sizable competition for carries, which has cemented Mack's standing as Indy's primary back.
We should have progressed beyond all discussion about the credentials of Jones versus Jamaal Williams, as Jones is clearly Green Bay's most talented back. His league-best 5.5 yard-per-carry average was built largely in Weeks 8-14 when he averaged 14 carries and 76 yards-per-game. Jones has only been available for 12 games during each of his first two seasons, and owners must hope that he can maintain a more consistent presence in the lineup. Rookie Dexter Williams might eventually become the most tangible threat to pilfer touches. 
Michel's 71.6 yard-per-game average during 13 games would have placed him sixth overall with a season total of 1,146 yards if he had remained in New England's lineup throughout all 16 contests. His workload and production both increased during the playoffs (24 carries/112 yards-per-game), and his six postseason touchdowns solidified Michel's status as the primary component of the ground game, while James White will operate as the Patriots' preeminent receiving weapon from the backfield. A reoccurrence of Michel's previous knee problems would pose a greater threat to his production than the addition of Damien Harris.
Hunt's late-season suspension created a substantial rise in Williams' value, as he averaged 16 touches, 107 total yards and four touchdowns from Weeks 15-17, then exploded for 250 total yards and four scores during the postseason. Carlos Hyde should only receive a modest percentage of carries, while sixth-round selection Darwin Thompson's athleticism and capabilities as an inside runner are not sufficient for him to usurp Williams' spot on the depth chart. All of this leaves Williams in position to procure a sizable workload while performing in a highly explosive attack.
The customary hesitation in trusting Henry prior to last December should have been quashed after the astronomical statistical bonanza that transpired from Weeks 14-17. Henry ignited for 585 yards and seven touchdowns on the ground, as the unforgettable 238-yard/four-touchdown performance of Week 14 was supplemented with 170 yards in Week 15, and an average of 88.5 yards during his next two matchups. That propelled him to seventh overall for the season (1,059) and secured a spot among this year's RB1 candidates. He remains the predominant back in Tennessee's offense and his Round 3 ADP should not deter you from targeting him.
After averaging 17.7 touches-per-game and 68.5 yards-per-game on the ground from 2014-2017, Ingram's touches and rushing averages dropped last season (13.25)/53.8 per game). While that was his lowest average since 2013, Ingram's exodus from New Orleans after eight seasons presents an opportunity to seize a significant role with the Ravens. Even if Gus Edwards pilfers some attempts and Justice Hill is deployed as a change of pace option, Ingram should eclipse 200 carries and could reach 1,000 yards for the third time in four years.
Lindsay's ascension from being an undrafted free agent into garnering a Pro Bowl appearance and finishing ninth with 1,037 yards was impressive. But there are reasons to wonder whether his workload will replicate the 15 touch-per-game average that Denver entrusted him with as a rookie. One contributing factor will be Lindsay's ability to recover from wrist surgery. Royce Freeman could also commander a larger percentage of touches throughout the season, which would reduce Lindsay's touch total, and lower his output.
Tier 4 
Tarik Cohen, Chris Carson, Kenyan Drake, Derrius Guice, Kerryon Johnson  
The arrival of David Montgomery will diminish Cohen's chances of confiscating the majority of 270 touches that had been allocated to Jordan Howard in 2018. However, Cohen will still maintain a consistent role as the receiving back in Matt Nagy's attack, after performing proficiently with those responsibilities last season.  Cohen led the Bears with 71 receptions and was second with 725 yards, which placed him inside the top six among backs in both categories. His ability to function as a potent pass-catcher should produce a team target share percentage that replicates last year's 18%.
Carson appeared to have emerged as Seattle's RB1 during his injury-shortened 2017 rookie season (lower leg/ankle) then unquestionably seized that role in 2018. He finished seventh overall with 247 attempts (17.6 per game) despite missing two contests (hip), fourth in yards per game average (82.2), and fifth with 1,151 yards. Pete Carroll's statement that Carson "had a little work done" on his knee was both vague and surprising. But even if Rashaad Penny receives a boost in his touch total (94), Carson should begin Week 1 as the primary back in the obsessively run-heavy Seahawks offense.
Anyone who invested a fourth-round draft pick on Drake during their 2018 drafts was subjected to the horror of witnessing him being relegated to an inexplicably low 7.5 attempts-per-game, while Frank Gore was somehow entrusted with 11.1 per game. Adam Gase and his puzzling personnel decisions will not encumber Drake this season, and the 25-year old could achieve numbers that many were anticipating one year ago. The new coaching staff's strategic approach and preferences in the usage of their components have not been fully unveiled, but Drake should eventually reside atop Miami's depth chart.
Guice's appeared destined for a feature back role before the torn ACL that he experienced last August altered the equation for Washington's backfield. Now, uncertainty still exists regarding the extent of Guice's ongoing recovery, and how carries will be distributed to 34-year old Adrian Peterson. Even though Chris Thompson should retain his responsibilities as a pass catcher,  many owners have maintained optimism that Guice will secure a hefty percentage of the remaining workload, which is demonstrated in his Round 5 ADP. But it is wise to avoid that investment until more clarity on his health becomes available.
Johnson demonstrated his ability to perform effectively as a featured back by averaging 72.6 yards-per-carry from Weeks 3-11 and was progressing down the path toward accumulating 1,000+ yards. But his rookie campaign ended with a knee issue in Week 11, and he now returns to a Detroit backfield could remain more congested than owners will prefer. Even though Johnson is the Lions' most talented back, C.J. Anderson will be allotted carries, while Theo Riddick will commandeer receptions.
Tier 5
Josh Jacobs, David Montgomery, Tevin Coleman, Lamar Miller, James White 
After investing the 24th overall pick on Jacobs, Oakland will utilize him extensively. This should elevate him into the select group of three-down backs. Montgomery should achieve a respectable workload by capturing early down responsibilities with the Bears. Coleman will be allotted the majority of touches in San Francisco's backfield despite the surplus of options. Miller appears primed to remain Houston's primary back despite his inefficiencies, and White will retain his role as the Patriots' preferred receiving back.
Tier 6
Jordan Howard, Rashaad Penny, Miles Sanders
Howard appeared to have transitioned into an environment that would utilize him as an early-down back. But the addition of Sanders will eventually place an unwanted ceiling on Howard's usage while elevating Sanders' value as he garners more touches with Philadelphia. Penny should be entrusted with an expanded respectable workload even as he shares touches with Carson.
Tier 7 and lower
Tiers 7-10 is comprised of backs that can be located from RB32 to RB46 in our rankings, although many of these players could attain greater relevance as the offseason continues.
More Best-Ball League Strategy
Check out all of RotoBaller's fantasy football rankings. Staff rankings are updated regularly for all positions and include standard formats, PPR scoring, tiered rankings and dynasty leagues.