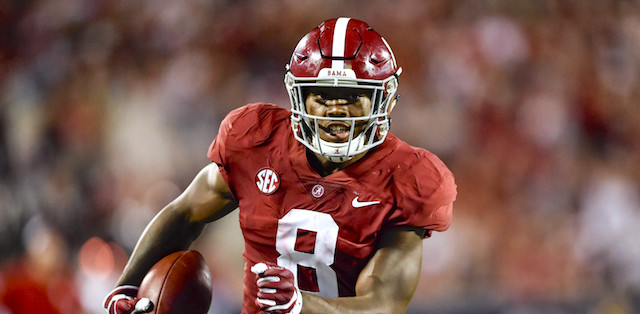 This year's rookie class didn't feature an undisputed 1.01 player like 2018 did with Penn State running back Saquon Barkley, who was a unique talent who led to people selling their entire dynasty teams and possibly their firstborn child to draft him. That paid off, but this year doesn't feature someone you should go all out for.
It does feature some good players, though, and three running backs who can make an argument for being the first back taken. If you are in the position to have one of the first picks in your dynasty league's rookie draft, you may be eyeing an RB, but which one?
Let's talk about Josh Jacobs, Miles Sanders, and David Montgomery and figure out who you should draft first.
Editor's Note: Get any rest-of-season NFL Premium Pass for 50% off. Our exclusive DFS Tools, Lineup Optimizer and Premium DFS Research through the Super Bowl.
Sign Up Now!
The Case For Josh Jacobs
Jacobs was the only running back drafted in the top-50, so it's pretty easy to just say "yes, Jacobs is the first running back you should take because of that fact" and move on, but things are more complicated than that, you know?
Oakland's a team in need of a running back after Marshawn Lynch's retirement, and while Jacobs doesn't have an extensive background as a workhorse back, he's shown flashes of being able to be a team's primary back.
Jacobs has great vision and an ability to quickly find and pick the right holes, and while his top-line speed isn't great (a 4.69 40-yard dash time puts him in the 29th percentile among running backs), he's got enough burst to get through those holes. Those speed concerns are going to likely be an issue, as Jacobs won't be breaking off many big gains, which means he'll need a good number of touches to produce, and we didn't really see in college if Jacobs could handle a heavy workload.
But while speed concerns hurt, Jacobs is a physical runner, which will help him in the red zone, and he's able to make positive things happen in space, which should allow him to be useful as a receiver as well. The Raiders do have a pretty good receiving back in Jalen Richard right now, but Richard is likely not in the team's long term plans.
The Case For Miles Sanders
Sanders finds himself in an Eagles backfield that is...maybe not the world's clearest backfield.
The Eagles brought in Jordan Howard this offseason, and Howard's the kind of bruising, downfield runner that a team like the Eagles could make good use of in the red zone. But Howard's also on the final year of his contract, so he's not going to stand in Sanders' way beyond this season.
The Eagles also have three backs on the roster who played a role on this team last season: Corey Clement, Josh Adams, and Wendell Smallwood. None of the three were super impressive last year.
Clement's likely to occupy the biggest role this season, as a healthy Clement would likely see the bulk of the pass-catching opportunities on this team. Smallwood is a very good insurance policy, a guy who can make positive things happen on the ground and in the receiving game, and Adams is still a fairly raw project, and he basically fell out of the rotation by the playoffs. It's hard to see how he fits into things.
That leaves us with Sanders to discuss. He'll be a good change of pace option right away for the Eagles, but there are valid concerns about his vision and his ability to take on defenders that make you question if he can be a lead back. Hopefully, those are the kinds of issues that Sanders can improve on as he gets experience playing in the NFL.
Sanders can be an active part of the Eagles passing attack, though, and he's a solid pass blocker who has the ability to shift into the slot and serve as a receiving option. That should help him get on the field more.
The Case For David Montgomery
Montgomery will be Jordan Howard's replacement in Chicago, and while the team has Tarik Cohen to serve as their receiving back, Montgomery should end up seeing the bulk of the carries as head coach Matt Nagy will look for other ways to get Cohen involved.
Like the other backs from this class, Montgomery's not a speedster, but he makes up for that by being nearly impossible to tackle. Over the last two seasons, no back from this draft class forced more missed tackles, and that should make him a more dangerous threat in the open field than Howard was.
Montgomery is also a better receiver than Howard. I'm not sure how much that matters since Cohen will be the team's main receiving weapon from out of the backfield, but we did hear last year that the Bears wanted all their backs involved in the passing game, something that was limited by Howard just not being that good at receiving.
Basically, I see Montgomery as a potentially better version of Jordan Howard. He should get 200-ish touches this season, though we'll have to see if he gets the team's red zone work or if they trust Mike Davis to do that. But even if he loses work to Davis, Montgomery is set to be the team's lead back for at least the next few years.
And The Winner Is...
Josh Jacobs. While I like all three backs, Jacobs has the most upside of any of these and starts his career as the clear lead back on his team. A part of dynasty value that we sometimes forget about it immediate value, and Jacobs has more short term value while also possessing a lot of value down the line as well. Yes, the concerns about whether or not he can handle a full NFL workload are real, but the talent and the opportunity are there, and when I'm drafting for dynasty leagues, I value talent and opportunity a lot.
My bigger question is which guy I'd rank second. After a lot of thought, I'm going with David Montgomery. Sanders might very well have a longer career, but Montgomery gets to spend his rookie contract on a team that's built for a back like him to be successful, while Sanders is on an Eagles team that seems to forever be trapped in the world of running back committees.
More Dynasty League Strategy