We'll be doing this roundup of points leagues every week here at RotoBaller, with waiver wire targets and streaming pitchers being evaluated in terms of the different scoring systems of ESPN, Yahoo!, CBS, and Fantrax.
Player values can vary wildly from platform to platform, so we'll make sure to highlight where players are the best and worst fits. We know points league players get neglected and we're here to help with all of the best streams for the week.
These fantasy baseball waiver wire pickups are for the week of May 16 - May 22, looking at players below ~50% rostered for ESPN, Yahoo!, or Fantrax. Rankings are calculated using games through Saturday, May 13.
Editor's Note: Our incredible team of writers received five total writing awards and 13 award nominations by the Fantasy Sports Writers Association, tops in the industry! Congrats to all the award winners and nominees including Best MLB Series, NFL Series, NBA Writer, PGA Writer and Player Notes writer of the year. Be sure to follow their analysis, rankings and advice all year long, and win big with RotoBaller!
Read More!
Know Your Scoring System
You know what I'm going to say, right?  You must account for, as precisely as possible, how a player performs under your particular scoring system. Don't be fooled into believing you can just make rough adjustments in your head, bumping up guys with high on-base percentages and low strikeout rates. Every point, in every category, counts.
For example, ESPN and Fantrax are virtually identical in their scoring for hitters and roster size. The only difference is that stolen bases are worth one more point on Fantrax and ESPN subtracts one point per strikeout. That's the difference between Trea Turner being a top-five hitter versus a top-25 hitter.
If your league uses standard settings, then great! Turn to page 94 and you can skip ahead to the leaderboards. If you play with custom settings, it'll still be fine. Go back to page 43 and look below at the scoring systems of the four major platforms. I bet there's a chance that you'll find that your league's scoring is very similar to one of the four (well, not Yahoo!'s), even if it's not the platform you actually play on.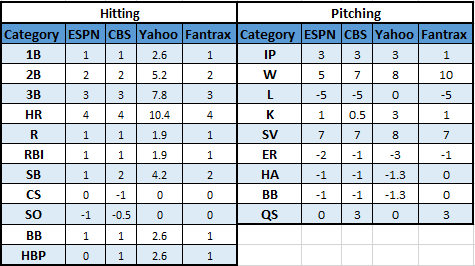 If you look above, you'll likely find a suitable mirror to your own system. While every point counts, as long as they aren't seismic changes, you can get away with some "close enough" calls. IE. If everything is the same except for HBP (or something similar), you're probably fine.
Waiver Wire Leaderboards
In addition to our overall waiver wire leaderboards, once we're deep enough into the season, we'll also start doing a 21-day leaderboard as well, giving us a window into recent production. All charts are updated prior to Saturday's games, on stats and ownerships, and clicking on a chart will open a new page with a magnified version.
*APR = Average Platform Ranking - the average platform ranking between ESPN, CBS, Yahoo, and Fantrax (standard point settings)
Two-Start Pitcher Waiver Wire Options
Starting Pitcher Waiver Wire - Best Choices
Jameson Taillon, NYY (@ BAL, vs CHW) - Taillon's starts this year have all looked very similar - five or six innings, one or two runs, a bit less than a strikeout per inning. He has a good chance to continue his metronomic tendencies, facing middling offenses at home against Baltimore and the White Sox. Don't expect a high ceiling but the double-tap gives him a really high floor for the week.
Yusei Kikuchi, TOR (vs SEA, vs CIN) - Kikuchi is coming off back-to-back excellent starts against a Yankees offense that has been running hot, allowing a total of 3 ER over 11.1 IP and striking out 14. His first start against his former team isn't a soft matchup, as the Mariners have the 12th-highest wOBA and 8th-lowest K% vs LHP but facing Cincinnati in the second is a different kettle of chili. The Reds have the worst wOBA in baseball vs LHP and are 27th in xwOBA, K%, and BB%.
Josh Winder, MIN (@ OAK) - Even after his worst start of the season, allowing 3 ER in 3.1 IP in a loss to the Astros, Winder still has a 2.45 ERA for the year and gets a much softer matchup in his next turn. The softest of turns, actually, as he'll face an Oakland offense that is last in baseball for both wOBA and xwOBA vs RHP, and have the 28th K% and 27th BB%. In his start prior to the loss versus Houston, Winder dominated the A's for six shutout innings, striking out eight and allowing just three hits.
Starting Pitcher Waiver Wire - Next Choices
Jakob Junis, SF (vs SD) - Find someone who loves you like I love Jakob Junis, who lost in his most recent start on Saturday afternoon, allowing two earned runs over 5.2 IP against the Cardinals, bringing him up to a 1.74 ERA. He'll face a San Diego team next that has been average vs RHP, posting the 17th wOBA, 22nd xwOBA, and 15th K%.
Madison Bumgarner, ARI (@ LAD, @ CHC) - 1.78 ERA, 4.72 FIP, 4.86 xFIP. Surely this is a trick, right? But Bumgarner continues to cruise, limiting baserunners and only walking two batters in his past four starts.
Steven Matz, STL (@ NYM, @ PIT) - Matz has been frustratingly inconsistent, allowing 3 ER in 6.2 IP in his last start after giving up 8 ER in 2 IP in his previous one. Neither of his road opponents is too scary, as the Mets might have more name value but have struggled vs LHP, posting the 22nd-highest wOBA and 29th xwOBA against them, while the PIraes are 20th in wOBA and and 26th in xwOBA.+
Kyle Bradish, BAL (vs NYY, vs TB) - Bradish has held his own over his first three starts in the big leagues but a matchup first against the Yankees (4th wOBA, 1st xwOBA, 9th-lowest K%) looks like trouble. However, his second matchup against the Rays looks a lot juicier considering the poor numbers that Tampa Bay has put up so far vs RHP (17th wOBA, 21st xwOBA, 30th K%).
Tyler Wells, BAL (vs TB) - Wells has started to settle into his new position in the rotation, posting a 2.25 ERA (2.57 FIP) over his last three starts. He'll face the Rays, who, as mentioned with Kyle Bradish, have been impotent versus RHP, rocking the league's worst strikeout rate against them.
Bruce Zimmermann, BAL (vs NYY) - Zimmermann keeps rolling but lost in a solid effort against the Tigers on Saturday, allowing 2 ER in 6 IP. He still has a shiny 2.72 ERA but has a dicey matchup with the Yankees coming up, who are top-five in wOBA and xwOBA vs LHP.
Michael Lorenzen, LAA (vs OAK) - Lorenzen has been up and down (4.13 ERA, 4.65 FIP) but you should try and find any excuse to stream against Oakland, who have the worst offense in baseball vs RHP.
Chris Archer, MIN (@ OAK) - In fact, Oakland is so bad vs RHP that I think even Chris Archer is a viable option.
Jake Odorizzi, HOU (vs TEX) - What is Odorizzi, may never die. Jake has a 3.38 ERA (3.70 FIP) through six starts and gets a Texas team that has a bottom-five offense vs RHP.
* Edit: Odorizzi's first start against the Red Sox on Tuesday didn't get pulled over, so it looks like old man Jake is up for a two-start week. Boston has a bottom-six wOBA vs RHP this season but be aware that they've been much better in May, posting a .334 wOBA that is the 8th-highest, with a 22.2% K% that is 17th.
Drew Smyly, CHC (vs PIT) - Stop me if you've heard this before; you should stream pitchers against the Pirates, who have a bottom-10 wOBA and fourth-worst xwOBA.
Tyler Anderson, LAD (vs ARI) - Anderson got lit up by the Phillies in his last start (6 IP, 7 ER, 6 K) but gets a soft matchup with the Diamondbacks, who've posted the second-worst wOBA vs LHP so far this season.
Reid Detmers, LAA (@ TEX) - I know he just threw a no-hitter but Texas has been really, really tough on lefties, posting a top-four wOBA and xwOBA against them.
Alex Faedo, DET (@ TBR, @ CLE) - Faedo hadn't yet been announced so he's missing from the charts but he now lines up for a two-start week, one soft and one tough. Tampa Bay has struggled against RHP but Cleveland has done rather the opposite; they have the top wOBA vs RHP, though they've fallen to 12th in the month of May.
Starting Pitcher Waiver Wire - Desperate Choices
Don't be alarmed. You haven't fallen through a wormhole and this isn't 2017. These are simply the pitchers that were available. Compose yourself.
Wade Miley, CHC (vs PIT, vs ARI) - Almost anyone is viable when getting a two-start week vs Pittsburgh and Arizona. Even Wade Miley? We'll see!
Martin Perez, TEX (@ HOU) - Human wizard, Martin Perez, continues to dazzle with his soft-tossing ways, striking out six Royals over 6.1 IP in his last time out and only getting charged for one run of the four he allowed.
Jose Quintana, PIT (vs STL) - Quintana has been unexpectedly good in 2022 but faces a St. Louis team that has been lefty killers for the past couple of seasons and that currently has the second-highest wOBA and 6th-lowest K% vs LHP.
Rich Hill, BOS (vs SEA)
Dallas Keuchel, CHW (@ KC)
Brad Keller, KC (vs CHW, vs MIN)
Chris Flexen, SEA (@ BOS, @ TOR)
Ryan Yarbrough, TB (@ BAL)
Aaron Civale, CLE (vs DET)
Zach Thompson, PIT (vs STL)
Relief Pitchers Waiver Wire
Unless you're in a very deep league and/or have a lot of dedicated RP-only slots, most of the relievers you're going to want are the ones who are closers, have a chance to close, or elite setup guys. But I do mean elite because most scoring structures are weighted in a way that relievers almost necessarily have to get saves in order to be valuable. Although, long relievers whose usage you can reliably predict, can be useful in leagues with daily moves. But for a majority of leagues, sticking to closers is the way to go.
With that in mind, here are the best relievers on the wire for Week 6, ordered by Yahoo roster%:
Closers (and co-Closers) on the Wire
Tanner Rainey, WSH - Are you really a closer if you don't actually get any saves? Rainey has three saves on the season but his last was on April 19 and he blew his last opportunity on May 8.
Rowan Wick, CHC - David Robertson went on the Covid-IL on May 9, giving Wick the closer job until he returns.
Emilio Pagan, MIN - Pagan got the most recent opportunity for the Twins, converting his last Save on May 8. But Jhoan Duran and his triple-digit splitty lurk off stage.
Ryan Helsley, STL - The fireballer has allowed just one hit in 2022, with zero walks and zero runs, while striking out 20 batters. It'll be hard to predict when he'll get save chances but Helsley is off to a remarkable start in 2022.
Committees on the Wire
Boston Red Sox - Hansel Robles, Jake Diekman, and Matt Barnes make up the committee but John Schreiber picked up Boston's last Save. Avoid.
Cincinnati Reds - Lucas Sims and his 9.45 ERA went back on the IL with a bulging disc in his back, throwing the Reds bullpen back up in the air. Art Warren, Alexis Díaz, and Jeff Hoffman are all in the mix. Avoid.
Miami Marlins - Anthony Bender, Anthony Bass, and Tanner Scott are at the backend but Miami's last two Save opportunities were blown by Steven Okert and Cole Sulser. Avoid.
Seattle Mariners - He's not the traditional closer but Paul Sewald is up first for the game's most important spots. He came in for the Save on Tuesday and picked up the Win on Friday, relieving starter Marco Gonzales in the seventh, with the score tied 1-1 and with men on second and third. Sewald struck out Starling Marte and then put the Mets down in order in the eight before Drew Steckenrider came in for the Save.
Download Our Free News & Alerts Mobile App
Like what you see? Download our updated fantasy baseball app for iPhone and Android with 24x7 player news, injury alerts, sleepers, prospects & more. All free!


More Fantasy Baseball Waiver Wire Advice