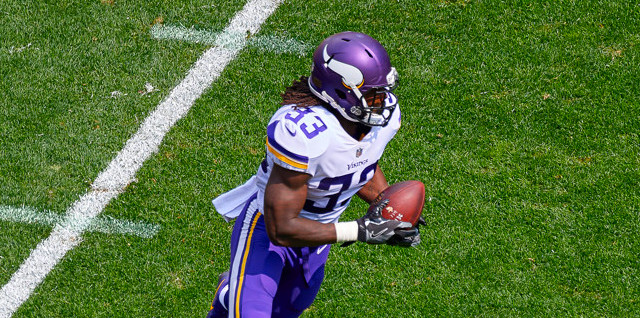 Here I go again, on my own. Going down the only road I've ever known. Like a drifter I was... OK let's get to the football part.
As the first one to set out bold predictions for our staff, I want to proclaim that I don't just enjoy the bold predictions, I NEED them. Falling in line with ADP, drafting "safe" players, avoiding the Patriots backfield - those strategies are for suckers. I want draft day to be exciting, not safe. I want my fantasy team to be bursting at the seams with breakout potential like a hot dog left in the microwave.
That said, I do still intend to give reasonable opinions supported by my own preseason rankings in order to help you, the reader. That's what it's all about, after all. Not my ego. Nope, I don't even have one as far as I know.
Editor's Note: Get any rest-of-season NFL Premium Pass for 50% off. Our exclusive DFS Tools, Lineup Optimizer and Premium DFS Research through the Super Bowl.
Sign Up Now!
Kittle not an elite fantasy asset? Inconceivable! At first glance, this looks like a proclamation of love for Howard and his potential in Bruce Arians' offense if he can actually stay healthy over the course of a full season. In part it is, but it's more about Kittle in this case as I simply have Howard as my next ranked tight end. Hell, I wouldn't be surprised if Evan Engram outproduces Kittle. So let's start with a bang and offend all the Kittle lovers out there who think he will do even better this year with Jimmy Garoppolo back at QB.
It's easy to simply scream "REGRESSION!" when a player sets any sort of record but that's lazy. We know Kittle won't reach 1,377 receiving yards again. That doesn't mean he can't finish as a top-three tight end. While that's true, it doesn't guarantee he will either.
Kittle is a tremendous talent and he isn't threatened by anything resembling a target hog at the receiver position. Still, he was the recipient of so many targets last year because his receiving corps was almost non-existent. Starters Pierre Garcon and Marquise Goodwin missed a combined 13 games and the rest of the WR corps was filled with rookies. The running game was even worse, as anyone who drafted Jerick McKinnon or added Alfred Morris can attest to. The fact that third-string rookie QB Nick Mullens was at the helm half the year worked in his favor too, as inexperienced passers tend to lean on their bigger interior targets rather than forcing the ball to tight windows.
All told, I figure Kittle barely scratches the 1,000-yard mark. If Howard plays a full schedule, I think he's right there with Kittle and posts a higher touchdown total. Now, stop drafting tight ends in the first three rounds!
I must really like Cook as a player because it actually burns the inside of my soul to compliment a Florida State alum. I've personally seen what Cook is capable of at full capacity, including 222 rushing yards and two touchdowns against my Hurricanes back in 2015. He went for 127 yards in his first-ever NFL game and was averaging 4.8 yards per carry before tearing his ACL as a rookie. Last year was a slow road of recovery with very few peaks and a lot of resentment from disappointed fantasy owners.
Entering 2019, Cook should be 100%. He also no longer has Latavius Murray to contend with (Alvin Kamara does) and no true pass-catching back to relieve him on third downs. Cook will be more involved as a receiver, which boosts his PPR value. I can see a scenario where Cook gets enough touches to be more productive than Kamara, even if he isn't as efficient. He's not exactly a steal in the second round but I'm making sure to target him over David Johnson, Joe Mixon, or Le'Veon Bell.
I really don't mean to go negative but the people deserve to know the truth. Williams isn't a feature back and was never meant to be. I already outlined all the concerns I have with Williams earlier this offseason, so you should probably just read this article.
I've always been down on Carlos Hyde, but he is still there for the time being, as is rookie Darwin Thompson. I think this becomes a hot-hand approach rather than a committee, so it's not as if Williams will have zero value. He just won't be the every-week fantasy starter that warranted a second-round pick. Jason Katz recently dropped a Zac Stacy comparison in order to warn of mid-year pickups who flashed, became early-round picks, and then busted a year later when handed the starter role full-time. Williams could be that guy.
Chris Carson is even better this year
This is a sequel of sorts, as one of my bold predictions from last year had Carson as a full-time fantasy starter and fantasy stud. I actually projected him for 1,335 total yards and he wound up with 1,314. Not bad if I do say so myself. (Feel free to ignore the Funchess prediction)
This year, we again see fantasy owners waiting for Carson to simply fade away as Rashaad Penny steals his thunder and ascends to stardom. Not going to happen. Blame the O-line all you want, Pete Carroll, but Penny has looked terrible still this preseason while Carson is motivated to be even better. I think he will be. The running backs are going to be more involved in the passing game, so the area where I feel short in Carson's projection last year should be even higher. I have Carson as the RB15 and a top-40 fantasy player in 2019.
Devin Bush finishes as a top-five fantasy player
I had to sneak a defensive prediction in here at some point. Shout out to all my IDP peeps! Keep confusing the rest of the fantasy world as they wonder how you can give players points for trying to stop scoring from happening.
As we saw last year with Darius Leonard and, to a lesser extent, with Roquan Smith and Leighton Vander Esch, rookie linebackers are often great draft commodities. Although Devin White in Tampa Bay was drafted higher and may wind up getting a larger share of his team's tackles due to inferior surround talent, Bush is the better fantasy bet. He has a strong pass-rushing ability and can be a dual-threat on defense for a team that is projected to be in the top-half of the league for defensive strength of schedule. Bush could sneak past some veteran LBs, including oft-injured Luke Kuechly, who will be drafted much higher.
Josh Rosen is better than Jimmy Garoppolo
The "Rosen One" is already squashing his doubters with solid play in exhibition games (don't @ me) and will be the one starting in Miami this season. The Dolphins have absolutely no reason to sit him on the bench in favor of a 36-year-old journeyman when they traded for Rosen on draft day. They are fully intent on seeing if he can be the QB of the future while simultaneously tanking in order to ensure a high pick on either a defensive player or their actual QB of the future.
Rosen was eviscerated by pass rushers because of an awful offensive line and inexperienced coaching staff last year. He'll do better this year. Jimmy G won't get the passing volume to be a fantasy asset but he also just hasn't looked that great in San Fran. Over two seasons, he's got a 12/8 TD/INT rate in eight starts. He completed less than 60% of his passes last year before getting hurt. I'm not a believer in Garoppolo, to be sure. I am, however, now accepting donations to build a shrine to the Rosen One in front of Dolphin Stadium to go right next to Dan Marino's statue.
More Fantasy Football Analysis