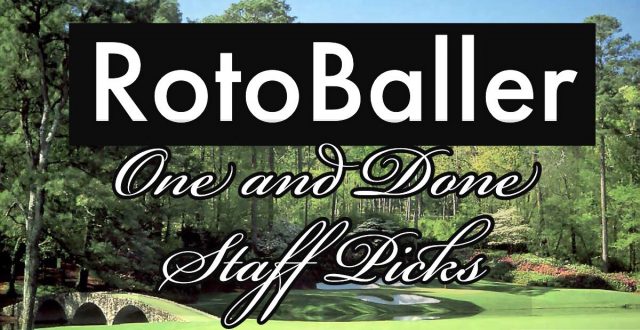 Here at RotoBaller, we are always searching for ways to give our readers the best fantasy sports content possible. With that goal in mind, we are very proud to announce the addition of a weekly PGA "One and Done" column. In this feature, our golf staff of Joe Nicely, Spencer Aguiar and Gianni Magliocco will provide their weekly golf picks every Wednesday. The purpose of this article is to present you with alternative options to consider and hopefully make your selection a much easier process weekly. With that plan in mind, let's get started!
I want to welcome you to the inaugural edition of the RotoBaller PGA: One And Done Staff Picks article. Before we begin, if you are not familiar with the game, it is as easy as it sounds. You pick one golfer for each tournament of the season and can only use that golfer once. The player who earns the most dollars throughout the year wins the contest. While the concept is straightforward, the actual execution is not quite so easy. In order to be successful, you need to take a long-term view of the season to figure out how to best use each player. Luckily, we will be with you from the Sony Open this week all the way to the Tour Championship at the end of August. 32 events in all.
The most exciting part about a "One and Done" is the strategy that goes into every tournament. Still, though, no matter how much research you put into it, you will need a little luck during the year. The best advice I can give you to begin the season would be this, figure out the core players you are considering for the majors and Players Championship, plan on saving them for those events and allow yourself to branch out throughout the rest of the year. Without further ado, let's dive into the first "One and Done" event of 2019.
Editor's Note: Our friends at Fantasy National have built some incredible DFS Golf lineup tools including a Lineup Optimizer, Stat Engine, Ownership Projections and Course Breakdowns. They are by far the best daily fantasy Golf tools in the industry. Seriously. You can read all about them here and see screenshots. 
Sign Up Now!
For an in-depth breakdown of the top DraftKings and Fanduel plays, check out Joe Nicely's weekly Horse For The Course that highlights the best fits for the week's course.
And you can also find out who the smart money is on by checking out Spencer Aguiar's PGA DFS: Vegas Report every week.
Editor's Note: Our friends at Fantasy National have built some incredible DFS Golf lineup tools including a Lineup Optimizer, Stat Engine, Ownership Projections and Course Breakdowns. They are by far the best daily fantasy Golf tools in the industry. Seriously. You can read all about them here and see screenshots. 
2019 Sony Open - Waialae Country Club
7,020 Yards - Par 70 - Greens Bermuda
Located in Honolulu, Hawaii and designed by Seth Raynor in 1925, Waialae Country Club will be hosting an event on the PGA Tour for the 54th consecutive year. Tom Doak made some minor restorations to the course in 2016, restoring it to its original layout.
Just like Kapalua last weekend, Waialae is one of the easier courses on tour but will play vastly different than its predecessor. Kapalua featured a hilly course that played almost 7,500 yards and was susceptible to extreme gusts of wind. Waialae can be described more like a flat, boring bayside track that will emphasize par-four scoring and ball-striking with it being a Par 70 that plays just over 7,000 yards. The only line of defense for the course is wind, which can cause approximately a three-shot difference per day in calm versus windy conditions. However, the fairways are lined with trees that do mitigate some of the weather. Driving accuracy is well below the tour average, but the rough is innocuous, and players will have clean second shots as long as they avoid the trees.
There are 12 par-fours on the course, with 10 of them ranging between 400-500 yards. The four par-threes extend between 176-204 yards and the two par-fives play 506 and 551 yards, respectively. The par-fives are the easiest holes to score on, featuring roughly a 71 percent and 55 percent birdie or better percentage. Those holes are reachable in two shots for just about every player in the field, so golfers that can give themselves an opportunity for quality eagle looks should make a few during the week. In general, Waialae is a second shot course that will reward players that are good with their irons, can score on par-fours and gain a lot of opportunities because of a high percentage of greens in regulation hit.
One and Done Selections
Joe Nicely - Gary Woodland
This week's selection came down to Gary Woodland and Justin Thomas for me. The combination of Woodland's hot current form and elite course history helped me to pull the trigger on him, while "saving" JT for later in the season. Woodland has always had the talent to be one of the top players in the game and his improved putting stroke might just get him there in 2019. Xander Schauffele stole the Sentry from him last week, but Woodland will be raising a trophy very soon this season. He put on a tee-to-green clinic at Kapalua and I expect more of the same at the Sony on a course he's very comfortable with.
Yearly Earnings -
Spencer Aguiar - Justin Thomas
As I mentioned above, a lot of the strategy comes down to how you plan on using certain players throughout the year. Burning one of the top golfers in the opening event of the season is tricky, but I didn't have many places that I was actively looking to use Justin Thomas this year. The Players Championship, U.S. Open and PGA Championship were options, but I feel comfortable that I have alternative choices that I will be more than happy selecting at those venues. There will be a lot of golfers to choose from weekly but not a lot of chances to grab Thomas as the outright betting favorite in an event.
Yearly Earnings -
Gianni Magliocco - Kevin Kisner
Kevin Kisner leads off my one and done campaign for 2019. Kisner, like the majority of this week's field, is making his first start of the year, and it's an event where he has thrived at in the past. In the last three Sony Open's, Kisner has finished in the top-25 each time, and on two occasions he notched top-five finishes. The 34-year-old played excellently on his last outing just over a month ago at the RSM Classic, and I'm confident he can build on that performance at a track he has gotten to grips with over the past few years. Kisner has gained 25 strokes over the field in his past three visits to the Sony Open, and this looks as good a time as any to play him in a one-and-done competition.
Yearly Earnings -
Running Totals
| | | | |
| --- | --- | --- | --- |
| | Joe Nicely | Spencer Aguiar | Gianni Magliocco |
| Sony Open | Gary Woodland | Justin Thomas | Kevin Kisner |
Golf DFS News and Player Outlooks
Premium DFS Golf Tools and Lineup Optimizer
Our friends at Fantasy National have created some game-changing DFS Golf tools, and you can read all about them here. They are hands-down the best daily fantasy Golf tools in the industry.