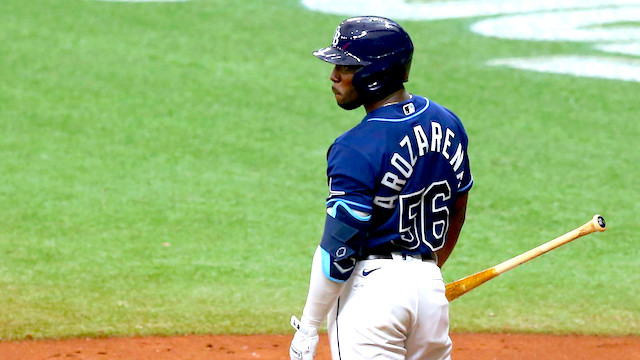 Welcome back RotoBallers! We're almost to September already, and we're back at it this week with another juicy contest on OwnersBox!
This week's free RotoBaller contest has a $1,000 cash prize pool - for new users it's completely free to enter with code MLB10! All new OwnersBox users also get a free year of RotoBaller Premium access - just email us and let us know one you're registered.
In case you're not yet familiar, OwnersBox, is a fantastic new weekly fantasy sports platform that offers plenty of game setups to fulfill your desire to draft throughout the season. Over at OwnersBox, you can participate in snake drafts - and for the first time ever you can also select tournament-style salary cap contests. The contests are at least one week long, and some even longer.
In this article, I will be providing you with my weekly fantasy baseball lineup picks on OwnersBox for this contest which runs for one week (Friday August 27th through Thursday September 2nd). Read my picks below, and then join us in this tournament as we battle it out for the cash prizes!
RotoBaller Weekly Contest!
OwnersBox is hooking up RotoBaller readers to celebrate the launch of their new salary-cap style contests, so be sure to take advantage of these promo offers!
Join this week's freeroll on OwnersBox - the contest is completely free to enter for new users with code MLB10, and there's a $1,000 cash guaranteed prize pool
The winner also gets a free year of RotoBaller's Premium Pass ($350 value)
All new users who make a deposit get up to a $500 deposit match bonus and a free RotoBaller premium pass!
You can enter up until Friday, August 27th at 7 pm ET, and the week-long contest runs through September 2nd.
OwnersBox Pitcher Picks
On OwnersBox, you select two Pitchers, and need three games from these two pitchers. Any game you go over after the third, best ball mode is activated - meaning the lowest score is dropped. So a good approach is obviously looking for affordable two-start pitchers for the week with at least three solid matchups in mind.
Shane McClanahan, TBR ($27,000) - at BAL, v BOS
The Baltimore Orioles own the fourth highest K% against LHP over the last 14 days and McClanahan just struck out eight Orioles in five innings last time out.  So we can at least count on a solid start to the week with Shane's first match-up. I'm not crazy about hosting the Red Sox with Wild Card and possibly even the Division still on the line, but we have the flexibility to execute a lineup swap on the last day of the week and roll with Sandy Alcantara against the Mets instead. Over the last month, McClanahan owns an impressive 3.15 xFIP and 28.2 K%. The $13,500 price tag for his first start this week is too good to pass on.
Logan Webb, SFG ($25,000) - at ATL, v MIL
Alright, some more not-so-great matchups on paper but Logan Webb has been elite since the All-Star break. Over the L30 among starters with at least 20 IP, no one has a lower xFIP (2.48) than Webb and only three have a lower flyball percentage (19.1%). The cherry on top of his high floor is the accompanied 28.6 K% over the time frame. Atlanta and Milwaukee are good offenses right now, but I am confident Webb is not capable of being blown up in his current form - making him a great play for just $25,000.
OwnersBox Infielder Picks
The Infield is my favorite position on Ownersbox. You only need 28 games from the five players. Simple math tells you if you average six games per infielder, you are already at the two lowest scores dropped from the lot. That way you can utilize five-game studs as long as you pair them eventually with a seven-game player also to maintain that 30 total games. The Outfield is much more difficult to take advantage this way, so don't waste the opportunity with your infielders!
Wander Franco, TBR ($21,700) - 7 Games
The Rays are a main target this week as not only do they have a full seven-game slate, they play the Orioles at Camden and then Red Sox. Over the L30 Wander Franco is the Rays second best hitter (we will discuss the first shortly), with a .312 BA, .215 ISO, and 155 wRC+. He also has the second most PA on the team over the time frame, as his switch-hitting ability keeps him safe from the Kevin Cash lineup swaps. Baltimore owns far and away the worst pitching staff in the league, as their 5.34 xFIP L30 places them firmly at 30th, and Boston's bullpen is a blowup waiting to happen every night.
Paul DeJong, STL ($15,600) - 6 Games
I never enjoy playing DeJong....unless he's on the road, and wouldn't you know all six games this week are away games. The first three games are at PNC Park where he has tagged the Pirates to the tune of a 1.016 OPS and .458 ISO through 26 PA in 2021. The last three games are at Great American Ballpark where he has tagged the Reds to the tune of a .261 ISO and .522 SLG through 25 PA in 2021. Both bullpens are in the bottom 10 in xFIP over the L30. Easy value pick here.
OwnersBox Outfielder Picks
As I mentioned previously, filling the three Outfield slots is more difficult than the five Infielders on OwnersBox. You need 17 games from the three hitters, so that means you mostly want to stay away from five-game hitters. I try to get at least one seven-gamer if possible and aim for at least 19 total games for two lowest score drops.
Randy Arozarena, TBR ($25,900) - 7 Games
Now we get to the Rays hottest hitter over the last month, and it just so happens that he DESTROYS the Orioles. Through 52 PA against Baltimore in 2021 Randy is hitting .469 with a 1.480 OPS, and .510 ISO. Those are ridiculous video game numbers. Oh and he's also hitting .300 against the Sox this season to boot. Arozarena is the perfect offensive anchor for this week.
Lourdes Gurriel Jr., TOR ($15,600) - 6 Games
We've already discussed how bad the Orioles pitching is right now. But what if you could face them AND the Tigers in the same week? That's exactly what the Blue Jays have on the schedule, and Lourdes Gurriel Jr. is finally starting to show some life at the plate. Over the L30 he boasts a .301 BA/.354/.493 slash. Its a safe, cheap piece of exposure for what should be a great week to bring the Blue Jays bats back.
Sample Lineup
Download Our Free News & Alerts Mobile App
Like what you see? Download our updated fantasy baseball app for
iPhone
and
Android
with 24x7 player news, injury alerts, sleepers, prospects & more. All free!
More Weekly DFS Analysis