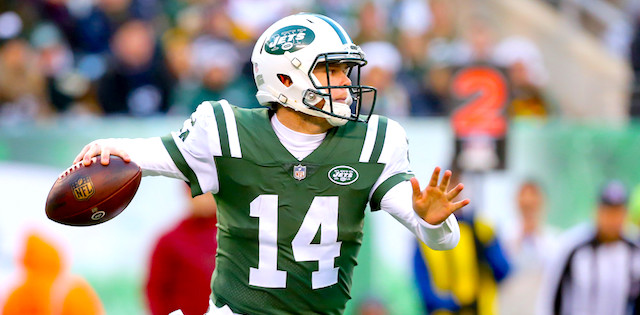 What Appears In This Article?
hide
Before you start yelling at your computer "Sam Darnold is not being drafted!" let me remind you of two things.
Superflex leagues exist.
There is a subset of fantasy managers that believe Darnold can rebuild his career in Carolina.
Every starting quarterback will be drafted in Superflex leagues, no matter how a manager may feel about a particular player. If you need to take Darnold, he's not going to score zero points, so do what you have to do. This article is more to address #2 because those are the people not drafting Darnold because they have to, but actively targeting him.
Editor's Note: Our incredible team of writers received 13 award nominations by the Fantasy Sports Writers Association including Baseball Writer of the Year, Football Writers of the Year, Golf Writer of the Year and many more! Be sure to follow their analysis, rankings and advice all year long, and win big with RotoBaller!
Read More!
No More Excuses
Let's start with some completely unhelpful analysis: Sam Darnold is bad at football. He is a backup-caliber talent. Think Blaine Gabbert or Blake Bortles. These are players that belong in the NFL but are not starters. It's also how I think his New York counterpart, Daniel Jones, will be viewed after the 2021 season, but that's a different article.
The inherent problem with any argument I put forward against Darnold is the Adam Gase effect. Even the Darnold supporters are not suggesting he was good with the Jets; they're just attributing Darnold's failures to Gase. While Gase certainly didn't do Darnold any favors, coaches don't make players more or less talented. Coaches can impact playing time, play calling, the pace of play, etc. Even the best coach of all time can't make a player that lacks talent suddenly talented, especially at the quarterback position.
Sure, coaches can scheme wide receivers open or create running lanes that can elevate the appearance of replacement-level players, but these players have a moment - never sustained success. At quarterback, you have a player touching the ball on every single play. He is throwing every pass. He makes the offense go.
Adam Gase did not make Darnold make poor decisions with the football. Gase is not responsible for Darnold's 29 interceptable passes (as per Playerprofiler.com) in 2020. Gase is not responsible for Darnold's 30th-ranked accuracy rating or 33rd-ranked deep ball completion percentage (27%). I can rattle off metric after metric, but I won't do that. Instead, I can just let you know that Darnold ranks near the bottom in just about all of them.
Darnold has a weak arm and a reluctance to push the ball down the field (likely due to said weak arm). He's reckless and he's inaccurate. The only area where he excelled was when he had a clean pocket (77% clean pocket completion percentage, sixth in the league). Most quarterbacks excel in a clean pocket. Darnold needs to show something in some other area, but he just doesn't.
Darnold is getting sacked so often he's beginning to sack himself to save time. pic.twitter.com/tdEZaB0B8Y

— Joel (@UKDraftScout) October 2, 2020

One possible glimmer of hope for Darnold is that the Panthers have vastly superior pass catchers as compared to the Jets. Darnold will get to throw to old pal Robby Anderson, D.J. Moore, and the best receiving back in the NFL, Christian McCaffrey. He will have every opportunity to thrive and the Panthers already picked up his 2021 option, so they are committed to him.
Unfortunately, I just don't think Darnold is talented enough. He won't destroy the fantasy values of his pass-catchers as he can at least do what Teddy Bridgewater did last season (3,700 yards, 15 touchdowns), but the notion that Darnold is going to be anything more than a low QB2 is just fantasy wanting.
Download Our Free News & Alerts Mobile App
Like what you see? Download our updated fantasy football app for iPhone and Android with 24x7 player news, injury alerts, rankings, starts/sits & more. All free!


Win Big With RotoBaller
Be sure to also check out all of our other daily fantasy football articles and analysis to help you set those winning lineups, including this new RotoBaller YouTube video: