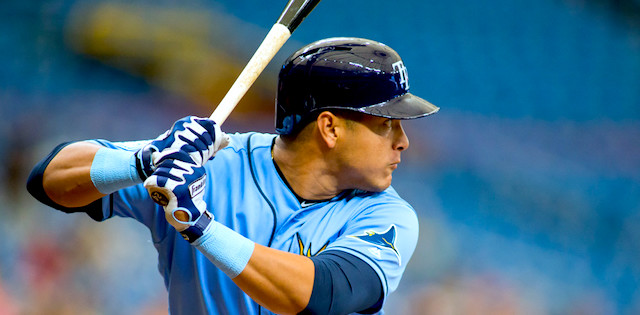 The season is galloping towards the finish. It is vital that fantasy managers target the categories they need. This week the primary focus for outfield additions will be to maximize venues. Some might cause a little tingle of concern when you read their name. Don't be afraid. Do what you're comfortable doing with your roster. No Fear, Just Fantasy.
Whether you're streaming a hot bat or need to replace a guy long-term, there are plenty of different options. The issue is that you are not alone and others in your league might have intent on doing the same thing. Just make sure you make a decision and grab someone. You'll lose valuable counting stats if you leave a roster spot empty, even if only a day. In this article, I'll discuss waiver wire targets for the outfield in week 24. This week we cover guys that primarily have advantageous environments and playing time.
Even in the first few weeks, ownership can change quickly. Be quick to check your leagues for their availability. Key points - this list will focus on players who are owned in less than 50% of Yahoo leagues. When you want to chat it up regarding outfielders, prospects, or dynasty leagues, message me directly on Twitter @EllisCan2.
Editor's Note: Get any full-season MLB Premium Pass for 50% off. Exclusive access to our Draft Kit, premium rankings, projections, player outlooks, top sleepers, dynasty and prospect rankings, 15 in-season lineup tools, and over 200 days of expert DFS research.
Sign Up Now!
Outfield (OF) Waiver Wire Options
Shallow Leagues (50-30% Owned)
A.J. Pollock (OF, LAD) — 50% Owned
Ownership rose the second people saw that Pollock hit three homers in a game recently. He's added another tater and two stolen bases over the last two weeks. Who said you can't teach an old dog new tricks? Over the last couple of year, he's jacked up his hard hit rate (44%), albeit with a sacrifice to the strikeout rate (23%). Playing in a potent lineup is always enticing and Pollock is even more so considering a road trip that takes him to Camden yards. Despite exceeding the criteria, Pollock is worth mentioning.
Anthony Santander (OF, BAL) — 38% Owned
Santander has been a breath of fresh air that the Orioles desperately needed. The 24-year-old has actually surged in the second half with 14 long balls, 36RBI, and a .295 average. He's also been unaffected by any pitching splits. There is good news and bad news this week. The bad news is the Dodgers are one of the team he faces. The good news is that he gets to do it after rolling out of his own bed and casually getting to Camden Yard. In the next series, he gets to travel to Detroit where the pitching has been less than stellar.
Tommy Edman (2B/SS/3B/OF, STL) — 33% Owned
Edman has been a pleasant surprise this year. He's been very productive with 23 runs, three homers, five stolen bases, and a .340 batting average this past month. He's already matched his best minor league power numbers with seven taters in the big leagues. Edman's discipline at the plate has been impressive as well. Although he is chasing a third of the time (32%), he still possesses an overall 83.7% contact rate and only a 7.8% Swinging Strike rate. The fact that he's so under-owned is surprising. Take advantage of his schedule this week as he ventures to Coors field, which is refreshing for everyone. Afterward, the switch-hitter will return home to finish the week-long schedule of right-handers (.330AVG) hosting the Brewers. The speed and batting average are the main attractions. Any pop he provides is just extra.
Deeper Leagues (30-10% Owned)
Manuel Margot (OF, SD) — 15% Owned
Margot is primarily an option if you're scrounging for SB. He's got four in the last month. The problem is that it came with a .214 batting average. Understand what you get if you pick him up. The positive is that Margot doesn't chase much (24.5%) or swing through pitches (8.5%), and he makes plenty of contact (80.6%). However, an 86.1mph average exit velocity doesn't really provide many positive results. 
Margot has been best versus southpaws this year (.361) but only gets three of them this week, all in Wrigley. Hopefully, Coors Field will provide its own measure of positivity for Margot.
Willie Calhoun (OF, TEX) — 29% Owned
Fantasy owners continue to be fickle and somehow Willie Calhoun was discarded to the wayside. Calhoun has always had a good eye at the plate, and he possesses an 85% contact rate with only a 7.5% Swinging Strike rate. Unfortunately, it has only led to two dingers and a .200AVG the last week. Get ahead of the curve before his solid production returns. This week he gets six games of home-cooking and enjoys the homer-friendly confines of Arlington versus the Rays and A's.
Avisail Garcia (OF, TB) — 17% Owned
Garcia quietly has reached double digits in power (18) and speed (10) while maintaining a .272 average. It hasn't all been glory days so you'll have to pick your spots. Even easier is when your spots pick you. Despite a week on the road, Garcia at least he gets to stop in and check the BBQ in Arlington. Have him ready to take at advantage of the venue.
Super Deep Leagues (< 10% Owned)
Dexter Fowler (OF, STL) — 9% Owned
Even at 33 years old, Fowler shows that 2018 wasn't the dying breath of a crusty old veteran. He's hit 16 long balls with .246AVG. It isn't spectacular but it is serviceable. That is exactly what you need to finish the season strong; you need someone who is getting steady at-bats. Fowler benefits from that regular playing time and thankfully has a six-game slate of only righties this week (.252). The three games at Coors is the time to own Fowler this week.
Sam Hilliard (OF, COL) — 2% Owned
Aside from the outrageous Triple-A numbers, Hilliard has demonstrated he is a solid power/speed guy. In 25 at-bats, there is a trend forming for him; Hilliard only gets to play versus right-handers (23). Well, there are four on the docket this week and if the trend holds true, he might find some real enjoyment hitting in Coors all week. Keep an eye on this as the Rockies have even more options since Raimel Tapia returned.
More Waiver Wire Pickups and Streamers
Check out RotoBaller's entire fantasy baseball waiver wire pickups and sleepers list, updated daily!