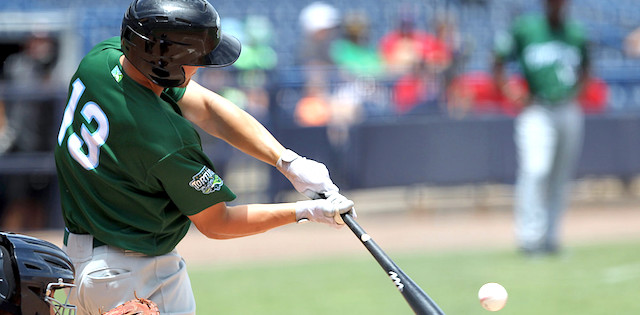 Nick Senzel's breakout in the Major League setting seems inevitable, but the question is, when? You might think you're experiencing deja vu because you were probably reading a similar article like this one a year ago, but it's not the case.
Baseball experts predicted 2018 to be the year for the Cincinnati Reds' top prospect as he propelled himself rapidly through the minors. After being teased throughout the season as a possible midseason call-up, fantasy owners were disappointed as a wide range of factors led to Senzel never getting that thrilling phone call.
With Eugenio Suarez and Scooter Gennett's bats both finding a steady rhythm on the big league club, we knew this would block Senzel from making an immediate impact last year. Everyone remained patient as we knew it was only a matter of time before the highly anticipated debut would materialize, regardless of position. Then, a case of vertigo derailed his path even further, before an injury to his right index finger in June ended his year abruptly. It somehow got worse for him in the offseason as he underwent surgery to remove bone chips in his elbow, but he's now ready for spring training at Reds camp. With the big league squad determined to have Senzel occupy center field, what will he offer to us in the fantasy game?
Featured Promo: Get any full-season MLB and DFS Premium Pass for 50% off. Exclusive access to our Team Sync platform, Premium articles, daily Matchup Rating projections, 15 lineup tools, DFS cheat sheets, Research Stations, Lineup Optimizers and much more!
Sign Up Now!
The Kid Can Hit
When it comes to Senzel's offensive game, he's a surefire triple threat. Hitting for power and average, he also steals as many bases as he launches balls over the fence. He's not the fastest or the strongest player compared to other top prospects, but he's a rare breed at doing everything with skill.
Selected in the 2016 draft as the second overall pick, Senzel has been heavily admired ever since his college days. He made an impact with his new affiliation right away in 2016, hitting seven home runs and stealing 15 bases during a 58-game stint in Single-A. He accomplished this with a .329 batting average and .413 on-base percentage due to a disciplined 0.65 BB/K.
Senzel stayed red-hot in 2017 as he split time between High-A and Double-A after earning another midseason promotion. Completing 119 games split almost evenly between the two levels, the youngster put up another 14/14 year, although he was caught stealing six times. Showing a strong ability to hit the ball into the power alleys, he clubbed a whopping 40 doubles that will surely translate to round-trippers with a little more seasoning. He improved on his all-around hitting too, enhancing his slash line from .305/.371/.476 in High-A to .340/.413/.560 in Double-A. Senzel's plate discipline remained mostly the same. He struck out at a similar rate but walked fewer times as his combined BB/K trickled to 0.50, still a healthy number.
After these two tremendous years, Senzel was knocking at the Major League door with nothing left to prove at these levels. Ranked as the top third base prospect not named Guerrero by MLB, we knew it was an extreme long shot that he'd crack the Reds opening day roster. We did have a strong inclination, however, that Senzel would dip his toes into the big league sand at some point during the year.
Spiraling Out Of The Lineup
When Suarez hit the disabled list in early April last year, waiver wires everywhere were heating up with the presumption that this was the opportunity Senzel needed to get his recruitment to the majors. Cincinnati had other plans on their agenda and left him in Triple-A for more conditioning. It was at the start of May when Senzel began feeling symptoms of vertigo. He had a small fight with the illness in 2017, but in 2018 it knocked him out of the lineup for nearly a month.
Vertigo stems from problems in the inner ear giving the feeling of being off-balance. Quite the handcuff when trying to field the baseball and hit 95 MPH heaters. Brock Holt is the most recent player to have been diagnosed with this condition in 2017, but he returned to full health in 2018 after doing specific brain exercises and getting much-needed rest. Senzel recovered from his bout rather quickly and stepped back into the batter's box without skipping a beat.
Senzel returned just before the calendar flipped to June and raked over his next 22 games. Hitting a crisp .349 post-vertigo, his season came to a disastrous end after season-ending surgery on his right index finger. Finishing the year with a .310/.378/.509 line, with six HR, and eight SB in 44 games, disappointment set in that we'd have to wait another season until we could see what the right-handed swinger could do in the show.
2019 Expectations
Now that spring training is around the corner, the hype train is once again generating speed going into early fantasy drafts. Senzel has an ADP of 235, but since news broke that the Reds plan for him to play center field this year, his ADP has jumped up to 210. This tag is still a decent price for the 23-year-old considering the potential that oozes out of him. It's clear the Reds want him in the lineup, but it's feasible we won't see him until at least mid-April with service time issues that always loom over first-year players.
Senzel is athletic enough to play anywhere on the diamond, and it's reasonable to think that he will adapt to a new position in the outfield. Other than first base, he has experience playing all infield positions if he is needed to fill in there as well. This versatility will surely keep him in the lineup as teams see a magnitude of injuries every year. There are some health concerns regarding Senzel as well, but it appears that his elbow and finger have fully healed after being able to take swings early in January.
He has the plate discipline and the quick bat to conceivably flirt in the .300 range considering he projects to contend for batting titles once he fully develops. Great American Ballpark ranked first in park factor for home runs last season, so Senzel could be a 20-25 HR threat if he finds himself with the Reds in April. He may not reach that number in steals this season as he has just a 72.7% minor league success rate, but you can count on a number somewhere in the double digits.
With his superb OBP, he has a chance to bat at the top of a stacked lineup in Cincy where his R and RBI totals could be enormous. In all likelihood, he'll begin in the lower half of the order to get his feet wet, but if Jose Peraza or Gennett get injured, he'll be the first option to fill in at the top. Senzel comes with some draft risk at his ADP, and that number could gain even more momentum with a solid showing in the Cactus League. He's still a preferable option than other players around the 210 ADP (e.g., Winker, Eaton, Wendle) and he can contribute to all five categories with multiple position eligibility. Get your shares now before the hype train flies off the track.
More Fantasy Baseball Sleepers and Breakouts