We're inching closer to the official start of the NFL free agency next Wednesday, March 16. Before we arrive at that date a week from now, though, we just inadvertently went through another important period of NFL action that spanned from Feb. 22 to Mar. 8 in which NFL clubs could designate Franchise or Transition Players.
This is always a crucial point in the course of the football offseason as it marks a make-or-break point for teams and players entering free agency, allowing franchisees to re-ink one of their most valuable assets for one more year at very pricy tags. For a full explanation of how the process works, check out Frank Dyevoich's comprehensive breakdown.
Today, I'm looking at what went down (mostly) yesterday, Mar. 8 in terms of franchise-tagged players and other deals that happened around the NFL (hello, Russ!), and I'm coming up with the biggest Winners and Losers in terms of fantasy football already looking at what might happen once the 2022 fantasy season kicks off mere months from now!
Featured Promo: Our friends at Sharp App have created the ultimate tools for sports bettors. Download the FREE app to track bets, compare odds, get daily picks from the most accurate models in the industry, and identify the sharp side of any bet. Use promo code BALLER to get a month free of Sharp Pro access.
Get The App!
Miami Dolphins
Tagging Mike Gesicki
There was an interesting storyline going on surrounding the Dolphins and TE Mike Gesicki. Looking at the alignment numbers, Gesicki is a wide receiver masquerading as a tight end. But looking at the official depth charts and player-position designations, Gesicki is another plain TE. The thing is, there is a wide gap between the tag for both positions, and the Dolphins got away with a franchise tag at the price of tight ends and not wide receiver when they extended Gesicki's deal yesterday. Anyway, for what matters to all of us fantasy GMs, Gesicki is remaining in Miami at least for the 2022 season.
Gesicki could be considered a loser given 1) QB Tua Tagovailoa might be long for this team, and he might not be that good anyway; and 2) the Dolphins are going to have a bad offense (salute Jaylen Waddle, the only viable fantasy player in the team) barring an improbable free-agency spending spree at the WR/RB positions. Miami probably won retaining its third-best skill-position player, but I don't think the very own Gesicki will be so excited about the next 12 months and what he'll be forced to navigate through them.
Denver's Passing Game
Russell Wilson and all pass-catchers
Yessir! Shout out Denver for raising their odds at a Super Bowl appearance next February in a matter of hours. I know, I know. That's oversimplifying things a bit, and it's not that Denver did it all in the past 24 hours, but still. The Broncos are bringing Russell Wilson to town in exchange for a few draft picks, QB Drew Lock, and TE Noah Fant (for what interests us). That's virtually no losses for fantasy purposes when it comes to Broncos players, though the gains this offense will experience featuring Wilson instead of Bridgewater/Lock are huge.
Wilson instantly raises the floors of wideouts Jerry Jeudy, Courtland Sutton, and Tim Patrick, and he will also have another interesting player to target in TE Albert Okwuegbunam--the tight end is perhaps the biggest winner among already-in-Denver players given Noah Fant's departure. Everybody wins here, including Wilson who will now have three viable targets at the WR position instead of just two (Metcalf and Lockett in Seattle) and a young TE with tons of upside along with a couple (if Melvin Gordon re-signs) of RBs to keep defenses honest.
Green Bay's Main Weapons
Aaron Rodgers, Davante Adams, Aaron Jones
I am not sure how this thing will end, but at least for the next two or three years, Green Bay should stay at the top of the NFC and steadily contending for the Super Bowl. That's because Rodgers just inked a four-year, monster-dollar deal to remain in Wisconsin. Green Bay's RB1 Aaron Jones restructured his deal in February and WR Davante Adams got the franchise tag to stay in town for at least one more year.
The Packers were this close to making an SB appearance this season with those three and some ancillary pieces around them, so it's not that those alone can't carry the team places. Of course, when/if Rodgers starts showing signs of bad aging, this could go south quickly because the Packers cap room is worse than non-existent. For our fantasy purposes, though, we can rest assured those three are going to be top-12 players at their positions no matter what next season.
Getting tagged by the Dallas Cowboys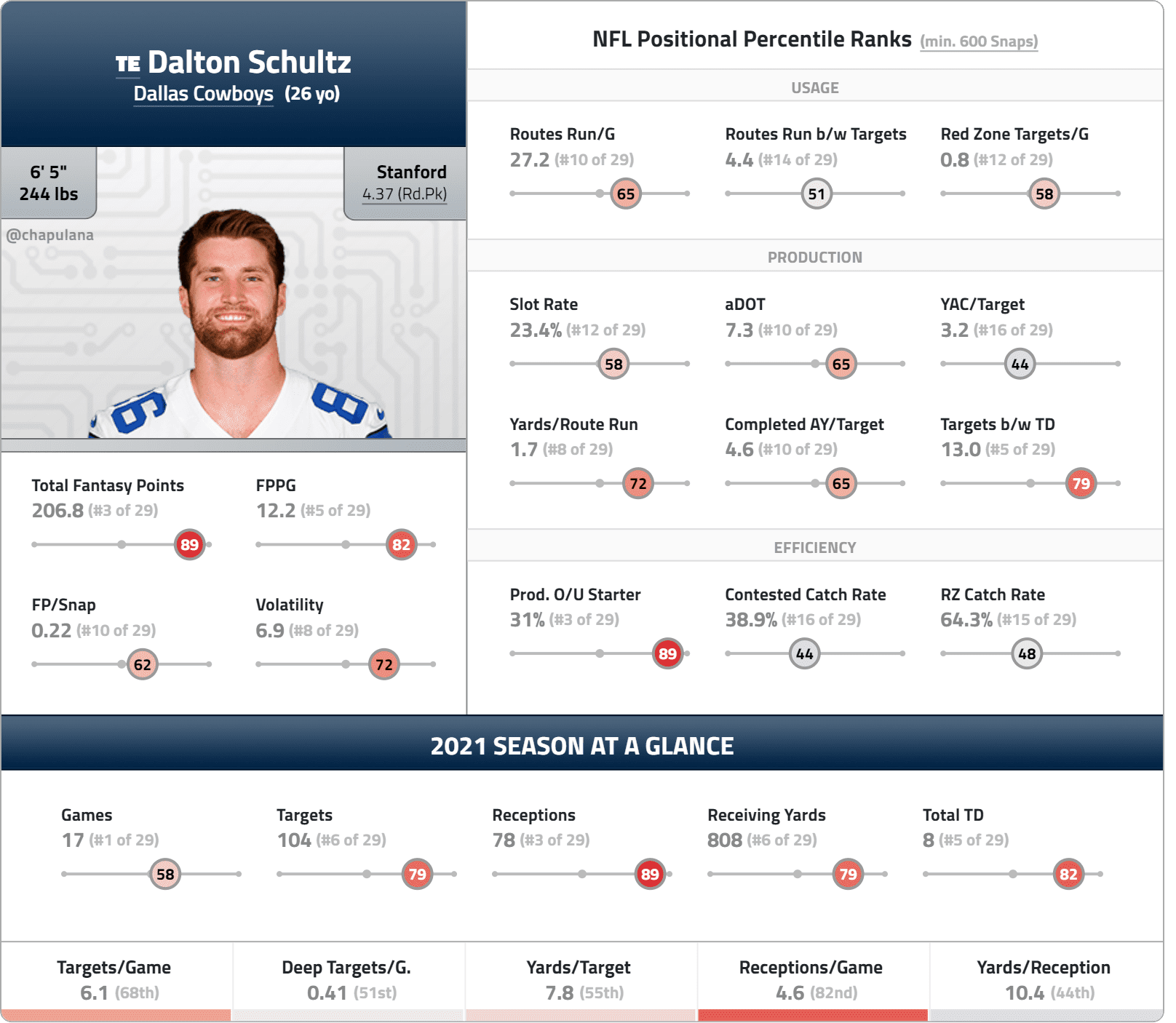 We still don't know if Amari Cooper will be back with the Cowboys next season as there are very loud rumors speaking of a potential release happening in the next few days. We'll see how that ends, but one thing is clear: no matter if Coop stays or if he goes, TE Dalton Schultz must be very happy about getting tagged to stay in Dallas one more year with a nice one-year deal. Schultz finished 2021 as the TE3, was an absolute marvel in Dallas' offense, and only WR CeeDee Lamb finished with more PPR points than him when looking at players at the WR/TE positions.
Both WR Cedrick Wilson and Michael Gallup are entering free agency as UFA and could be leaving Dallas. Lamb and Schultz, along with Ezekiel Elliott, should be the building blocks of the 2022-and-later season for the Cowboys. Led by a fantastic QB in Dak Prescott, who proved to be totally healthy after the 2020 scare, there is nothing stopping Schultz from posting up another TE1 season come 2022. Safe floor, high ceiling, reasonable competition in the receiving corps but not a ton of it as to not get enough looks and targets next year.
And the Los Angeles Chargers tagging him
Mike Williams picked the right season to explode given he was playing his contract-year campaign in 2021 for the Chargers. So good did he perform that here he is now, boasting a one-year tag that will keep him in Los Angeles for at least one more run at the chip. We'll see if the ultimate goal of lifting the SB comes his way or not, but he--and the Chargers by extension--should be happy to have reached this ending instead of seeing him depart for other (probably not greener) pastures.
Williams exploded through the first third of 2021, then came down to Earth a bit for a while, but got all the way back up to excel for a few games starting in W10 and sustaining his sublime ways until it was all said and done in W18 with the end of the regular season and LA's campaign. He will keep playing next to stud-WR Keenan Allen and under the passing of QB Justin Herbert, so there is nothing crazy about thinking Mike Williams will indeed have another low-end WR1/high-end WR2 season at the very least.
Download Our Free News & Alerts Mobile App
Like what you see? Download our updated fantasy football app for
iPhone
and
Android
with 24x7 player news, injury alerts, rankings, starts/sits & more. All free!
Win Big With RotoBaller
Be sure to also check out all of our other daily
fantasy football articles
and analysis to help you set those winning lineups, including this new RotoBaller YouTube video:
More Fantasy Football Analysis