Our friends at Monkey Knife Fight offer some of the coolest, and easiest to win, NFL DFS games in the industry. If you haven't checked out these games yet, you can start tonight for the Jets vs. Browns Monday Night Football game! There are no massive tournaments where you have to get ridiculously lucky just to cash, because at MKF, you're not playing against other people, you're just playing against the betting line, and the dudes at MKF have fallen all over themselves to give you really attractive opportunities to make some money.
We'll be helping you along every night where there's a football game, by providing you with Expert Prop Picks all NFL season long here at RotoBaller.
In week 2 of Monday Night Football we have an interesting matchup between the Jets and the Browns. Both sides have some excellent offensive weapons to target with our prop picks-- it seems like the perfect week for Baker and OBJ to get on track for the season!
Editor's Note: Here's a really nice special offer for all RotoBaller readers from our Monkey Knife Fight friends: New Player Bonus - All new players receive a 100% matched signup bonus up to $50.  Once you sign up and deposit, use our Monday Night Football prop picks below to get off on a winning foot! 
Pick 1: Over/Under Contest
Recommended Prop Pick: Two for Two: Baker Mayfield OVER 269.5 passing yards and Trevor Siemian UNDER 217.5 passing yards
In a game where I can see the Browns rebounding from last week and dominating the Jets, this two-man Over/Under prop bet is perfect. Despite the Browns, and Mayfield, playing poorly in their Week 1 matchup against the Titans, Mayfield was still able to pass for 285 yards. This week, Mayfield should be able to rack up those passing yards early in the game to take the lead rather than late in the game trying to catch up like in Week 1. As for Siemian, this is his first game as a starter for the Jets. There is a really good chance that the Jets will lean on shorter passing plays and Siemian will be limited with total passing yards. Even if Siemian has a decent game, I am still confident he stays under that 217.5 yard mark.
Play the Over/Under Contest Now on Monkey Knife Fight
Pick 2: Reception Collection Contest
Recommended Prop Pick: Odell Beckham Jr, Jamison Crowder, and Robby Anderson to get 16.5+ receptions.
These Reception Collection prop picks allow us to pick any three receivers from either team to total as many receptions as possible-- for this prop bet, you can pick 16.5 total receptions for 1.5x your buy-in, 18.5 total receptions for 2x your buy-in, or 20.5 total receptions for 4x your buy-in. The three players below absolutely have the potential of breaking that 20.5 threshold but of course, choosing those lower goals is always a smart and safer option.
OBJ has the potential for 10+ receptions by himself-- Baker and OBJ struggled in Week 1 and he was still able to catch seven passes. As for the two Jets receivers, I expect the Browns to take an early lead, forcing the Jets to move the ball through the air more than they'd like. Crowder finished Week 1 with 14 receptions and even though it is unreasonable to expect the same performance, projecting seven or eight catches is not unreasonable. At that point, you'd already be at 17-18 receptions, over the 1.5x goal without any receptions from Anderson. Anderson struggled in Week 1 with only three receptions but should be in store for close to 10 targets in Week 2 as Siemian will likely try to spread the ball more than Darnold did in Week 1. If he can convert on just five to seven of those targets, he should push the trio over that 20.5 reception goal for 4 times your money!
Note: If reports indicate that Le'Veon Bell will see a full workload, you can consider using him instead of Anderson.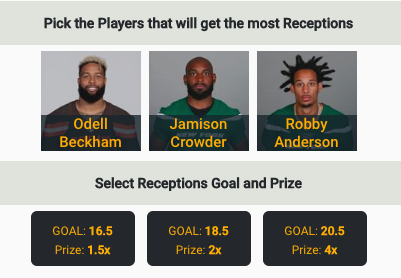 Play the Over/Under Contest Now on Monkey Knife Fight 
Pick 3: Over / Under Contest
Recommended Prop Pick: Odell Beckham Jr OVER 6.5 receptions and Le'Veon Bell OVER 72.5 rushing yards.
As mentioned with the above prop picks, OBJ and Baker have the perfect opportunity to gain some momentum for the season-- Baker should look OBJ's way numerous times throughout the game, giving him a great chance to have 10+ receptions. The over/under being set at 6.5 receptions seems too low and this over should hit. As for Bell, as long as he plays, and there are no reports indicating he'll be limited, 72.5 rushing yards seems extremely reasonable. Bell rushed for just 60 yards last week but did see 17 touches-- as long as he sees that many touches again, I am confident that he'll pass that 72.5 mark.
Play the Over / Under Contest Now on Monkey Knife Fight
More Weekly DFS Analysis