More bodies continue to fall across the NBA, latest being Devin Booker and Jusuf Nurkic. If you haven't checked out our injury updates, make sure to give that a look. I also write a feature during the week on recent notable injuries and which players can benefit. Check out my previous post here. We are expanding our NBA fantasy coverage throughout the site, so be sure to check them out!
Some news around the league: Jahlil Okafor has finally been freed, as he was traded to the Brooklyn Nets earlier in the week. And yes, he's a must-add in 12+ team leagues given the opportunity he has in Brooklyn. LeBron James and James Harden continue to duel each other for MVP honors. Kawhi Leonard is real close to a return, and December 15th marks the first day where all the players in the league will be eligible for trades. You will start to hear more rumors as we approach the February trading deadline. Use your roster acquisitions wisely, as potential trades and key pickups can instantly improve your chances to win your league. Of course, you will need to be quick (I grabbed Okafor within three minutes after the notification). Setting and notification alerts on Twitter involving high profile resources such as @wojespn helps tremendously.
Now let's look back on Week 8 and get prepared for Week 9.
Editor's Note: Sign up with Fantasy Factor and hop in their FREE ENTRY $100 NBA Survivor Contest. For a limited time, sign up and make a first deposit, and Fantasy Factor will refund your first entry into any NBA contest (minimum 10 players)! Fantasy Factor is the only exclusively single-entry DFS site.
Sign Up Now!
Week 9 Schedule
4 Games – Wizards, Raptors, Trail Blazers, Thunder, Heat, Grizzlies, Clippers, Rockets, Pistons, Cavaliers, Hornets, Nets, Celtics
3 Games – Hawks, Bulls, Mavericks, Nuggets, Pacers, Bucks, Timberwolves, Pelicans, Knicks, Magic, Kings, Suns, Jazz, Spurs
2 Games – Warriors, Lakers, Sixers
Week 8 Breakout Performers
Week 7 averages: 21.0 PPG 13.5 RPG 5.3 APG 1.5 SPG 2.8 BPG 1.8 3PM 50% FG 91% FT 2.5 TO
The big man from Orlando has been on a tear lately, putting up top-10 numbers over the past two weeks and top-5 numbers the following week. He has been crushing it this year with steady top-15 value and the 1.5 3-pointers he's making per game has really spiked his value. As long as Vucevic's healthy, owners can be confident to lean on his elite production. You can look to sell high, but you better make sure you're getting an elite player in return.
Serge Ibaka, PF/C, Toronto Raptors
Week 7 averages: 20.0 PPG 4.0 RPG 1.0 APG 0.7 SPG 1.7 BPG 3.3 3PM 60% FG 80% FT 0.3 TO
How about Ibaka, who's suddenly hot after a terrible start to the season. He's been a top-25 play over the past two weeks with averages of 16.6 points, 5.6 rebounds on 55 percent shooting. The blocks is on the rise as well, up to 1.6 per game. He's shooting the 3-ball well right now, hitting 3.3 treys per game over the past week. The lack of rebounds is pretty annoying, but owners who was frustrated early on should be thrilled Ibaka has finally turned into the player they drafted in the fourth and fifth round of most leagues.
Rajon Rondo, PG, New Orleans Pelicans
Week 7 averages: 11.3 PPG 4.3 RPG 12.0 APG 2.3 SPG 0.3 BPG 1.3 3PM 61% FG 100% FT 2.0 TO
Rondo has been a point god lately, providing double-digit assists in four of his last five contests, including a 18-assist performance on Sunday night. He's loving life playing next to DeMarcus Cousins and Anthony Davis, where he can just push the pace and dump the ball to his dominant big men. He's quickly turning into a draft day steal if he's able to continue this pace. Assists are hard to come by, and Rondo's a guy whose capable of averaging 10+ assists per game.
Kevin Durant, SF/PF, Golden State Warriors
Week 7 averages: 30.0 PPG 9.3 RPG 7.3 APG 1.0 SPG 2.7 BPG 2.3 3PM 46% FG 89% FT 4.0 TO
The Warriors finished their road-trip undefeated at 6-0, and Kevin Durant was a huge reason for that. For Durant owners, they're certainly not rushing Stephen Curry (ankle) back as Durant's putting up elite numbers in his absence. KD's usage rate climbs to an average of 39 percent without Curry on the floor, and he has put up averages of 30 points, 9.3 rebounds, 7.3 assists per game in his last three. He's a category monster, as he's also chipping up 2.3 3-pointers and 4.0 blocks per game. Unfortunately, Warriors only play twice this week, but he's still worth starting given he has massive upside.
Week 7 averages: 22.8 PPG 4.8 RPG 4.8 APG 0.5 SPG 0.5 BPG 2.5 3PM 60% FG 100% FT 1.0 TO
The arrival of Eric Bledsoe hasn't hurt Middleton at all, as he's been a sneaky early-round guy all season. He's a huge part of what the Bucks are doing, so he's going to be trusted to provide scoring and play making on a nightly basis. Middleton has bounced back nicely after suffering a hamstring tear a year ago, and there's no doubt he'll continue being an early-round player for the rest of the season.
Week 7 averages: 16.7 PPG 2.3 RPG 7.3 APG 2.0 SPG 1.0 BPG 0.7 3PM 53% FG 93% FT 2.0 TO
LeVert has finally string along a couple of nice games, and he's been second-value the past week thanks to a climb in assists (7.3). The Nets desperately need LeVert to be a play maker, as the Nets are down to just Spencer Dinwiddie and Isaiah Whitehead as the only true point guards left on the roster. LeVert was a key reason why the Nets was able to beat the Thunder on Thursday night as he dropped 21 points and dished out 10 assists. It's time to pick him up if he's still available in your league, as he should sustain value until D'Angelo Russell (knee) is able to return.
Tyreke Evans, PG/SG/SF, Memphis Grizzlies
Week 7 averages: 21.8 PPG 5.5 RPG 4.8 APG 0.8 SPG 1.3 BPG 2.5 3PM 47% FG 84% FT 2.3 TO
The Memphis Grizzlies hasn't had a lot to celebrate this season, as they continue to fall down in the standings with a 8-18 record heading into Sunday. However, Tyreke Evans has been a bright spot for them all season, as he's arguably in the running for waiver wire pick-up of the year. He has always flashed his upside early in his career, but injuries became a huge factor in teams passing up on Evans. The Grizzlies took a chance on him this off season and it has paid off dividends. Evans looks healthy and he's putting up early-round numbers to prove it. The return of Mike Conley (Achilles) could make things complicated, but there's still reason to believe Evans will continue to thrive.
Week 7 averages: 38.5 PPG 6.5 RPG 3.0 APG 2.0 SPG 0.0 BPG 4.0 3PM 50% FG 91% FT 2.5 TO
The Beard has been the #1 overall player this season, and he's a top candidate to win the MVP honors when its all said and done. Chris Paul has actually made a positive effect on Harden, as he's able to handle the ball and lessen the turnovers of Harden. The chemistry has been great as the Rockets (20-4) now hold a half-game lead over the Warriors and Harden can just focus on being the primary scorer. Harden dropped 48 points in a win over the Trail Blazers Saturday night, marking the third time he topped 45 points this season.
James Harden doing James Harden things. #Rockets pic.twitter.com/NUyMeWsAHd

— NBA (@NBA) December 10, 2017
Week 8 Standard Leagues - Waiver Wire Pickups
David Nwaba, SG/SF, Chicago Bulls (13% Ownership)
Head coach Fred Hoiberg absolutely loves Nwaba, as he has played 30 and 32 minutes over the previous two games. He's not going to be a league winner on your squad, but he's certainly trending up with three straight double-digit outings including a 11-point, six-rebound, four-assist and three-block game against the Hornets on Friday. He also has six total blocks over the past three games, and while that's not likely to be sustainable, he's a hot pick up right now.
Jahlil Okafor, C, Brooklyn Nets (56% Ownership)
Okafor finally got what he wanted as he's been traded out of Philadelphia. His move to the Nets has major fantasy implications as he instantly becomes the best inside scoring option the Nets have, and it gives the Nets a bright outlook as they now hold the #2 and #3 draft pick in the 2015 NBA draft. In a fantasy perspective, Okafor's path to minutes is Tyler Zeller and Jarret Allen, so it's safe to say they will carve out a meaningful role for Okafor. He could also start for the Nets eventually, but it's worth noting the Nets rotation don't usually play anyone over 28 minutes per game, with the exception of DeMarre Caroll at 29.5 per game. Okafor averaged 17.5 points, 7.0 boards, and 1.2 blocks on 50 percent shooting in 2015, just enough for top-100 value. He's not going to do much for you outside of points, rebounds, and field-goal percentage. However, it's worth noting he is motivated as ever to be able to play and contribute. There's enough upside there and best scenario could swing him in the top-75 discussion. That's not bad for a guy who you plucked off the waiver wire. I'm fairly confident on Okafor's outlook with the Nets and I'm a firm believer of motivated players who looks to prove himself. If he doesn't have value by the end of the year, drinks on me.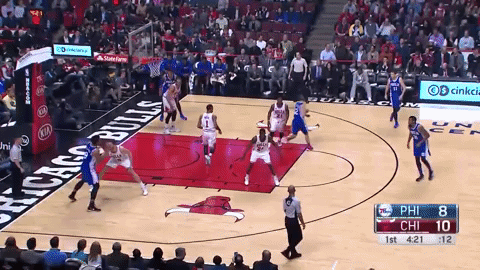 Not a lot of players in the league have big man post-moves
Marvin Williams, SF/PF, Charlotte Hornets (54% Ownership)
The Hornets lost both of their backup big man in Frank Kaminsky (ankle) and Cody Zeller (knee) earlier in the week and it will be up to the likes of Marvin Williams, Michael Kidd-Gilchrist to pick up the slack. There's nothing flashy about Williams, as he's averaging just 9.4 points and 4.4 boards on the season. But his 1.6 3-pointers made 0.5 turnovers per game is what's driving him inside the top-100 discussion. He's averaging 30 minutes over his last four games and will continue to hit 3-pointers on a Hornets team that really needs him to space the floor. He should be owned in more leagues.
E'Twaun Moore, PG/SG/SF, New Orleans Pelicans (40% Ownership)
Moore has been overlooked by most owners this season, but he continues to provide solid late-round value to those who decided to pick him up off the wire. He's #98 on the season and is looking to have carved out a role on a Pelicans team that depend on his outside shooting. He's playing just under 32 minutes per game, with averages of 12.4 points and 1.7 3-pointers per game on 52 percent shooting. Moore is averaging 17.2 points, 3.0 rebounds, 2.2 assists, 1.0 steals and 3.4 3-pointes on 59 percent shooting over his last five. He rarely turns the ball over and is also capable of playing multiple positions. Get him on your team if you need a boost in 3-pointers with a trickle of steals.
Tyler Johnson, PG/SG, Miami Heat (40% Ownership)
Johnson has been hot lately, averaging 16.6 points on 60 percent shooting over his last five. He has scored 20 and 25 points over his last two, going 17-for-23 from the field. Johnson is one of those guards who can also give you the peripheral stats and 3-pointers, so he's useful in most leagues while he's hot. Johnson was playing on second-round value this week, so he should be picked up everywhere until he cools off.
Week 8 Deep Leagues - Waiver Wire Pickups
 J.R. Smith, SG/SF, Cleveland Cavaliers (18% % Ownership)
Smith is best viewed as a streaky streamer, but with a four-game slate this week, he should be useful as he's starting the week playing the Lakers and the Hawks. JR hasn't exactly been good this season, as he's averaging just 8.4 points on 39 percent shooting despite of playing 31 minutes per game. He could do more harm than good on some nights. But in competitive leagues where the wavier wire offer limited options, Smith could be the guy who puts you over the top with his upside. He's a microwave who could heat up and hit seven treys for 25 points, but also could be a fringe option who would shoot 1-for-8 and score two points. Despite all that, his minutes are safe and he's worth starting in a pace up game with the Lakers and a bad Hawks defense who allow a lot of 3-pointers.
Andre Roberson, SG/SF, Oklahoma City Thunder (8% Ownership)
Roberson isn't for everyone, as he's only averaging 4.8 points per game. It's not a surprise, as the Thunder feature three All-Stars who love to score. However, Roberson's value lies within his defense, where he's averaging 0.9 steals and 0.9 blocks per game. He averaged 2.0 steals and 2.3 blocks through three games this week, vaulting him into the top-30 discussion. He's best suited for deep leagues, but don't hesitate to take a chance on him if you're chasing steals and blocks. He is questionable Monday against the Hornets with an ankle injury, but shouldn't miss much time. The Thunder play four times this week.
Jakob Poeltl, C, Toronto Raptors (10% Ownership)
The injury to Lucas Nogueira (calf) has opened up more minutes for Poeltl, and he has answered to the challenge. The Raptors are winners of six straight and Poeltl has been stellar with 11.2 points 4.4 rebounds over the past two weeks. He's also shooting an efficient 75 percent from the field during that span. We'd like him to block more shots, but he's not hurting you anywhere. The Raptors play four times this week and he's definitely worthy of a consideration in all 12+ team leagues.
Fred Vanvleet, PG/SG, Toronto Raptors (5% Ownership)
Like Poeltl, Vanvleet has also stepped up his play of late. Vanvleet is averaging 9.6 points and 5.2 assists over the last two weeks, good for top-130 value in 9-category leagues. Assists are hard to come by in competitive settings, so he should be owned in more leagues where he can provide a steady source of dimes.
Ben McLemore, SG/SF, Memphis Grizzlies (1% Ownership)
McLemore is far from trustworthy player, but he's string along a couple of nice games to be worth starting in deeper leagues. He's coming off a nice game where he scored 17 points to go along with five triples. He could very well disappear the next game, but it's worth monitoring to see if he's able to keep it up. The Grizzlies play four times this week.
Tyler Cavanaugh, PF/C, Atlanta Hawks (5% Ownership)
Cavannaugh has been a beneficiary with all the injured Hawks players, and he's been outstanding filling in. He has averaged just over 26 minutes per game this past week heading into Sunday, chipping in 10.3 points, 5.3 boards and 2.0 3-pointers per game. The minutes should continue to be steady until the Hawks front court is healthy. In case you're wondering, Ersan Ilyasova should've been owned, as he's been playing like a must-start player lately.
Buy Low
Isaiah Thomas, PG/SG, Cleveland Cavaliers
This really only applies to you if you're sitting comfortably on top of your standings. The return of the 5-foot-9 All-Star is still very much up in the air, but he's reportedly been spotted putting up shots and practicing with the team. He's still not close to a return yet, but he has started light contact work, which certainly means he's progressing well in his recovery. You shouldn't expect Isaiah Thomas to put up the numbers he did with the Celtics last season. But you can bet he's going to thrive playing next to LeBron James if he's able to stay healthy. He's also motivated more than ever the Celtics traded him away after a MVP-caliber season last year. The scoring might not be as high as last year, but his efficiency and his 3-point makes could increase. Thomas is worth the gamble if you're willing to trade away pieces you won't miss. Thomas was originally scheduled to come back as soon as early January, but there's a small chance he could be back sometime during the holiday season of December.
John Wall, PG, Washington Wizards
Wall has been resting and recovering from a small knee procedure to aid his knee soreness. He was first expected to miss about two weeks when the Wizards announced it on Nov. 25. He did say to reporters that he doesn't have a timetable in mind, but reports are out stating he is targetting Dec. 13 against the Grizzlies. It wouldn't hurt to see if you're able to get one of the best passing point guards in the NBA, especially if you need to secure the assists department.
C.J. McCollum, PG/SG, Portland Trail Blazers
Before his 28-point bounce back game on Saturday, McCollum has really struggled with his jump shot. He's been outside the top-200 the previous two weeks with just 17.2 points per game on 38 percent shooting. His owners might be a bit frustrated, and I'd try hard to buy in on CJ before he blows up again. Center Jusuf Nurkic went down with an ankle injury last week and is already ruled out Monday night. McCollum and Damian Lillard will continue to to provide the scoring punch for the Blazers. It's only a matter of time before McCollum returns elite-value.
Sell High
Dwyane Wade, PG/SG, Cleveland Cavaliers
Wade has already started to trend down a bit after a hot two-week stretch. That may be the best Wade has looked all season and it's a great idea to sell him for a player with a better outlook. Isaiah Thomas is also close to a return and he will almost definitely have a negative impact on Wade's fantasy production. There's no telling if Wade can fully stay healthy either. I advise owners to starting exploring trade offers including Wade as his value has never been higher all season.
Dinwiddie has really struggled lately, shooting just 39 percent the past week. He hasn't exactly been the dynamite player we saw earlier in the season, and it's a huge reminder that players will often regress back to their mean. He was simply playing out of his mind and it'd be wise to see if you're able to send him off for a player with a better outlook, especially given that D'Angelo Russell (knee) could come back in the near future. Dinwiddie will have a hard time sustaining value with Russell back in the picture.
More Fantasy Basketball Analysis
NBA DFS Premium Subscription
Get a free trial of our powerful NBA Premium Tools. Our famous DFS Cheat Sheets, and NBA Lineup Optimizer & Generator with daily matchup projections.
Win more. Try the most advanced lineup optimizer in daily fantasy basketball.
By popular demand, RotoBaller has aggregated all of our fantasy basketball NBA waiver wire pickups into a running list of NBA waiver options, so bookmark the page and check back often for updates.