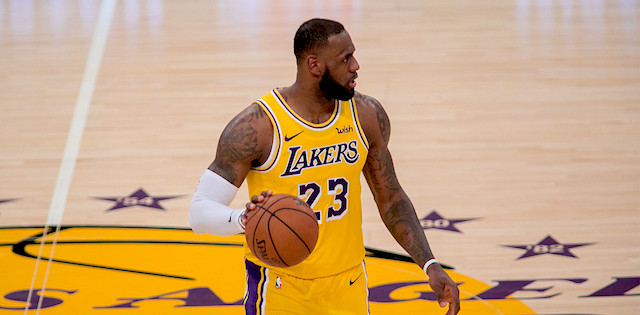 For the rest of January and most of February, the NBA is going to be in a weird state. Not only will there be the All-Star break in a few weeks, but the slates are going to be all over the place. In the past week, we had a Tuesday with just one game and a Sunday with just two. This is going to be more and more common as the season goes on, just like the nights where we have massive slates like tonight. Since there are too many props to bet on, it's easier to go with my favorite five of the night.
If you have any questions, find me in the NBA Chat Room or @HalfCourtJester on Twitter. Bets and advice are always subject to change based on injuries and special circumstances. For instance, tonight is Zion Williamson's return to the lineup, so be cautious when taking bets around this game.
Editor's Note: Here's a great special offer for all RotoBaller readers from our Monkey Knife Fight friends: New AND Existing Player Bonus. All players receive a 100% matched signup or reload bonus up to $50 with code 'RBNFL19'. Sign up and deposit, and use our prop picks to get off on a winning foot! 
Zach LaVine (CHI) OVER 28.5 Points
Only an elite, few players are posting more production in terms of points recently, so Zach LaVine's upside is boosted when he gets to play a defense like the Timberwolves. Karl-Anthony Towns has returned and that will give a tiny spark to Minnesota's frontcourt, but that won't be enough to keep LaVine from creating all the space he needs against their guards. As for him scoring 30 tonight, he's posted at least that in three of the pat five games, all against much more capable defenses. Minnesota ranks 20th against opposing shooting guards so if you like math, there you go.
Play the Contest Now on Monkey Knife Fight
Anthony Davis isn't necessarily cleared to play, but if there is any news of him playing tonight, the over is extremely appealing. The Knicks defense isn't just going to get rolled over by the Lakers, but there's only so much their frontcourt can do against someone like Davis. Playing in Madison Square Garden should make him want to play and post another quality performance, which is all we need. For someone who posts blockbuster fantasy nights frequently, 52.5 isn't that high. Even if the Knicks can't keep it close the entire game, there is a very good chance Davis could be breaking that threshold before it gets to the fourth quarter.
Play the Contest Now on Monkey Knife Fight
Ricky Rubio (PHX) Over 8.5 Assists
If there is one thing about Ricky Rubio that has become annoyingly true, it's how he performs when the odds are stacked against him. It's not that deep, I know. But think about it. Whenever the defense is ranked near the top in the league, Rubio comes along and collapses that tower. Even if his team doesn't win, Rubio tends to show out against the stingiest of defenses and that tends to show up in the box score. Even though the Pacers are one of the better rebounding teams in the league, they don't have the frontcourt athleticism to keep Rubio from producing. This should be a high-scoring game, so even if Rubio isn't leading the charge, both teams have enough scorers to make eight assists more than doable from the Suns most reliable ball-handler.
Play the Contest Now on Monkey Knife Fight
Same with the case for Anthony Davis, LeBron James in Madison Square Garden is never a bad thing, as long as he plays. If they both play, the upside is a tad limited, but since we are targeting assists it works for us. What else can I say about the Knicks defense that hasn't been said. They have talent, but this is LeBron James and Anthony Davis. The last time these teams faces, the Knicks halted a fairly significant double-digit assist streak from James, which exactly while I think he is going to try and chase a few highlight assists rather than score. If Anthony Davis doesn't play, 10.5 assists still seems low enough to go with the over.
Play the Contest Now on Monkey Knife Fight
D'Angelo Russell (GSW) Over 3.5 Three-Pointers Made
Take this how you will, D'Angelo Russell has made at least four three-pointers in six of his last seven games. There is one outlier in there where he didn't hit a single three against the Mavericks, but those nights happen and hopefully that'll be the last one for at least one more game. In the two games Russell has played against the Jazz this season, one game he went off, the other he struggled. There is a reason why they chose the line they did, but I'd safely bet the over seeing how many shots Russell is taking lately. He won't want to challenge Rudy Gobert unless he absolutely has to so look for him to get his step-back going early on route to a near-30 shot attempt night.
Play the Contest Now on Monkey Knife Fight

More Weekly DFS Analysis