The home teams have taken the first four games of the Eastern Conference Finals between the Toronto Raptors and the Milwaukee Bucks and the series shifts back to Milwaukee for Game Five.
The series is down to a best-of-three and both teams are leaning heavily on their star players. Kawhi Leonard has carried the Toronto Raptors, but does seem to be dealing with an injury and Toronto received a sudden boost from the bench on their way to a blowout win in Game Four.
Giannis Antetokounmpo is an incredible player who can dominate the game, and he has at times, but he also has found life more difficult when he ends up getting covered by Leonard. Nothing like a couple of the best players in the league going head to head.
Game Five is obviously critical and the stars may have something to say about how its decided.
Here are some angles to consider before getting in on Thursday's NBA action.
Editor's Note: Our friends at Monkey Knife Fight have released the best, most fun, fastest growing DFS props game! It's super simple to play and win real money. Just choose your NBA, NHL, MLB or PGA game, and make your picks! Get a 100% instant deposit bonus up to $50 using promo code: BALLER. That's $50 for free - don't miss out!
TORONTO-MILWAUKEE
TORONTO-MILWAUKEE
OVER/UNDERS
Kawhi Leonard OVER 28.5 POINTS – Before he was held to 19 points on 13 shots in Game Four, Kawhi had scored 29 or more points in nine of the previous 10 games and he has scored at least 29 points in the past six road games. The risk here is that a quad injury may be affecting Kawhi and that seems more likely to slow him down than anything the Bucks might throw at him.
Giannis Antetokounmpo UNDER 26.5 POINTS – It's certainly possible that Giannis can score 27 or more against the Raptors, as he has done it five times in 13 playoff games, but he's also been held to 26 or fewer in three of four games in this series.
Kawhi Leonard UNDER 8.5 REBOUNDS – Kawhi is averaging 8.4 rebounds per game in the playoffs, and has grabbed nine rebounds twice in four games against the Bucks. Thing is, one of those games was the Double-OT Game Three, and that's not likely to happen again, so it's easier to lean towards the under here.
Khris Middleton UNDER 17.5 POINTS – Although he went off for 30 points in Game Four, Middleton has not been a consistent scorer for the Bucks, scoring 17 points or fewer in four of the five games prior to Game Four against Toronto. Unless he's making a really high percentage of his shots (73.3% in Game Four) it gets hard for Middleton to score.
Giannis Antetokounmpo OVER 13.5 REBOUNDS – Whatever scoring challenges Giannis faces when matched up against Kawhi Leonard, the Greek Freak does control the glass, grabbing at least 14 rebounds in three of the four games against Toronto, and is averaging 12.8 rebounds per game in the postseason.
Kyle Lowry UNDER 6.5 ASSISTS – As well as the Raptors point guard has been playing in the series, the offense isn't running through him, at least not exclusively. He has been held to six assists or fewer in nine of the last 10 games.
Marc Gasol UNDER 7.5 REBOUNDS – While Gasol has hit double digit rebounds in three of the past five games, he has at least eight rebounds in just four of 16 playoff games.
Khris Middleton UNDER 2.5 THREE-POINTERS – Middleton knocked down four three-pointers in Game Four but had been limited to two or fewer in the previous five games.
Brook Lopez UNDER 2.5 STEALS + BLOCKS – In Game One of the series, Lopez recorded four blocks and it is the only time in the past nine games that he as contributed at least three steals plus blocks in a game.
FANTASY POINTS
Point: 1
Assist: 1.5
Rebound: 1.2
Steal: 3
Block: 3
Turnover: -1
Giannis Antetokounmpo OVER 58.5 FANTASY POINTS – This number is bang on, because Giannis is averaging 58.3 per game in this series. So, the guess here is that, overall, he will be better than average in Game Five at home.
Kawhi Leonard UNDER 51.5 FANTASY POINTS – Through four games, Leonard is averaging 49.9 fantasy points per game and that includes one double overtime contest. Mix in the fact that Kawhi struggled in Game Four and appears to be battling a quad injury and it seems safer to take the under.
Khris Middleton UNDER 35.5 FANTASY POINTS – Even after his big performance in Game Four, Middleton is putting up 28.6 fantasy points per game in the series. That's not as productive as might have been expected, but it's difficult to count on him being so much better than he's been so far in the series.
Pascal Siakam UNDER 34.5 FANTASY POINTS – Similarly, Siakam hasn't performed to his typical level in four games against the Bucks, and his average is 28.5 fantasy points, so while it's feasible to see Siakam exceeding this number, his recent history does not suggest that will happen.
RAPID FIRE
Malcolm Brogdon +2.5 points vs. Pascal Siakam – Brogdon doesn't have the ceiling of Siakam, who can go off for 20-plus more readily, but through four games Siakam is averaging 13.8 points per game and Brogdon is sitting at 13.3 points per game. Take the 2.5 with Brogdon and hope that this isn't one of Siakam's huge games.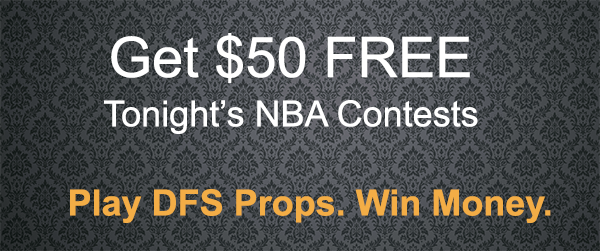 More Fantasy Basketball Analysis