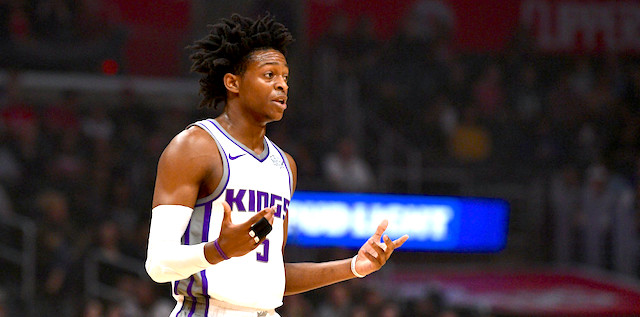 There are half a dozen games in the NBA tonight and lots of good opportunities to find an edge to make some money on Monkey Knife Fight. Start with the Toronto Raptors, enjoying a stellar season, with a chance to stomp the Cavaliers in Cleveland. The LeBron-less Cavs aren't the formidable opponent that the Raptors have struggled against in recent seasons and even though the Cavaliers are more competitive at home, the Raptors have won six of their past seven road games, so this looks like a mismatch.
The night isn't full of mismatches, though. The Oklahoma City Thunder are in Utah to face the Jazz, a quality match-up between two teams in the middle of the Western Conference playoff picture. Although the Boston Celtics have been relatively disappointing this season, they still hold the fifth seed in the East and they visit the Los Angeles Clippers, the eighth seed in the West. The Detroit Pistons and Brooklyn Nets, the sixth and seventh seeds in the East, respectively, might provide the most competitive game of the night. Even the Charlotte Hornets, one game out of a playoff spot in the Eastern Conference, have a critical game at Houston, against a Rockets team that sits third in the Western Conference.
Games with something at stake, with both teams trying to win – really trying to win – might seem a little easier to place expectations on how players will be used and where edges can be gained on Monkey Knife Fight props. Some angles to consider before tip-off tonight.
Editor's Note: Our friends at Monkey Knife Fight have released the best, most fun, fastest growing DFS props game! It's super simple to play and win real money. Just choose your NBA, NHL or PGA game, and make your picks! Get a 100% instant deposit bonus up to $50 using promo code: BALLER. That's $50 for free - don't miss out!
TORONTO-CLEVELAND
OVER/UNDERS
Kevin Love OVER 18.5 POINTS – He's missed a bunch of time this season but has been pretty effective since coming back. He has 22.5 points per game in his past six games and can go for 20 against the Raptors.
Serge Ibaka OVER 7.5 REBOUNDS – In his past 10 road games, Ibaka has grabbed eight or more rebounds nine times. Even with Marc Gasol in the fold, Ibaka is still a force on the boards.
RAPID FIRE
Pascal Siakam +2.5 points vs. Kevin Love – At the same time, it's possible to hedge against Love with the emerging Siakam, who scored 44 points in the last game before the All-Star break and has come out of the break averaging 18.8 points per game in the past eight games.
SACRAMENTO-WASHINGTON
OVER/UNDERS
De'Aaron Fox OVER 16.5 POINTS – The rising star sophomore in the Kings backcourt, Fox has scored at least 17 points in six of his past seven road games, and it's not like the Wizards are some kind of shutdown defensive squad.
Tomas Satoransky OVER 5.5 ASSISTS – Playing big minutes for the Wizards, Satoransky has averaged more than eight assists per game in his past six overall, so getting at least six seems like a reasonable number.
DETROIT-BROOKLYN
OVER/UNDERS
Ed Davis OVER 6.5 REBOUNDS – Quietly finding his niche as a solid rebounder, the veteran forward has recorded at least seven rebounds in 10 of the past 15 home games.
Blake Griffin OVER 24.5 POINTS – Griffin's production has dipped a little recently, but he's still the main threat in the Pistons offense, scoring at least 25 points in 10 of his past 15 road contests.
CHARLOTTE-HOUSTON
OVER/UNDERS
James Harden UNDER 35.5 POINTS – This is below Harden's season average of 36.3 points per game, but he's had a hard time keeping such an outrageous scoring pace. He's under 35 points in six of his past eight games, overall, so it's reasonable to take the under.
RAPID FIRE
Clint Capela -6.5 rebounds vs. Marvin Williams – This is playing a slight edge. Capela is averaging 12.5 rebounds per game at home, while Williams is averaging 5.8 rebounds per game on the road. The real hope is for one of Capela's big games – he's had 11 or more rebounds in six of nine games since returning from injury.
OKLAHOMA CITY-UTAH
OVER/UNDERS
Russell Westbrook OVER 22.5 POINTS – Starting to find his range recently and averaging 35.7 points per game in his past three games – all on the road – Westbrook should be tough for the Jazz to contain.
Joe Ingles OVER 5.5 ASSISTS – In the past eight games, Ingles has put up at least six assists in all eight, averaging 8.1 assists per game in that stretch.
BOSTON-CLIPPERS
OVER/UNDERS
Kyrie Irving UNDER 26.5 POINTS – There is always the chance that Irving can put up a big game, but he's scored 26 points or fewer in 10 of his past 13 road games.
Lou Williams OVER 5.5 ASSISTS – The Clippers' playmaker has recorded at least six assists in seven of his past eight home games.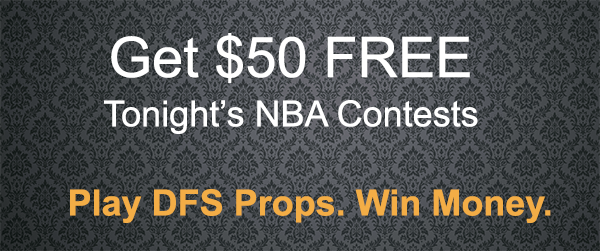 More Fantasy Basketball Analysis