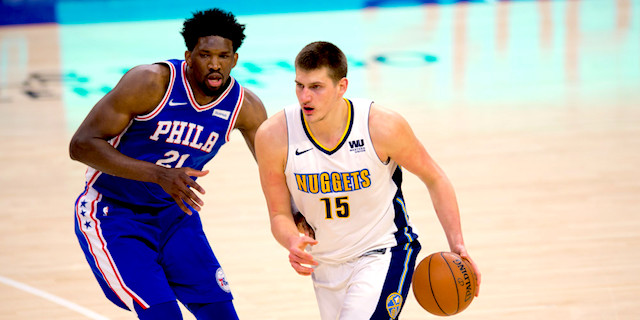 Well, we had a 1-for-5 night last night. Woof.
Blake Griffin disappeared, and Derrick Rose had a vintage D Rose game in his absence (of course). Devin Booker was a free throw away from hitting the over, but landed half a point short. D'Angelo Russell went 6-for-22 and still almost hit his over. At least Khris Middleton went off for us and covered his rebound total. Oh well. I guess that's why they call it gambling. On to another day!
We'll try to find three value plays on a pretty quiet four-game slate. Let's go for the sweep this time!
You can follow me on Twitter @BellRoto. This is a great time for NBA content as Christmas time rolls around. If you have more questions about these prop bets or other NBA DFS situations, hit me up throughout the day on Twitter. Let's do it!
Editor's Note: Here's a really nice special offer for all RotoBaller readers from our Monkey Knife Fight friends: New AND Existing Player Bonus - All players receive a 100% matched signup or reload bonus up to $50 with code 'RBNBA19'  Once you sign up and deposit, use our NBA prop picks below to get off on a winning foot! 
Hachimura has been logging huge minutes since a few of the Wizards big men have gotten injured. Thomas Bryant will remain out on Tuesday, so the Wizards first round pick will have all the run he can handle again in a sweet matchup against the fast-paced Hornets in a 230 o/u. He's pulled down seven or more boards in four of his last six games, and I don't see why he can't get up near 10 tonight. I'll take the over.
Play the Contest Now on Monkey Knife Fight
Nikola Jokic (DEN) UNDER 10.5 Rebounds
This is going to be a physical, grind-it-out game between Philly and Denver. That will force Jokic to spend less time scooping up rebounds in transition and off poor jumpers and more time in the trenches with Joel Embiid, Al Horford, and Tobias Harris. The Joker has eclipsed 10 rebounds just once in his past five games, and that was last time out against Brooklyn when he scraped by with 11. I'll take 10 or less boards on Tuesday.
Play the Contest Now on Monkey Knife Fight
The matchup against the Knicks is a great one for guards, don't get me wrong. But it also means the Blazers shouldn't have to force anything in the fourth quarter and should be able to coast to a smooth-sailing victory at home. That usually means McCollum shoots less, and the recent trend of points says this line is too high. CJ3 has only reached the 22 point mark twice in his last eight games. I'll take the under here and hope for a blowout with limited minutes in the fourth quarter.
Play the Contest Now on Monkey Knife Fight
More Fantasy Basketball Analysis