There are some fascinating NBA matchups Wednesday night and that means plenty of opportunities to get in on the action, play props and win with Monkey Knife Fight.
The L.A. Clippers go to Houston and that means a matchup of James Harden vs. Kawhi Leonard, two of the very best in the game.
Philadelphia at Orlando would have been more compelling with Joel Embiid's participation and Golden State at the Lakers would be much more interesting if the Warriors weren't running half of a G-League rotation.
The defending champion Toronto Raptors continue a difficult Western road trip, made all the more difficult by injuries that have been suffered on the trip, taking on a solid Portland Trail Blazers team.
It looks like a lot of fun so here are some angles to consider before making your picks on Monkey Knife Fight.
Editor's Note: Our friends at Monkey Knife Fight have released the best, most fun, fastest growing DFS props game! It's super simple to play and win real money. Just choose your NBA, NHL, MLB or PGA game, and make your picks! Get a 100% instant deposit bonus up to $50 using promo code: BALLER. That's $50 for free - don't miss out!
MEMPHIS-CHARLOTTE
OVER/UNDERS
Terry Rozier OVER 15.5 POINTS – The Bobcats new point guard is averaging 15.2 points per game though just 12.2 per game at home. However, tonight's opposition is the Memphis Grizzlies, a team allowing 119 points per game, the fourth-highest rate in the league. That's enough to like Rozier for the over.
JA Morant UNDER 5.5 ASSISTS – The Grizzlies rookie point guard is averaging four assists per game on the road and has recorded at least six assists once in four road contests. The Bobcats are below average defensively though not quite as porous as Memphis.
PHILADELPHIA-ORLANDO
OVER/UNDERS
Ben Simmons UNDER 6.5 ASSISTS – This is a reasonable number for a point guard averaging 6.8 assists per game but that has also been trending down recently and the Magic have a strong defensive club, allowing a league-low 99.3 points per game, so taking the under is the way to go. That the Sixers will be without Joel Embiid makes it even more difficult for Simmons to pick up easy assists.
WASHINGTON-BOSTON
OVER/UNDERS
Bradley Beal UNDER 25.5 POINTS – While he is going to get as many shots as he wants in the Wizards offense, Beal has been very inefficient early in the season, including shooting an abysmal 33.7% from the field and 19.0% on threes on the road. Taking that act to Boston, to face a Celtics team that ranks fifth with 104 points allowed per game, seems like a tough spot for Beal to get his shot back.
L.A. CLIPPERS-HOUSTON
OVER/UNDERS
James Harden UNDER 35.5 POINTS – As incredible as Harden has been early in the season, putting up 37.3 points per game, he's been less prolific at home (31.0 ppg) and the Clippers bring an above-average defensive record into the matchup.
Kawhi Leonard UNDER 30.5 POINTS – The Rockets are leaky defensively but Kawhi is averaging 26.9 points per game and has only played two road games so far. Load management and all that, right? In any case, he could very easily be the difference maker in this game and score 28.
SAN ANTONIO-MINNESOTA
OVER/UNDERS
Karl-Anthony Towns OVER 25.5 POINTS – This number is right on his scoring average but the Spurs, strangely enough, have not been a good defensive team.
Andrew Wiggins OVER 19.5 POINTS – He's been up and down throughout his NBA career but Wiggins looks like he's taking a step forward this year, averaging 25.5 points per game through the first 10 games.
GOLDEN STATE-L.A. LAKERS
OVER/UNDERS
D'Angelo Russell OVER 27.5 POINTS – The Warriors don't have many scoring options so Russell gets unlimited looks He has taken 105 shots in his past four games, putting up 145 points (36.3 per game) so even if the Warriors are bad, he's going to get his and he probably wouldn't mind putting up big numbers against the team that drafted him second overall and then shipped him to Brooklyn.
LeBron James UNDER 27.5 POINTS – If the Lakers needed LeBron to go for 30-plus to beat the Warriors that would a) be disconcerting about the state of the Lakers and b) LeBron could easily do it. However, there is a very likely scenario where James can play a balanced game and possibly get to rest late in a blowout win.
TORONTO-PORTLAND
OVER/UNDERS
Pascal Siakam UNDER 26.5 POINTS – The Raptors lineup is decimated by injuries yet they have been able to lean on Siakam to remain competitive on a game to game basis. At the same time, he has scored fewer than 26 points in four of the past five games.
Damian Lillard OVER 27.5 POINTS – Even though the Raptors are a strong defensive team, they are going to face a challenge keeping Lillard in check. They might be able to but if OG Anunoby, Norm Powell, and Kyle Lowry are all sidelined, the Raptors are going to be thin on the perimeter and Lillard is putting up 32.5 points per game so far this season.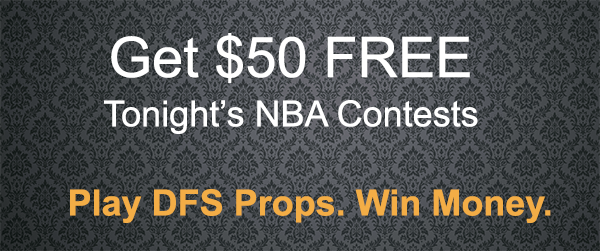 More Fantasy Basketball Analysis