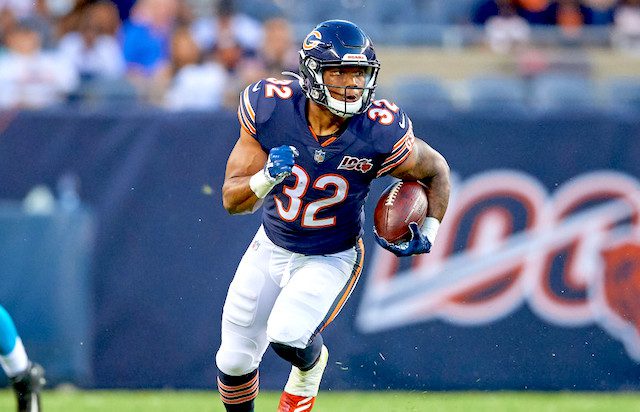 If you're like me, that is, a bona fide fantasy football junkie who is consumed by this hobby, then you participate in more than one league. It's to the point where I've lost count but I know I'll check in each and every week to set lineups, make waiver claims, and do whatever it takes to win.
It all starts with selecting the players I feel have the best chance to carry my team at the front of the draft or become that breakout player toward the mid-to-late portion. Diversifying and differentiating is a good idea, but there are always a few players that wind up on more than half of my rosters. These are the ones I identify as "must-haves."
I've already gone through the top of my must-have list with players at every position including Najee Harris and Trey Sermon at running back. But there's no way I'm only targeting the same two running backs whenever I draft. Here are the rest of my must-have running backs for 2021.
Editor's Note: Our incredible team of writers received 13 award nominations by the Fantasy Sports Writers Association including Baseball Writer of the Year, Football Writers of the Year, Golf Writer of the Year and many more! Be sure to follow their analysis, rankings and advice all year long, and win big with RotoBaller!
Read More!
First, let's get the hyperbole and impossible expectations out of the way because you've likely seen it on social media already.
Imagine Antonio Gibson with CMC role in Washington 🤯 pic.twitter.com/hd4mzVEJUa

— PFF Fantasy Football (@PFF_Fantasy) August 17, 2021

That's not happening. There is only one Christian McCaffrey and he plays in Carolina. Gibson caught all of 36 passes last year, which is fewer than Devin Singletary. He could see a bump this year if the team chooses to keep him in on third-downs rather than putting in J.D. McKissic every single time. Then again, McKissic caught 80 passes last year which was the most of any running back other than Alvin Kamara and was pretty good at what he did.
This doesn't sound like the glowing endorsement of Gibson you might have expected but I want to keep everyone grounded in reality. The quote comparing him to CMC came from a teammate during training camp, so take it with a huge grain of salt.
Now, the reason you should target Gibson everywhere is the fact that he will see an uptick in receptions and more carries as well. Gibson graded out at 62.3 as a pass receiver and McKissic was a little higher at 68.5 according to PFF. That's not a massive gap. The issue is pass-blocking, which coaches care a lot more about than we'd like to admit. Gibson was third-lowest among all RBs with a 21.5 PBLK rating. This will improve with time and he will have more designed routes so a bump of one more catch per game generates a realistic expectation of between 55-60 receptions if he plays a full 17-game season.
Gibson was brought along somewhat slowly as you might expect for a rookie. He didn't see 20 touches in a game until Week 7 when he trampled the Cowboys for 128 yards on the ground. He was sometimes scripted out of the game because Washington was behind but their stout defense should be even better this year and Ryan Fitzpatrick will at least provide leadership and consistency at QB, which wasn't present in 2020.
Gibson has all the tools to be a breakout player, averaging 4.7 yards per carry as a rookie and possessing the receiving chops to be a dual-threat back. There isn't really competition for early-down touches or goal-line work either. When you can get a top-10 fantasy RB in the second round, you don't pass that up.
If you wait on the RB2 position but don't want to play Zero RB, or better yet, Hero RB, then there are precious few choices that make you feel secure past the top couple tiers. Monty is one of the "safest" of that bunch and is still being undervalued as the 15th running back off the board according to industry consensus ADP.
His epic performance during the fantasy playoffs last season legitimately won a lot of leagues for lucky and/or smart managers. Montgomery was a different player after the team's Week 11 bye, averaging 105.8 rushing yards and 32.6 receiving yards per game from Week 12-16 along with seven touchdowns.
Point to his weak late-season schedule all you want but one look at his new-and-improved player page tells a similar story about this year's SOS.
Week 12-15 are filled with green and look just as pillow-soft as 2020 with matchups against division cellar-dwellers Detroit along with Minnesota in a key Week 15 showdown.
The lack of competition, particularly Tarik Cohen missing on third downs, isn't much different either. Cohen is still on PUP and not likely to be on the field for Week 1. Veteran free agent Damien Williams and rookie Khalil Herbert are simply depth and pose no threat to Montgomery's touches. Grab the undervalued workhorse and don't sweat your RB2 position all year long.
Speaking of fantasy playoffs, when choosing between backs in a timeshare, opt for the one more likely to end the season strong. In the case of the Broncos' two-man RBBC between Melvin Gordon and Javonte Williams, it's the rookie. Williams may start slow but will likely win the job at some point. Gordon is headed toward free agency, which partly explains the Williams pick in the first place.
We know all about Williams by this point, so I'll simply explain what makes him a must-have: ADP. He is currently going off the board at 65 overall after running backs like Chase Edmonds, Mike Davis, and, Raheem Mostert. I dare anyone to proclaim that any of those backs have league-winning potential like Williams. Don't be scared of Gordon's presence - youth will ultimately prevail.
I've done a complete 180° turn on Dillon over the past calendar year. Last preseason, I declared him as overhyped based on his combine speed score because there was zero opportunity for him in Green Bay's offense barring major injury and he would not be involved at all as a pass-catcher. Both concerns proved completely valid and he was basically a waste of a roster spot for anyone who drafted him.
This year, I'm all over him as more than a high-end insurance policy for Aaron Jones. I'm not usually in the business of prioritizing running backs who need an injury to be relevant so that means I'm confident Dillon will have a role alongside Jones.
The last two seasons under Matt LaFleur, the RB2 behind Jones was Jamaal Williams. He had a 30% and 31% team share of carries those two seasons which netted him over 100 carries each time as well as 13 and 25 red-zone carries. Running hard between the tackles is definitely a strength of the 247-pound back.
But what about the lack of receiving work? Williams is gone and Dillon is starting to (wait for it...) catch passes. He didn't do much of it in college but not because he isn't capable. He may surprise a lot of people this season. Don't be one of them and snatch him up before the competition.
Since arriving in Green Bay, Matt LaFleur has used the 2nd highest rate of screen passes in the NFL...

And with AJ Dillon + Kylin Hill in the backfield stable with Aaron Jones, I expect some creative 2-back (Pony) screen designs this year! Both Dillon & Hill are perfect fits... pic.twitter.com/HIBhkIaTVh

— Ben Fennell (@BenFennell_NFL) August 23, 2021
Speaking of pass-catching RBs, Gio Bernard. Going from the Bengals to the Bucs is sort of a rags to riches story. After toiling for eight seasons in Cincy, he started 10 games for the first time in 2020 because Joe Mixon was out. That didn't result in huge fantasy numbers as he struggled running the ball with a 3.4 yards per carry average. It's nothing new either; Bernard is averaging 3.4 Y/A over the past three seasons.
The bright side is that he caught nearly three balls per game and now becomes the new James White for Tom Brady. The chemistry is already developing and Gio seems to be established already as the third-down option based on preseason usage. Ronald Jones hasn't secured that role and Leonard Fournette is seemingly always on shaky ground. The ceiling isn't super-high but among late-round options, Bernard is criminally undervalued because he will wind up outscoring almost all the backs going around his range at RB55/184 overall.
Download Our Free News & Alerts Mobile App
Like what you see? Download our updated fantasy football app for iPhone and Android with 24x7 player news, injury alerts, rankings, starts/sits & more. All free!


Win Big With RotoBaller
Be sure to also check out all of our other daily fantasy football articles and analysis to help you set those winning lineups, including this new RotoBaller YouTube video:


More Fantasy Football Analysis