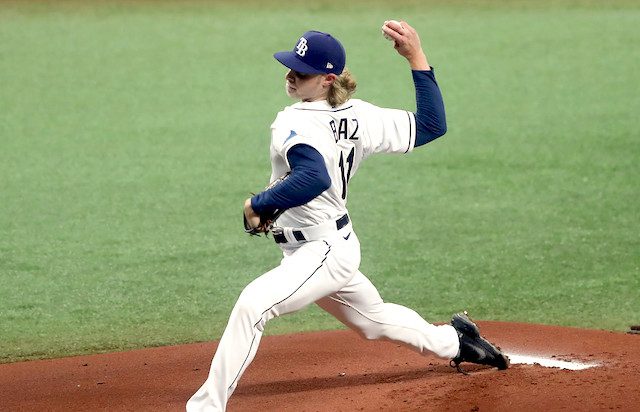 RotoBaller's fantasy baseball prospects coverage continues to chug along, and today we're releasing our top 50 dynasty prospects for fantasy baseball along with some player analysis. The 2022 season is on the horizon, and while the MLB season still hangs in the balance due to the lack of a Collective Bargaining Agreement, the minor league season will be unaffected (for players not on the 40-man roster).
For those who are not aware, we've kicked off our 2022 prospect coverage with a comprehensive Top 250 dynasty prospects list. And while this is always a challenging process, recent events have made it all the more difficult. Lost development time has hindered some prospects' development and now we have a wide range of rule changes around minor league baseball that plays havoc with player evaluations. Some leagues have had automated strike zones while others have experienced new base running rules — both of which impacted some players' statistics/results in 2021 and will continue to impact others in 2022.
With all that aside, we're excited to begin another season of mining the minor leagues for the next big performers in fantasy baseball. Today, we're finishing up our four-part review of the Top 250 list with a look at prospects #1-50. You can read part one for prospects #176-250 here, part two for prospects 101-175 here, and part three for prospects 51-100 here. OK, let's wrap this up.
Editor's Note: Our incredible team of writers received five total writing awards and 13 award nominations by the Fantasy Sports Writers Association, tops in the industry! Congrats to all the award winners and nominees including Best MLB Series, NFL Series, NBA Writer, PGA Writer and Player Notes writer of the year. Be sure to follow their analysis, rankings and advice all year long, and win big with RotoBaller!
Read More!
Fantasy Baseball Dynasty Prospect Rankings: #1-50
See the full list of the top 250 MLB prospect rankings for fantasy baseball dynasty leagues.
Top Fantasy Baseball Dynasty Prospects: #50-41
50. Eury Perez, SP: Perez burst onto the scene last year in full-season ball despite being just 18 years old. He showed the potential for three plus offerings and looked unfazed while dominating two levels of A-ball. He also showed above-average control and has a massive pitcher's frame. If he looks this good when the 2022 season begins, he will absolutely rocket up this list; the lack of history/track record with this prospect is the only thing keeping him down right now.
49. Jarren Duran, OF: Duran had a great start to the 2021 season but the hype around him quieted a bit once he reached the majors. He struggled to make consistent contact and didn't show the same pop in his bat that he had developed in Triple-A. Duran should bounce back and hit .260-.270 with the potential to be a 20-20 player at the MLB level.
48. Josh Lowe, OF: Lowe is likely to produce a similar offensive ceiling to Jarren Duran - with 20-20 potential definitely attainable, although he has a little less pure speed and a little more raw power. A trade of Kevin Kiermaier would provide Lowe a smooth path to big-league at-bats in 2022, which he's more than ready for, although expect some inconsistencies with his game early on.
47. Jasson Dominguez, OF: Dominguez slides down the list quite a bit as the hype surrounding him starts to quiet down a bit. He still has sky-high potential but he's starting to thicken up, robbing him of some speed and flexibility and he was rushed a bit too much in 2021. The swing-and-miss issues were worrisome (more than 30% in Low-A) but he was also playing above his head and managed to produce average offense when all was said and done.
46. George Valera, OF: Valera reached Double-A at the end of 2021 as a 20-year-old which speaks to the type of potential that he has. The Guardians prospect may never hit for a huge average and he has some real swing-and-miss to his game but he should be a beast in on-base leagues with his high walk rates and plus raw power.
45. Pete Crow-Armstrong, OF: The 19th-overall pick in the 2020 amateur draft, Crow-Armstrong has just six games of pro experience due to the pandemic and an injury that held him out for most of 2021. The Cubs organization clearly wasn't concerned with his shoulder injury and acquired him at the trade deadline. I've been a bigger believer in Crow-Armstrong's bat than most and see a player who will develop into an above-average hitter with slightly above-average power and above-average speed.
44. Nick Pratto, 1B: Pratto saved his career in 2021 with a massive breakout after the lost 2020 playing season. The left-handed hitter showed well against southpaws and maintained his success throughout the 2021 season. He probably won't hit for a high average because of the ever-present swing-and-miss but he gets on base a ton and has really tapped into his raw power. He has 30+ homer potential.
43. Diego Cartaya, C: The teenage catcher had a promising showing in A-ball in 2021 although he was held to just 31 games due to injury. He showed plus raw power and excellent patience while producing a 158 wRC+. Cartaya will need to watch his conditioning but he's an exciting offensive-minded catcher in an organization that knows how to get the most out of its prospects.
42. Keibert Ruiz, C: The development of Diego Cartaya likely helped the Dodgers part ways with Ruiz, who has a new lease on life in Washington — with no roadblocks like Will Smith. Ruiz has an uncanny ability to make consistent contact and he did a much better job at consistently getting to his raw power in 2021. He struggles with consistency/drive at times but he has all-start potential.
41. Tyler Soderstrom, C: Soderstrom dealt with some injury issues in 2021 and was held to just 57 games in Low-A but the 19-year-old showed above-average skills at the plate and intriguing raw power. The jury is still out on his ability to stick behind the plate but he should be an offensive stud wherever he plays.
Top Fantasy Baseball Dynasty Prospects: #40-31
40. Jose Miranda, 1B/3B: Miranda was another breakout stud in 2021. He's always shown the makings of an above-average hitter (with above-average contact skills) but he put it all together last year despite missing the 2020 season due to the pandemic. The biggest surprise was the power outburst that saw him slug 30 homers between Double-A and Triple-A.
39. MJ Melendez, C: Since we're talking about breakout players, we have to mention Melendez, who mimicked teammate Nick Pratto's unexpected outburst and growth in 2021. Melendez is an aggressive hitter who toned things down, which helped him slug an unbelievable 41 homers between Double-A and Triple-A. He also kept his strikeouts under control and was an on-base beast.
38. Henry Davis, C: Davis was the first overall selection in the 2021 draft out of college because of his strong hitting ability and all-around strong play as a catcher. He should produce above-average power, good on-base numbers, and has a chance to be an above-average hitting catcher if he can keep the swing-and-miss under control as a pro.
37. Nick Yorke, 2B: Yorke was a surprise first-round pick in 2020 but the early returns are making the Red Sox look extremely smart. The former prep infielder has always shown above-average skills with the bat but the power output was a pleasant surprise. Yorke should threaten to hit .300 in the majors with 15+ homer pop and lots of walks.
36. Nolan Gorman, 2B/3B: Gorman has always had some of the best raw power in the minor leagues and he slugged 25 home runs in 2021 while showing improved contact skills as the year progressed. The move to second base also helps his value — especially if he plays third base enough to remain multi-position eligible in most fantasy leagues.
35. Nick Gonzales, 2B: I've always been a big believer in Gonzales, which my rankings will attest to, but I have to admit I was a little worried as he stumbled out of the gate in 2021. However, he turned things on as the year progressed and he had a great showing in August/September, as well as in the Arizona Fall League. He's struck out too much as a pro but he has the ability to be a plus hitter with 15-20 home runs.
34. Kahlil Watson, SS: Watson is probably lower than you expected to see him but I'm a little more cynical about the prospect's long-term outlook than most. I'm just not sold on his makeup/maturity, which could hurt him while trying to get the most out of his impressive tools. On the plus side, he looked really good in his first (brief) taste of pro-action in 2021 with four steals and eight walks in just nine games.
33. Oneil Cruz, SS: Speaking of players with makeup issues, Cruz has consistently battled his own demons while trying to realize his full potential. A massive human being, he's very athletic for his size and has the ability to produce double-digit steals with plus-plus raw power. He'll likely be a streaky player and struggle early on against top pitching -- but the ceiling is immense.
32. Triston Casas, 1B: Casas has sandwiched two promising offensive seasons around the lost 2020 season. He looked very good at Double-A in 2021 as a 21-year-old and may need only a half-season at Triple-A before he pushes for full-time duty in Boston. He should develop into an above-average hitting first baseman with above-average pop and strong on-base numbers.
31. Luis Matos, OF: Matos had an eye-opening pro debut in the Dominican Summer League in 2019 but I remained cautious with my assessment of him entering the 2021 season due to the layoff and unreliability of DSL results. Matos, though, had no issues jumping right into full-season ball. He showcased his potential to be a plus hitter with above-average power and speed. His over-aggressive nature at the plate could hurt him as he advances, though.
Top Fantasy Baseball Dynasty Prospects: #30-21
30. Robert Hassell III, OF: I was a big fan of Hassell III leading up to the 2020 amateur draft and he produced a 139 wRC+ in Low-A ball last year. There have been some questions about his future power potential but I was never worried and saw a plus-hitting outfielder with excellent bat speed who would mature into the pop. He slugged just 11 homers in 2021 but his 33 doubles in just 110 games hint at the potential for future over-the-fence power.
29. Alek Thomas, OF: Thomas has always been an intriguing prospect — but also a little backwards. Built like a bodybuilder, he has plus raw power and well-above-average athleticism but he struggled to generate in-game pop because of a swing that lacks lift. That resulted in a powerfully-build prospect who showed a high batting average and some acumen on the base paths but little pop. That started to change in 2021 and he slugged 18 home runs. I'm still not sure what kind of player Thomas will be in the majors but he has the potential to be an impact player in a few different ways.   
28. Mick Abel, SP: I was all in on Abel as the 12th-best prospect in the 2020 amateur draft — and the top prep arm overall. He has an exciting pitcher's frame and strong athleticism on the mound. He also showed the potential for three above-average offerings. Abel had a solid showing in Low-A ball in 2021 and generated a 35% strikeout rate. On the downside, he struggled to throw strikes consistently but that's not unusual for tall pitchers at a young development age. The athleticism should help him get to average, if not better, control in time.
27. Cade Cavalli, SP: Cavalli absolutely dominated A-ball in 2021 and also showed well at the Double-A level. Things went sideways in Triple-A, though, when the more mature hitters didn't chase as much. Cavalli shows dominating stuff but his command and control both need polish before he's going to consistently succeed against big league hitters. Along with his ability to miss bats, he generates a lot of ground balls, which helps him limit the damage from the long-ball.
26. Garrett Mitchell, OF: Mitchell was selected 20th overall in the 2020 draft as a toolsy-but-raw college product. He absolutely dominated High-A ball with a 205 wRC+ in 29 games but he was equally terrible when he moved up to Double-A and posted a 62 wRC+. Part of his struggles at the higher level could have been due to a lingering injury. When healthy and fully locked in, Mitchell has above-average power and plus-plus speed. The hit tool has a chance to be average.
25. Brett Baty, 3B: Baty had a strong showing in 2021 while splitting the year between High-A and Double-A as a 21-year-old. He showed promising raw power and a strong eye at the plate, although there is noticeable swing-and-miss to his game. Baty's batting average received a boost from strong BABIPs but he should be at least an average hitter and spend a lot of time on base with 25-30 home run power.
24. Francisco Alvarez, C: I aggressively ranked Alvarez prior to the 2021 season and received some flak for it but he more than justified the ranking. As a 19-year-old, he slugged 24 home runs with a strong on-base presence while playing at two A-ball levels. Alvarez is a better hitter than his .247 average suggests and his BABIP was just .260 at High-A. He's a plus defender, which isn't going to directly help you in fantasy, but it means he'll have no issues playing every day and there is no threat that he'll lose catcher eligibility.
23. Gabriel Moreno, C: A player I've been high on since his Dominican League showing, Moreno was enjoying a breakout season in Double-A but he played in just 32 games before being hit by a pitch and missing the majority of the remaining season. Prior to the injury, he was hitting .373 with eight home runs. Moreno makes above-average contact and his strength/power has developed to the point where he has 20-homer potential. He made up for lost time in the Arizona Fall League and was one of the top hitters in the league.
22. George Kirby, SP: I ranked Kirby as the top college arm in the 2019 draft and the 11th-best talent overall. I even stated, "Kirby is going to surprise a lot of people when he gets to pro ball." Well, that's exactly what's happened and he's made huge strides in his development since that time. His fastball has gone from the lower 90s to sitting in the mid-90s with the ability to hit 97-99 mph. He also has plus control and both of his breaking balls have made significant progress and have a chance to be plus offerings.
21. Jack Leiter, SP: Leiter has yet to throw a pro inning but he has a strong history of dominance from his prep and college years. He reminds me of George Kirby in that he has above-average control and plus stuff but he's more advanced at the same stage of their careers. Kirby has the edge on size and durability, though. Despite his modest frame, Leiter can hit the upper-90s with his heat but he works more in the mid-90s. He has a chance to develop four above-average, or plus, offerings.
Top Fantasy Baseball Dynasty Prospects: #20-11
20. Oswald Peraza, SS: The Yankees continue to find gem after gem. Pre-pandemic, Cabrera was a speedy, raw infielder whose career-high in home runs was four. Coming out of the lost 2020 season, he still showed good speed with 38 steals but he added strength and slugged 18 homers. The Yankees moved Cabrera aggressively through the system in 2021 and he started out in High-A but finished in Triple-A. He'll need to catch his breath back at Triple-A in 2022 but he's only two to three months away from being MLB-ready.
19. Marcelo Mayer, SS: Mayer fell behind Jordan Lawlar when I was ranking the 2021 amateur prospects because he required more projection, lacked the speed element, and had some questions around his future power potential. Those concerns still remain but Mayer looked good during his first 26 games of pro ball and showed that he could have a little Anthony Volpe in him and see quick growth with his power tool.
18. Jordan Lawlar, SS: The 2021 amateur draft wasn't one of the strongest in recent memory but there was definitely some talent available and I ranked Lawlar first overall. He's a fairly advanced prep bat with a chance to hit for a solid average, steal a healthy number of bases, and produce above-average pop. He also reportedly has excellent character/makeup, which should help him succeed in an organization that has shown uneven development of its prospects.
17. Josh Jung, 3B: Jung entered the 2019 amateur draft with some questions about his future power potential but, like the Rangers, I had few concerns that he'd eventually get there. And he proved us right in 2021 with 19 home runs while showing an improved eye at the plate that helped his above-average hit tool play up. His 2022 outlook took a bit of a hit with the recent news that he suffered a labrum injury (which can be bad news for both pitchers and hitters). If it's a relatively minor injury, he should be a key player for the Rangers in 2022 and beyond.
16. Orelvis Martinez, SS/3B: Martinez is another young player that I am very high on and am already re-thinking his ranking being this low. He spent last year playing at two A-ball levels as a 19-year-old and slugged 28 home runs. He's still learning as a hitter and can fall into prolonged slumps but when he's hot, he's hard to pitch against. Martinez is still a couple of years away from the majors but he has 30-homer upside.
15. Jordan Walker, 3B: Walker was another prep player I was quite fond of in the 2020 amateur draft. I had him ranked as the 15th-best prospect even though most had him ranked as a second-round talent. Walker is very athletic and loose for his size with projectable plus raw power. He also showed signs of above-average potential as a hitter despite his long limbs. Walker had an excellent pro debut while spending time at two A-ball levels — although there is some swing-and-miss to his game and he benefited from some BABIP inflation in 2021.
14. Shane Baz, SP: Baz has always had electric stuff but hasn't always known where it was going. Despite the 2020 layoff, things clicked for him in 2021 and he suddenly found the strike zone with ease, which helped his plus stuff play up even more. He had no issues with Double-A or Triple-A and showed extremely well in three MLB starts. If he continues this growth, he has ace potential.
13. Corbin Carroll, OF: Carroll entered the 2021 season with a lot of expectation and excitement but his season was derailed by injury after just seven games. He's an intriguing prospect because he has a plus bat and could hit .300 with ease — coupled with plus-plus speed. On top of that, he has a great eye and regularly produces an on-base average above .400. A speedster with an elite on-base presence has a chance to provide lots of value with runs and stolen bases.
12. Brennen Davis, OF: Davis is one of those players that just kind of sneaks up on you. He plays in a big market but he doesn't seem to get the same hype that other players do — despite similar potential. Davis showed improved power after coming back from the 2020 layoff but his hit tool wasn't as strong and he struggled to make consistent contact at times. I'd also like to see him run more and take advantage of his above-average speed.
11. Grayson Rodriguez, SP: Rodriguez has never received the hype that he deserves because he plays in the Orioles system but he has long been one of the best pitchers in the minors. He has a workhorse build, premium velocity, a plus breaking ball, and hitters also struggle to lift the ball against him. Oh, and he has above-average control for his age. If the Orioles can keep him healthy (a big if for this organization), he should be a top-of-the-rotation arm.
Top Fantasy Baseball Dynasty Prospects: #1-10
10. Marco Luciano, SS: Luciano is one of the top power-hitting prospects in the minors and he played the part in 2021 with 19 homers at the age of 19. Despite his inexperience, he also shows a good eye at the plate and has regularly produced above-average on-base numbers. He's still developing as a hitter and may never be a big average guy. After performing very well in Low-A in 2021, the Giants pushed him up to High-A ball and he struck out 54 times in 36 games (37% strikeout rate).
9. CJ Abrams, SS: Abrams was a player I struggled to rank prior to the 2019 amateur draft — I had him anywhere from third to fifth overall. The Padres snagged him sixth overall and he's looked like a steal. Abrams has plus-plus speed and generates surprising pop due to his electric bat speed. He also has incredible athleticism and has shown excellent growth in a short period of time. The lost development time in 2021 due to injury — as well as the injury itself with its possible impact on his future speed — casts a bit of a shadow on his potential moving forward.
8. Zac Veen, OF: With apologies to Spencer Torkelson, I ranked Veen as the top talent in the 2020 amateur draft. The college product was definitely the more developed player but the prep prospect impressed me with his sky-high ceiling due to his athleticism, speed, and projectable power (which could receive a real boost in Colorado). I'll admit to a few heart palpitations early in the 2021 season but Veen settled in, made adjustments, and was one of the hottest hitters in the minors in the second half of the year. He slugged just two homers in the first half but went deep 13 times in the final two months while hitting well over .300. My only real concern with Veen is that he's in an organization that has no idea how to consistently develop young players. He'll need to own his development.
7. Noelvi Marte, SS: A significant number of more established prospects came out of the lost 2020 minor league season showing noticeable growth but the younger, less developed prospects had more difficulties with the layoff. Marte wasn't quite as electric in 2021 as he was in 2019 in the Dominican Summer League but he held his own in full-season ball as a 19-year-old. He's probably not a long-term shortstop but he has shown plus raw power, above-average speed, and has a chance to be an above-average hitter.
6. Spencer Torkelson, 1B: The Tigers are going to have a pretty exciting middle-of-the-order starting in 2022 and for quite some time with Riley Greene and Torkelson. The big, slugging former first-overall draft pick has plus-plus raw power and could easily hit 40 home runs in the majors and be a key run producer for many years. I've always questioned the hit tool a little more than most but he held his own in 2021 while being pushed aggressively through the minors. His 20-23% strikeout rate is more than reasonable given the power he produces and he also takes a ton of walks.
5. Riley Greene, OF: Greene is another player that I've been high on since almost day 1 — but he's also the player among the top-five that still needs the most polish. He has a chance to hit for both power and average but his swing can get long and he can pile up the strikeouts. His approach hints at an ability to one day hit .280+ at the MLB level and there is 30-homer raw power in his bat. His .308 batting average in 40 games at Triple-A in 2021 came with a .400+ BABIP and 28% strikeout rate so he probably needs another couple of months at the level before he's ready for The Show.
4. Adley Rutschman, C: Rutschman is a prospect I'm cautiously optimistic about but I also lived through the Matt Wieters (another can't-miss college catcher) years. The big thing for this 23-year-old is proving his offense can hold up to the rigors of catching every day. There is no doubt that the skills are there for him to be an impact bat but we also saw him lose a step in the second half of 2021 when he needed a .364 BABIP to maintain his strong offensive showing (the power still dried up).  I'm also a little concerned with the switch-hitter's right-handed swing, which saw him strike out more and hit just .256.
3. Bobby Witt Jr., SS: I've always been a little more cynical about Witt Jr.'s future but the 2021 season showed that I was being a little tough on him. He was rushed through the minor leagues at a frenetic pace and was one of the top hitters in the minors. Despite the challenges faced last year, he was a 30-30 (HR-SB) player at the age of 21. I've always questioned his hit tool — I think it will continue to be his weakest tool — but he showed growth and kept the strikeouts under control. The power-speed combination should be fun to watch.
2. Anthony Volpe, SS: It's no doubt surprising to see Volpe ranked this high — and above fellow shortstop phenom Bobby Witt Jr. — but I've been all over the Yankees prospect, well, before he was a Yankees prospect. I ranked him as the 15th-best prospect in the 2019 draft while most saw him with late-first-round or second-round potential. The Yankees snagged him 30th overall and it was a steal. My aggressive ranking was before he showed improved (and unexpected) pop and slugged 27 home runs in his first full pro season. The growth he's shown over the past year is incredible. With his strong makeup, the sky is the limit with him and he's in an excellent organization to help him make the most of his potential.
1. Julio Rodriguez, OF: In late 2018, when he was coming off his first pro season in the Dominican, I started banging the drum on the Julio Rodriguez bandwagon. Fast-forward to today and we're on the brink of his MLB debut. He's always shown an advanced approach at the plate (.300+ potential) and creates easy power with his size and bat speed. There will need to be an adjustment made to hit more balls in the air, though. Rodriguez also has above-average speed but isn't a major stolen base threat. However, double-digit steals are easily within reach. The only concern I have with Rodriguez reaching his all-star potential is the fragility he's shown over the past few years.
Download Our Free News & Alerts Mobile App
Like what you see? Download our updated fantasy baseball app for
iPhone
and
Android
with 24x7 player news, injury alerts, sleepers, prospects & more. All free!
More Fantasy Baseball Prospects