While the tendency this season has been to side with pitchers going over on strikeouts because home runs and strikeouts are the way to play these days, but it's not a given that every pitcher is going to mow down hitters.
That is relevant for today when it looks like there could be some value on the under when it comes to strikeout totals.
Blake Snell, Daniel Norris, and Rick Porcello are a few starting pitchers that look like they'll be facing a challenge to hit their number.
On the other hand, there may still be value in Luis Castillo, Joe Musgrove, and Lucas Giolito.
Examine those Monday matchups and here are some angles to consider for all of Monday's MLB schedule.
Editor's Note: Our friends at Monkey Knife Fight have released the best, most fun, fastest growing DFS props game! It's super simple to play and win real money. Just choose your MLB, NBA, NHL or PGA game, and make your picks! Get a 100% instant deposit bonus up to $50 using promo code: BALLER. That's $50 for free - don't miss out!
SAN FRANCISCO-COLORADO
RAPID FIRE
Charlie Blackmon -0.5 total bases vs. Daniel Murphy – Murphy is slugging a respectable .534 at home this season but it doesn't compare with Blackmon, who is slugging .919 at Coors. His numbers at home this season are just out of this world, which means giving a half base is just fine.
TAMPA BAY-N.Y. YANKEES
OVER/UNDERS
Blake Snell UNDER 6.5 STRIKEOUTS – The reigning AL Cy Young winner has had uneven results this season and while he does have a strong strikeout rate (12.2 K/9), he has recorded seven or more just once in his past five starts, which includes two starts against the Yankees in which he combined for five strikeouts in 5 1/3 innings through those two starts.
L.A. DODGERS-PHILADELPHIA
RAPID FIRE
Cody Bellinger +0.5 runs + RBI vs. Joc Pederson – Any time you'd like to make Cody Bellinger an underdog, I'll happily take him plus the half run/RBI, but especially when he's averaging 1.68 runs plus RBI per road game this season and is matched up with Pederson, who is averaging 0.93 runs + RBI per road contest.
DETROIT-CLEVELAND
RAPID FIRE
Daniel Norris UNDER 4.5 STRIKEOUTS – The Tigers starter has a decent strikeout rate (7.3 K/9) on the road, but he's also recorded four or fewer in three of his past four starts and it's difficult to count on any Tigers starter to get deep into the game.
TORONTO-BOSTON
OVER/UNDERS
Rick Porcello UNDER 4.5 STRIKEOUTS – In the midst of an unimpressive season, the Red Sox starter is notably worse – in terms of strikeouts – at Fenway, averaging 6.1 K/9. He's recorded four or fewer strikeouts in five of nine home starts and in two of his past three starts overall.
CINCINNATI-CHICAGO CUBS
OVER/UNDERS
Luis Castillo OVER 6.5 STRIKEOUTS – The Reds' staff ace has been great this season and has averaged 12.0 K/9 in eight road starts, recording at least seven strikeouts in five of eight road starts. Castillo has struck out a dozen Cubs in 12 1/3 innings in two starts at Cincinnati this season.
ATLANTA-MILWAUKEE
RAPID FIRE
Ronald Acuna Jr. OVER 1.5 TOTAL BASES – The second-year Braves star is slugging .542 on the road and Brewers starter Adrian Houser is not likely to hinder Acuna's efforts.
CHICAGO WHITE SOX-KANSAS CITY
RAPID FIRE
Lucas Giolito -0.5 strikeouts vs. Jakob Junis – In the middle of a breakout season, Giolito has been dominant, averaging 11.3 K/9 on the road this season. Junis has been mediocre, though his 8.3 K/9 rate is solid enough. Still, safe to say that Giolito should be favored here.
PITTSBURGH-ST. LOUIS
OVER/UNDERS
Joe Musgrove OVER 4.5 STRIKEOUTS – Even with his modest 7.2 K/9 road strikeout rate, Musgrove has been coming on recently. He has at least five strikeouts in three of his past four starts, and the one that fell short saw him strike out four in three innings before a rain delay ended his night prematurely.
HOUSTON-L.A. ANGELS
OVER/UNDERS
Shohei Ohtani OVER 1.5 TOTAL BASES – He got a late start to the season but Ohtani hasn't missed a beat and is slugging .609 at home this season.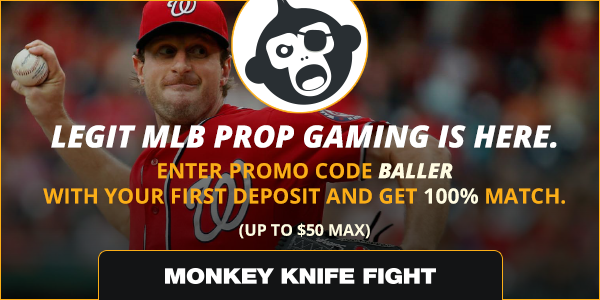 More 2019 Fantasy Baseball Advice