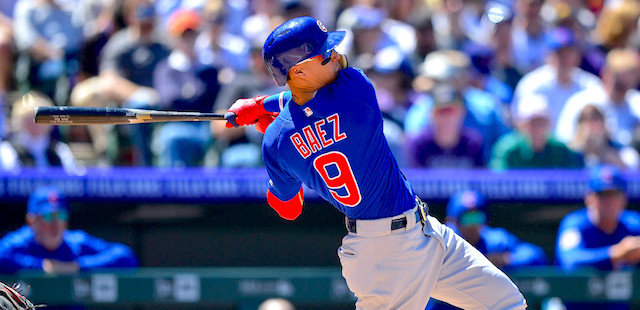 In my first three seasons of writing this piece, I did well enough. Always a few clunkers, but generally nailing a couple and being in general vicinity on a couple more.
2018 has not been so kind.
The spirit of the exercise is lighthearted even though it's tilted toward failure if you're being truly bold. Having said that, these are some wack-ass predictions. Please hold your laughter until the end of the program. Thank you.
Editor's Note: Get any full-season MLB Premium Pass for 50% off, with exclusive access to our season-long articles, 15 in-season lineup tools and over 200 days of expert DFS research/tools.
Sign Up Now!
At Least You Tried
Bradley Zimmer and Manny Margot both outearn Byron Buxton.
Buxton was terrible enough to get demoted to the minors last month, marring countless fantasy owners' seasons in the process. Technically, both Zimmer and Margot have been better, but neither has been anything close to valuable – Zimmer got demoted himself, and Margot has just three home runs and seven stolen bases so far. This one feels like a coin flip, and a largely academic one at that. It's certainly possible that any of them could get hot in the second half (assuming Buxton and Zimmer make it back to the big leagues, anyway), but none are likely to be assets when considering the whole of the 2018 season.
Giancarlo Stanton is not a top-25 outfielder.
This looked promising for a while, but Stanton has shaken off a slow start with a surge that has him currently in the top 10 among outfielders. Since the calendar flipped to June, The Artist Formerly Known As Mike is hitting .317/.378/.581 with 12 homers and 50 R+BI. That may not measure up the planet-eater many expected Stanton to be in the wake of his trade to the Yankees, but it's certainly enough to make this prediction look silly. Of course, Stanton does have a checkered injury history, which factored into the equation. It'll likely require a lengthy stint on the disabled list for this one to come to pass, and I'd prefer that didn't happen despite not having a single share this year. When an immensely entertaining slugger like him is off the field, we all lose.
Carlos Santana is a top-10 first baseman.
Santana, as is his wont, has done Carlos Santana things so far. Lots of walks, a handful of homers, good run production, not getting hurt. Smooth sailing, if you will. (dodges rotten tomato) What he hasn't done is hit more balls out of the park than usual, which this prediction cited as a distinct possibility following his move to Citizens Bank Park. That's despite a career high in launch angle. His other Statcast metrics have all held steady, and suggest we should expect a significant correction in his lousy .209 batting average. There's also his historical trend of being better in the second half of the season, for what that's worth. I've just got give this prediction my heart and hopes it makes it real, or else forget about it. (dodges chairs) Seriously though, this one's not going down.
Jorge Polanco finishes in the top 10 at shortstop.
This one was putsched before the first pitch of the season, as Polanco received an 80-game suspension for testing positive for a banned substance. Since returning, he has inspired this response, hitting .250/.350/.377 with no homers and three steals in 14 games. We'll have to wait to see if Polanco can build on his 2017 breakout, but the fate of the prediction is already sealed.
Javier Baez falls outside the top 20 at second base.
Ouch. This one is catastrophic. I'm tempted to just move on but I concede that I have earned the full brunt your scorn after making all those "Smooth" puns. As much as I'd like to tell you that Baez's Statcast data suggests he's been wildly overachieving, it doesn't. He's well within range of where he "should" be, and that's arguably a top-TWO second baseman, to say nothing of top 20.
….I have some regrets.
Jon Gray finishes in the top 25 starting pitchers.
Listen. I understand how this looks. But I'm gonna double down here and say this happens in the second half and then the conventional narrative will be Gray magically fixing himself during his like 20 minutes in the minor leagues and we'll all pretend to be shocked when he has a 7.00 ERA next June. I'M NOT CRYING, YOU'RE CRYING. COORS IS JERKS. #FreeJonGray
Roberto Osuna is the No. 1 fantasy reliever.
(curls into ball, dies)
This was another one scuttled by disciplinary concerns, as Osuna is still serving a suspension for allegations of domestic violence. He'll be back in action in a few weeks, and the Blue Jays have already confirmed he'll immediately resume his duties as their closer. I'm not inclined to lecture anyone on the ethical considerations in rostering him, but he's obviously a smart bet for a positive on-field contribution. Nothing he does will make this prediction happen, at any rate.
Jose Martinez hits 30 home runs.
Martinez has been quite good so far, slashing .297/.363/.476. However, this prediction appears unlikely to bear fruit for two reasons. He's only hit 13 bombs in 91 games, and the Cardinals' managerial change sounds like it may negatively impact Martinez's playing time. It's hard to believe they'd take his bat out of the lineup, but stranger things have happened. For instance, did you know that Mike Matheny managed this team for six and a half seasons?
Joey Gallo gets his average above .250 and is a top-50 player overall.
Gallo is hitting .187, which is worse than all qualified batters outside of Lewis Brinson (.186) and the corpse of Chris Davis (.158!!!!). He's still inside the top 150 thanks to 22 homers and respectable run production, but he'd need to hit like Ichiro going forward to make this one a winner. I'm gonna go ahead and rule that out.
Trevor Bauer finishes outside the top-60 starting pitchers.
I knew I should've gone with Luis Castillo here…in my defense, I did elsewhere. Bauer has proven his performance down the stretch in 2017 was signal rather than noise. He's been essentially the equal of teammate/robot Corey Kluber.
I'm almost impressed by how terrible these are! Almost as terrible as the idea of calling attention to them. Enjoy the second half, folks.