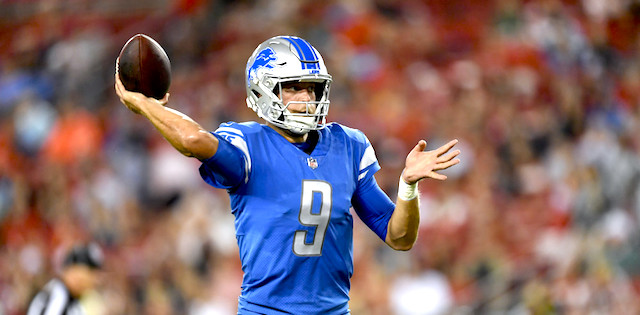 The NFC North could be the best division in the league. Not only in terms of overall competitiveness, but in how terrifying each defense has been. The Bears, Packers and of course the Vikings have legit pass defenses in 2019. The best of the bunch is the Vikings, who currently rank sixth in team defense. But we have already seen Matthew Stafford shred the Vikings once this season and he could do it again in Week 14.
He didn't do great against the Packers (and the referees) but that can be a tall order in Lambeau. As for the Bears, they've been decent but are no longer the imposing defense they were just last year and they are seemingly getting worse each week. This, of course, has a lot to do with the inept offense struggling to sustain drives and thus keeping the defense on the field for massive amounts of time. No one can stay elite when they're on the field 75 percent of the game.
All this is to say that Stafford's recent run of big games could very well continue through the entirety of the season for a number of reasons and fantasy owners should take note that the old gunslinger we came to know and love, could be back to top form.
Editor's Note: Get any rest-of-season NFL Premium Pass for 50% off. Our exclusive DFS Tools, Lineup Optimizer and Premium DFS Research through the Super Bowl.
Sign Up Now!
Remaining Schedule
Outside the NFC North, the Lions schedule looks very manageable. Starting this week against the Raiders, they also have games left against the Washington Redskins and Dallas Cowboys. None of these teams have frightening pass defenses. Between the teams listed, Josh Norman is the best pass defender in the bunch and Washington was trying to give him away at the trade deadline. Washington needs all the help they can get, and they were still trying to get him off the books. This tells you a lot.
The only relatively tough matchup for Stafford is the Denver Broncos. And by the time they play each other, they might not even have a quarterback. (Though Flacco was never the issue here.) But even Denver's pass defense is beatable. Chris Harris Jr. can only cover one receiver at a time, which leaves either Kenny Golladay or Marvin Jones running free and lighting up Mile High Stadium.
Dynamic Duo at Wide Receiver
Two weeks ago, we saw the potential of Jones as he hauled in four touchdown passes in the loss to the Vikings. He became only the second receiver since the merger to have multiple games of at least four touchdowns in his career, along with a guy named Jerry Rice. The following week against the Giants, the Lions made sure we didn't forget about their other guy. Golladay went off for 123 yards and two touchdowns of his own on six receptions. Their one-two punch at receiver is for real and is near the top of the NFL in production. Outside of fellow NFC North duo Adam Thielen and Stefon Diggs, it could arguably be the best going right now. As Minnesota recently discovered, it's important to utilize both of those weapons when you have them available.
Both teams have been playing much better since remembering they have some incredibly-talented pass catchers on their roster. While it may be hard to figure out whether Jones or Golladay is going to be the star on a given week, one thing is easy to figure out: Stafford will be the one throwing them the ball. He's a clear winner for fantasy purposes regardless of who's catching his touchdown passes.
Pass or Bust
With Kerryon Johnson heading to injured reserve, the run game has taken a major hit. Ty Johnson was supposed to slip right in to lead the backfield like nothing ever happened, but if you picked him up off of waivers you know how that turned out. You wanted to see more than 11 total touches from the supposed next man up, and Ty probably crushed a lot of fantasy dreams. J.D. McKissic was also used sparingly, leaving recent practice squad call-up Tra Carson to lead the backfield with 12 carries for 34 yards. The run game, once so promising, now looks to be in shambles.
All this said, the 299 passing yards per game average for Stafford should only continue to rise as the season goes on. With 16 touchdowns through seven games, he is on pace for 36.5 touchdowns on the season. This number should also go up as again, the run game is practically nonexistent. He could easily hit 40 touchdowns and 4,500 yards in 2019. Starting this week against Oakland, Stafford should be a top 10 quarterback play for the majority of weeks from here on out.
Matthew Stafford is definitely for real. With Jones healthy and Golladay taking over as a true WR1 in the offense, the weapons are there. If T.J. Hockenson can actually hold onto the ball, and he can get a little more help from his backfield, this offense could get even better. And that is a scary proposition for opposing teams.
More Fantasy Football Analysis