Show me a tight end, and I'll show you a rolling dice. And most probably, one with way more than six faces. Fantasy football is not new. We are not new to fantasy football either. Everybody goes by the strategy of drafting RB/WR, RB/WR, RB/WR (ad infinitum), QB, TE, rest of the bunch. There are owners who prefer to pick a QB early. There are others who bank on multiple elite WRs and get a group of average RBs in the middle rounds. And then, between all different gamblers, are the vibrant minds of those who choose to pick a tight end between the second and third rounds (or even in the first one, those crazy people!)
While top-tier tight ends tend to be surefire plays, the rest of them can be considered high-risk fliers. Nobody truly knows who is going to overperform. Each and every year different running backs or wide receivers go and put on a show in unexpected ways, sure, but there are too many players from which we can expect a certain level of performance within preset boundaries. With tight ends, though, randomness is overboard.
That being said, here is a look at three tight ends that will undoubtedly, surely, and definitely give you a ROI better than anyone at the position. Bear with me!
Editor's Note: Our incredible team of writers received 13 award nominations by the Fantasy Sports Writers Association including Baseball Writer of the Year, Football Writers of the Year, Golf Writer of the Year and many more! Be sure to follow their analysis, rankings and advice all year long, and win big with RotoBaller!
Read More!
ADP: 178.5, Projected PPR: 134.8 (OVR 143, TE 15)
You can take the image above this paragraph as the reference for this column. Its content is fairly simple: It represents tight ends projected by PPF to reach at least 100 PPR points in 2020 while currently having an ADP over 120 (drafted after the tenth round, that is). The ROI values are calculated dividing the player's expected position on the overall NFL rankings (OVR Rk) by its current ADP: Values above 1.0 represent a good return on investment, values below 1.0 a bad return.
Now, try to find Jack Doyle. Not hard, right? That's because he's one of the three players highlighted in this column that boast positive ROI marks at their current ADPs, and one of only six in the whole chart.
Doyle's ADP, at the time of this writing, doesn't make much sense. Doyle is going to be the starting tight end of an Indianapolis Colts offense that features a much better quarterback now (Philip Rivers) than it did last season (Jacoby Brissett). It is not crazy to think Doyle can improve on his 2019 111.8-PPR points season in this scenario. In fact, PFF projects him to score 134.8 points in 2020, good for TE15.
Playing under Rivers, Doyle is projected to finish next year with 74 targets, 57 receptions, 536 yards, and 4 TDs. Those numbers, put together, speak very well of Doyle's upside for 2020. Only 12 tight ends project to finish the season with at least a 70/55/535/4 line on the receiving end of things, and Doyle is--by far--the cheapest of them. Rob Gronkowski didn't make the 120-ADP cut (he's at 116.2) but the difference between his price and Doyle's goes all the way up to more than 60 draft picks and five full rounds!
With a receiving corps in which pretty much everything will need to go T.Y. Hilton's way, and with his injury concerns, it's reasonable to make Doyle your pick for the TE position. Even if Hilton plays in every game, the Colts aren't too deep at wide receiver and Rivers will use Doyle often. Steal of a player at a shallow position.
ADP: 138.1, Projected PPR: 143.2 (OVR 129, TE 12)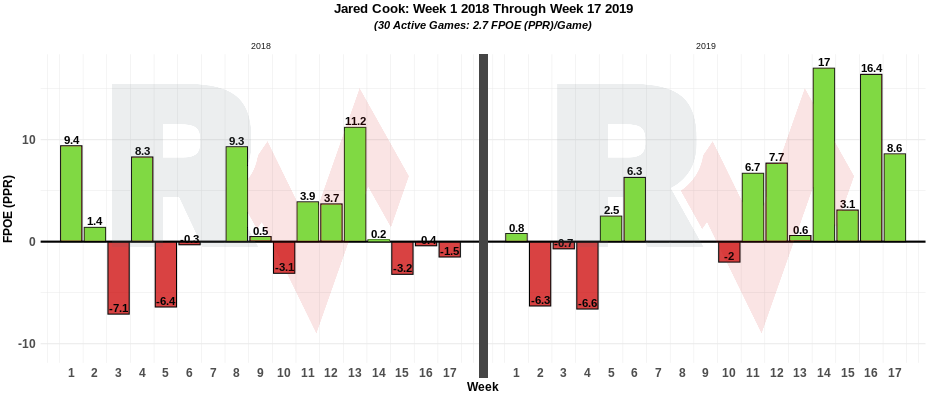 After the great season Jared Cook had in 2018 while still a member of the Raiders, it was reasonable to be skeptical of his chances of repeating it last year. I mean, it is not often that you see a tight end being consistently great, Oakland wasn't a top-tier offensive team, and Cook's 193.6 PPR points in 2018 marked his career-best mark by almost 50 points. While Cook indeed regressed in 2019 to 167.5 PPR points, he still finished the year as the TE7, and if looked at closely, he played even better last year than he did in 2018.
Cook missed two games last season, so his PPG were virtually the same in back-to-back years at 12.1 and 12.0. Not only that, but he also was much more efficient playing in New Orleans. As you can see in the chart above, Cook generated more FP Over Expectation (FPOE) in 2019 than in 2018 and only one game in which he "underperformed" in the second half of the season compared to four in 2018.
Cook's ADP skyrocketed the last offseason due to his booming 2018 but has now come back to earth, perhaps too much. PFF projects Cook to finish 2020 with 143.2 PPR points but the Saints haven't changed that much (they've added Emmanuel Sanders, though) and he should be able to reach that mark easily. As he's always done, Cook projects to be one of the most efficient TEs with a projection of 690 yards on just 48 catches. Cook has, in fact, the third-best Yds/Rec projection at 14.3 only behind O.J. Howard (14.4) and Rob Gronkowski (15.3).
ADP: 228.5, Projected PPR: 116.7 (OVR 165, TE 20)
I am not going to sell you what Rudolph is not: a league winner. It is going to be hard for Rudolph to score big-time PPR points in 2020 being part of the Vikings offense. There is nothing wrong with that, though. Rudolph has scored at least 113 PPR points in his last five seasons, only he did so last year while getting almost half of the targets he needed to reach that mark in years prior to 2019. You might not believe this, but since 2000, Kyle Rudolph's 2019 season ranks as the third-best in PPR points among TEs with 50 or fewer targets. He is, plain and simple, one of the most efficient tight ends around.
Minnesota won't change the way they approach the game next season, and Rudolph will most probably stay a low-volume tight end relying on efficiency. He will need to make the most of his chances, but he's proved he's more than capable of that and he's often targeted in the end zone, making him a good late-round pick with even more extra goodies going his way often.
Rudolph isn't being drafted at all these days. His ADP of 228.5 would go beyond the 19th round in a 12-team league draft. He's been completely overlooked even though PFF has him projected to score 116.7 PPR points in 2020, only five fewer than teammate Irv Smith Jr. There will be a moment when Minnesota favors the younger Smith Jr. over Rudolph, but with Stefon Diggs no longer with the team and Rudolph yet to show true aging signs I'm betting on him finishing 2020 with more points than Irv Smith Jr. and having another great season in terms of ROI.
More Fantasy Football Analysis