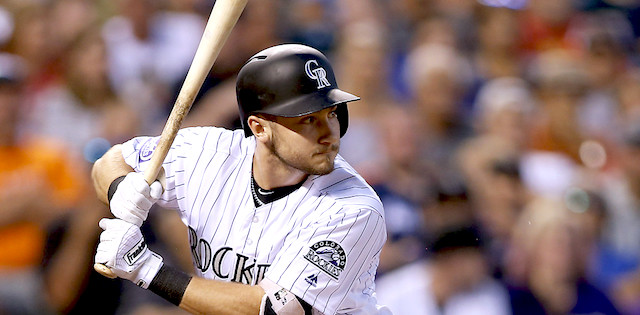 Once you reach the later rounds of drafts, you start thinking about upside fliers that can provide a great return on value. These are the rounds to take risks on more unknown commodities like prospects, forgotten-about veterans, players returning from injuries or players that have previously showed promise but haven't put it all together yet. Knowing about the deeper player pool can help you be more flexible throughout the draft, especially if you can identify someone you like and plan your earlier picks around that.
Today we are looking at some late-round second basemen who need to be considered. Do we think they are draft targets, or players to avoid? Are their ADPs undervalued? Will they make significant fantasy contributions and be one of your later-round draft sleepers? Read on to see our take.
Our editors have hand-picked these specific MLB players for your draft prep enjoyment. Normally only available to Premium subscribers, the five outlooks below are meant to give you a taste of the in-depth analysis you receive with our industry-leading 2019 Draft Guide. Be sure to subscribe today and start reading all 400+ of our 2019 player outlooks, and many other premium articles and tools, available exclusively in our 2019 Draft Guide.
Editor's Note: Our incredible team of writers received 13 award nominations by the Fantasy Sports Writers Association including Baseball Writer of the Year, Football Writers of the Year, Golf Writer of the Year and many more! Be sure to follow their analysis, rankings and advice all year long, and win big with RotoBaller!
Read More!
Chris Taylor - 2B/SS/OF, Los Angeles Dodgers
The versatility of Chris Taylor (and an early injury to Corey Seager) allowed Taylor to play in 155 games in 2018. Although Seager is expected to return for the 2019 season, the Dodgers recently shipped both Yasiel Puig and Matt Kemp to the Reds, which points to an everyday spot for Taylor. His 2018 season was mainly disappointing in which he slashed .254/.331/.444, with a 4.5% increase to his K%.
A 6% increase in hard contact is an intriguing silver lining to his 2018 season. This suggests that a decrease in K% could mean similar production to that of 2017 when he slashed .288./.354/.496 with 21 home runs and 17 stolen bases. There is definitely upside to selecting Taylor in the late rounds of your draft, especially considering his 2B/SS/OF eligibility in some leagues.
At a current ADP of 213, there is likely room built-in assuming that the Dodgers could still add another outfielder for the upcoming season. Classify Taylor as a low risk, high reward pick in the late rounds of your draft if the Dodgers move forward with this roster. Lean towards monitoring him on the waiver wire if they add a starter at 2B or OF before opening day.
DJ LeMahieu - 2B, New York Yankees
New York Yankees second baseman DJ LeMahieu had an interesting 2018 with the Colorado Rockies. LeMahieu had demonstrated over the previous two years that he could hit somewhere around 10 home runs, and was coming off three years hitting for an average over .300. However, in 2018 he hit a career-high 15 home runs but traded off those gains with a drop in average down to .276. Previously, LeMahieu's highest home run total was 11 in 2016, and in many ways, his 2018 profile looked similar.
The one interesting note is that his FB% jumped up to 29.5%, almost 7% above his career average. That jump, while retaining a similar HR/FB ratio as 2016, helps explain how he managed to hit four more home runs in 2018. The FB% increase also indicates why we saw his average drop off, as fly balls do not often tend to result in base hits. The question is which version of himself will LeMahieu be in 2019? We will find out this year if the shift to hitting more fly balls was a conscious decision or simply a one-year aberration, and that could indicate how the rest of his career might shape up.
From a fantasy point of view, my hope is that we see the high average once again in 2019, as in the current climate an average over .300 is more valuable than a few extra home runs. In terms of the other numbers, hitting in a stacked Yankees lineup should mean that the runs and RBI take care of themselves somewhat. Given his current ADP outside the top-200, LeMahieu looks like an interesting late-round option who could provide fantasy owners with a nice average boost, at a point in the draft where good average can be hard to find.
With the departure of DJ LeMahieu, Garrett Hampson appears to have the inside track to everyday at-bats at second base for the Colorado Rockies. With just 40 career at-bats, how he will fare is a bit of mystery. However, he's consistently shown the ability to get on base at every level he's played throughout the minor leagues, helping him to produce strong stolen base numbers.
Given that he'll call Coors Field home and be a part of a strong Rockies' lineup, Hampson makes for an intriguing late-round flier, requiring anywhere from a 12th and 15th round pick in early drafts. While he hasn't shown much in the power department throughout his minor league stops, Hampson should have a chance to reach double-digit home runs with the positive home atmosphere.
Risk does enter the picture when considering the possibility that he will likely bat towards the bottom of the order -- at least to begin the season. That could limit his stolen base upside, his most fantasy relevant attribute, making him a risky option to depend on as a starter to begin the season.
New York Mets second baseman Jeff McNeil quickly became the fits-all-categories player that helped managers stabilize their rosters towards a fantasy championship in 2018. The 27-year-old doesn't have an extensive track record to assess as he burst onto the scene in 2018. While he only had three homers in 225 at-bats, McNeil quickly provided 11 doubles, six triples, seven stolen bases, and a .329 batting average. He may not have loads of power to his game but there is plenty of that in fantasy baseball.
McNeil's main draw is his ability to get on base and hit for a high average. He shines at the plate thanks to his excellent plate discipline and a tremendous strikeout rate (9.7%), which ranked second in the majors for the second-half. The contact skills (85%) and his ability to limit swing and misses (8.3%) are just incredible as well. The biggest question for the 2019 season is where McNeil will play. He was initially slated to be the starting second baseman, but the trade for Robinson Cano and acquisition of Jed Lowrie has likely moved McNeil to a utility role.
There is an increasing possibility of outfield time as well, which would add to his positional eligibility. McNeil's skills at the plate are legit and he is set to provide a high batting average with a dash of speed thrown in for good measure. With the team acquisitions, McNeil's average draft position will drop, but assuming the Mets find a way to get his bat in the lineup, even his current ADP of 223 is a value.
Lourdes Gurriel Jr. - 2B/SS, Toronto Blue Jays
Lourdes Gurriel Jr. won't be much more than a solid source of batting average in 2019. The 25-year-old had a good rookie season for the Blue Jays, hitting .281 in 65 games. What really caught people's attention was the Cuban's production in the month of June. He was red-hot, hitting .423/.648/.1.086, and in the process set a rookie record with 11 multi-hit games in a row.
However, a big problem for Gurriel Jr. is his plate discipline, walking only nine times all season. He swung at 39.3 % of pitches thrown outside the zone and swung at 53% of all pitches he faced, not a recipe for success. A .326 BABIP helped bolster his overall stats in 2018 but is likely to subject him to regression this upcoming season. On a positive note, in a small 71 AB sample size against lefties, the middle infielder had an encouraging .310 AVG with a .826 OPS.
He definitely has upside and will see a lot of playing time, provided he can stay healthy. However, his numbers show that his June hot streak may be an outlier, and in a sub-par Blue Jays lineup, he won't have the opportunity to excel in many counting stats. His ADP of 221 seems fair, especially considering his dual eligibility at 2B/SS in some leagues.
More Fantasy Baseball Analysis