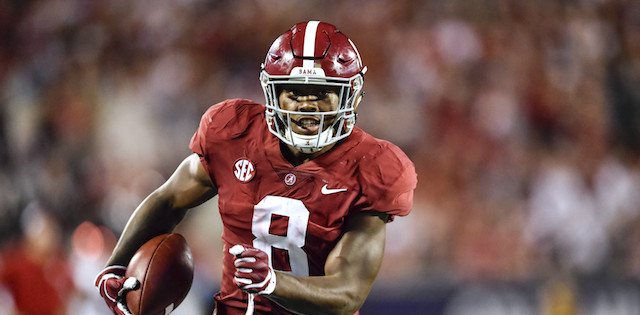 Since the NFL Draft, Josh Jacobs has been the talk of the fantasy community. With his selection to the Oakland Raiders, speculation has been all over the place in terms of his value in not only dynasty formats but also redraft leagues. He may very well be the replacement for Marshawn Lynch in this offense. But the question remains, can he hold up to the workload?
During his time at Alabama, Jacobs was rarely used in a deep backfield for the Crimson Tide. Finding touches behind the heavily-used Damien Harris were few and far between. Over his first two seasons, he tallied only 132 rushing attempts while adding in another 28 receptions. What he did with the touches is what counts. His 6.4 YPC were among the best in the country, but he had a tough time getting into the end-zone (7 total TDs). That would be vastly improved in his junior season with 14 total TDs. His usage increased also, jumping up to 121 carries on the year. The tread on his tires will be thin entering the league, but his production in limited usage does raise eyebrows for fantasy owners.
In comparison to Marshawn Lynch, there will be some pros and cons as we try to determine just what Jacobs will be at the next level. Lynch came into the league right out of the gate to heavy usage (330 carries and 65 receptions). One can only hope that this is what we see with Jacobs early on. The benefit that Lynch saw for most of his career was that he was the centerpiece of the offense with a limited passing attack. That's something that Jacobs may not be held back by with the weapons around him. But, let's take a look at his pros and cons to determine his fantasy value moving forward.
Editor's Note: Get any full-season NFL Premium Pass for 50% off. Our exclusive In-Season Lineup Tools, Lineup Optimizer and over 150 days of Premium DFS Research.
Sign Up Now!
Pros
Usage- This will be a great factor in Jacob's value early on in his career. The veterans around him, Doug Martin, and Jalen Richard, are nowhere near as talented. Jacobs should be given the role as lead back from the start of training camp and the run game will be molded to best fit his talents. Sure, he will get spelled from time to time by Martin and on some passing situations by Richard. But a majority of the touches in the backfield will belong to Jacobs. He should prove to be a three-down back early on with upside to develop into an RB1.
Running Style- Jacobs is not the classic bruiser in running style that we were accustomed to seeing with Lynch. But he gets the job done his own way. His elusive rating in college (7th at 109.8) and his percentage of missed tackles on first contact (4th in the nation at 42.1%) proves that he has the moves to get to the second level with ease. Running behind an offensive line that ranked 28th in the league in 2018 doesn't bode well to help Jacobs find success in the open field but this group should be better with Kolten Miller moving to left tackle. With the focus equally being on the Raiders newfound passing game with Antonio Brown, Jacobs should not see the stuffed boxes by opposing defenses. Giving more opportunities to get out of the blocks quickly.
Receiving Threat- Although in college we only saw him bring in a total of 48 receptions over his three years, Jacobs has the upside of a dual-threat. He is the type of weapon that a coach like Jon Gruden will find ways to utilize to make him more efficient. He will have competition for catches in the backfield with Richard, but talent wins out in the end. Jacobs may not see the high ceiling of catches early in his career that we have seen from Saquon Barkley, Alvin Kamara, or Christian McCaffrey, but a solid floor of 35-50 should be expected. If the team moves on from Richard, it can only help Jacobs rise to RB1 value.
Cons
Limited Usage in College- What may be deemed as a pro in one sense can be looked at as a con in another. The number of touches in college could show us that he is not capable of a heavy workload against better competition. He fought small injuries during his time at Alabama and could never fully beat out the backs ahead of him on the depth chart. Could it be that he may only pan out as a situational back in the NFL as well? We will find that out early on as the coaching staff will lean on him.
Quarterback Situation- Coming into the pros, Jacobs should see just how reliant the running game is with the play of the quarterback. In college, he had the threat of great college QBs to keep defenses honest. Now as a Raider, he has to play with Derek Carr. A QB that is for lack of a better term, not good. Defenses could view Carr as not important enough to focus on and leave more defenders in the box. Yes, the receivers the Raiders now have are better than what they've had to work with for a few years now, but it remains on Carr's shoulders to show he can get them the ball.
Passing Game- The Raiders now revamped passing attack with Antonio Brown and Tyrell Williams gives Carr the weapons he is not used to having at his disposal. If Carr can find himself and become a better QB, then it inadvertently affects the value of Jacobs. If the passing game finds success the amount of touches that Jacobs will see lowers even more. Also, playing with a defense that is among the worst in the league will mean that the team will be throwing the ball quite a bit. If Jacobs doesn't become involved in the passing game, he may be a player that will be better targeted in standard scoring leagues than in PPR.
Conclusion
Yes, the hype on Jacobs is already out of control as you could see him drafted as early as late round two in redraft formats. He is undoubtedly the top overall pick in dynasty drafts, but can he live up to this hype? As things stand now I say yes. He is currently the 20th back in my dynasty rankings, but that could move even higher as we see him work in training camps.
As the Raiders continue to add pieces around him to help his transition to the NFL, he should eventually become an RB1 in fantasy. But if the injuries start to mount based on the workload, he could quickly become a player whose time in the league will be short-lived. Draft with confidence in the meantime as he should be one of the top backs in fantasy for a number of years.
More NFL Rookie Profiles