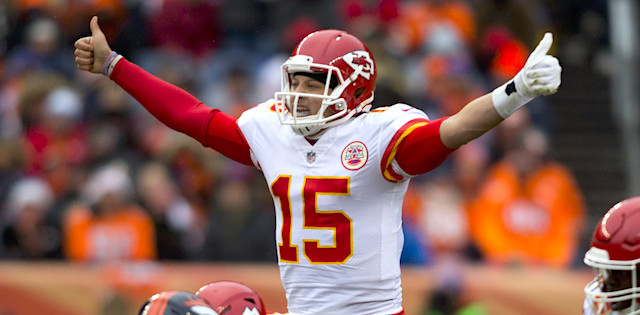 Fantasy football has as many different variations and scoring formats as there are players in the NFL. The way to become a better player is to understand those formats and the required strategies to succeed.
Recently, the Rotoballer NFL staff got together to conduct a mock draft for a dynasty startup with Superflex rules. You can check out the full draft board right here.
Once our latest mock draft format had been announced, there was a question that immediately sprung to my mind - "How do I value quarterbacks and when do I take my second QB?" This article looks at the answer to that question and the overall strategy for this league format.
Editor's Note: Get any rest-of-season NFL Premium Pass for 50% off. Our exclusive DFS Tools, Lineup Optimizer and Premium DFS Research through the Super Bowl.
Sign Up Now!
Superflex Strategy
The obvious reaction to being in a Superflex league is that you are likely starting two quarterbacks each week, and as a result are totally going to need to alter your draft strategy. That's true to an extent, but you don't need to completely overhaul your strategy. You are still going to need stud running backs and top-tier receivers to win your league; you just need to mix in the requirement for a quarterback.
The main effect comes in the later rounds, where you are looking at players further down the depth chart. If you are looking at a wide receiver that you aren't sure on the opportunity or multiple barriers, it might be worth picking up another quarterback to play matchups each week.
Players that are towards the top of the position are likely to be getting drafted in the early rounds (Patrick Mahomes, Aaron Rodgers' tier) and then the traditional players that are popular with players that wait on a quarterback (Kirk Cousins, Matthew Stafford) are likely to go in the middle rounds.
As with any draft it is all about making sure that you are getting value for your picks. Selecting an elite quarterback early may mean that you can then sit back and wait until you pick up your second or third quarterback. Pairing a top tier player like Mahomes means you could wait until the sixth or seventh round until you select your second option.
Waiting until the sixth to select your first quarterback means you are likely going to need to revisit the position again in the next round (possibly in the next two rounds) so that you are able to get a reliable source of production from the position, but it means you are likely to have top tier talent at the other skill positions.
Bye weeks are more important to track in Superflex leagues also, as you want a combination of quarterbacks that means you have two to play in all weeks, as the waiver wire is likely to be quite devoid of talent at the position.
Dynasty Wrinkle
In dynasty, the idea is to try and win in the short term, especially in start-ups. The temptation is to opt for young talent at every position and have a team for the future, but things move quickly in the NFL and you could find your team becomes irrelevant very quickly.
In dynasty, the quarterbacks that you want to target are similar to the ones mentioned above, but you are looking for players that aren't likely to be challenged for their starting position for a few years.
In dynasty you are likely to find the waiver wire is bare, due to the larger rosters, so picking up a further quarterback can be a good strategy in the later rounds.
Linking the Superflex Strategy to our Mock Draft
In our mock draft which you can find here, the stud running backs went in the first three picks. Saquon Barkley, Christian McCaffrey, and Ezekiel Elliott all went off the board, followed by the first two quarterbacks- Patrick Mahomes & Andrew Luck. Let's unpack those picks and all the QBs taken within the first 10 rounds:
Mahomes is widely recognized as one of (if not the) best dynasty quarterback. Operating in one of the best offenses in the league, and only going into his third year in the league he doesn't have any real competition for his place.
Luck similarly is young (albeit older than Mahomes) but is on an offense that is full of talent, and behind the best offensive line in the NFL.
Proving that quarterback should be in consideration but not reached for, the next QB (Deshaun Watson) was selected at the start of the second round, with other elite running backs and wide receivers making up the gap.
By the end of the seventh round, there were 21 quarterbacks selected, which would be unlikely to see in a single-QB league by the end of the draft.
Most writers ended up with three or more quarterbacks, which is what I would generally be looking to leave with on my roster on draft day.
Key Takeaways
The key takeaways are that quarterbacks are more valuable in Superflex, but not to the point that you have to change everything that you know about fantasy draft strategy. Keeping an eye on bye weeks, and opting for players that are able to be starting quarterback for at least a season in the later rounds can be a highly effective strategy.
Try to select players that are able to complement each other, rather than end up losing you weeks is key to being successful in Superflex leagues.
More Dynasty League Strategy