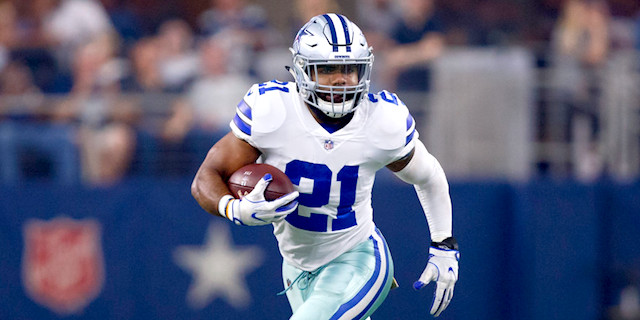 Holdouts are not new to the NFL. We're fresh off one of the most talked-about ones in last season's Le'Veon Bell skipping the year while with the Steelers. Everybody hoped Bell would eventually make it back to the field. Preseason went by. First week. Second, third, etc. Until there was a point of no return, and Bell finally missed the whole year. Oh, and now he's part of the New York Jets.
For fantasy owners, drafting Bell was actually kind of a no-brainer last off-season even knowing Bell's situation and dispute with the Steelers. Looking at his ADP evolution, Bell peaked at an ADP of five in September and then started plummeting all the way down to around 20 by the end of October. Even with the season already started and multiple games been played, fantasy players still had hopes on Bell coming back and kept drafting him inside the first two rounds. He never did.
This year, another two high-impact players (both running backs) are holding out: Ezekiel Elliott of the Dallas Cowboys and Melvin Gordon of the Los Angeles Chargers. While Elliott's ADP hasn't moved a lot (he's gone from an ADP of 3 in early July to a 4-5 now), Gordon's has suffered quite a free fall (from 5 to 25, out of the second round and still falling). It's time to take a look at what could be ahead and how to gamble on Elliott and/or Gordon and still save your season if dominoes don't fall your way. Let's break this down in a few notes to keep in mind during your draft and season development.
Editor's Note: Get any rest-of-season NFL Premium Pass for 50% off. Our exclusive DFS Tools, Lineup Optimizer and Premium DFS Research through the Super Bowl.
Sign Up Now!
Learned Lessons from Last Season (Bell owners)
I have already reminded you of Bell's case last year. Fantasy owners banked on the chance of him getting to terms with Pittsburgh and kept drafting him as high as possible for as long as possible. It was a gamble worth taking given the potential return (even more when he started to become available at a much lower ADP than that he started at).
In talking to a few of those who drafted Bell, one thing became a common thread in most of those conversations: sooner or later they rostered James Conner.
To handcuff running back pairs is not new in fantasy football and not exclusive of holdout situations. At the end of the day, if there is a position with high chances of suffering an injury it is that of the RB. They're hit more than anyone and there will always be star players at the position losing playing time. If that happens to your RB1 but your RB2 plays for the same team, even if he's not a superstar or his production is (obviously) under what your RB1 would have given you, he's going to have enough chances as to put up as many points as any leading rusher in the league.
Handcuffing players is not a must-follow strategy on average, but in cases like that of Bell it proved key, and it would probably be the same in Elliott's and Gordon's cases. While Dallas RB2 situation is not appealing at all (Tony Pollard? Mike Weber? Jamize Olawale?), the Chargers' one is much better featuring a clear option in Austin Ekeler.
Don't Panic When Drafting
You may not be one of those wanting to gamble on such risky situations as those of Elliott and Gordon. You may prefer to go the safe route and pick more stable options during the first two rounds of your league's draft. Even with that, you never know how any draft is going to develop and you might find yourself in some tricky situation.
Suppose you pick at the late portion of your draft, let's say ninth out of 12. Once your selection comes, the first eight owners may have picked the best RBs/WRs available, and left you with bare options on what to do. You may go and draft Elliott based on the pure upside without taking the holdout into consideration. Although Gordon has fallen even deeper, you may find a lot of RBs out of the board with your second or third picks coming and opt to take him before you lose more RB-ground.
In any of those cases, and if you truly want to avoid risks, it would be better to approach the draft with some sort of Zero-RB strategy and load on any WR1/WR2 still available. I'd always go and pick Christian McCaffrey No. 1. Probably Shaquon Barkley too. Even Alvin Kamara if you push me. But if they're gone by your turn, you may be better off picking four or five top-tier WRs with your first few picks rather than gambling on question marks and leave the RB slots to be filled later on.
Get Reliable Bench Help
The good thing this year is that although Elliott's and Gordon's situations look totally different (Elliott looks much closer to be active in Week 1), they align very well with their backup pieces. Let me explain.
Elliott's holdout looks more like a "when" rather than "if" it is going to finish. Dallas is determined to extend Elliott. Elliott wants to remain a Cowboy. It's a matter of valuation and I'm betting on both parts agreeing on a deal before the season starts. There is a very low chance Elliott ends up missing time. That is why although the Cowboys group of running backs is slim and unproven, it should not be a problem and not become part of the equation.
That being said, I'd advise against handcuffing Elliott to any of his backfield partners. It's better to pick any other low-tier RB with upside rather than gambling on someone who would probably end up not playing, and even if they do they possibly will not bring much to the table. Tony Pollard and Mike Weber are both dart throws at best and wouldn't have any fantasy relevance if not for this holdout.
The case of Gordon looks much worse. There is a real chance of a season-long holdout here. He has even asked for a trade and things seem to get darker each passing day. In contrast to Elliott's situation, Gordon's backup happens to be Austin Ekeler. Ekeler himself already has an ADP of 80 and is being drafted as high as at the 42nd spot in some drafts.
Of course, if Melvin Gordon ends up playing, Ekeler wouldn't be more than an RB3 or RB4 in any league. His value would be way depressed in that situation. But if Gordon doesn't see the field, Ekeler would instantly turn into an RB2 worth rostering at any cost. He would be the leading rusher of the Chargers and he's shown enough to make owners confident that they are picking a more than reliable option on offense.
Search Waivers and Enter the Trade Market
If you have Elliott or Gordon in your roster, it comes as a must for you to drain the waiver wire and keep an eye and a half on it each and every day. You'll need to live there. You'll have to be the first to jump over whoever looks above average and becomes available. You definitely need to find that hidden gem.
Trades can also be a huge part of your season. The further the season goes without Elliott or Gordon reporting, the more you should look to acquire pieces in trades to make up for the hole they will be causing. When talking to Bell's owners from last season, a lot of them also mentioned how trading for different players (James White, James Conner, Aaron Jones) helped them end the season in great positions.
It may take you more assets than it should (you won't have much leverage after all and the rest of the owners will know your roster situation and how desperate you'll be to get something to improve it, whatever it is), but never say never and gamble on those transactions. You will need luck, of course. Not everybody turns into real-life Conner, but hey, you already made the ultimate gamble when you opted to draft either Elliott or Gordon so this is nothing compared to that. You have everything lost already, so another risky move won't make things worse.
Don't Stress!
Remember, this is fantasy football. You may have put money into your league but what is fantasy football if not something to have fun with?
You risked your chances at the chip, and ultimately those pesky players opted not to dress even once for you. It sucks, but it happens. Hey, there's always next year!
More Fantasy Football Analysis