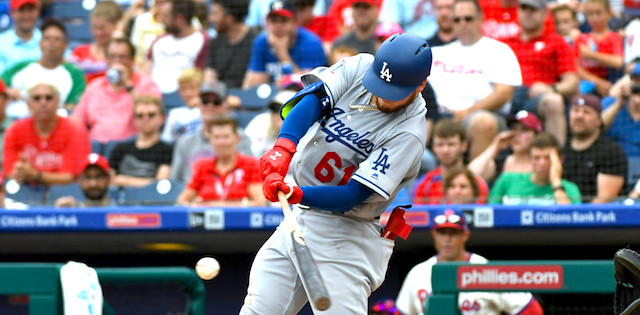 It's September! Not only does that mean fantasy playoffs, it means prospects getting called up with the rosters expanding.
For the last few weeks of the season, we'll be looking at players who can give your team a boost this year for a fantasy playoff run. Realistically most of the prospects who will help you this year will be pitchers, but there are some hitting prospects who will be making some waves in fantasy. The biggest name hitting prospect who is getting the call right now is Alex Verdugo, who already put up some good numbers in a brief stint with the Dodgers earlier this season. And while he didn't make the list this week, another hitting prospect to keep an eye on is San Diego Padres catcher Francisco Mejia, who was just called up this week.
Let's take a look at these three players who could bring a boost to your team in the playoffs.
Editor's Note: Get any full-season MLB Premium Pass for 50% off, with exclusive access to our season-long articles, 15 in-season lineup tools and over 200 days of expert DFS research/tools.
Sign Up Now!
Poncedeleon and the Fountain of Youth
Daniel Poncedeleon - SP, St. Louis Cardinals
Projected starts: TBD
Poncedeleon is a guy who can put up a good fantasy performance for your team, it's just a matter of figuring out when his next start will be. Looking on the St. Louis Cardinals website, they have the starting pitcher listed for their next five games, and none of them are Poncedeleon who last pitched on September 1. When he does pitch though, he has the ability to be a strikeout machine. Over 25 major league innings, Poncedeleon has 22 strikeouts, and this is on top of his 10.3 K/9 rate over 96 1/3 innings at Triple-A. Looking at the Cardinals' upcoming schedule, their next two opponents — Detroit and Pittsburgh — are among the top teams with the fewest strikeouts, but their series with the Dodgers could be a prime match-up if Poncedeleon starts, as Los Angeles has the eighth-most team strikeouts in MLB this year. For now, he should remain on the waiver wire in most redraft leagues, but once his next start is announced owners should look to add him as a streaming start.
Alex Verdugo - OF, Los Angeles Dodgers
Projected starts: vs New York (NL) 9/5, at Colorado 9/7-9
Verdugo already had a brief stint with the Dodgers earlier this season, during which he hit .280 with five doubles, one home run and a .785 OPS over 56 plate appearances. This was in addition to his year in Triple-A, where he hit .329 with 19 doubles, 10 home runs and a .863 OPS over 379 plate appearances. Like Poncedeleon, the biggest knock to Verdugo's fantasy value for the rest of the season is playing time, as he joins a crowded Dodgers outfield. But when he does get playing time he should be able to provide high average with decent power, and he should also contribute in RBI based on where the Dodgers had slotted him in the lineup earlier this season. For owners in points leagues, Verdugo will have even more value because of his low strikeout rate. His 12.4 percent strikeout rate this year is just the second-worst rate of his career, and is only slightly higher than his career 11.4 percent rate. In rotisserie leagues, Verdugo might be a fringe play, but in deeper points leagues he should be scooped up as soon as possible.
Sandy Alcantara - SP, Miami Marlins
Projected starts: vs Philadelphia 9/5, at New York (NL) 9/12
While the strikeout rate has been down for Alcantara this season between Triple-A and Single-A Advanced, what has also been down is his ERA, WHIP and home run rate. Alcantara has posted a career-low 6.8 K/9, but his 3.90 ERA and 1.260 WHIP are his best numbers since 2015. In his one start with the Marlins this season, Alcantara allowed one run on three hits and five walks over five innings while striking out two against the Mets. His next two starts have the potential to be great match-ups for Alcantara as he is set to face the Phillies and the Mets. The Phillies have the third-most team strikeouts and the third-worst average in the majors, while the Mets are currently in the top half of the league for most team strikeouts, and their .236 team average is second-worst in the majors only behind San Diego. Alcantara will be a riskier play in most leagues than Poncedeleon, but he has a more set schedule for playing time and his next two starts are very favorable to him.
More MLB Prospects Analysis