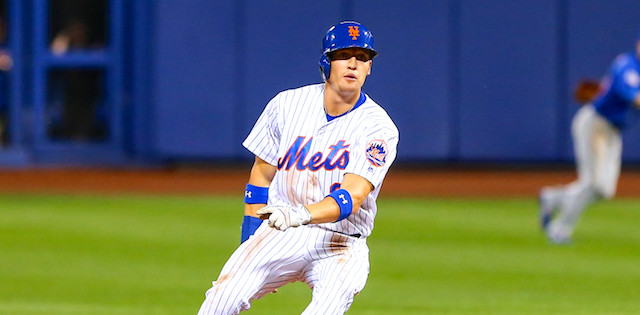 There are plenty of strategies that fantasy managers explore in hopes of getting an advantage over their opponent. Heavy lineup, heavy starting pitchers, no catcher, all (or mostly) reliever staff, no reliever staff, etc. Even if you play a balanced lineup, injuries can cause holes. A few weeks without a key player won't kill a season, but why accept losing when you can stream?
Streaming can be a risky business. If you do it right and check the necessary boxes, you can win the week. This column will do most of the work for you. It'll cover weekly recommendations for when you need: steals, home runs, average, strikeouts, wins, and/or ratios (ERA/WHIP).
All position eligibility and ownership percentages are based on Yahoo! Fantasy leagues.
Editor's Note: Get any full-season MLB Premium Pass for 50% off. Exclusive access to our Draft Kit, premium rankings, projections, player outlooks, top sleepers, dynasty and prospect rankings, 15 in-season lineup tools, and over 200 days of expert DFS research.
Sign Up Now!
Steals – Head-to-Head Category Streamers
Dylan Moore (2B/3B/SS/OF, SEA) - 2% Owned
Seattle utilityman Dylan Moore likes to run, even though when he's getting caught, as his nine caught stealing is tied for the second-highest in baseball. But Moore hasn't been caught in September yet, racking up four stolen bases along the way, while slashing .259/.355/.444 in his 31 plate appearances. With J.P. Crawford set to return from injury, playing time going forward could have been an issue for Moore, but with news that outfielder Jake Fraley will miss the rest of the season, Moore should continue to get regular at-bats. Moore is playing and running and the non-contending Mariners show no signs of stopping him anytime soon.
Jarrod Dyson (OF, ARI) - 9% Owned
If the 36-year old Diamondbacks outfielder were a secret-code phrase in an old spy movie, he would be "the old man runs at midnight," as Dyson now has 30 stolen bases on the year, tying him for his most since 2016. Dyson had slowed down some during the dog days of the season, swiping only four bags from the start of August until last week, but Dyson has picked it up in the last week, stealing two in his last four games and has only been caught four times on the season. With three games at home against Miami before traveling to San Diego for three, Dyson won't hold any significant advantages on the basepaths, with Miami and San Diego's catching corps both league-average or better at holding runners. But with Arizona still only 2 1/2 games back of the Wildcard, expect Dyson to keep turning up the pressure on the basepaths for the Diamondbacks.
Home Runs – Head-to-Head Category Streamers
Brandon Nimmo (OF,NYM) - 17% Owned
Back from injury since September 1, Mets outfielder Brandon Nimmo is still only 17%-owned, which is not surprising considering how much Nimmo had struggled before hitting the injured list on May 20 with a bulging disc in his neck. After breaking out in 2018 with 17 home runs and a 149 wRC+, Nimmo only slashed .200/.344/.323 with three home runs through his first 161 plate-appearances but given the severity of his neck-issue, perhaps his lack of production is more understandable in hindsight. But Nimmo has been much better since returning, slashing .263/.531/.632 with two home runs, five RBI, and five runs scored in his 32 PA, with a 195 wRC+. This is a good week to snag Nimmo, as he sets up to face mediocre pitching in hitter's ballparks in Week 25, with three-game sets in Colorado and Cincinnati.
Robinson Cano (2B, NYM) - 37% Owned
Continuing our theme of injured Mets returning with powerful intentions, we come to second baseman Robinson Cano who just missed a month with a torn hamstring. Cano had been heating up since the All-Star break, before hitting the IL on August 4, hitting six home runs with 14 RBI and 18 runs scored in those 88 plate appearances. But since returning, Cano has picked his boom-stick right back up, hitting two home runs in his 21 plate-appearances and slashing .444/.476/.833. The veteran left-hander will not only receive the same park-advantages as Nimmo from above - with the Mets playing six games in the great hitting environments of Colorado and Cincinnati - but he'll also only face right-handed pitchers, a positive seeing that 11 of Cano's 12 home runs in 2019 have come against righties.
Batting Average – Head-to-Head Category Streamers
Luis Arraez (2B/3B/OF, MIN) - 13% Owned
Even at only 13%-ownership, Minnesota super-utilityman Luis Arraez just keeps hitting and hitting and hitting, currently riding a six-game hit-streak and only failing to record a hit in two of his last 11 games. In 40 plate-appearances thus far in September, Arraez is slashing .444/.500/.583, with nine runs scored and a 193 wRC+ and hit leadoff for the last two games against Washington, collecting five hits (including two off of Stephen Strasberg). Coming out of the Minnesota farm system, Arraez had 60-grade hit-tool potential and has been showing it off under the radar for a while, slashing .336/.392/.438 over his 142 plate-appearances since the beginning of June, with 26 runs scored and 14 RBI. Arraez and the Twins have a full week of mediocre teams on the schedule in Week 25, facing the White Sox at home for three games before heading to Kansas City for a four-game set. Eligible at three positions, slide Arraez in to reap rewards that will be more than just average.
Harold Castro (2B/3B/OF, DET) - 1% Owned
Like Arraez above, Harold Castro is another hot-hitting unknown. The lack of attention for Castro is even more pronounced as he plays for the worst team in baseball. But those fighting for their playoff lives may want to start paying attention, as Castro has at least three hits in three of his last five games and is now slashing .333/.333/.359 since the start of September. But keep in mind that this is mostly a play for batting average, as the utilityman doesn't carry much pop in his bat, with only one base-hit out of his 13 in the month. This week Castro and the Tigers have seven games, starting with one game against Baltimore on Monday, followed by three-game sets against the Indians and White Sox. Castro lucks outs by missing Mike Clevinger in the series against the Indians and is scheduled to face only one left-handed starter in the seven games, a big positive seeing that his batting average against righties is 75-points higher.
Strikeouts – Head-to-Head Category Streamers
Dylan Bundy (SP, BAL) - 10% Owned
Check your ratios at the door and strap your heart-monitors on, because it's time to recommend Dylan Bundy for two starts at homer-friendly Camden Yards. With a 1.75 HR/9 on the season, there's always a strong chance that Bundy will give up a bomb or two, but the fantasy playoffs are only for the strong of heart (and stomach) and when you need strikeouts, you need strikeouts. And in Week 25 Bundy gets starts against two of baseball's most prolific whiffers against right-handed pitching. He'll have the tougher of the two matchups first, with Toronto carrying a 96 wRC+ against righties since August 1. But the Blue Jays have also struck out at a 27.4% clip against RHP over that time, which is good for the third-worst in baseball. And then the Mariners come into town, who've been even worse against right-handers since the beginning of August, with a 71 wRC+ that's tied for second-worst since, and a depressing 29.3% K-rate that's the worst in baseball by almost two-points over second-place. Stay strong thee in need of Ks and confidently stream our sweet Dylan this week... with your fingers crossed.
Nathan Eovaldi (SP, BOS) - 39% Owned
It's been a bumpy ride since Nathan Eovaldi returned from injury on July 22, making his first 11 appearances out of the bullpen and posting a 5.40 ERA and 1.58 WHIP in 13 1/3 innings. And then Eovaldi's return to starting on August 18 wasn't any better, allowing five earned runs in two innings. But he's righted the ship a bit in his last four starts, posting a 3.86 ERA over 16 1/3 innings. But more important for the purposes of this conversation, Eovaldi hasn't stopped striking people out, whether out of the pen or as a starter, posting an 11.08 K/9 and 27.9% K-rate since returning. Eovaldi gets two starts this week, first taking on Giants (22.9% K-rate against RHP) at home, before heading to Tampa Bay (21.9% K-rate against RHP) for a matchup with the Rays.
Wins - Head-to-Head Category Streamers
Martin Perez (SP, MIN) - 27% Owned
Like streaming Bundy for strikeouts, sometimes you just need to hold your nose and stream Minnesota Twins starter Martin Perez when you're hunting wins. And seeing that he's backed by a powerful Twins offense and has only failed to reach five innings in two of his last sixteen starts, Perez will usually give you a look at picking up the W. The stars may align for Perez to double his winning pleasure in Week 25, as Minnesota gets two bottom-feeders at home, first facing the White Sox for three games before the Kansas City Royals come in for a four-game set. The White Sox have been at least average against left-handers this year, posting a 101 wRC+ against them in 2019. But they've also lost 11 of their last 15 games, including a three-game sweep at the hands of the Twins. And the Royals have a .294 wOBA and 79 wRC+ against LHP that are both second-worst in baseball. The Royals may be running hot lately, having won seven of their last 1o games, but keep in mind that those wins have come at the expense of the Orioles, Tigers, White Sox, and Marlins.
Zach Plesac (SP, CLE) - 32% Owned
After giving up 10 runs in two starts against the White Sox and Rays, Cleveland rookie Zach Plesac righted the ship in a big way, pitching his first career shutout against the Angels in his last time out. Plesac scattered four hits and struck out five in the dominant victory and now lines up for two winnable starts at home in Week 25. First up are the owners of the worst record in baseball, the Detroit Tigers, against whom Plesac has started against twice in 2019, going 1-0 and allowing just one run in 10 innings. The Philadelphia Phillies come into town next, who may be a tougher test than the Tigers, but they have struggled against right-handers on the road, posting an 83 wRC+ and .710 OPS for the season.
ERA/WHIP - Head-to-Head Category Streamers
Alex Young (SP, ARI) - 42% Owned
Diamondbacks left-hander Alex Young hit a rough patch in a solid rookie year, going 1-2 with a 7.68 ERA over three starts from August 10 to August 20. But Young has turned it around in his last three starts, going 2-0 with a 1.53 ERA over 17 2/3 innings, while striking out 21 batters. And in his last time out, Young had the best start of his young career, shutting out the Reds on the road for eight innings, allowing just two hits and striking out 12. In Week 25 Young lines up for a Tuesday start against the hapless Marlins, who have a .690 OPS and .294 wOBA against left-handed pitching on the season. Even including the aforementioned rough patch, Young is secretly shining in 2019 with a 3.38 ERA in his 12 starts and has allowed two earned runs or fewer in eight of those starts.
John Means (SP, BAL) - 41% Owned
Baltimore left-hander John Means was roughed up in his first two starts after returning from a brief stint on the IL on August 7, allowing 10 runs in 7 1/3 innings. But Means has meant business in his last four starts, going 2-1 with a 2.33 ERA, 0.70 WHIP, and only a .190 batting average against him. Means is facing two of the league's worst offenses in Week 25, first going on the road to face the Detroit Tigers, who have a .717 OPS and 87 wRC+ against left-handers since August 1 and carry a -25.2 pVal against Means's best pitch, the changeup. Next up is a home matchup against the Seattle Mariners, who've been better against lefties since the beginning of August, posting a .784 OPS against them. But the Mariners have lost 11 of their past 15 games and may not fare much better than the Tigers against the changeup of Means, posting a -11.6 pVal against them that's the ninth-worst in baseball.
More Streamers and Head-to-Head League Columns