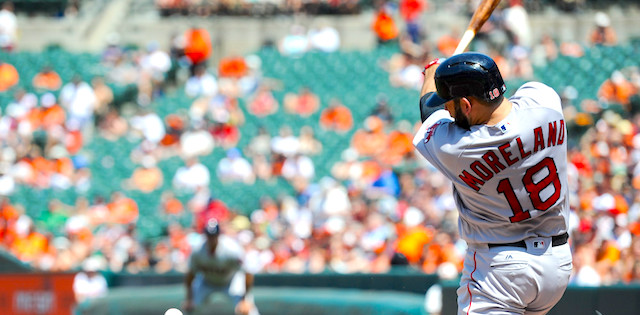 h2hThere are plenty of strategies that fantasy managers explore in hopes to get an advantage over their opponent. Heavy lineup, heavy starting pitchers, no catcher, all (or mostly) reliever staff, no reliever staff, etc. Even if you play a balanced lineup, injuries can cause holes. A few weeks without a key player won't kill a season, but why accept losing when you can stream?
Streaming can be a risky business. If you do it right and check the necessary boxes, you can win the week. This column will do most of the work for you. It'll cover weekly recommendations for when you need: steals, home runs, average, strikeouts, wins, and/or ratios (ERA/WHIP).
All position eligibility and ownership percentages are based on Yahoo! Fantasy leagues.
Editor's Note: Get our 2020 MLB Premium Pass for 50% off, with exclusive access to our draft kit, premium rankings, player projections and outlooks, our top sleepers, dynasty and prospect rankings, 20 preseason and in-season lineup tools, and over 200 days of expert DFS research and tools.
Sign Up Now!
Steals - Head-to-Head Category Streamers
Kevin Kiermaier (OF, TB) - 25% Owned
The Rays have begun the season with some serious aggression on the basepaths. They've stolen 14 bases as a team, which is tied for second in the league. That's a good place to start. Add that Kiermaier has been good at the plate hitting .282/.341/.564, and we have a recipe for a good probability of a stolen base.
Nick Ahmed (SS, ARI) - 15% Owned
Nick Ahmed has been a nice surprise to start the season as he carries a .314 batting average and .327 on-base percentage through 13 games. Out of the seven steals that the Diamondbacks have, Ahmed has two.
He only stole five last year so this could be a start to an aggressive season on the basepaths. The improvement in on-base percentage combined with the two early steals make for a good stream option this week.
Home Runs - Head-to-Head Category Streamers
Hunter Renfroe (OF, SD) - 45% Owned
Renfroe is still under-owned (45% in Yahoo leagues)! He has a 95.8 mph average exit velocity and a .491 weighted on-base average so far this year. He wasn't playing every day early in the season and that made him less attractive to fantasy owners.
With Franchy Cordero (elbow) and Travis Jankowski (wrist) ailing, Renfroe has the ability to take full advantage of an everyday lineup spot. He's got four dingers and is slashing .324/.378/.824 so far this season. If you need power there isn't a much better or widely available player available.
Mitch Moreland (1B, BOS) - 13% Owned
Moreland is currently on a power tear. He's hit three home runs in his last three games and four in his last five. His matchups are favorable for Monday through Wednesday this upcoming week. The Red Sox visit homer-friendly Camden Yards Monday and lefty-heaven Yankee Stadium for the next two.
Moreland seems to fly under the radar each year as he's in a platoon with Steve Pearce at first base. Despite this, he racked up 15 bombs last year in 404 at-bats. Be aware that the platoon means he only starts against righties and he's slashed .246/.331/.450 against them with a .242/.305/.379 slash against lefties in 2018.
Batting Average - Head-to-Head Category Streamers
Jorge Polanco (SS, MIN) - 28% Owned
Let's give this man some love. He's batting .375 with a couple of taters this year. He's batting second in a yet-to-heat-up Twins lineup. Polanco is an under-appreciated asset in the fantasy community, mainly based off of his suspension in 2018 for PEDs. This is a 15 homer, 15 stolen base shortstop in a league that is shallow at the position.
He's hit .276 in his career, and with a full season could put up solid fantasy numbers. A seven-game slate against the Blue Jays and at Camden against the Orioles is the perfect mix for him to rake and see his ownership numbers rise.
Jose Martinez (1B/OF, STL) - 28% Owned
This one is very short term and will require some diligence. Martinez doesn't play every day mainly because of the Cardinals crowded outfield. However, when he does play, he hits. Last season in 534 at-bats, Martinez hit .305! This is a guy who would easily be 75 percent owned or more if he was in the lineup every day.
Some would argue that Dexter Fowler's time as the everyday right-fielder is running out as he's currently hitting for a nauseating .176 average and has backed that up with a slightly better .180 average in 2018. Check to make sure Martinez is in the lineup before grabbing him for a stream and know that he hit righties (.313/.366/.468) better than lefties (.279/.358/.418) in 2018. Those slashes are playable against either hand whenever Martinez is in the lineup.
Strikeouts - Head-to-Head Category Streamers
Michael Pineda (SP, MIN) - 36% Owned
He hasn't pitched a full season since 2016, but that's fine because we only need him for one week. He'll line up to see the Orioles on Friday in an obvious play as the birds are hitting .210 against right-handed pitchers this year.
Pineda has struck out 10 batters in nine innings so far, and also posted strikeout rates in the mid-20's in his time with the Yankees. If Chris Davis even sniffs the Orioles lineup for Friday, you can count on at least two strikeouts from him alone.
Derek Holland (SP/RP, SF) - 10% Owned
Holland has been serviceable so far this year posting a 3.38 ERA and 21 strikeouts in 16 innings. Except for his first start where he let up three runs and was pulled after four innings, he's had two pretty impressive outings striking out seven Dodgers and nine Padres.
He is expected to line up against the Pirates next weekend who have slashed .194/.280/.209 against southpaws so far. I'd say that's a pretty safe bet for some strikeouts from a widely available arm.
ERA/WHIP - Head-to-Head Category Streamers
Wade LeBlanc (SP/RP, SEA) - 5% Owned
Wade Leblanc has been a solid pitcher for the Mariners rotation. In 27 starts in 2018, he posted a 3.72 ERA. He's not a big strikeout pitcher but he should line up to face an Angels lineup that is currently slashing .172/.287/.263 against left-handed pitchers. That's enough to fire him up this week.
Aaron Sanchez (SP, TOR) - 25% Owned
Can we get 2016 Sanchez back? Coming off a nice performance in Boston where he let up only one run in five innings of work, Sanchez is looking much better than he has the past two years. He has dealt with some injuries and pushed himself mostly out of the fantasy conversation. He is expected to face the Twins next week, and although they hit righties well (.269/.326/.484), Sanchez is an option here.
Despite Boston's struggles early, they're not an easy lineup to navigate and Sanchez did that well. A nice confidence boost from that start combined with a swinging strike rate of 10.6 percent (9.5 percent is league average) so far this year should give some momentum going into the start against the Twins. If this one does go well, you may consider holding him to see if he can bring the 2016 guy back out.
Wins - Head-to-Head Category Streamers
Anibal Sanchez (SP, WAS) - 20% Owned
Is it fair that he had to face the Phillies lineup in both of his first starts? Absolutely not, but this is a good chance to jump on the low ownership and get him going for a stream this week. Sanchez was a stud in 2018 pulling off a major comeback to throw a 2.83 ERA over 136 2/3 innings.
Whether you believe in the re-emergence, Sanchez should face the Marlins next weekend. The Marlins are slashing .188/.262/.301 against right-handed pitchers. There's a high probability for a win here with the Nationals offense to back him up.
Aaron Brooks (SP/RP, OAK) - 2% Owned
Brooks has had a solid start to the season. He went six innings with no runs against the Red Sox, got hammered for five runs over five innings against the Astros, and managed a quality start, letting up three runs in six innings against the Orioles.
The Blue Jays are up next for the 28-year-old righty and they are dead last in batting average against righties in the league so far. The Jays are slashing a not-so-terrifying .179/.271/.338 against right-handed pitchers. Oh, also give me the guy who has Khris Davis (and the rest of the A's lineup) mashing behind him for run support.
More Streamers and Head-to-Head League Columns