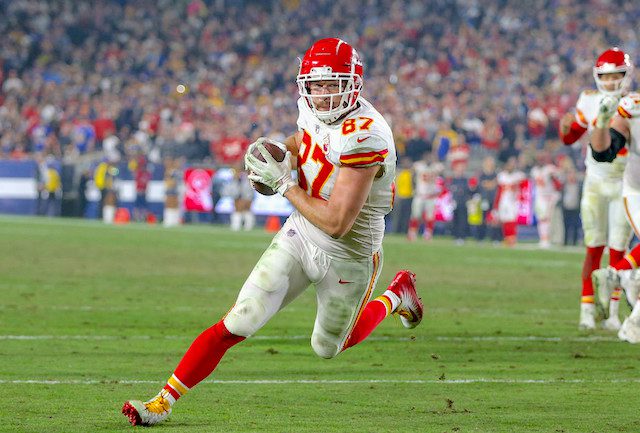 The tight end position features some of the most versatile players in the NFL because they cover several bases. Aside from being an additional blocker during run plays, they are also eligible receivers who can receive passes from the quarterback.
No wonder their role has evolved as the game progressed. Nowadays, it isn't shocking to see a tight end lead his team in passing yards. If that's the case, tight ends who played in recent decades should have the edge numbers-wise.
That criterion wouldn't be fair to those who played at a time when the ground game was king. Therefore, selecting the most excellent tight ends of all time includes assessing them compared to their contemporaries. While having eye-popping stats and individual accolades helps bump up their credentials, the players on this list dominated the opposition during their time.
Editor's Note: Our incredible team of writers received 13 award nominations by the Fantasy Sports Writers Association including Baseball Writer of the Year, Football Writers of the Year, Golf Writer of the Year and many more! Be sure to follow their analysis, rankings and advice all year long, and win big with RotoBaller!
Read More!
Witten was a stalwart for the Dallas Cowboys teams during the 2000s and 2010s. During his tenure, he helped the franchise enter the playoffs seven times. The former Tennessee standout started to put the league on notice by his second season when he finished with 980 yards, and six touchdown catches. He reached the 1,000-yard mark four times, with 2007 being his best season with 1,145 yards and seven touchdowns.
That performance earned him the first of his two First-Team All-Pro selections. Witten also made it to the Pro Bowl 11 times and was the 2012 Walter Payton Man of The Year recipient. He initially retired after the 2017 season but returned for his 16th NFL season in 2019. The 2003 third-round pick wrapped up his career for good after one season with the Las Vegas Raiders. He finished his career with 1,273 receptions for 13,532 yards and 75 touchdowns.
9. John Mackey, Baltimore Colts
Mackey's career numbers may not be at par with the other tight ends on this list. The second-round pick in the 1963 NFL Draft finished his ten-season career with 331 receptions for 5,236 yards and 38 touchdowns. He was a vital cog in the Baltimore Colts' dominance during the late 60s and early 70s. After all, they wouldn't name the award given to the best tight end in college football after him if he wasn't exceptional. Missing only one game throughout his career is also a testament to his durability.
His signature play was the 75-yard touchdown pass he caught in Super Bowl V. That pass from Johnny Unitas bounced off two players before Mackey made the catch. Mackey had three All-NFL distinctions and five Pro Bowl selections to his name. The Syracuse alumnus finished his career in 1972 after playing one season for the San Diego Chargers. He was inducted into the Pro Football Hall of Fame three decades later and named to the NFL 100 All-Time Team in 2019.
8. Mike Ditka, Chicago Bears
The younger football fans might know him as a coach and a broadcaster, but he wouldn't be named "Iron Mike" if he is not a solid force on the football field. Ditka was a three-sport athlete in college but decided to pursue football when he was drafted fifth overall by the Chicago Bears in the 1961 NFL Draft. That selection was the start of his 11-year career that saw him play for the Bears, the Philadelphia Eagles, and the Dallas Cowboys.
It didn't take long before his impact was felt, enabling him to win Offensive Rookie of the Year honors. Ditka was a part of the Cowboys team that won Super Bowl VI over the Miami Dolphins. His accomplishments also include five All-Pro and five Pro Bowl selections. The former Pittsburgh Panther finished his NFL career with 427 catches for 5,812 yards and 43 touchdowns.
7. Kellen Winslow, San Diego Chargers
No, this is not the one who played in the NFL during the 2000s and early 2010s. Instead, his father was one of the mainstays of the Air Coryelle offense that wreaked havoc during the 70s and 80s. Winslow can be considered the originator of the deep-threat tight end. He would go on the motion before the snap to create mismatches with smaller cornerbacks. That style helped him collect 541 receptions, 6,741 yards, and 45 touchdowns in nine seasons.
While the 13th overall pick in the 1979 NFL Draft had four All-Pro and five Pro Bowl selections, his performance during the 1981 playoffs at Miami's Orange Bowl elevated him to iconic status. He finished that game with 13 catches for 166 yards despite dehydration and cramps. His teammates carried him off the field, making it one of the league's timeless moments. Winslow is also a member of the NFL 100th Anniversary All-Time Team.
6. Ozzie Newsome, Cleveland Browns
Newsome was one of the bright spots for the Cleveland Browns during the 1980s. He had five All-Pro selections during that decade and helped the team reach three AFC Championship Games. He was also a three-time Pro Bowler and a member of the NFL 1980s All-Decade Team. The former Alabama standout retired in 1990, tallying 662 catches for 7,980 yards and 47 touchdowns.
He was inducted into the Pro Football Hall of Fame in 1999 and the Browns Ring of Honor in 2010. While he fell agonizingly short of a Super Bowl stint during his playing career, he parlayed his football wisdom by helping the Baltimore Ravens build rosters that won Super Bowls XXXV and XLVII. Newsome is still with the Ravens as executive vice president after stepping down as general manager.
What's scary is that Kelce's career isn't over. Therefore, there is a possibility that he might have every significant tight end record when he retires. However, it's hard to ignore the impressive resume he continues to pad. For now, he is already the position's benchmark for most 1,000-yard seasons with seven and most receiving yards in a season with 1,416. Kelce also claims the record for most 100-catch seasons by a tight end with three.
The Cincinnati alumnus is also the fifth tight end in NFL history with 10,000 receiving yards. Kelce isn't showing signs of slowing down, and he could be in peak football form. If that's the case, he will likely add to his four First-Team All-Pro, three Second-Team All-Pro, and eight Pro Bowl selections. The former two-star recruit was also a leading presence in the Kansas City Chiefs roster that won Super Bowl LIV.
He may have a light-hearted personality, as shown in his commercials and his patented "Gronk Spike" after scoring a touchdown. But he's one of the best when it's down to business. The second-round pick in the 2010 NFL Draft holds the record for most receiving touchdowns by a tight end in a single season with 17. An ACL and MCL injury in 2013 did not degrade his talent. Instead, he picked up where he left off to win Comeback Player of the Year honors a year later.
His partnership with Tom Brady produced four Super Bowls, three with the New England Patriots and one with the Tampa Bay Buccaneers. That Buccaneers championship came a year after his first retirement. Gronkowski finished his career with 719 receptions, 10,675 receiving yards, and 107 touchdowns. He collected four First-Team All-Pro and five Pro Bowl selections while amassing those numbers. Gronkowski re-retired after the 2021 season and was a part of the NFL 100th Anniversary All-Time Team.
3. Shannon Sharpe, Denver Broncos
Younger sports fans might know him as the guy who debates with Skip Bayless daily. But while his talking and comedic skills are off the charts, his foes can't laugh after facing him on the gridiron. Originally a wide receiver in college, he was deemed small to be a tight end in the NFL. His physical attributes led the Denver Broncos to take a flyer on him in the seventh round of the 1990 draft. However, he used his mobility and quickness to become a menace against opposing defenses.
No wonder he became the first NFL tight end to have 10,000 receiving yards. Sharpe was also an essential asset to three Super Bowl teams, two with the Broncos and one with the Baltimore Ravens. He retired in 2003 as the all-time leader among tight ends in receptions, receiving yards, and touchdowns. Sharpe had four First-Team All-Pro selections, one Second-Team All-Pro inclusion, and eight Pro Bowl distinctions. He was inducted into the Pro Football Hall of Fame in 2011.
2. Antonio Gates, San Diego Chargers
Gates is the quintessential example of how perseverance pays off. He was a basketball standout at Kent State and never played college football. Worst yet, he was deemed small for his position by NBA scouts. He took a chance on the NFL but did not hear his name called in the 2003 draft. Still, he worked out for team scouts, and the San Diego Chargers saw enough potential to offer him a contract. He made the most of that chance by becoming one of the best tight ends of all time.
He played his entire 16-year career with the Chargers, helping them to clinch seven postseason appearances and a stint in the AFC Championship Game. Gates had two 1,000-yard seasons and retired with the most touchdown catches by a tight end with 116. He was named First Team All-Pro three times and Second Team All-Pro twice. Gates is also an eight-time Pro Bowler and a member of the NFL 2000s All-Decade Team.
1. Tony Gonzalez, Kansas City Chiefs
For all his greatness, Tony Gonzalez never had a moniker during his 17-season NFL career. "Sure Hands" would have been great because he rarely fumbled the ball. Hanging on to the pigskin helped the former Cal standout to become the league's all-time leader in receptions and receiving yards among tight ends as of the 2022 season. His 1,325 receptions put him third on the all-time list for all receivers, making him the best at his position regardless of era.
A two-sport athlete in college, Gonzalez chose football over basketball and became a six-time First Team All-Pro selection. He was also selected to 14 Pro Bowls, second-most among all players. The Kansas City Chiefs and Atlanta Falcons legend also had four Second Team All-Pro selections and was a member of the NFL 100 All-Time Team. The California native was enshrined into the Pro Football Hall of Fame in 2019, his first year of eligibility.
Download Our Free News & Alerts Mobile App
Like what you see? Download our updated fantasy football app for iPhone and Android with 24x7 player news, injury alerts, rankings, starts/sits & more. All free!


Win Big With RotoBaller
Be sure to also check out all of our other daily fantasy football articles and analysis to help you set those winning lineups, including this new RotoBaller YouTube video:


More Fantasy Football Analysis