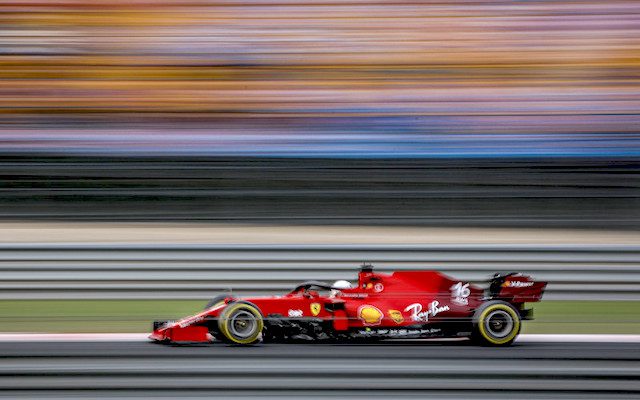 Who's ready for some Formula 1 DFS? This week, we're heading to the southern coast of France for the Monaco Grand Prix. Bring your umbrellas, though, because there is rain in the forecast, and that could throw everything we think we know right out the window.
It's been an up and down season for the two championship contenders, but Max Verstappen and Charles Leclerc have combined to win every race this year. However, it's the reigning World Champion on the rise with three wins in a row, and, in Barcelona, he took over the lead in the Driver Standings for the first time in 2022.
Below you will find our Formula 1 DraftKings DFS lineup picks for 5/29/22, with the slate locking at 9:00 am Eastern. If you have any questions or want to talk about Formula 1, you can find me on Twitter at @EuanOrYouOut.
Featured Promo: Get our full-season NASCAR DFS Premium Pass for 50% off! Win big with RotoBaller in 2022 and join in on the fun with our other NASCAR DFS winners. Get exclusive access to our DFS Cheat Sheets, weekly rankings, Research Station, and Lineup Optimizer for NASCAR Cup, Xfinity and Trucks contests.
VIEW TOOLS
How Does Formula 1 Fantasy Work?
If you're familiar with using DraftKings for NASCAR, this Formula 1 format will feel really, really different from what you're used to. It's much closer to the NFL single-game showdown slates than anything on the NASCAR side.
So, here's how the scoring and format work. You'll pick five drivers and a constructor. One of those drivers will be your captain, who earns you 1.5-times the points but also costs 1.5-times as much as they usually cost. For the constructor, you're choosing one of the F1 teams.
So, here's how the scoring works. Your driver only gets points if they finish in the top 10. Here's a chart for how that breaks down.
| Finishing Spot | DraftKings Points |
| --- | --- |
| 1 | 25 |
| 2 | 18 |
| 3 | 15 |
| 4 | 12 |
| 5 | 10 |
| 6 | 8 |
| 7 | 6 |
| 8 | 4 |
| 9 | 2 |
| 10 | 1 |
In addition, the driver with the fastest lap of the race gets three points. You get 0.1 points per lap led, five points for beating your teammate, one point for being classified at the finish (finished 90% of the race, essentially), and points for place differential. Finish three spots higher than your grid position, and you get two points. Finish five better, and you get three points. Finish 10 better to get five points. You also lose points for negative place differential, starting at three spots.
The constructor points work the same way, with some added points if both cars do well.
It's confusing, but for Formula 1 DFS to work, it probably had to be confusing.
Now that we've gone over that, let's talk drivers. And bare with me, as this whole F1 fantasy thing is new to all of us.
Captain/Constructor Stack Pick: Charles Leclerc ($11,600), Constructor ($11,500)
Starts 1st
If there's one thing you need to know about the Monaco Grand Prix, it's that getting the pole position in qualifying is a massive advantage over the rest of the field. Of course, you could say that about many tracks, but it really matters on these streets.
Monaco Grand Prix Results (2016-2021)
Year
Pole
Race Winner
2021
Charles Leclerc*
Max Verstappen
2019
Lewis Hamilton
Lewis Hamilton
2018
Daniel Ricciardo
Daniel Ricciardo
2017
Kimi Raikkonen**
Sebastian Vettel
2016
Daniel Ricciardo**
Lewis Hamilton
*Retired **Finished 2nd
As you can see, four of the previous five drivers who won pole position on Saturday finished first or second on race day. With Leclerc's teammate, Carlos Sainz, right behind him in P2, I can't imagine a lot of battling going down at the front for the boys in red. The two Ferraris should breakaway and breeze through that clean air all afternoon, barring a crash or two, and provide maximum points to get the team, and Leclerc, back in their respective title fights.
Sergio Perez ($8,600)
Starts 3rd
Let me get my rant out here: what Red Bull did to Sergio Perez last weekend was ridiculous. He could've won the race, and they denied him that opportunity, and I'm not too fond of it. *Phew*
Now that I've got that off my chest, I'm ready to anoint Sergio Perez as my sleeper to win the race on Sunday. The Mexican is going from strength to strength as the season moves along, and I know he will end up on top of that podium at least once in 2022.
He was second, third, and first in all three practices before qualifying, but a spin late in Q3 denied him the chance to earn a stronger starting position. Still, third is nothing to shake your head at, and I have no doubt he can outdrive Carlos Sainz to find himself behind Charles Leclerc after the first overtake point. After that, all he has to do is wait for Charles to fall under the 'Monaco curse' that's plagued the young Monegasque driver on his home circuit.
Lineup-building-wise, picking Perez and Red Bull as your Captain-Constructor combo opens up the entire driver pool whereas a Leclerc-Ferrari double up severely hampers the type of drivers you can fill with the rest of your lineup. So I am extremely intrigued by this pairing in tournament formats.
Lando Norris ($7,400)
Starts 5th
This guy sure knows how to drive. A week after battling for eighth in Barcelona despite a bout of tonsilitis, Lando Norris finds himself on the third row for the Monaco Grand Prix. He is miles ahead of Daniel Ricciardo in the papaya-colored McLaren and is a safe bet to beat his Australian teammate.
Last year, Norris claimed the third of his five career podiums on this same track. It only takes one crash for something crazy to happen in Monaco, and McLaren's leading man is in a great spot to capitalize behind the Ferrari and Red Bull duos on Sunday. He will be a terrific dark-horse Captain's pick if you're looking to fit a couple of big guns in your tournament lineups.
Fernando Alonso ($6,800)
Starts 7th
It's been a campaign of 'ifs' and 'buts' for Fernando Alonso. Some untimely car malfunctions have doomed him to early retirements, while a bump or two from other drivers have also halted his pursuit of points. Still, he found himself in the top 10 last weekend for the first time since Bahrain, and I'm taking that as a positive stride.
After Saturday's qualifying in Monaco, Alonso believed a spot in the top five was possible if not for a stupid mistake on his out lap. I'm buying that narrative as he was phenomenally fast around the Australian circuit before lousy luck, once again, plagued him on race day. Nevertheless, the wily veterans won twice in Monaco, and I wouldn't put it past him to reach back in the old gearbox and pull out a surprising podium on a not-so-sunny afternoon in Southern France.
Sebastian Vettel ($3,800)
Starts 9th
If I can get a two-time winner on this track for $3,800, I am slamming him into my DFS lineup. While Sebastian Vettel doesn't drive a Ferrari anymore, the muscle memory to succeed on a track like Monaco never fades. He's defeated his teammate, Lance Stroll, and gained at least five spots on the grid in two of his last three races.
An impressive Friday foreshadowed an even better Saturday, as the German finished ninth in P1 and P2. Then, he put it together when he needed it most and made it to Q3 for the first time this season. He's the fourth cheapest driver on the grid and is an excellent salary-relief option with tremendous upside.
The Keys to Weekly NASCAR DFS Success
NASCAR is back, and it's time for you to win big with RotoBaller!
Our DFS NASCAR Premium Package
 features several heavy hitters and proven winners.
Sean Engel recently won his 7th career DFS tournament, and had the top lineup in seven contests and 10 top-two finishes. Be sure to use his weekly NASCAR DFS rankings and DFS lineup picks, updated regularly.
Three-time NASCAR Racing Writer of the Year finalist and fantasy industry legend Scott "The King" Engel is also in the crew, bringing you his weekly strategies and lineup picks. Set your winning DFS lineups with our award-winning team.