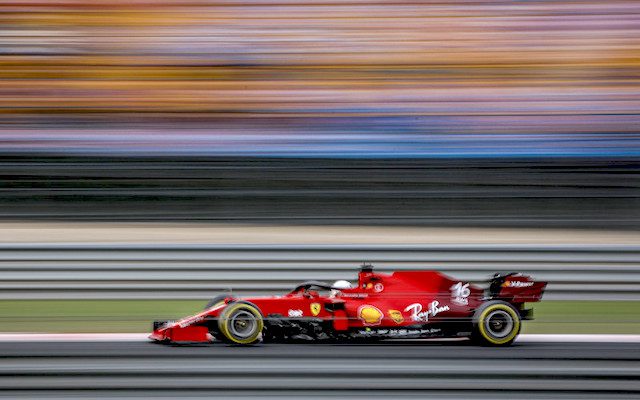 Formula 1 heads to Circuit Zandvoort on Sunday for the Dutch Grand Prix. Max Verstappen started the weekend slow, but he earned the pole in a thrilling qualifying session and will start beside Charles Leclerc on the front row.
Last week, Verstappen won...again. Last year's champion has now won three races in a row and has nine wins in the first 13 races of this season. After Ferrari looked like it could have something for Verstappen after the first three races, the Red Bull team has run away with things
Below you will find our Formula 1 DraftKings DFS lineup picks for 9/4/22, with the slate locking at 9:00 a.m. ET. If you have any questions or want to talk about Formula 1, you can find me on Twitter at @juscarts.
Editor's Note: Win big with our NASCAR DFS Premium Pass! Jordan McAbee joins the team in 2023 with his exclusive DFS projections and algorithm-predicted finishing order. Get VIP access to our Lineup Optimizer, Research Station and Cheat Sheets for NASCAR Cup, Xfinity and Trucks contests. Join in on the fun with our other NASCAR DFS winners!
Check It Out!
How Does Formula 1 Fantasy Work?
If you're familiar with using DraftKings for NASCAR, this Formula 1 format is going to feel really, really different from what you're used to. It's a lot closer to the NFL single-game showdown slates than it is to anything on the NASCAR side.
So, here's how the scoring and format work. You'll pick five drivers and a constructor. One of those drivers will be your captain, who earns you 1.5-times the points but also costs 1.5-times as much as they usually cost. For the constructor, you're choosing one of the F1 teams.
So, here's how the scoring works. Your driver only gets points if they finish in the top 10. Here's a chart for how that breaks down.
| Finishing Spot | DraftKings Points |
| --- | --- |
| 1 | 25 |
| 2 | 18 |
| 3 | 15 |
| 4 | 12 |
| 5 | 10 |
| 6 | 8 |
| 7 | 6 |
| 8 | 4 |
| 9 | 2 |
| 10 | 1 |
In addition, the driver with the fastest lap of the race gets three points. You get 0.1 points per lap led, five points for beating your teammate, one point for being classified at the finish (finished 90% of the race, essentially), and points for place differential. Finish three spots higher than your grid position and you get two points. Finish five better and you get three points. Finish 10 better to get five points. You also lose points for negative place differential, starting at three spots.
The constructor points work the same way, with some added points if both cars do well.
It's confusing, but for Formula 1 DFS to work, it probably had to be confusing.
Now that we've gone over that, let's talk drivers.
Captain: Max Verstappen ($18,o00)
Starts 1st
I mean...at this point, how do we not captain Verstappen? He's won three in a row. He's the dominant driver in the series. And he starts on the front row, which means that he can just drive away from this field.
I mean...Verstappen started 10th and 14th the last two races. He won them both. He's been on pole three times this season and has won two of those races. He led all 63 laps from the pole at Imola and 53 of the 70 laps at Montreal from the pole.
And last year, Verstappen dominated this race, leading 64 of the 72 laps from the pole to win. The only other driver to lead was Valtteri Bottas.
Expect a dominant Sunday from the defending champ.
Constructor: Ferrari ($11,500)
While I think Verstappen can just drive away from this field, I like Ferrari as a constructor slightly more than Red Bull this week, if only because Sergio Perez hasn't looked good this weekend.
Perez qualified fifth, but he spun near the end of qualifying, and he didn't finish better than sixth in any of the practice sessions.
To put it simply: picking Ferrari as constructor is specifically a pick against Perez having a good race. Ferrari has been fast enough this weekend that a 2-3 finish for Leclerc and Sainz seems like something that has a high likelihood of happening, as long as the team doesn't make some bad mistake with strategy.
(Wait...we're talking about Ferrari and strategy. I might have messed this up. But Perez struggled here last year too, finishing a lap down in eighth.)
Esteban Ocon ($6,600)
Starts 12th
Alpine is intriguing this week. Ocon starts 12th and costs $6,600, while Fernando Alonso starts 13th and costs $7,600. They're close enough that I think going with the cheaper of the two helps for lineup building, especially when Ocon begins with a slight edge in the battle for beating his teammate.
Ocon hasn't gotten those points in the last three races, but he has run well, with top 10s in all of those races. He now has scored in the points in four consecutive races.
Both of these drivers have been good. But Alonso when starting lower than 10th has a best finish of ninth. Ocon when starting lower than 10th has four finishes better than that. He's done a better job dealing with traffic than Alonso has.
Lance Stroll ($4,600)
Starts 10th
Stroll starts 10th. Will he be able to maintain a top 10 spot and earn some points that way? Maybe. But the big advantage for Stroll this week is that he starts nine spots ahead of teammate Sebastian Vettel.
Vettel's been the better driver this season, but Stroll has run well lately. He's finished either 10th or 11th in five of the last six races, so if he can just maintain his normal pace, Vettel will have a lot of work to try to get ahead of him.
Alexander Albon ($4,400)
Starts 15th
Albon is the easiest play in all of F1 fantasy if you're only looking for the points for defeating a teammate. If Albon doesn't crash, he beats Nicholas Latifi, because Latifi has been the slowest driver on the grid this season.
In fact, Latifi's qualifying lap was almost a full second slower than the 19th-place driver, Sebastian Vettel.
Albon is coming off of a 10th last week and has looked fast at times. Qualifying didn't go his way, but he was 10th in FP1 and 13th in FP3. There's upside here.
Mick Schumacher ($3,800)
Starts 8th
Schumacher was miles better than teammate Kevin Magnussen in qualifying. This Haas car had some real speed in it, which netted Schumacher his second-best start of the season.
So far, Schumacher has started in the top 10 on four occasions. He finished there just one of those times, when he was sixth at Spielberg. But one of those instances was Montreal, when engine failure ended his day.
Schumacher outperformed Magnussen in all three practices and should have a great shot at the points for beating his teammate, plus he starts in a good position and could maintain a top 10 spot if he stays out of trouble.
The Keys to Weekly NASCAR DFS Success
NASCAR is back, and it's time for you to win big with RotoBaller!
Our DFS NASCAR Premium Package
 features several heavy hitters and proven winners.
Jordan McAbee joins the team in 2023 with his exclusive NASCAR DFS projections and algorithm-predicted finishing order! In 2022 DFS contests, Jordan had a +33.92% profit margin good for +$10,467.06 profit and qualified for the Fantasy Racing World Championship.
Four-time NASCAR Racing Writer of the Year finalist and fantasy industry legend Scott "The King" Engel is also in the crew, bringing you his weekly strategies and lineup picks. Set your winning DFS lineups with our award-winning team.