Is that Old Spice?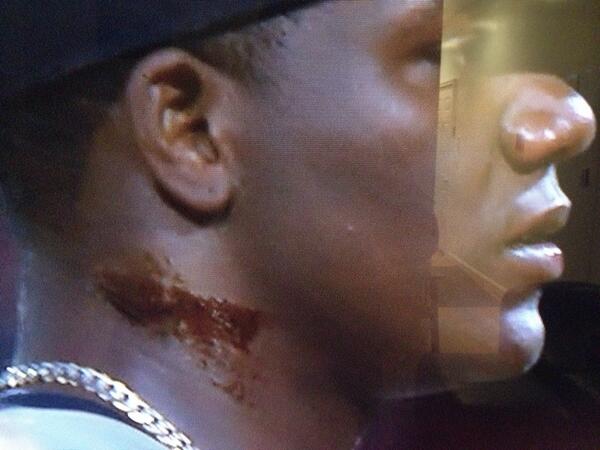 I sure am glad I didn't draft Michael Pineda in my Fantasy Integrity League. Just a week removed from a pine tar incident while facing the Red Sox, Yankees starter Michael Pineda was tossed from the game Wednesday for having a puddle of pine tar on his neck. Yeah, his neck.
Pineda came out for the second inning after allowing 2 ER in the first with what I can only describe as a glob of pine tar on the right side of his neck. Blatantly obvious to the same Red Sox, and everyone with the gift of eyesight, manager John Farrell came out and had the home plate umpire check Pineda out and after a brief inspection the Yankee hurler was tossed.
Now the only question is how long Major League Baseball will suspend him for. How no one on the Yankees bench didn't see this on his neck baffles my mind.
MLB News, Recap & Analysis of April 23rd
Injury Notes
The Angels revealed after an MRI Wednesday, outfielder Mark Trumbo has a stress fracture in his foot. It's yet to be known how long the slugger will be on the shelf but this could be a lengthy absence for an already struggling DBacks squad. Trumbo leaves behind a .209/.264/.506 with 7 HR and 19 RBI. Cody Ross and Tony Campana will see an increase in PT but neither are viable options in fantasy.
Josh Johnson managed to need Tommy John surgery without throwing a pitch in the big leagues this season. That's a new record for him before being injured. Surprised? Nah.
Chapman threw batting practice Wednesday and is scheduled to do so again this weekend before beginning a rehab assignment.
Matt Harrison will be reinstated from the DL on Sunday which could be a nice boost for the Rangers rotation. Robbie Ross seems the obvious loser there.
Manny Machado is scheduled to play nine innings at third base in his first minor league rehab game with High-A Frederick on Friday.
Gio Gonzalez was removed as a precautionary measure after 83 pitches with what the Nats are calling shoulder tightness. Gio claims he will be fine for his next turn.
AL Notes
Desmond Jennings is 5-for-10 in two games after returning to a minor groin issue. He was 2-for-5 with 2 runs scored while also collecting 2 stolen bases.
Chris Colabello has homered in back-to-back games and has his average up to .346 on the season with a staggering 26 RBI over 20 games.
Albert Pujols was 2-for-4 with an RBI double and is now slugging .625 through 88 at-bats.
Nelson Cruz absolutely tattooed two homers on Wednesday, one of which being a grand slam, in a 2-for-5 effort with 5 RBI. The late spring addition is Cruz-ing with a .301 average and 21 RBI.
Jose Abreu swatted his seventh home run on the season, a two-run blast in a 2-for-4 effort.
Drew Smyly got a no decision due to his bullpen (Evan Reed) imploded to ruin his solid 6 inning, 7 K performance. Smyly deserves more attention and more starts.
John Lackey spun eight innings of one-run ball while giving up seven hits, walking none and striking out 11.
Martin Perez turned in his second straight dominant outing with back to back complete game shutouts. Doing so against Oakland on Wednesday is no easy task.
NL Notes
Cole Hamels returned to the mound and pitched well in his 2014 debut. He struck out five over six innings but was removed before reaching the 90 pitch mark in order to ease him back in.
Zach Greinke improved his record to 4-0 with an 11 strikeout performance Wednesday. A Dodgers rotation with Greinke, Ryu and the nearly ready Clayton Kershaw looks pretty damn solid.
Jean Segura finally tallied his first homer of the season while batting 8th in the Brewers lineup. Teammate Khris Davis smacked his second bomb in the game and after a slow start, has definitely shown promise with hits in his last four games.
Jay Bruce had more steals than Billy Hamilton Wednesday as he swiped two bags to Hamilton's one. Bruce also was 2-for-4 with a double and an RBI.
Matt Cain was bum-rushed by the Rockies offense to the tune of seven runs on ten hits over six innings. Troy Tulowitzki and Charlie Blackmon took him deep in a dinger fest. Tyler Chatwood was no better allowing 3 HR himself. Justin Morneau also homered for his 5th in a resurgent campaign thus far.
Hector Sanchez homered twice, one being a granny, Brandon Belt tagged his seventh bomb, Michael Morse hit two long balls and Brandon Hicks even put one over the wall.
Matt Carpenter went 4-for-5 with a double and a run scored Wednesday night against the Mets in a losing effort.
Jon Niese was decent with 6.2 IP allowing six hits, two walks and an earned run with three Ks to earn his first win of the season.
Michael Wacha lasted just four innings after striking out the first nine batters of the game. He reached 93 pitches through 4 innings with 10 Ks and got his second loss.
Closing Time
Francisco Rodriguez nailed down his Major League leading 9th save with two strikeouts and one walk. He's allowed just 5 hits with 18 K over 12 innings. He's been a golden grab for owners who snagged him.
John Axford closed out his AL leading 8th save  allowing just a lead-off single before tidying up.
Craig Kimbrel bounced back to earn his sixth save with a two strikeout appearance versus the Marlins.
Ernesto Frieri blew his second save on the season as he completely lost command of his pitches. A move is likely to be made if he falters again. A dark horse could be Fernando Salas.
Kyle Farnsworth recorded his second save but allowed three hits and a run Wednesday. I'm not buying any shares of Farnsworth. The Mets have to be targeting Joel Hanrahan once the draft is over.
Josh Fields blew up in a save chance by allowing  three hits including Kyle Seager's walk off three-run bomb.
Glen Perkeins tossed a scoreless ninth to earn his fourth save as the Twins topped the Rays.
Pedro Strop imploded before giving way to James Russel as the Cubs managed to find a way to blow another strong start for Jeff Samardzija. The Cubs WOULD find a way to lose on a day they commemorate 100 years at Wrigley (sorry Cubs fans).
Majoring in the Minors: Hot Prospects
Gregory Polanco went 3-for-5 with a homer and a steal on Tuesday and is now hitting a ridiculous .409/.447/.682 in Triple-A. Look for him to join the Pirates soon and make more of an impact than recent callup George Springer.
Dylan Bundy threw a bullpen on Wednesday and threw 8 breaking balls.
Marlins lefty pitching prospect Andrew Heaney holds a 1.48 ERA with a 2-0 record and 25:3 K/BB thus far in Double-A Jacksonville. Heaney looks about ready to make a contribution beside ace Jose Fernandez.
Tommy La Stella is hitting .333/.403/.367 with 10 RBI over 60 minor league at-bats. With Dan Uggla scuffling again we could see La Stella at some point this summer.