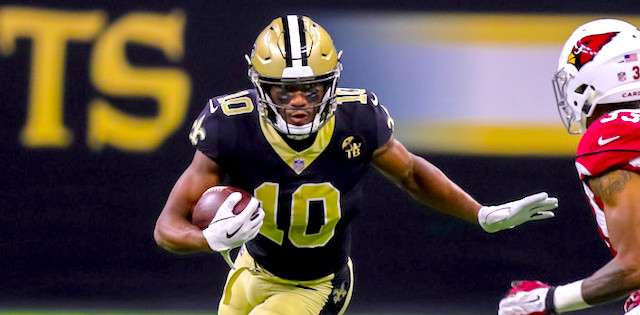 So you're playing for all the marbles in Week 17? Good for you. I'm serious! Many scoff at leagues which keep playing until the final week of the season but I applaud you for seeing it through to the bitter end and adding an extra element of strategy by relying on the waiver wire in the ultimate game.
See, fantasy football these days has become a battle of attrition more than anything else. Looking back at my championship team in the RotoBaller Experts League, I drafted players like Michael Crabtree, Pierre Garcon, Quincy Enunwa, Ronald Jones, Matthew Stafford, James Washington, and Jeremy Hill. In the championship game, I wound up playing recent waiver adds Jamaal Williams, Jaylen Samuels, and Evan Engram, who helped lead me to victory (did I mention already that I won it all?) So let's not pretend that there's something uncivil about playing in Week 17 and having to pickup guys to plug into your starting lineup. That's how real Ballers win titles - through the blood, sweat, and tears of researching obscure stats and reading articles like this.
Now, here are my fantasy flex and streamer "heroes" and "zeroes" at each position for Week 17 of the NFL season. These players are borderline start considerations for your flex and superflex spots that I believe will perform unexpectedly well or that might fare poorly relative to expectations in this week's matchups. To see how our staff feels about every fantasy-relevant player in the known universe, look no further than our very own RotoBaller consensus weekly rankings. Good luck Ballers!
Editor's Note: Get any rest-of-season NFL Premium Pass for 50% off. Our exclusive DFS Tools, Lineup Optimizer and Premium DFS Research through the Super Bowl.
Sign Up Now!
Week 17 Lineup Heroes
QUARTERBACK
Jameis Winston, Tampa Bay Buccaneers
Both the Dirty Birds and Filthy Pirates are sitting out of the playoffs this year, with the Bucs merely fighting to stay out of last place in their division. They do have something to play for, however, and that's the job of their head coach. It might be difficult to envision Dirk Koetter coming back after consecutive five-win seasons. Then again, The Bucs won't lay down, and that includes their ultra-competitive quarterback who also has plenty to prove. The Bucs could easily walk away from Winston and move in another direction, especially if a new coaching regime is brought in. Expect Winston to put up big numbers against a Falcons defense that is fourth-worst against the QB this year, even worse than Tampa's own defense.
RUNNING BACK
Jeffery Wilson, San Francisco 49ers
I'm going to go out on a limb and say that Wilson is a top-10 running back this week. That would seem borderline insane if it weren't Week 17 but we've seen guys like Corey Grant have huge games in this situation before. Matt Breida has mercifully been shut down, so Wilson gets the backfield to himself. In Week 14 he ran for 90 yards with Breida out and he's averaging an adequate 4.1 yards per carry on the season. With a full workload, Wilson should thrive. I'm not worried about game script either, as the 49ers have taken down Seattle and nearly beat Chicago the last couple of weeks. The Rams will be without Todd Gurley and aren't going to roll over this Niners team the same way they did in Week 7.
WIDE RECEIVER
Tre'Quan Smith, New Orleans Saints
Smith has been invisible over the last five weeks since his monster game against Philadelphia, totaling three receptions and 26 yards. He hasn't caught a pass in three of the last six games. Wouldn't it be a perfectly fitting end to the fantasy season if Smith ended his rookie year with another huge game? Alvin Kamara, Mark Ingram, Michael Thomas, Ted Ginn, and others are likely to sit out portions, if not the majority of this game, which gives us the key ingredient to striking fantasy gold: opportunity. If you look at Smith's two big games this year, they both came in blowout victories. This won't be a blowout win if the Saints are resting but that's not the point - there is no pressure for the team to win and they won't be relying on their best players as usual. What about the fact Drew Brees will be sitting out? Teddy Bridgewater is one of the more capable backups in the league, so don't let that concern you. Smith is the perfect Week 17 start - someone with oodles of talent that just needs a chance to shine.
TIGHT END
Austin Hooper, Atlanta Falcons
Fool me once, shame on you. Fool me twice, you must be Austin Hooper. I'm tempting fate a third time by picking Hooper to have a decent game even though I'm down on Matt Ryan and Julio Jones is set to actually play this week. The Falcons don't appear intent to rest their starters, which means all stations go in an NFC South showdown to stay out of the cellar. Prior to the last two games in which Hooper did next to nothing, he had been averaging 6.1 targets and 4.9 receptions per game. This week, he gets a defense that is one of the worst defending the tight end and let's face it, who else you starting at tight end?
Week 17 Lineup Zeroes
QUARTERBACK
Mitch Trubisky, Chicago Bears
The Bears are one of those teams whose playoff destiny isn't completely settled, yet they have at least punched a ticket to the postseason already and aren't in must-win territory. That leaves many of their players in limbo as to how much and how hard they'll play. The Bears would love nothing more than to eliminate the Vikings from the playoffs in the final week but it doesn't do them any favors otherwise if the Rams wind up beating the 49ers, as the Bears would not be able to clinch home field. Trubisky has been banged up this season, missing a pair of games late in the season, so it would make sense to keep him fresh for the postseason run. While I don't necessarily expect him to sit, the best reason to bench Trubisky this week is the fact he just doesn't play well against the Vikings. In three career games so far, he's never thrown for more than 178 yards and he owns a 2:3 TD:INT rate over those games. Allen Robinson was just ruled doubtful for Sunday too. The red flags are everywhere in this game for Chicago, to the point I may even feel better starting Kirk Cousins at QB than Trubisky this week.
RUNNING BACK
Kalen Ballage, Miami Dolphins
This is only my last rant against the Dolphins and their stuck-in-the-old-school-mentality head coach because it's the last article of the year. We all saw what happened last week with Ballage. Nothing. That's right, after running for 123 yards on eight carries in Week 15 and having the opportunity to take over for legend Frank Gore, who is out for the season, Ballage earned a grand total of four carries. Guess who else got four carries? Brandon Bolden. His came in the red zone too, enabling someone who isn't on any fantasy rosters to score a touchdown while Ballage sat and watched. Thanks Adam Gase. This frustration will carry on this week, even though the Dolphins are eliminated from playoff contention and have every reason to let Ballage loose. As we've seen with the trade of Jay Ajayi, benching of Devante Parker, and handcuffing of Kenyan Drake, Gase seems to value things like experience and work ethic over talent. I don't know how hard Ballage goes in practice each day but apparently it's not enough. I can't trust Ballage or any Dolphin player.
WIDE RECEIVER
Daesean Hamilton, Denver Broncos
Who would have thought that scooping up Robby Anderson and Daesean Hamilton off waivers just before Week 14 would have given you a winning combination at WR for the playoffs? Hamilton hasn't put up huge yardage, finishing between 40-47 each of the last three weeks, but he scored in two of those games and caught at least six passes in each. This left many PPR fantasy owners satisfied, so you would think the story of tonight would be to keep him in your lineups again. Desmond King would say no to this, so maybe you should wait for it. As one of the top-rated cornerbacks in the league, he'll give Hamilton his biggest test to date; the Broncos have had a pretty cush schedule with Oakland, Cleveland, and San Francisco on the docket since he entered the lineup. The Chargers are fighting for home field advantage in the playoffs for the privilege of playing in... sorry, I don't know what they actually call that excuse for a stadium. They will play the Broncos, without best offensive player Phillip Lindsay, hard. Sure, you'll be back to consider Hamilton next year but for Week 17 you're better off filling your WR void in Yorktown for Anderson or maybe Sterling Shepard. While you're at it, go play with Guns and Ships too.
TIGHT END
Ian Thomas, Carolina Panthers
Trusting a rookie tight end is one thing. Trusting a rookie tight end who'll be catching passes from a third-string rookie quarterback is another. Thomas managed to find the end zone along with four catches for 45 yards last week with Taylor Heinicke at QB, so why not again? You ever seen that game show "Press Your Luck?" Of course you have, because we all know that fantasy football geeks like ourselves don't have jobs, live in our mother's basements, and watch reruns from the Game Show Network during our breaks from crunching fantasy stats online and playing Call of Duty. Long live the trope! Anyway, Thomas had a decent matchup with the Falcons last week but now faces a Saints defense that is rolling and has allowed the seventh-fewest fantasy points to tight ends. This game could feature a slew of bench players on the field, as the Saints offense is sure to rest its stars, and that usually doesn't lead to good offense on either side. But mainly it's the fear of the Whammy that gets me. That things still haunts my dreams.
More Start/Sit Advice