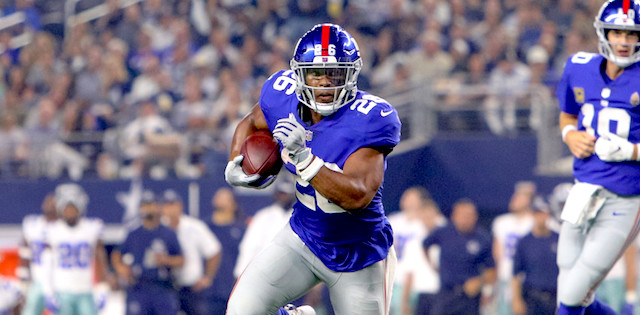 After being drafted as the number one pick in so many fantasy football leagues, there really isn't anything more depressing than seeing Saquon Barkley on the sideline in a walking boot and crutches. After being held by the Tampa Bay defense to just 10 yards on eight carries, it was tough to see Barkley come up limping and holding his ankle, adding injury to insult.
Now that we've been given a timetable on his injury, we know that we can expect to be without him for 4-8 weeks, which is crushing for Barkley owners. The dilemma you're dealing with as an owner is figuring out how to replace him.
In short, you can't replace a guy as talented and as heavily utilized as Barkley, but here are five ways you can attempt to do so.
Editor's Note: Get any rest-of-season NFL Premium Pass for 50% off. Our exclusive DFS Tools, Lineup Optimizer and Premium DFS Research through the Super Bowl.
Sign Up Now!
The first and most obvious option is to go out and get Wayne Gallman. If you lost Barkley last week, there's a good chance you also lost your Week 3 matchup and have a decent spot on the pecking order of the waiver wire. Whether you end up landing Gallman or not, he's someone that many owners might not be too excited about, just because he is not an overly talented running back. Sometimes in fantasy football, the opportunity outweighs the talent. That is definitely the case here with Gallman, and that Giants offense as a whole just might look decent with Daniel Jones running the show. While he did perform well last week against Tampa Bay, expectations should be slightly tempered just because the Bucs defense, while it has improved, isn't anything to get too excited about.
In Week 4, the Giants take on the Washington Redskins, who just had to face the Bears in Week 3 and travel to MetLife Stadium on a short week. This week should be a decent matchup for Gallman and with the hype around Daniel Jones, he could be in for a nice game. In Week 5, the Giants face a tough defense in the Vikings, so he might not be as great of an option, but given the volume, could make for a decent Flex option. Either way, the opportunity should be there for Gallman. While he isn't the most ideal option as a replacement, he is one of the top options nonetheless.
2. Seek Other Waiver Wire RB Options
In leagues where I own Barkley, this might be the direction I'd be most willing to go. While losing Barkley is terrible and really hurts your team, if you can ride the waiver wire and hopefully your RB2 or RB3 that you drafted has panned out, you can stash Barkley on your bench and pray you make it into the playoffs without him. If your second running back ended up being someone like Mark Ingram, there's a chance you could still succeed without moving Barkley.
If we're looking at the worst-case scenario for Barkley and he does miss eight weeks, you're looking at roughly Week 11 or Week 12 for his return. This would be just in time for the fantasy playoffs, and potentially those last few wins that you'd need to squeeze into them, depending on how your team pans out.
Gallman isn't someone that I'm crazy about spending a lot of your FAAB on, even if you own Barkley. He's been historically not very good and while the volume should be solid in the meantime, I'm not convinced the Giants won't bring someone up from the practice squad or even sign a free agent like C.J. Anderson. If you're losing Barkley and looking to play the waiver wire and risk burning a roster spot on him for eight weeks, hit the waiver wire and do a little extra research if needed, doing everything you can to make sure you still secure a playoff spot despite losing your stud running back.
3. Hunt for Buy-Low Candidates
This comes without saying, but if you lost Barkley you'll need to kick the trade offers up a notch. Everyone should be buying low and selling high on players whenever they can, but if you lost your RB1, you're going to need to send out an extra few trade offers this week. I won't go too far into detail on the following players, but each of these guys have either started off the season fairly slow or are guys that I'm looking to take over their backfield as the season moves along.
A few running backs that you could look into buying low on right now:
- Joe Mixon
- James Conner
- Sony Michel
- David Montgomery
- Miles Sanders
4. Flexing High-Ceiling WRs
One route that you can take if you lost Barkley, is to focus on Flexing high-ceiling wide receivers. Such receivers include guys like DeSean Jackson (when he returns), John Ross, or Emmanuel Sanders. If you're missing your stud running back, you might need to take some risks in hopes of getting some big weeks and ultimately, some wins in your fantasy leagues. When you're shooting for some high-scoring weeks, it isn't recommended to go with the safer options, especially when it comes to wide receivers.
I can vividly remember a few years where I was clearly the favored team in the fantasy playoffs, and my opponent was hurting from injuries. This strategy of flexing high-ceiling wide receivers was on full display as my opponent started DeSean Jackson, John Brown, and J.J. Nelson, and proceeded to bounce me from the playoffs. As crushing as this can be, it is important to remember that at the end of the day, it's fantasy football and there is a lot of luck involved. Go make some moves for some cheaper receivers and if you hit on that one deep ball, it just might win you a week.
5. Bite the Bullet and Trade Him
The last option that you can look to try out as a Barkley owner is to trade him for a lower-end running back. If you're panicked about Barkley and your team enough that you are desperate for fantasy points and some wins over the next few weeks, your best option might be to just trade him.
If you hit on your RB2 and have a solid week-in and week-out option, you may be better off trying to flip Barkley for someone like James Conner or Joe Mixon, who started out the season a bit slow. The injury for Barkley is not something that should be taken lightly. A high ankle sprain is the worst type of ankle sprain, and really the odds that he comes back closer to eight weeks are much higher than him coming back in four weeks. Not to mention, he will more than likely not be 100% until the end of the season or even next year. If you can get comparable value, the least-appealing option might wind up being the best one in the end.
More Fantasy Football Analysis