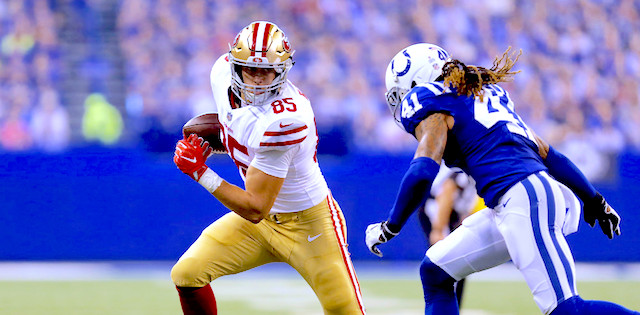 As we announced in early June, RotoBaller is partnering with the FFPC to help bring their industry-leading games to all of our loyal RotoBaller readers. We'll be discussing the FFPC's awesome selection of games, and strategy and advice for those games, here at RotoBaller, on Twitter, and on SiriusXM throughout the Summer.
Throughout Fantasy Football draft season, we will check in on how High Stakes Players are viewing certain player selections. When we're looking at Average Draft Positions from the Fantasy Football Players Championship (FFPC), we can determine the latest trends and outlooks through the lens of the world's high-stakes players. In this installment, we look at recent ADPs for Tight Ends. There is one very interesting trend at the top of the position, while some longtime veterans are trying to hold on in the TE2 mix. 
Editor's Note: For a limited time, we are offering all new FFPC players a $25-off coupon for any contest! You can play a $35 contest or a $70 contest, we'll give you $25 off either one! Whether you want to play a Best Ball challenge, join a Dynasty Startup, or try FFPC's unique Terminator challenge (best ball spin-off), there's a $25 discount waiting for you! All you have to do is be a new FFPC customer, sign-up for any game on FFPC through one of the above links, and the $25 discount will be automatically applied to your account!
Early ADP Trends at TE
Jumping on George: On every other notable site so far this season, Zach Ertz is the second tight end off the board and George Kittle is third. But exclusively in FFPC Drafts, Kittle is being selected second on average, and Ertz is third. Last year, Ertz had nearly 30 more catches than Kittle and three more TDs. But Kittle had over 200 more receiving yards. The difference to FFPC players here is that Ertz is coming off a career season, while Kittle just started to hit his stride last year. If one of these two regresses, it may be Ertz, who is entering his seventh season and had never come close to 100 receptions or 1,100 yards before.
Holding Firm on Howard: As is the case on every other major site this preseason, O.J. Howard has an ADP of fourth at tight end in the FFPC. There is a wide consensus among Fantasy analysts that agrees he is primed for his best year yet after compiling double figure PPR totals in seven of 10 games played last season. Howard is an injury risk as noted here in the RotoBaller Fantasy Injury Exam room, but TE is such a thin position that it's understandable to have him in or near the Top 5. When he will be available, he should perform at a level higher than most other players at the position, maybe just outside of the circle of the elite three at TE.
Respect for the Colt: It seems to be generally agreed upon by fantasy experts that Eric Ebron is due for significant regression after a 13 TD campaign in 2018. Personally, I would be expecting about half or so that amount, maybe seven scoring receptions this season. There is too much competition for receptions and scoring chances this year in Indianapolis, especially since newcomer Devin Funchess could steal some TD catches near the goal line and Jack Doyle is back. Still, FFPC types and other drafters are taking Ebron as TE7, obviously believing he will be respectable enough to maintain such a standing because of the lack of quality depth at the position behind him.
Sticking with the Steeler: I personally believe Vance McDonald is overrated and unreliable. It seems like one big game with a memorable stiff arm on Monday Night Football inflated his value. He did not reach four catches or 50 yards in a game during the entire second half of last season and only scored four times. But his FFPC ADP at TE is ninth, so the high stakes players are believing he will be good enough to keep starting status among his peers this season. The loss of Antonio Brown could force McDonald to step up more often, could be the line of thinking here. I'm not buying into that reasoning, but the FFPC drafters are taking McDonald earlier than where he is going on two other well-known sites, where he is being taken between 10th and 14th.
Bigger on Burton: The FFPC players are definitely highest on Trey Burton, as he is being taken as TE11 by the high stakers. He is being selected between 14th and 19th at the position on every other significant Fantasy Football platform. There is a belief among some savvy Fantasy players that the Chicago offense will be more impressive in its second season under Matt Nagy. The TE is an important part of his scheming and Burton may be ready to break out in his second year as a true starter after being stuck behind Ertz in Philadelphia. I say this is a gutsy approach that may pay off nicely this year. Burton has the considerable talents to shine if the Chicago offense does improve as hoped this year.
Not Fully Giving Up on Olsen: Once a top TE, injuries and age have diminished Olsen's Fantasy appeal, and he is getting lukewarm attention from Fantasy players as he tries to gut out another productive campaign in 2019. FFPC types are holding out more slight hope on Olsen, as his ADP of 14th at the position is higher than on any other site. He is being taken between 16th and 18th on other platforms. Olsen's possible final attempt to extend his career is admirable, and maybe makes him still worth a TE2 selection as we see here, but I expect Ian Thomas to take the baton from him at some point this year and run ahead with the job.
Down on Austin?: Owners on just about every other site consider Austin Hooper a starting Fantasy TE. Well, the FFPC participants do not agree. Hooper is being drafted as TE11 on three other notable platforms. His lowest ADP at TE on any other site is 13th. But the high stakers aren't taking him until 15th at the position. Hooper did catch 71 passes for 660 yards last year and posted respectable overall Fantasy totals for a TE. But he scored just four times and there is a great sense that Calvin Ridley will bust out and he and Julio Jones could dominate the passing game this year in Atlanta. There is no real upside on Hooper and there could be some slippage from his 2018 output.
One More Time, Jimmy?: FFPC players seem to be taking a later TE2 shot that Jimmy Graham has something left after a very disappointing 2018 campaign. There's a lot of whispers that he is a has-been, and maybe Graham is hearing them and could be out to prove he still has what it takes to be a productive TE. There is certainly an opportunity to seize in Green Bay, where Davante Adams is the only true sure thing for Aaron Rodgers.  Graham is the 16th TE being taken in the FFPC, while he is going as low as 20th on some other sites.
More Fantasy Football Analysis
Check out all of RotoBaller's fantasy football rankings. Staff rankings are updated regularly for all positions and include standard formats, PPR scoring, tiered rankings and dynasty leagues.