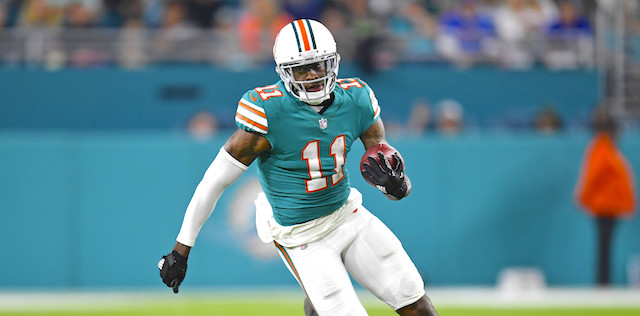 Everyone's an expert before the season begins. Our sleepers are all going to pan out, we know who to avoid, and we'll easily compensate for any bad luck through trades or waivers during the year.
Then fantasy football happens. That means everything that can go wrong will go wrong and that high-floor player on a dynamic offense (looking at you JuJu Smith-Schuster) is suddenly hanging around your neck like an albatross. It happens to all of us.
Now that the 2019 fantasy football season is over, I asked some of our main analysts to look deep within their souls and reflect on their own successes and failures. Who were the best sleepers/busts, buys/sells, and most importantly, what can we learn and take away from all this to help us next year? Let's find out...
Editor's Note: Get any rest-of-season NFL Premium Pass for 50% off. Our exclusive DFS Tools, Lineup Optimizer and Premium DFS Research through the Super Bowl.
Sign Up Now!
Who was this year's best draft sleeper?
Pretty sure this is Lamar Jackson's crown to wear as the No. 14 QB taken, according to FantasyPros' aggregate ADP report. The Patriots Defense gets a nod as well. -Nick Mariano
I have to cop to Aaron Jones here. He's not exactly a sleeper, but as a 5th or 6th round RB, he ended up being top-five at his position. Aaron Rodgers believed in him. We knew the Packers would have to rely on him. Feels like a whiff for so many of us, but what a value! -Cliff Clinton
Am I allowed to say D.J. Moore? I know he wasn't drafted late, but had seven straight games of high-quality PPR production to end his individual season. If he doesn't get hurt Week 16, he probably finishes as a mid-level WR1, which certainly exceeds what he was drafted as. And he did it all with Kyle Allen throwing him the ball and Christian McCaffrey hogging 25 touches a game. -Chris O'Reilly
Darren Waller. The 27-year-old was the top TE sleeper and really delivered. Waller finished as a top-five fantasy TE behind only Travis Kelce, Mark Andrews and George Kittle. For the weakest position in fantasy, Waller's ADP just inside the top 200 presented phenomenal value. -Keith Hernandez
Darren Waller remained available until Round 14 in the majority of drafts, while David Njoku, Trey Burton, and Chris Herndon were among the 20 tight ends drafted before him. But Waller obliterated his previous season highs while finishing third among tight ends in targets (117), and second in both receptions (90), and receiving yards (1,145). -Phil Clark
Who was the biggest draft bust?
How many guys am I allowed to list here? David Johnson, JuJu Smith-Schuster, Odell Beckham Jr., Le'Veon Bell...should I go on? The bust rate on high draft picks was alarmingly high this year. - Joe Nicely
Of the players routinely drafted in the first round in fantasy, David Johnson was easily the biggest bust of them all. He finished with 94 carries, 345 rushing yards and six total touchdowns as the No. 36 scoring RB. It's never a good sign when you're playing second fiddle to Kenyan Drake to close the year. -Keith Hernandez
Antonio Brown. He was drafted later than he'd been in previous seasons, but was still a top-50 pick in most formats. He provided little besides headaches, but his potential upside made him hard to drop for at least the first half of the season. -David Marcillo
I'd say Damien Williams going in the second round of many drafts was the worst pick but that was an obvious one that I called well before the season. I have to go with James Conner because he was a consensus first-round pick and top-10 RB nearly everywhere. His disappointing play (only one game over 55 rushing yards and three games over 100 total yards all season) and constant injuries that kept him out or questionable half the time sunk a lot of owners, such as myself, who assumed he would be a "safe" pick. -Pierre Camus
Baker Mayfield was QB4 in ESPN's preseason fantasy rankings. I think about that a lot, that everyone was so convinced that the Browns would be the team and that Mayfield would lead the way. Every single time you see Mayfield clean up the Browns stadium in an insurance commercial, you should reflect that he may have been better served to stick to that job and let guys like Russell Wilson, Lamar Jackson, and Kyler Murray take the ball instead. -Cliff Clinton
I wish I would have sold high on ______ mid-season...
Dalvin Cook looked like a sure-fire league winner during the first half of the season, but nagging injuries once again ate into his production this year. After Cook's scorching start you were most likely receiving massive trade offers for the Minnesota back, but he recorded over 20 fantasy points in just one game after Week 8. -Joe Nicely
In a Week 7 rout against the Jets, Sony Michel scored three touchdowns, giving him six scores in the first seven games. He would score once more the rest of the season and never ran for 100 yards in a game, all while catching a whopping 12 passes ALL YEAR. I'm done with him and all Pats running backs (I know, I know) for good. -Pierre Camus
David Johnson. I'll never forget the fact that a guy who was averaging 20 carries a game for a few weeks then had a hard time rubbing two sticks together to get 5 carries a game. My god, imagine who you could have GOTTEN for DJ! Sure you would've technically had to do it prior to midseason, but I'm sick at the thought of the missed opportunity. -Cliff Clinton
Brandin Cooks entered Week 5 averaging 7.8 targets, 4.8 receptions, and 74 yards-per-game, and had performed on 71% of the Rams' offensive snaps. But Cooks averaged a 30.5% snap count from Weeks 8-17, along with 4.0 targets, 2.1 receptions and 25.8 yards-per-game. He also finished a distant fourth on the Rams in those categories - including his career-low 42 receptions. -Phil Clark
David Montgomery nearly made me quit managing my team this year. He had two good games in the middle of the season, and I wish I'd have capitalized in a trade. -Chris O'Reilly
I wish I could have bought low on ______ mid-season...
While D.J. Moore had a solid first half of the season, he only had one TD and hadn't registered a single 100-yard effort yet. From Weeks 9-15, he would cross the century mark in four of the next seven games, averaging 6.9 receptions and 101.6 yards along with three scores. His Week 16 dud hurt teams fighting for the championship but he certainly helped them get there in the first place. Honorable mention goes to Miles Sanders for showing up late in the season when the RB position was a conundrum. -Pierre Camus
Joe Mixon. It's hard to fault anyone for not buying a player on a two-win Bengals team, but Cincy really made Mixon the focal point of their offense in the second half. Mixon had all three of his receiving TDs in the first half, but all five of his rushing scores and all four of his 100-yard rushing games game in the final eight games. -Keith Hernandez
I tried very hard to pry Kenyan Drake away from a league mate while he was still with the Dolphins. That owner felt thin at running back and never budged. We all know how that turned out. -Chris O'Reilly
Devante Parker. For a while there, it looked as though the Miami Dolphins might be the worst team we'd seen in a decade, but once Ryan Fitzpatrick settled in as Miami's starting QB, Parker spent the second half of the season becoming one of 2019's breakout stars. -Joe Nicely
I tried to snag DeVante Parker wherever I didn't have him already, but everyone wanted the world for their Miami TD magnet and I didn't have that much trust in Fitzmagic to pay up. -Nick Mariano
The biggest lesson I learned from the 2019 NFL season is_______
Your first-round pick isn't the end-all-be-all. Seriously, the only first-round players who paid off were Christian McCaffrey and Michael Thomas. Saquon Barkley was.... fine. Ezekiel Elliott was top-five at his position, but barely. Alvin Kamara couldn't find the end zone. Patrick Mahomes, David Johnson, and Davante Adams were all victims of a combination of injury and not meeting expectations. The old adage of "you can't win your draft in the first round, but you can lose it" is sort of flipped on its head; you can win your draft with a stud like CMC and parts, but if you effectively nail the rest of your draft, the turnover that occurs more than ever in the modern NFL doesn't mean you're out of it. -Cliff Clinton
Maybe I should stop being so bearish on tight ends early and draft one of the big three (or could it be the big five or six now?). -Chris O'Reilly
Even in PPR leagues, running back depth is key. Wide receiver is the deepest position in football. I loaded up on receivers early in a PPR league and paid the price for it when my running backs battled injuries for most of the season. -Keith Hernandez
To trust my own research more. I let several external opinions and rankers get in my head early, as I was concentrated on getting married in September (which I would never change, for the record.) I wound up outsourcing too much of my process and suffered early as a result. Also, just go best player available and don't draft that injured player that "should" return by Week 5 or so. -Nick Mariano
I observed other owners leaving their drafts early on numerous occasions last season. But the potential for obtaining a productive resource in the late rounds should not be dismissed. DeVante Parker, D.J. Chark, A.J. Brown, Terry McLaurin, Diontae Johnson, Carlos Hyde, and Cole Beasley were among the players that remained available in Round 16 or beyond. Many late-round picks are destined to remain irrelevant. But it is important to stay engaged until you have completed all selections. -Phil Clark
My early strategy for 2020 drafts is ________
BPA. Best Player Available and that's that. Don't be afraid to reach, don't let that ADP anchor weigh you down. -Nick Mariano
Be willing to ignore ADP to a certain extent. Don't be afraid to "reach" on players you feel strongly about and be willing to pass on players you are lukewarm on, no matter their ADP. -Joe Nicely
Wait on QB. After a season in which Ryan Tannehill and Ryan Fitzpatrick propelled their owners to league championships, there is a more compelling argument than ever to avoid investing an early-round pick on your quarterback. Seven of the top 10 scorers at this position were also selected after the 100th pick in 2019 drafts. This bolsters the rationale for drafting wide receivers, running backs and your starting tight end before you contemplate the selection of a quarterback. -Phil Clark
Diversify your bonds. Also, when drafting a player from a team that features that position (Eagles with TE, Seattle with RB, Tampa with WR, etc.) make sure to draft the starter's handcuff. Even if he needs to be drafted somewhat early in the draft, it's worth having a handcuff more than another WR4. -David Marcillo
Zero-RB baby. No seriously, I'm doing it for real this year! -Pierre Camus
More Fantasy Football Analysis