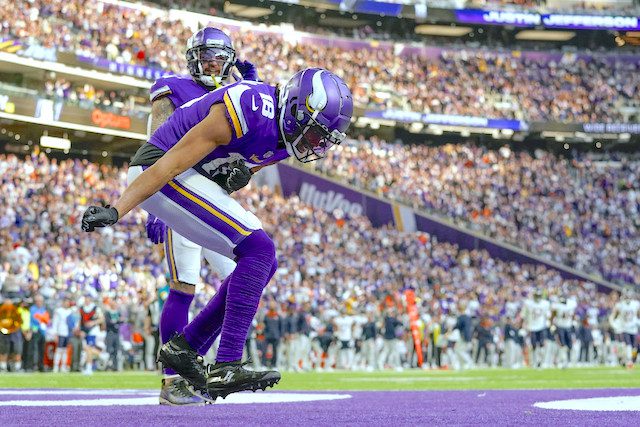 Welcome back RotoBallers to our Week 3 matchup analysis and Start Em, Sit Em column for fantasy football. Last week featured two overtime games, one successful Hail Mary touchdown, and far too many injuries. Our data set for 2023 is growing, but so is the number of players out in Week 3. A new addition to the article this week is significant weather updates, which you'll find underneath the initial matchup information.
For anyone new to the column, each week we'll be analyzing every game from the Sunday slate and the Monday Night Football game, helping you optimize your fantasy lineups and take down your opponent. Check back regularly for any updates on player injuries or other pertinent information. Additionally, you'll notice there are players that are obvious starts included in the "matchups we love" section in the interest of making sure everyone is covered. Furthermore, there will be times when one wide receiver or running back is listed individually but their teammates are included as part of the write-up. I also want to express my gratitude for some of the great resources that help me write this article each week such as RotoBaller's player pages, Pro Football Focus, Rotovitz, FTN Fantasy, Pro Football Reference, RotoGrinders, NFL Next Gen Stats, DraftKings Sportsbook, and Fantasy Points, along with all of you for reading this article.
There is also a separate article for the Thursday Night Football game each week, so be sure to read that. Hopefully, you clawed your way through and all your key starters are healthy. Regardless of where your team's medical status is, we'll turn our attention to earning another win this week! If you have any additional lineup questions, follow me on Twitter/X @JoshCon, and feel free to ask away. Let's dive into the matchups.
Featured Promo: Get any full-season NFL and DFS Premium Pass for 50% off. Exclusive access to our Team Sync platform, Premium articles, Matchup Rating projections, 15 lineup tools, DFS cheat sheets, Research Stations, Lineup Optimizers and much more!
Go Premium, Win More!
Matchups Analysis - 1:00 ET Games
Indianapolis Colts at Baltimore Ravens
Spread: Ravens -8.0
Implied Total: Colts (17.75) vs. Ravens (25.75)
Pace: Colts (2nd) vs. Ravens (21st)
Colts Off. DVOA: 9.9% Pass (19th), -4.1% Rush (13th)
Ravens Off. DVOA: 37.0% Pass (5th), 13.0% Rush (6th)
Colts Def. DVOA: 3.7% Pass (14th), -38.0% Rush (8th)
Ravens Def. DVOA: -16.6% Pass (7th), -27.6% Rush (9th)
WEATHER UPDATE: This game is forecasted to have moderate wind and scattered showers, which could impact the passing attack for both teams. It's possible that it clears up midway through.
Matchups We Love:
Lamar Jackson (QB, BAL)
Jackson played a lot better with the return of his elite tight end. The rushing numbers jumped up with 12 carries for 54 yards, which is fantastic for fantasy. Next up is the Colts, who allowed a league-high 384 passing yards to rookie C.J. Stroud last week. It's unlikely the Ravens will need to throw 47 times as Houston did, but he remains a top-10 QB.
Mark Andrews (TE, BAL)
As mentioned above, Andrews returned to save fantasy managers everywhere. Andrews only played 79% of the offensive snaps, fewer than any game he was active in last season. Yet, he still managed to find the end zone and lead the team in targets. He could be even better at full health this week against Indy.
Matchups We Hate:
Zack Moss (RB, IND)
Moss delivered in a good spot against the NFL's worst rush defense. Unfortunately, the matchup against Baltimore will be a lot more difficult. However, Moss will see a full workload, which keeps him in the conversation as a flex play, especially if he receives four targets again.
Other Matchups:
Zay Flowers (WR, BAL)
We knew Andrews would cause Flowers to lose targets, which is what happened. That said, Jackson still found him for a 52-yard catch, plus he had a carry for six yards, showcasing his versatility. Nelson Agholor had one more target and caught the other passing touchdown, but Flowers remains the player to flex out of this group. Additionally, the Colts have two rookie CBs, who have been beaten consistently through two weeks. In addition, Odell Beckham Jr. has missed practice all week, which could open the door for Rashod Bateman or Agholor.
UPDATE: Beckham Jr. has been ruled out, creating an opportunity for Bateman or Agholor. I lean toward Agholor based on last week's performance.
Ravens RBs
The backfield split between Gus Edwards and Justice Hill appears here to stay. Hill played 11 more offensive snaps and received the only three running back targets. However, it was Edwards that turned his lone goal-line rushing attempt into a touchdown. They'll be without their center and tackle against Indy. The Colts held up well against the Texans but gave up over 100 rushing yards to the Jaguars in Week 1, making them both flex options with the edge to Edwards in half-PPR and Hill in full-PPR. Hill has been missing practice, which would propel Edwards into the top 24 if he's out.
UPDATE: Hill has been ruled out, pushing Edwards into the top 24 based on volume and touchdown upside.
Michael Pittman Jr. (WR, IND)
Pittman had one catch for 12 yards on three targets from Anthony Richardson before he left with a concussion and Gardner Minshew took over. Minshew is a capable backup with far less mobility and athleticism, meaning the passing volume might see an uptick if he's at the helm. Pittman falls into the top 36 regardless of who he's catching passes from.
UPDATE: Richardson will not clear the concussion protocol in time for this week's game. Minshew will get the start, which should be an increase in passing volume for Pittman.
Injuries:
Jonathan Taylor (ankle)
Jelani Woods (hamstring)
Anthony Richardson (concussion)
Odell Beckham Jr. (ankle)
Justice Hill (foot)
Tennessee Titans at Cleveland Browns
Spread: Browns -3.5
Implied Total: Titans (17.75) vs. Browns (21.25)
Pace: Titans (32nd) vs. Browns (15th)
Titans Off. DVOA: -21.7% Pass (28th), 6.0% Rush (8th)
Browns Off. DVOA: -18.8% Pass (26th), 2.0% Rush (11th)
Titans Def. DVOA: 26.2% Pass (23rd), -45.9% Rush (2nd)
Browns Def. DVOA: -44.4% Pass (2nd), -37.5% Rush (6th)
Matchups We Love:
None
Matchups We Hate:
Titans Passing Attack
Ryan Tannehill took five more sacks, putting him at nine through two weeks. However, because the Chargers are beatable over the top, he was able to connect with Treylon Burks for a 72-yard bomb as well as Chris Moore for a 49-yard shot. Those two plays accounted for 48% of his total passing yards. He also scrambled for a 12-yard touchdown run, not that it would have helped many fantasy managers. Things will play out more like Week 1 when he was unable to get the ball downfield and struggled to find time because of the pass rush. Cleveland's defense is elite, causing all the passing options to drop in the rankings. Outside of his big plays, Burks had just two catches for six yards, sending him to the bench. DeAndre Hopkins was quiet, which was easy to anticipate given his injury. It was surprising to see him even suit up. He was third on the depth chart in snaps, but still earned the most targets. He'll resume his role as the alpha, making him a top-36 receiver with a safer floor.
UPDATE: Hopkins is expected to play but there's a chance his snaps are limited like they were last week, lowering his ceiling.
Other Matchups:
Derrick Henry (RB, TEN)
Tennessee was one of four teams to play more than 60 minutes, which often increases the total output for players. Henry added five carries to his total during the extra frame, but he still dominated the backfield touches (29-10) over Tyjae Spears. There will be matchups where Spears has flex-level upside if his workload maintains, but this is not one of them. The Browns have completely shut down RBs through two weeks, but the personnel have been inferior, making Henry a top-20 back.
Jerome Ford (RB, CLE)
Sadly, we lost another starting running back for the season this week, and he is one of the most talented players in the league. Nick Chubb suffered a devastating injury that could impact his career. Ford took over after the injury, rushing the ball 16 times for 106 yards. He also turned three receptions into 25 yards. The team was high on him entering the season, but his health caused them to acquire Pierre Strong Jr., who stole a touchdown. They also elected to reunite with Kareem Hunt as a replacement, but Ford seems primed to be their starter moving forward. The matchup is very tough, but the offensive line is a strength and this team will pound the rock relentlessly, keeping him in the top 24.
Deshaun Watson (QB, CLE)
Watson committed three turnovers, costing his squad the game. The passing attack is inconsistent and he looks a lot more like last year than the previous version before the holdout. The only thing keeping him in this section is the matchup and his rushing upside, but he's a risky streamer that I'd prefer to avoid.
Browns WRs
Amari Cooper psyched us all out by seeming like an inactive only to haul in seven receptions for 90 yards, leading all pass-catchers. For the second straight week, Elijah Moore saw eight-plus targets but was unable to produce because of Watson's inadequacies. The Titans have allowed the third-most points to wide receivers, so it's worth considering Moore as a flex option, while Cooper remains a top-24 receiver.
David Njoku (TE, CLE)
Njoku has just seven targets through two weeks, making it hard to rely on him. The team is rarely in the red zone, and they prefer to score on the ground when they do get there.
Injuries:
DeAndre Hopkins (ankle)
Atlanta Falcons at Detroit Lions
Spread: Lions -3.0
Implied Total: Falcons (21.75) vs. Lions (24.75)
Pace: Falcons (19th) vs. Lions (22nd)
Falcons Off. DVOA: 3.3% Pass (22nd), 13.3% Rush (5th)
Lions Off. DVOA: 42.5% Pass (3rd), -7.0% Rush (14th)
Falcons Def. DVOA: 14.3% Pass (20th), -23.6% Rush (11th)
Lions Def. DVOA: 34.4% Pass (27th), -19.7% Rush (13th)
Matchups We Love:
Bijan Robinson (RB, ATL)
It took us two matchups before we arrived at Robinson this week, but he holds his crown atop the write-up here yet again. Detroit has forced opposing tailbacks to be inefficient, often stifling their rushing attack entirely. However, they've not yet faced a player and running game as fearsome as Robinson and the Falcons. He's second only to Austin Ekeler in rushing yards over expected per attempt, fifth in expected fantasy points, and sits as the RB6 with only one trip to the end zone so far. He's incredible.
Behind him, Tyler Allgeier still saw 16 carries for 48 yards in Week 2 but was not targeted. The gap between him and Robinson in snaps also widened from only four to 23. He remains a flex option because of the volume, but when the game is close and the team needs its best players, Allgeier will be riding the pine.
Jared Goff (QB, DET)
We know the recipe by now. Goff's at home, the opposing defense is average or worse, and they have the ability to generate points. All three criteria were present last week, resulting in 68 total points. While Atlanta relies heavily on their rushing attack, which eats up the clock quicker, it won't stop the Lions from scoring plenty of points to keep pace. Goff slots in as a top-12 QB.
Amon-Ra St. Brown (WR, DET)
St. Brown posted another huge day, clearing 100 receiving yards to lead the team in that category. He actually could have had an even better day if not for a toe injury that sidelined him in the second half. He was not ruled out, but he failed to earn a target after the injury occurred, raising questions about his status and performance for this week. He did practice on Thursday, making his presence likely for Sunday. Regardless of St. Brown's status, Josh Reynolds needs to be on the radar as a flex option after back-to-back outings with four-plus receptions and 66-plus yards.
UPDATE: St. Brown and Reynolds are listed as questionable, but they both practiced in full, meaning they should be good to go.
Sam LaPorta (TE, DET)
As mentioned above, St. Brown's toe may impact his usage, opening the door for LaPorta to take on a larger role. He currently leads all rookie tight ends in targets (11), receptions (10), yards (102), and yards per route (1.82). Furthermore, those numbers rank seventh, fifth, fourth, and third, respectively, among the position. He warrants a spot in the top 10 against the Falcons.
Matchups We Hate:
Kyle Pitts (TE, ATL)
The struggle continues for Pitts, whose snap percentage and total snaps jumped up in Week 2. Unfortunately, he actually fell behind teammate Jonnu Smith in terms of routes, targets, production (receptions and yards), and yards per route run. There is nowhere near enough volume to support multiple tight ends in this offense, forcing Pitts back onto the bench despite the plus matchup.
Other Matchups:
Jahmyr Gibbs (RB, DET)
St. Brown's injury wasn't the biggest Detroit experienced on Sunday, also losing David Montgomery. The reports are that he'll be absent for multiple weeks, increasing the potential workload for Gibbs. It's wise not to get too bullish on his touches because the Lions don't seem eager to use him as a workhorse, but it definitely increases his ceiling. After Montgomery went down, Gibbs split touches with Craig Reynolds, who saw three carries and one target. The team also signed Zonovan Knight, who may factor in. The most likely situation is Gibbs gets the majority of the passing work, splits the rushing work, and sees the goal-line opportunities. It bumps him into the top 15, leaving Reynolds as a flex option (unless Knight is active) because of the offense in an average matchup.
UPDATE: Montgomery is officially listed as doubtful, but it's simply a matter of time before he's ruled out.
Drake London (WR, ATL)
In Week 1, Desmond Ridder threw the ball 18 times, including nine (50%) to the backfield. Last week, that jumped up to 32 passing attempts with only five (15.6%) to the RBs. The fluctuation has a lot to do with the game script, but the truth probably lies somewhere in the middle. If the attempts surpass 25 and the RB target share is 20% or lower, London will once again have a chance to come through against a secondary that just lost C.J. Gardner-Johnson. He's a top-36 receiver.
Injuries:
David Montgomery (quad)
Amon-Ra St. Brown (toe)
New Orleans Saints at Green Bay Packers
Spread: Packers -1.0
Implied Total: Saints (20.5) vs. Packers (21.5)
Pace: Saints (7th) vs. Packers (25th)
Saints Off. DVOA: 4.4% Pass (20th), -7.2% Rush (15th)
Packers Off. DVOA: 81.2% Pass (2nd), -23.8% Rush (27th)
Saints Def. DVOA: -35.3% Pass (3rd), -11.2% Rush (16th)
Packers Def. DVOA: -4.8% Pass (11th), -7.2% Rush (18th)
WEATHER UPDATE: This game is forecasted to have moderate wind, which could impact the passing attack for both teams.
Matchups We Love:
None
Matchups We Hate:
Saints TE
Juwan Johnson played more snaps. but ceded work to Foster Moreau and Taysom Hill, each of whom finished with two targets. The committee approach for a passing attack that looked pedestrian in Week 2 is enough to remove Johnson from the tempting streamers. Sure, he could still haul in a touchdown, but so can nearly every other tight end. It's also worth mentioning that Hill rushed the ball nine times for 75 yards so he could be a sneaky start in standard or even half-PPR formats.
UPDATE: Moreau has been ruled out, which means more targets for Johnson.
Saints RBs
The Saints found themselves part of a defensive battle against Carolina. Things should be a little better this week against Green Bay, whose defense has given up 48 points over the first two weeks. It's been primarily on the ground, although much of that is a result of facing the Falcons last week. Jamaal Williams left the contest with a hamstring injury that is expected to keep him on the mend for multiple weeks. Simultaneously, Kendre Miller has finally overcome his ailment and will make his season debut. It was Tony Jones Jr. who filled in last week along with Hill, who could remain a part of the rotation. The matchup is good, but it's hard to project the backfield currently, making this a wait-and-see approach if you can. Alvin Kamara is due back in Week 4, so this will be the final audition for Miller, who is the one to take a shot on if you go that route.
Jordan Love (QB, GB)
Thus far, Love has looked more than capable of leading his squad. However, much of that has been a product of his absurd 21% touchdown rate. It's fair to wonder if things come crashing down in Week 3 when New Orleans comes to Lambeau. He does deserve a tip of the cap for producing the way he has in spite of missing Christian Watson both games and Aaron Jones last week. That said, I'd prefer to look elsewhere this week for a streamer.
Other Matchups:
Derek Carr (QB, NO)
Through two weeks, it seems reasonable to conclude that Carr is a matchup-dependent streamer, despite his array of weapons. It looks like a below-average matchup, but part of that is because the Packers have faced Justin Fields and Desmond Ridder. Carr sticks around as a streamer, but there are others with more upside.
Saints WRs
The roles are becoming more defined for their trio of receivers. Michael Thomas operates as the quick outlet, decreasing his depth of target while increasing his volume, Rashid Shaheed is their deep threat, and Chris Olave runs the short and intermediate routes. The Packers' secondary have all graded lower than 70 in coverage, according to PFF, except for Rasul Douglas (who scored 79.4), paving the way for this trio to produce. Olave is obviously in your lineup, Thomas is a top-30 wideout, especially in full-PPR formats, and Shaheed is an ideal flex option with big-play potential.
Aaron Jones (RB, GB)
Jones missed last week's contest with a hamstring injury but he's back at practice. It's not a guarantee he'll be out there, and it's a tough spot to make his return to action, but his threat as a receiver and a runner makes him a top-24 back. A.J. Dillon filled in against the Falcons. His 15 carries for 55 yards were okay, but he only caught one pass and failed to find the end zone. He'd be a volume-based flex option if Jones misses.
UPDATE: Jones is listed as questionable after two consecutive limited practices. It's hard to tell whether he'll play or not.
Packers WRs
Christian Watson's absence has been extremely helpful for Romeo Doubs and Jayden Reed, who've alternated spike weeks thus far. Watson is trying to work his way back, but his status remains uncertain. Watson could be eased in if he does suit up, meaning one or both of these two will maintain their value. Reed projects as their slot receiver, so he'd see his usage drop but the upside is higher. If all three are out there, they'd each be in the top 36 range with the nod to Reed because he'll avoid coverage from Marshon Lattimore.
UPDATE: Watson is listed as questionable after another limited practice. It's hard to tell whether he'll play or not.
Luke Musgrave (TE, GB)
We know Musgrave will play the majority of snaps at tight end. What we don't know is the extent of his role when all three wideouts are active. If that's the case, he's a fade against the Saints. Otherwise, he'll hold some streaming value.
Injuries:
Christian Watson (hamstring)
Aaron Jones (hamstring)
Jamaal Williams (hamstring)
Houston Texans at Jacksonville Jaguars
Spread: Jaguars -7.5
Implied Total: Texans (18.25) vs. Jaguars (25.75)
Pace: Texans (4th) vs. Jaguars (14th)
Texans Off. DVOA: -0.3% Pass (24th), -48.3% Rush (31st)
Jaguars Off. DVOA: 4.4% Pass (21st), -18.7% Rush (25th)
Texans Def. DVOA: 11.1% Pass (19th), 29.3% Rush (32nd)
Jaguars Def. DVOA: 3.9% Pass (15th), -40.7% Rush (5th)
Matchups We Love:
Travis Etienne Jr. (RB, JAX)
Houston's defense is dead last in rush DVOA, proving that nothing has changed since last year. They can't score enough points to be competitive with most teams, and their defense struggles against the run. Etienne Jr. ought to have a hay day in this one, thrusting him into the top 15 with plenty of touchdown upside.
Matchups We Hate:
C.J. Stroud (QB, HOU)
Stroud threw a league-leading 384 yards against the Colts. He also had two touchdowns. Jacksonville just held Patrick Mahomes and Co. to 17 points, so I'm not about to get too carried away with his potential to be a streamer, but the negative game script and 47 passing attempts are good news for the receivers.
Dameon Pierce (RB, HOU)
Pierce managed to avoid losing passing work to Mike Boone this week but still ceded eight carries to other tailbacks. His 32 total routes run are 18th at the position, which is problematic considering Stroud has dropped back to pass 91 times. Their offensive line is in shambles, prohibiting him from running effectively and leaving minimal value in this matchup. He's a player to avoid if possible.
Other Matchups:
Trevor Lawrence (QB, JAX)
Lawrence had a tough time against what proved to be a much-improved Kansas City pass defense. The return of Chris Jones was a n unpleasant sight to see if you're a Jags fan. He was responsible for six pressures alone. Lawrence did watch his receivers barely step out of bounds on a would-be touchdown four times though. Plus, it'll be smoother sailing this week, but the issue persists from last season that teams don't need to air it out to win. He's a top-12 signal-caller with minimal upside.
Jaguars WRs
Christian Kirk rebounded from his Week 1 dud, which was largely due to an injury to Zay Jones and the negative game script. The combination resulted in a 21% increase in snaps, playing more than any other pass-catcher in Week 2. It's difficult to know what the splits will look like from week to week, but this doesn't set up as a game they'll need a lot from their passing attack. Calvin Ridley deserves to be viewed as the No. 1 until we collect more information, but the workload could be scheme-dependent or team-dependent based on comments from the coaching staff. Assuming Jones is active, Ridley stays in the top 24 with Kirk a top-36 receiver in the slot where the Jags have been susceptible, and Jones in the flex range. Kirk would join Ridley in the top 24 if he misses.
UPDATE: Jones has been ruled out, securing the volume for Kirk and Ridley.
Evan Engram (TE, JAX)
Engram's role seems the most consistent at this point, which is great news for a tight end. There's no reason to stray away from him given the tight end landscape.
UPDATE: Zay Jones has been ruled out, adding a little more upside to Engram.
Nico Collins (WR, HOU)
Collins has earned our trust as the clear-cut alpha in this offense, which it turns out is meaningful. The volume seems locked in because their offensive line is so banged up that they have no choice but to throw the ball a ton. They're currently third in passing attempts. Joining Collins with nine-plus targets was Robert Woods, who was mentioned here as a PPR option last week, and rookie Tank Dell, who scored his first NFL touchdown. It is worth noting that Noah Brown has been placed on Injured Reserve. Collins has the most upside, earning him a spot in the top 36, Dell is an intriguing flex play, and Woods is solid in full-PPR formats.
Injuries:
Zay Jones (knee)
Noah Brown (groin)
Denver Broncos at Miami Dolphins
Spread: Dolphins -6.0
Implied Total: Broncos (20.75) vs. Dolphins (26.75)
Pace: Broncos (17th) vs. Dolphins (10th)
Broncos Off. DVOA: 23.2% Pass (15th), 7.1% Rush (7th)
Dolphins Off. DVOA: 86.1% Pass (1st), 86.1% Rush (1st)
Broncos Def. DVOA: 40.0% Pass (28th), -4.8% Rush (20th)
Dolphins Def. DVOA: -1.7% Pass (13th), 17.8% Rush (29th)
WEATHER UPDATE: This game is forecasted to have rain showers, which could impact the receivers while creating more turnovers or drops.
Matchups We Love:
Tua Tagovailoa (QB, MIA)
What was a formidable defense last year has been simply average through two games. What's worse is Denver has played Las Vegas and Washington. The one question mark here is Jaylen Waddle's ability to progress through the concussion protocol. He's yet to clear, which would drop Tagovailoa from a locked-in top-10 quarterback to around the QB12.
Dolphins WRs
Bill Belichick put together a fantastic game plan to take away Tyreek Hill, and outside of a short touchdown catch, it worked. While Patrick Surtain II is an elite CB, Hill will lineup all over the field, primarily negating the fear of a down game. If Waddle plays, it's good news for Hill in terms of the matchup because he'll draw coverage away, but the volume would counterbalance any concerns. Waddle is in your lineup if he's on the field.
UPDATE: Waddle has been ruled out, which means a slight boost for Hill. It also makes tight end Durham Smythe a streamer.
Matchups We Hate:
Russell Wilson (QB, DEN)
Miami's defense bled points on the ground in Week 1 but shut the Chargers' WR duo down through the air. In Week 2, they held New England under 300 total yards, dominating them in both facets of the game. It's bad news for Wilson, whose outing looks a lot better on the stat sheet thanks to two massive touchdowns for 50 and 60 yards, one of which was a Hail Mary. Don't be fooled by the inflated numbers. Keep him out of your lineup.
Broncos WRs
Following suit here, the concern applies to this receiving corps. It was a tough week for Jerry Jeudy and Courtland Sutton, who ran the most routes and earned the most targets but saw Brandon Johnson and Marvin Mims Jr. ruin their day. Jeudy only played 68% of the offensive snaps, which figures to go up, but it's hard to trust him and Sutton as more than top-36 options who could lose out to the deeper wideouts on the roster and have a tough matchup.
Other Matchups:
Raheem Mostert (RB, MIA)
The Patriots dared the Dolphins to throw to run the ball. They lost that dare and the game because of it. Mostert went nuclear with 121 yards and two trips to the end zone. It's unlikely he will reach that level of production against Denver, but they're fresh off giving up 122 yards to the Commanders, keeping him in the top 24. The team is also expected to get Terron Armstead back, which would be a big boost to their O-line.
UPDATE: Salvon Ahmed is listed as doubtful, which would mean more snaps for De'Von Achane if he's out.
Javonte Williams (RB, DEN)
The good news is that Williams is taking a stranglehold on the backfield. He accounted for 12 of the 14 (85.7%) carries and saw three targets. Samaje Perine also caught three passes, but his role continues to diminish. As we outlined above, the Chargers demolished Miami in Week 1 on the ground, creating optimism the Broncos might be able to get things rolling this week. The bad news is that the offense still isn't firing on all cylinders, pushing Williams outside the top 24.
Injuries:
Greg Dulcich (leg)
Jeff Wilson Jr. (abdomen)
Jaylen Waddle (concussion)
Salvon Ahmed (groin)
Los Angeles Chargers at Minnesota Vikings
Spread: Vikings -1.0
Implied Total: Chargers (26.5) vs. Vikings (27.5)
Pace: Chargers (6th) vs. Vikings (5th)
Chargers Off. DVOA: 77.829.0% Pass (11th), 17.2% Rush (4th)
Vikings Off. DVOA: 31.1% Pass (10th), -45.2% Rush (30th)
Chargers Def. DVOA: 60.5% Pass (32nd), 5.8% Rush (25th)
Vikings Def. DVOA: -3.2% Pass (12th), 13.4% Rush (27th)
Matchups We Love:
Justin Herbert (QB, LAC)
For the second consecutive game, Herbert is going to be an awesome play. This game has the highest over/under of the week by a wide margin, featuring two great offenses and two below-average defenses, especially against the pass. He's in the top five.
Chargers WRs
The excitement for the passing game extends to the receiving corps, namely Keenan Allen and Mike Williams. Anyone who was concerned after Week 1 ought to feel better after they both caught eight balls and cleared 80 yards. Allen happened to come down with both of Herbert's touchdowns, but that will fluctuate each week. Fire these two with full confidence.
Kirk Cousins (QB, MIN)
Cousins is fresh off exploiting the Eagles' depleted secondary for 364 yards and four touchdowns as the QB1. It's possible he ends the week there once again. Los Angeles has allowed the second-most fantasy points to quarterbacks, ranks 30th in pass coverage, and 32nd in pass defense DVOA.
Vikings WRs
Justin Jefferson is the WR4 without finding the end zone. Regression is coming, meaning he'll be breaking that streak sooner rather than later. The beneficiaries of his drought have been Jordan Addison and K.J. Osborn. Addison has found pay dirt in his first two career starts, including another long one for 62 yards. Osborn is still playing more snaps, running more routes, and earning more targets, but Addison is so explosive that it won't be long until that starts to shift. They're both in the top 36.
T.J. Hockenson (TE, MIN)
Fantasy managers were disappointed after Week 1 because his eight receptions yielded a mere 35 scoreless yards. He made sure to atone for that against Philly, scoring twice. The volume and touchdown upside make him a must-start.
Matchups We Hate:
Chargers TEs
The only ones left out of the party are the duo of Gerald Everett and Donald Parham Jr. Parham actually played six more snaps than Everett in Week 2, making this situation one to avoid considering they're behind at least the starting three receivers on the depth chart.
Other Matchups:
Chargers RB
There were two assumptions that I bought into last week for Joshua Kelley, which in hindsight proved foolish. The first was that he had the talent to overcome a difficult matchup the same way other elite backs like Austin Ekeler would. The second was that the team would still target their backfield at a high rate. Kelley averaged three yards per carry and earned just one target. It was a big miss. Ekeler seems to be trending toward missing another game, which means another shot for Kelley to redeem himself. Everyone watched the Eagles run the ball down the throat of Minnesota last Thursday. So combined with massive over/under, he's a top 24 play if he's the starter.
UPDATE: Ekeler has been ruled out as expected, locking Kelley into another start.
Alexander Mattison (RB, MIN)
Mattison has been inefficient and committed multiple fumbles, one of which was negated by a penalty. Unfortunately, this prompted the team to acquire Cam Akers from the Rams. It's unclear how significant a role Akers will play or just how effective he can be in this offense, but it's bad news for Mattison's rest-of-season value. Akers is unlikely to see much action this week if he's even active, so it's one last hoorah for Mattison in a great matchup before things get complicated.
Injuries:
Austin Ekeler (ankle)
New England Patriots at New York Jets
Spread: Patriots -2.5
Implied Total: Patriots (19.25) vs. Jets (16.75)
Pace: Patriots (1st) vs. Jets (11th)
Patriots Off. DVOA: 12.5% Pass (18th), -13.2% Rush (20th)
Jets Off. DVOA: -30.4% Pass (31st), -44.8% Rush (29th)
Patriots Def. DVOA: 28.1% Pass (24th), 3.3% Rush (23rd)
Jets Def. DVOA: 18.5% Pass (21st), -33.0% Rush (7th)
WEATHER UPDATE: This game is forecasted to have moderate to high winds with the possibility of rain. There's a strong chance the wind increases the difficulty of completing downfield passes. It's looking like the most concerning matchup of the week for weather.
Matchups We Love:
Rhamondre Stevenson (RB, NE)
While New England is not as high-powered as Dallas on either side of the ball, I still expect them to win comfortably. The spread doesn't look like a lot but for a road team in a divisional matchup, which historically are closer games, it suggests a similar train of thought. It was tough sledding against Miami's defense as we spoke about earlier, but Ezekiel Elliott's involvement took a hit. The rush share for Stevenson rose from 58% to 75% and the RB target share went from 37.5% to 75%. He's progressively overtaking Elliott, setting him up as a workhorse back. He also saw the only goal-line attempt, which he scored on. He's firmly in the top 24.
Matchups We Hate:
Patriots Passing Attack
The 55 attempts from Mac Jones in Week 1 dropped to 42 last week. It's still a nice number, but combined with the return of DeVante Parker and a wider distribution of targets, it made things messy. Kendrick Bourne still led the team in targets, but without any deep shots or touchdowns, his days will be mediocre. Parker led the wideouts in receptions (six) and yards (57) while JuJu Smith-Schuster came back from the dead to make five catches. The lone bright spot continues to be Hunter Henry, whose volume (six catches for 52 yards) alone was decent, never mind the fact that he found pay dirt. He's the only one to consider playing as a streamer against the Jets' talented secondary.
Jets Passing Attack
Oh, the bittersweet feeling of watching Garrett Wilson house a short reception, wondering what could have been. Nevertheless, it was an impressive catch and run for a score, which is certainly in his arsenal. Zach Wilson did make a conscious effort to get him the ball, targeting him eight times, so there's going to be an opportunity for spike weeks if he can make a big play or haul in a touchdown. He's a top-36 boom-bust option. While it's not the week I'd like to stream him, Tyler Conklin operated as the clear No. 2 option with six targets, so he's worth keeping an eye on for future matchups.
Other Matchups:
Breece Hall (RB, NYJ)
Much like Wilson, Hall is going to bounce between similar types of extremes. The Patriots shut down the Eagles' rushing attack in Week 1 but were dominated in Week 2, so it's difficult to place them just yet. They're closer to good than they are bad, dropping Hall into the boom-bust flex territory.
Injuries:
None
Buffalo Bills at Washington Commanders
Spread: Bills -6.0
Implied Total: Bills (24.5) vs. Commanders (18.5)
Pace: Bills (30th) vs. Commanders (16th)
Bills Off. DVOA: 27.8% Pass (12th), 4.6% Rush (9th)
Commanders Off. DVOA: 20.2% Pass (17th), 3.6% Rush (10th)
Bills Def. DVOA: -13.9% Pass (8th), -44.7% Rush (3rd)
Commanders Def. DVOA: -35.3% Pass (4th), -17.1% Rush (18th)
Matchups We Love:
Josh Allen (QB, BUF)
Las Vegas was exactly the team Allen needed to play last week. He played efficient, turnover-free football en route to an easy win. Washington's defense has been a tough matchup because their front is so deadly. Wilson was under pressure on 21 of his 32 (65.6%) dropbacks last week. It'll be a focal point for the Bills O-line, likely resulting in quick, short passes to the tight ends and backfield.
Stefon Diggs (WR, BUF)
Diggs was a bit quieter this week, allowing Gabe Davis to join the action as he occasionally does, but there's no reason to go away from him. Davis, on the other hand, is someone to tread cautiously with. Allen was 25th in pressure per dropback, enabling him to survey the field and find Davis. I wouldn't expect a similar outcome this week, pushing Davis back to the flex tier of receivers, albeit with a higher ceiling than most.
James Cook (RB, BUF)
It seems as though both sides of the Cook argument are coming true. He loses work at the goal line to Damien Harris and Latavius Murray. Yet, he is extremely talented and explosive, especially as a receiver, resulting in plenty of production. Not having that role does limit his overall ceiling, but he remains a top-20 back given the offense and his workload against Washington.
Matchups We Hate:
Sam Howell (QB, WAS)
Howell and Co. looked pretty shaky in the first half, but they managed to rally and complete the comeback. It was great to see for his growth along with the offense as a whole. Unfortunately, hosting the Bills is not a spot to consider tossing him into your lineup.
Other Matchups:
Brian Robinson Jr. (RB, WAS)
Robinson dominated the Broncos, rushing for 4.8 yards per carry, forcing six missed tackles, and averaging the third-most rush yards over expected per attempt, behind only the Cleveland duo. It helped that the Commanders had a lead, which is unlikely to be the case against Buffalo, but he did see three targets, which keeps him in the top 24 again this week.
Commanders WRs
Through two weeks, Howell has shown a tendency to spread the ball around, completing a pass to eight different players in Week 1 and 10 in Week 2. It's problematic for the dynamic duo of Terry McLaurin and Jahan Dotson, who are battling to ascend to the top of the depth chart. Admittedly, it's more of an issue for Dotson, whose targets per route run is at 15%, lower than both McLaurin and Curtis Samuel. Howell is also honing in on the tight end position, first with Logan Thomas, who left with a concussion, and then John Bates, who tied Dotson with five targets. McLaurin is still the alpha, placing him in the top 24, but Dotson has fallen to the flex range until his role is more established. Buffalo has been a tough spot for slot receivers, making Samuel a fade.
UPDATE: Thomas remains in concussion protocol, which will preclude him from playing while Samuel is good to go for Sunday's game.
Dalton Kincaid (TE, BUF)
Kincaid watched Dawson Knox steal a touchdown in the red zone but was otherwise more impactful. The two of them have a combined 25.3% target share. Additionally, the Bills have spent the highest amount of time in the 12-personnel formation of any team. He figures to be one of the outlets for Allen, plus they'll need these two in for blocking. He's a streamer with a safe floor.
Injuries:
Logan Thomas (concussion)
Matchup Analysis - 4:25 ET Games
Carolina Panthers at Seattle Seahawks
Spread: Seahawks -5.0
Implied Total: Panthers (18.5) vs. Seahawks (23.5)
Pace: Panthers (13th) vs. Seahawks (27th)
Panthers Off. DVOA: -14.9% Pass (25th), -22.8% Rush (26th)
Seahawks Off. DVOA: 36.4% Pass (6th), -9.7% Rush (18th)
Panthers Def. DVOA: -20.2% Pass (5th), 19.9% Rush (31st)
Seahawks Def. DVOA: 51.4% Pass (31st), -25.0% Rush (10th)
WEATHER UPDATE: This game is forecasted to have rain throughout the game, which could have a minor impact.
Matchups We Love:
Kenneth Walker III (RB, SEA)
Walker continues to struggle with efficiency on a per-carry basis, some of which can be attributed to their offensive line woes, but his role is well-established, especially at the goal line. He's accounted for every attempt inside the five-yard line and all but one attempt inside the 10. The offense will continue to be in scoring position, they like to run the ball when they get there, and the matchup is great.
Seahawks WRs
Much like the Chargers, those who were concerned about these two felt better after Week 2. Like Allen, Tyler Lockett was the one to find the end zone, but both he and DK Metcalf showed out. The one thing to monitor is Metcalf's ribs. He took a hard hit on what should've been a touchdown at the one-yard line. He did return to the game, so it seems like he'll be active this week, but the practice reports will tell us more. Jaxon Smith-Njigba finished with the same number of targets as Metcalf due to the injury and would become more intriguing if he's out.
UPDATE: Metcalf is good to go for Sunday.
Matchups We Hate:
Panthers Passing Attack
Bryce Young is trying to make the most of his weapons, but when Adam Thielen is the best you have, it's going to be an uphill climb. The Panthers did put together a scoring drive during garbage time, which boosted their abysmal offensive stats. Young also suffered an ankle injury, which is expected to sideline him against Seattle, forcing them to turn to Andy Dalton. He may represent an upgrade for the passing attack, but I still wouldn't chase anyone except Thielen, who is the best bet for volume with modest output even in a plus matchup.
UPDATE: Young has been ruled out as expected. Dalton will get the nod, which is a positive for Thielen.
Seahawks TEs
Unless Metcalf is out, it's the not right matchup to go after the fourth or fifth option in the passing attack. Noah Fant is still the most valuable, but Colby Parkinson and Will Dissly each had three targets.
Other Matchups:
Geno Smith (QB, SEA)
Smith delivered in the shootout with Detroit, overcoming the concerns about their O-line. However, the over/under and implied point total is a lot lower this week. Carolina has yet to face a passing attack with the weapons the Seahawks have, but it's fair to question how much they'll need to air it out. Smith slots in as a streamer with a lower ceiling.
Miles Sanders (RB, CAR)
It's so hard to move away from Sanders because he has a 17% target share through two weeks, and he's accounted for 74% of the RB carries. Unfortunately, it hasn't hit yet, partly because of the offense and partly because the matchups have been tougher. It's a similar situation here. He's in the top 24 based on his receiving role.
Injuries:
Bryce Young (ankle)
DK Metcalf (ribs)
Dallas Cowboys at Arizona Cardinals
Spread: Cowboys -13.0
Implied Total: Cowboys (28) vs. Cardinals (15)
Pace: Cowboys (26th) vs. Cardinals (23rd)
Cowboys Off. DVOA: 27.0% Pass (13th), -17.2% Rush (22nd)
Cardinals Off. DVOA: 25.5% Pass (14th), -9.6% Rush (17th)
Cowboys Def. DVOA: -66.9% Pass (1st), -52.7% Rush (1st)
Cardinals Def. DVOA: 8.5% Pass (17th), -13.8% Rush (14th)
Matchups We Love:
Tony Pollard (RB, DAL)
Pollard is currently the RB4 in half-PPR with two touchdowns. He's been excellent. His 50 opportunities (carries + targets) lead the NFL. He also has the most rushing attempts inside the 10-yard line and at the goal line. He's unstoppable right now.
CeeDee Lamb (WR, DAL)
The Cowboys ended up throwing the ball 38 times thanks to the touchdown from Garrett Wilson that made the score close enough to keep pressing. That translated to a massive day for Lamb, who'll have no issue torching the Cardinals. The score could get out of hand this week, making it wise to avoid everyone else in the receiving corps.
Matchups We Hate:
Cardinals Passing Attack
The Cardinals spent the first half hammering the Giants. They then remembered the best thing for the franchise is to lose, sparking a second-half collapse. In all seriousness, the matchup was about as good as it gets, which is the polar opposite of what's on tap in Week 3. Marquise Brown and Zach Ertz remain the two possible starters for the volume but don't overemphasize them. As an aside, the Cowboys lost Trevon Diggs for the season, which will impact their coverage, but not so much against Arizona.
James Conner (RB, ARI)
Conner had an awesome game on the ground. He pounded New York for over 100 yards and a score. It'll likely go down as one of his best performances all season. The lack of targets isn't a concern because they didn't need to throw the ball, and when they did, they had time to use their receiving corps. That'll shift dramatically against Dallas, forcing Conner to lean on his pass-catching as he often does.
Other Matchups:
Dak Prescott (QB, DAL)
As referenced above, Prescott's dropbacks went up 14 times, which helped him produce a more fantasy-relevant game. Unfortunately, that was the QB16. He's in a similar range this week as someone who could throw multiple touchdowns against a poor defense but lacks a ceiling.
Jake Ferguson (TE, DAL)
We've been waiting to see what Ferguson could do since he climbed to the top of the depth chart ahead of Luke Schoonmaker in the preseason. He caught three receptions for 11 yards, but one of those was in the end zone. Coincidentally, Schoonmaker also hauled in a score. Ferguson could emerge as the No. 3 behind Pollard and Lamb, earning him streamer status against Arizona.
Injuries:
Kyler Murray (knee)
Chicago Bears at Kansas City Chiefs
Spread: Chiefs -12.5
Implied Total: Bears (17.75) vs. Chiefs (30.25)
Pace: Bears (8th) vs. Chiefs (12th)
Bears Off. DVOA: -25.5% Pass (29th), -17.7% Rush (23rd)
Chiefs Off. DVOA: 36.3% Pass (7th), -17.9% Rush (24th)
Bears Def. DVOA: 50.6% Pass (30th), -12.8% Rush (15th)
Chiefs Def. DVOA: 8.2% Pass (16th), -4.9% Rush (19th)
Matchups We Love:
Patrick Mahomes (QB, KC)
It was a slow grind, but Mahomes inevitably arrived at a nice day for fantasy. It wasn't pretty, but credit to the Jacksonville defense for slowing down the passing attack. Now he'll turn his attention to the Bears, who are near the bottom in most pass-defense categories and just lost their defensive coordinator. This could get ugly. We might see a vintage Mahomes performance this week.
Travis Kelce (TE, KC)
Similar to Andrews, Kelce returned and saved the day for fantasy managers of both him and Mahomes. He took away enough attention to open up looks for the other pass-catchers, plus he found the end zone as usual, on just 63% of the offensive snaps. He'll be back to a full role with tons of upside.
Matchups We Hate:
Bears RBs
It's hard for anyone to thrive in this offensive scheme or environment right now. However, equally worrisome for the presumed starter, Khalil Herbert, is the timeshare he finds himself in. The rookie, Roschon Johnson, is making the most of his touches, resulting in D'Onta Foreman being inactive. He seems destined to become the lead back, it's merely a matter of when. It's a middle-of-the-road matchup. The Chiefs are 13th in rush yards per attempt allowed, 19th in rush DVOA, and are allowing the sixth-fewest fantasy points to the position through two weeks. Neither is a great start, but if you're in need, they're both flex options. Herbert for volume and Johnson for explosiveness.
Bears WRs
One thing the offense did well was understand that targeting DJ Moore is a wise strategy. He made the most of his seven targets, generating six receptions for 104 yards. Darnell Mooney was injured during the game, enabling the once-forgotten Chase Claypool to somehow lead the team in targets and score a touchdown. What a world. Moore is the only one to look to but it's a difficult matchup, especially with Chris Jones wreaking havoc up front.
Other Matchups:
Justin Fields (QB, CHI)
Fields "mistakenly" threw the coaching staff under the bus in his press conference, which he later rescinded. The chaos in Chicago is abundant. It's also cratering Fields's fantasy value. He's been outside the top 12 in both weeks and looks uncomfortable out there. He had just four rushing attempts in Week 2 and has only two designed runs all season. The usage could turn around at any point, but he's in the streamer range with a lower floor and higher ceiling against a difficult Kansas City defense.
Isiah Pacheco (RB, KC)
Much like the Vegas oddsmakers, I expected lots of points scored in their game against the Jaguars, pushing me to be higher on Pacheco than I would otherwise. It also appeared the team was done with Jerick McKinnon, which turned out to be untrue. Pacheco handled 12 carries for 70 yards but only saw two targets. An area that McKinnon and Clyde Edwards-Helaire contributed, stealing five between them. Chicago's defensive numbers are a little better on the ground, but Pacheco lands in the top 24 range.
UPDATE: Pacheco is listed as a game-time decision with optimism that he'll be active. If he misses you could take a shot on Edwards-Helaire or McKinnon given their massive favorites to win.
Chiefs WRs
Skyy Moore got open for a 54-yard bomb and happened to catch the non-Kelce touchdown, but that's not enough for me to be back in. It's promising and if it persists, we'll need to take note. Six different wide receivers caught a pass on Sunday, meaning the distribution is still very widespread. If you want to take a shot because of the matchup, Moore, Justin Watson, and Kadarius Toney led the way in targets, so one of them would be the way to go. I'd lean toward Watson because of his 21.4 yards per reception making him less reliant on volume. Toney's toe injury has caused him to miss practice. Watson and Moore become more intriguing if he's sidelined.
UPDATE: Toney is expected to play, but I'd still prefer Moore or Watson.
Injuries:
Richie James (knee)
Kadarius Toney (toe)
Isiah Pacheco (hamstring)
Matchup Analysis - Sunday Night Football
Pittsburgh Steelers at Las Vegas Raiders
Spread: Steelers -2.5 
Implied Total: Steelers (22.75) vs. Raiders (20.25)
Pace: Steelers (3rd) vs. Raiders (28th)
Steelers Off. DVOA: -37.7% Pass (32nd), -38.2% Rush (28th)
Raiders Off. DVOA: 31.9% Pass (9th), -58.1% Rush (32nd)
Steelers Def. DVOA: -7.5% Pass (10th), -4.1% Rush (21st)
Raiders Def. DVOA: 32.3% Pass (26th), 8.6% Rush (26th)
Matchups We Love:
None
Matchups We Hate:
None
Other Matchups:
Davante Adams (WR, LV)
I worry we're going to be subjected to another low-scoring, dissatisfying contest in prime time. Only this time on Sunday night instead of Monday night. The Raiders offense is decent but faces a difficult Steelers defense. While the Raiders' defense is terrible, so is the Steelers' offense.
Nevertheless, Adams, who thankfully cleared the concussion protocol, is one of the two primary Las Vegas players you'll want to start. Jakobi Meyers has returned to practice from his concussion, signaling he should be active. His volume in Week 1 was fantastic, but the Denver defense turned out to be a plus matchup, so he's a flex option.
Josh Jacobs (RB, LV)
The other one, as you probably guessed, is Jacobs. Turning nine carries into negative three yards would normally relegate you to the bench. However, Jacobs hauled in five of his targets for 51 yards to somewhat salvage his day. Pittsburgh is without one of their top run defenders, Cameron Heyward, which has allowed teams to exploit them on the ground. They've given up a league-high 5.6 rush yards per attempt. Jacobs goes back in for a redemption game.
Steelers RBs
It took everything in me not to list this duo in the "matchups we hate" section, but the Raiders' defense is also allowing over five yards per carry and currently sits as the best matchup for fantasy running backs. Jaylen Warren looks spectacular. He averaged 8.6 yards per touch last week compared to Najee Harris's 3.9. He's also 12th in elusive rating. Furthermore, their total touches are almost identical, with a slight edge (11-10) for Harris. I'm willing to start both and hope the offense can move the ball, but I'd rather go with Warren because he doesn't need the same amount of volume to come through.
George Pickens (WR, PIT)
Pickens took a short pass 71 yards to the house, popping off for a big day. Outside of that, he had three receptions for 56 yards, which is decent. Diontae Johnson was placed on Injured Reserve, so Pickens should continue to be the No. 1 target moving forward. The matchup is very good, keeping him in the top 36.
Pat Freiermuth (TE, PIT)
Much like the running backs, this is a close-your-eyes-and-pray sort of situation. He has two receptions through two games, one of which he scored on, but you'd have to believe Kenny Pickett looks his way more often against the Raiders. He's a high-risk, high-reward type of streamer.
Injuries:
Diontae Johnson (hamstring)
Matchups Analysis - Monday Night Football
Philadelphia Eagles at Tampa Bay Buccaneers
Spread: Eagles -5.0
Implied Total: Eagles (25) vs. Buccaneers (20)
Pace: Eagles (29th) vs. Buccaneers (24th)
Eagles Off. DVOA: 1.8% Pass (23rd), 24.0% Rush (3rd)
Buccaneers Off. DVOA: 23.1% Pass (16th), -15.0% Rush (21st)
Eagles Def. DVOA: 10.1% Pass (18th), -43.5% Rush (4th)
Buccaneers Def. DVOA: -18.9% Pass (6th), -21.0% Rush (12th)
Matchups We Love:
Jalen Hurts (QB, PHI)
Despite a full offseason to prepare for it, the "tush push" play is equally effective in 2023. Hurts and Co. still haven't hit full stride. Yet, Hurts finished as the QB6 in Week 2. The Buccaneers have done well against opposing signal-callers, but the quarterbacks they've lined up against are not the same caliber as Hurts. I lean towards them putting it all together for a great game.
Eagles WRs
DeVonta Smith stole the show against Minnesota, exploding for 131 yards and a score. What you wouldn't know if you didn't watch the game is that A.J. Brown had a touchdown of his own negated by a penalty. He also earned one more target than Smith. The Buccaneers' top corner, Jamel Dean, has fallen off, creating a nice matchup for these two, who tend to line up all over the field. They're both in the top 15.
Matchups We Hate:
Baker Mayfield (QB, TB)
Mayfield has vastly exceeded expectations thus far. You could even draw a comparison to Geno Smith and the Seahawks in 2022 given the way they were underrated and overperformed. Before we get too carried away though, let's see how he does against Philly. Their secondary is a mess right now, but their D-line is still intact. They've forced 32 pressures on the season. Mayfield stays on the bench one more time while we let the experiment run its course.
Cade Otton (TE, TB)
Otton's targets received a bump, reaching a total of six last week. It's exciting to see after he showed some flashes in Year 1. However, for this particular matchup, it's best to sit him in case the passing attack stumbles. He's also the third target at best, so he's a risky bet.
Other Matchups:
Eagles RBs
There was no way to leave last Thursday's game without the focal point being D'Andre Swift. Even the biggest of believers would never have predicted 28 carries. It was like a broken record watching them hand the ball off over and over. What complicates his amazing night is that Kenneth Gainwell missed the game and Boston Scott left partway through due to a concussion. Not to mention Rashaad Penny causing that negated touchdown for Brown we spoke about, resulting in what appeared to be a benching. All this to say, it was a perfect storm for Swift and conditions won't be as optimal moving forward, including this week against a stout Tampa Bay front. Gainwell and Scott are both back at practice. If Gainwell suits up, he and Swift are in play with Swift as the preferred option.
UPDATE: Gainwell is good to go for Monday while Scott is out. Swift is still the play, but Gainwell could cap his upside.
Dallas Goedert (TE, PHI)
After putting up a goose egg in Week 1, Goedert hauled in six passes. Sadly, they only amounted to 22 yards, but it's still a promising sign. Moreover, Goedert trails only Durham Smythe in routes run per dropback at 85.5%. The targets should be maintained and the production will start to climb, locking him into the top 10 against Tampa Bay, who has given up the eighth-most points to tight ends.
Mike Evans (WR, TB)
Evans is on fire. It has been one of the many surprises this season. It's one I definitely didn't anticipate. While the pace he's on (102 receptions for 2,105 yards and 17 touchdowns) is unsustainable, he's in a good spot against a position group that's dealing with a lot of injuries right now. His partner in crime, Chris Godwin, has been playing second fiddle. He's still earning a 20.6% target share with a 71.4% catch rate, but the production hasn't followed. There's a decent chance that corrects itself with Mayfield airing it out in this one. They're both in the top 24 with Evans as the favorite.
Rachaad White (RB, TB)
After Week 1, we wondered if the inefficiency of White would increase given the positive matchup. It did. He averaged 4.68 yards per touch, finished 10th in elusive rating, and sixth in missed tackles forced. He also accounted for 85% of the RB carries and all five of the RB targets. It's great to know there will be weeks when the workload and efficiency pair together. Against the Eagles, he'll be more reliant on the volume alone, but his involvement as a pass-catcher should keep him in the top 24. The team also lost Chase Edmonds to Injured Reserve, ensuring it'll be White and Sean Tucker splitting the opportunities.
Injuries:
Kenneth Gainwell (rib)
Boston Scott (concussion)
DeVonta Smith (hamstring/thigh)
Chase Edmonds (knee)
Los Angeles Rams at Cincinnati Bengals
Spread: Bengals -2.5
Implied Total: Rams (20.5) vs. Bengals (23)
Pace: Rams (18th) vs. Bengals (9th)
Rams Off. DVOA: 40.0% Pass (4th), -2.9% Rush (12th)
Bengals Off. DVOA: -19.9% Pass (27th), -12.8% Rush (19th)
Rams Def. DVOA: 23.3% Pass (22nd), 18.3% Rush (30th)
Bengals Def. DVOA: 29.0% Pass (25th), 13.8% Rush (28th)
Matchups We Love:
Puka Nacua (WR, LAR)
When a player breaks the NFL record for most receptions in his first two games, he must be started in fantasy. I'm pretty sure that's a rule, and if it isn't, it should be. Matthew Stafford is locked in on Nacua. There's no reason to move off of him against the Bengals. Tutu Atwell also warrants a spot in your lineup. Despite earning less than half the number of targets Nacua has, his 17 is still amazing. They're both worth going back to the well on.
Kyren Williams (RB, LAR)
The Rams shocked the world one more time by making Cam Akers inactive ahead of Sunday's game. They're completely committed to Williams, whose role is expected to generate the second-most fantasy points, trailing only Tony Pollard. We've seen backs such as Todd Gurley thrive in the Sean McVay system, which is what appears to be going on here. Williams is locked in.
Matchups We Hate:
None
Other Matchups:
Matthew Stafford (WR, LAR)
The man tossing the pigskin to these fine players is Stafford, who is playing outrageously well. He's also due for some touchdown regression. He has the second-most passing attempts (93), but only one touchdown on the year. The Rams have scored five times, but only once through the air. That'll surely shift, and it could be as soon as this week. He's in the streaming category.
Tyler Higbee (TE, LAR)
Higbee's been the odd man out with Nucua and Atwell dominating the target share. The passing volume has been high enough to sustain a third option and could be again, so he's still a viable option at such a desolate position against the team allowing the fourth-most points to the position.
Joe Burrow (QB, CIN)
It's at this point that the breakdown becomes murky. Burrow finally seemed to find his groove late in their loss to the Ravens, only to re-aggravate his calf injury. It's terrifying for both his short-term and long-term outlook. The reports are unclear as to whether he'll suit up on Monday, which is poor timing for making fantasy decisions. If even he guts it out, he's not a must-start with the mobility limitations he'll have.
UPDATE: Burrow is listed as questionable for Monday's game. Zac Taylor doesn't seem confident and neither am I.
Bengals WRs
Obviously, his injury would also impact Ja'Marr Chase and Tee Higgins. Higgins was the beneficiary of those two scoring drives Burrow led while Chase continued to underdeliver. They're in the top 20 if Burrow's active because we know what they can do, but if he misses, they're outside the top 24 with a risky fantasy outlook catching passes from Jake Browning. Let's hope it doesn't come to that.
UPDATE: Burrow is listed as questionable for Monday's game. Zac Taylor doesn't seem confident and neither am I. It's best to fade these two if you have other top-24 receivers.
Joe Mixon (RB, CIN)
Much like White, Mixon has a tendency to be inefficient with his touches. His usage is also similar, making it hard to move off of him regardless of the matchup or circumstances. The Rams have been beaten on the ground, although some of that has to do with facing Christian McCaffrey. Mixon's workload keeps him in the top 24, but his ceiling drops if Burrow is out.
Injuries:
Cooper Kupp (hamstring)
Puka Nucua (oblique)
Joe Burrow (calf)


Download Our Free News & Alerts Mobile App Like what you see? Download our updated fantasy football app for iPhone and Android with 24x7 player news, injury alerts, rankings, starts/sits & more. All free!




Win More With RotoBaller Be sure to also check out all of our other daily fantasy football articles and analysis to help you set those winning lineups, including this new RotoBaller YouTube video:


More Fantasy Football Analysis