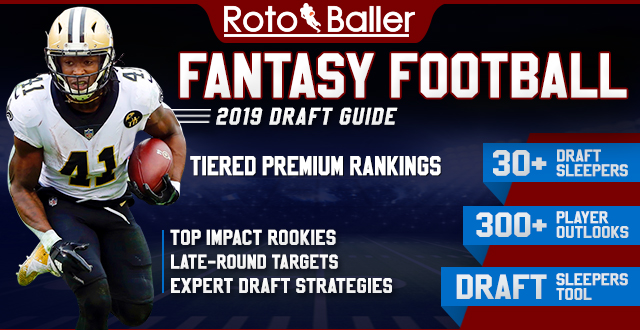 Heading into the 2019 NFL Draft, it was well known that there were two big names to note at the tight end position. While this class is very deep at the position, the two studs were both out of Iowa, TJ Hockenson and Noah Fant. Both ended up being first-round picks as Hockenson went eighth overall pick to the Lions and Fant going 20th overall to the Broncos.
As the first tight end off the board, Hockenson is pretty much the consensus number one tight end in this class for dynasty football purposes. Personally, I have Fant as my number one, but they are close and both have very nice upside in the NFL and for fantasy football purposes.
Both Hockenson and Fant were productive in 2018 and major parts of that Iowa offense. Hockenson finished with 49 catches for 760 yards and six touchdowns. Fant had 39 catches for 519 yards and seven touchdowns. Fant has been on the dynasty radar for some time now, but Hockenson wasn't quite there yet. After his performance in 2018, he has absolutely established himself and has been getting a ton of hype in the fantasy football community, and rightfully so. Let's take a closer look to see what makes Hockenson appealing in dynasty formats.
Editor's Note: Get any rest-of-season NFL Premium Pass for 50% off. Our exclusive DFS Tools, Lineup Optimizer and Premium DFS Research through the Super Bowl.
Sign Up Now!
Measurements
Height: 6'5"
Weight: 250 pounds
Arms: 32 1/4"
Hands: 9 1/2"
40-yard dash: 4.70
Bench press: 17 reps
Vertical jump: 37.5"
Broad jump: 123.0"
Three-cone drill: 7.02 seconds
20-yard shuttle: 4.18 seconds
60-yard shuttle: 11.55 seconds
Strengths
Hockenson has elite blocking traits and this should get him on the field early on. He is a very well-rounded prospect with great pass-catching skills, solid speed, good route running ability, and good hands. He uses his hands very well for catches and doesn't use his body. He also has great burst off the line of scrimmage.
Weaknesses
The area that I wasn't crazy about was his athleticism, while he is a very solid prospect all-around, he wasn't overly explosive. Fant's ridiculous combine performance may have overshadowed Hockenson's a bit, but the numbers weren't quite as great as I hoped they would be. His speed and athleticism are both good, but not elite. The one area that I'm a bit worried about is in the red zone. His size should help him out, but I'd feel better about the potential touchdown numbers in the red zone if he was a bit more physical.
NFL Scheme
We've seen an elite tight end prospect come and go out of Detroit in recent years in Eric Ebron. Some may not remember that Ebron was as highly touted of a prospect as Hockenson, or at least very close. He was absolutely viewed as one of the most athletic and highly profiled tight end prospects at the position in recent years. Whether that be due to Matt Stafford, Ebron, the offense, or both, it just didn't work out for him there.
The new offensive coordinator in Detroit, Darell Bevell has historically run play-action a lot which could help Hockenson. As someone who is an elite blocking tight end, he can get off his blocks quickly and move into his routes in a play-action offense.
Dynasty Outlook
It's hard to deny the upside of an elite tight end in dynasty fantasy football. Hockenson offers that upside and profile as a prospect. Landing in Detroit is a decent landing spot, and many owners are loving the idea of Hockenson becoming Matt Patricia's 'Rob Gronkowski' in that offense. The only tight end to name that is ahead of him at the moment is Michael Roberts, and I'm not sure he's even ahead of Hockenson at the moment. I'm not sold that the Lions and that offense are headed in that direction and while the opportunity is nice, there are definitely some reasons for concern.
Regardless of your thoughts on the landing spot, for dynasty purposes, Hockenson has massive long term upside. Many analysts have been comparing him to guys like Travis Kelce and George Kittle. You don't get any better than those two guys, and while I agree he has great upside, I'd be surprised if he ends up in that category. Either way, Hockenson is a very comfortable first-round draft pick in dynasty rookie drafts and rightfully so. I don't expect him to have an elite first season for fantasy purposes, but it wouldn't be crazy for him to finish as a TE1 based on the current landscape of the position. With his skill set, he's someone that should be a very valuable asset for years to come.
More NFL Rookie Profiles