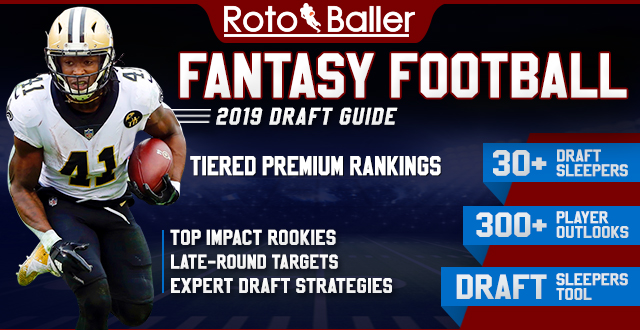 Denver Broncos GM John Elway certainly doesn't have the best history of trading up in drafts to get his guy. Just take one look at the now infamous 26th overall pick in the 2016 NFL Draft, where Elway and the Broncos traded up to take the Seahawks' pick, only to use it on quarterback Paxton Lynch, now ironically a backup for the Seahawks.
However, there's still something to be said about the way Elway made sure to target University of Colorado wide receiver Juwann Winfree in the sixth round by trading up with the Carolina Panthers. Winfree, as a target of Elway's, should have a slightly longer leash than someone who had just simply fallen to the Broncos or an undrafted free agent. And hopefully he has a longer leash than Lynch.
Winfree has great physical talent but there are also some red flags in his profile, which could make him this year's version of Antonio Callaway. Let's see why this seemingly inconsequential late-round pick might be one of interest to dynasty owners in 2019.
Editor's Note: Get any rest-of-season NFL Premium Pass for 50% off. Our exclusive DFS Tools, Lineup Optimizer and Premium DFS Research through the Super Bowl.
Sign Up Now!
Measurements
Height: 6'1″
Weight: 210 lbs
Age: 22
40 Yard Dash: 4.53
Bench Press: 18
Vertical Jump: 33″
Broad Jump: 125″
3 Cone Drill: 6.97
20 Yard Shuttle: 4.26
60 Yard Shuttle: 11.69
Skills
From one look at the game tape, you can get an idea of what the Broncos like in Winfree. He moves extremely fluidly for his size (6'1", 210 pounds) and passes the eye test in terms of what you'd want physically in one of your outside receivers. He's a quick-cutter with good acceleration and he's got a strong frame that should hold up well against NFL defensive backs.
Production
Here's where you'll raise your first red flag when considering the potential of Winfree. The college production was extremely underwhelming. His last year in college at Colorado, he caught 28 passes for 324 yards and two touchdowns in eight games. He averaged just 11.6 yards per reception. His junior year at Colorado was about the same – 21 catches, 325 yards and two TDs. Before that… well, we'll get to that in the next sections.
Character
Here comes your second red flag. It's somewhat unclear how alarming of a flag it should be, but it's a negative nonetheless. Winfree began his college career at the University of Maryland. After eight games, he was suspended by the school for the rest of the season. Then, while serving his suspension, he was suspended again, this time indefinitely. Little is known about the nature of Winfree's two infractions other than the fact that he "violated the school's student-athlete code of conduct" and sources near the situation claim it was not related to a failed drug test.
Injuries
And red flag #3. Probably the biggest one. After Winfree's second suspension, he went on to transfer to Coffeyville Community College where he had a productive seven-TD season before transferring again to Colorado. Unfortunately, a torn ACL cost him the 2016 season. He was also hampered by hamstring and ankle injuries as a senior in 2018, which cost him four games. Without the injury history, he likely would have had at least slightly better college production and he also probably would have gone at least a bit higher in the draft.
The Competition
While the Broncos certainly aren't loaded at WR by any means, they also aren't completely devoid of them. 2018 2nd round pick Courtland Sutton showed some promise during his rookie campaign and veteran Emmanuel Sanders is still there to soak up the bulk of the targets. Beyond that duo, Daesean Hamilton and Tim Patrick showed some potential as reliable slot guys last year. Hamilton especially could have a bigger role going forward. Winfree will likely enter training camp competing for a roster spot with a group of young, mostly undrafted receivers as well as former 49ers 6th round pick Aaron Burbridge.
Fantasy Outlook
For season-long leagues, Winfree has no business being on your radar at this point. He'd need a few injured WR teammates and a few big training camp or preseason plays before earning your consideration in that realm.
For deep, deep keeper leagues where upwards of 20 or 30 rookies are drafted each year and there's room for stashing long-term upside players on the bench with little cost, he's worth a look. If you've got your eyes on 2020 and beyond, there's a chance for him. Sanders' contract is up after this season so he'll likely be gone by 2020, if not sooner, and Winfree is one of just three WRs drafted by the Broncos the past two years along with Sutton and Hamilton. As Hamilton has more of a slender build and appears to be best suited for the slot, that second outside WR position across from Sutton appears up for the taking. Winfree has the tools to go out and claim that spot, but it's far from a sure thing and there may be some other gambles from the 2019 rookie class who'll see the field sooner and warrant your attention more.
More NFL Rookie Profiles