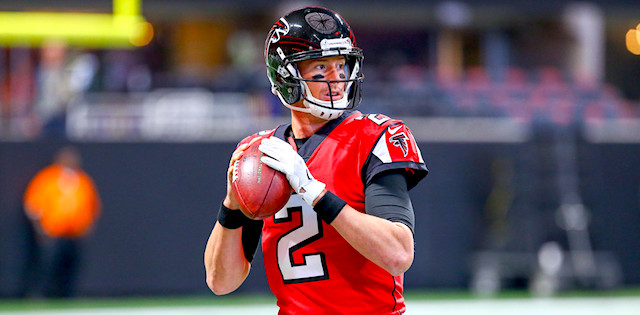 The end of the 2018 fantasy season comes with mixed feelings. For one person in each league there is glory, but for everyone else, their eyes are already turned to 2019. One of the key parts of starting your 2019 season prep is to think about who performed above and below their expectations in the previous year.
The team at RotoBaller are fully aware of your efforts, which is why we have already begun compiling statistics, analysis, and thoroughly researched recommendations as part of our unrelenting efforts toward helping you win your leagues in 2019. That includes a review of the biggest risers and fallers at the various skill positions, based upon an in-depth review of their usage and output during the 2018 regular season, then contrasting their performance with the numbers that they delivered during the previous year.
This article will examine the output that was generated by quarterbacks, in a year that saw some of the best quarterback play we have perhaps ever seen. A number of these performers registered significant increases or decreases in their production as a result of increased responsibilities this year, injuries, or changes within the offenses that they were operating in. Here is a breakdown of noteworthy quarterbacks that delivered a statistical surge in 2018, along with others who experienced an unwanted downturn in their production.
Editor's Note: Get any rest-of-season NFL Premium Pass for 50% off. Our exclusive DFS Tools, Lineup Optimizer and Premium DFS Research through the Super Bowl.
Sign Up Now!
Biggest Risers
Patrick Mahomes, Kansas City Chiefs
Given that Mahomes started one game in 2017 before becoming the full-time starter in 2018, it was always expected that he would see a big increase in 2018. However, coming into the season, there were a lot of questions marks. His raw talent was undeniable but whether he could run an offense was yet to be seen. Coming into the season, Mahomes was being drafted in fantasy 16th among quarterbacks at 110th overall. To say that fantasy owners were not convinced was an understatement.
What we saw on the field was beyond the wildest dreams of those fantasy owners who did take the chance on him. Mahomes threw for a league-leading 50 touchdowns, with a second-best 5,097 yards and just 12 interceptions. When we look at his adjusted net yards per attempt, he averaged 8.89 yards, which was nearly 0.5 of a yard better than second place Drew Brees and over a yard better than fourth place. He also added some value with his legs, adding 272 rushing yards and two rushing touchdowns. All in all, he outperformed anyone else when it came to fantasy points among quarterbacks. The scheme that he plays in with Andy Reid in Kansas City means that in 2019 there is little reason why he should not get close to repeating his 2018 performance.
Andrew Luck, Indianapolis Colts
Much like Mahomes, the only way Luck could really go this year was up. Luck did not start a single game in 2017, so an improvement was always likely to be expected. However, the reason I wanted to spotlight him here is that his performance went above what many expected him to do at the start of the season. Coming off a major injury, it was mostly expected that Luck would be managed through this season by the Colts. His ADP of 83rd, ninth among quarterbacks, demonstrated that fantasy owners were willing to gamble on the potential we may see the old Andrew Luck.
What we saw in 2018 was one of the best versions of Luck we have ever seen. Luck had the second-highest yards, touchdowns and net yards per attempt of his career so far, only beaten by 2014. Luck ended up finishing fifth among quarterbacks in terms of total fantasy points. However, in his first three games, he averaged just 14.9 fantasy points per game. Then from Week 4 onward he averaged 21.7 fantasy points per game. It was clear to see in Week 4 that Luck started to feel more comfortable, and had he averaged 21.7 fantasy points per game all season he would have finished third among quarterbacks in fantasy points scored.
A big part of why Luck was so good in 2018 was the protection he received from his offensive line. Luck was sacked a league-low of 2.7% of the times he dropped back to pass. He had never been below 4% in any other season, and in 2016 he was sacked a whopping 7% of the time. The Colts do not have any hugely pressing situations on their offensive line and should return the majority of the guys from 2018. Therefore, we should see Luck have good protection once again in 2019 and have every chance to repeat his 2018 performance.
Matt Ryan, Atlanta Falcons
Matt Ryan has been infuriating for fantasy owners at times in his career. It finally looked like he had worked it out in his MVP year in 2016, when he posted 4,944 yards and 38 touchdowns. However, after losing offensive coordinator Kyle Shanahan, in 2017 Ryan posted his lowest passing yardage since 2010, and his lowest touchdown total since his rookie year in 2008. Ryan came into 2018 being drafted as low as pick 100 and the 13th quarterback off the board.
Ryan had had a tendency to see improvements in the second year with a new offensive coordinator. That is exactly what happened last year with Steve Sarkisian. After a tough start in Philadelphia, Ryan rolled through 2018 neatly matching his 2016 numbers. Ryan threw for 4,924 yards, 35 touchdowns and just seven interceptions. His efficiency in terms of yards per attempt and touchdown percentage were lower, but the overall results were great. Ryan finished second among quarterbacks in fantasy points and provided a great return for anyone who gambled on him. However, Sarkisian was sacked at the end of the 2018 season and now we have a ton of question marks around Ryan all over again. The good news is that Ryan will have Dirk Koetter calling plays, who he played under from 2012-2014, and therefore may be able to overcome his first year struggles with a new coordinator.
Biggest Fallers
Tom Brady, New England Patriots
The question entering this season is when would time finally catch up with Brady. In 2017, Brady put up 280 fantasy points, ranking fifth among quarterbacks. Brady had thrown for 4,577 yards and 32 touchdowns. They were not the best numbers of his career, but the passing yards led the league, as did his pass attempts, with 581. For that reason, Brady was being drafted third among quarterbacks and 44th overall entering the 2018 season.
The issue in 2018 was not necessarily the performance of Brady himself. Brady actually put up similar numbers in 2018, with 222 less passing yards and three fewer touchdowns. If you look at the tape then there were indications that Brady was not as good in 2018, but if you go by the numbers it all looks the same, so why is he a faller?
The issue for Brady's fantasy owners is that the league took another step in 2018. To put what I mean in context, Brady's 280 fantasy points would have ranked just 11th this season, and his 2017 passing yards would have been the seventh. Part of that is that the number of pass attempts increased. If Brady had made the same 581 passing attempts this year, he would have ranked just seventh in the league. While the league is zigging the Patriots are zagging.
They drafted a running back in the first round in 2018 and were not afraid to get two backs on the field and run the ball down opponents throats. With the league defenses generally getting smaller to handle the spread offenses taking the league by storm, expect the Patriots to be run heavy again in 2019. For that reason, Brady is a quarterback I expect to struggle to be a top-10 fantasy quarterback once again next season.
Cam Newton, Carolina Panthers
There is no denying that Cam Newton is a special talent and his ability to use his legs to supplement his throwing has been a huge plus for fantasy owners. Coming into 2018, Newton was being drafted fifth among quarterbacks, thanks largely to a career-high 754 rushing yards in 2017. Newton averaged 5.4 yards per rush in 2017 and added six touchdowns to really boost his fantasy value.
If you just look at his passing numbers, Newton did not drop off in the slightest in 2018. He actually threw for more yards and more touchdowns, despite playing two fewer games. However, the issue for fantasy owners is his running. Entering his age 30 season in 2019, Newton, who struggled with a shoulder injury in 2018, is likely to have less carries going forward. His attempts per game, yards per game and yards per attempt in 2018 were only just below his career average. However, coming off an injury which saw him shut down and unable to throw the ball down the field, and another year older, I expect to see those rushing numbers decrease even further in 2019. Newton's fantasy numbers are so linked to his rushing, if those numbers are going to decrease he may fall out of relevance in most standard-sized fantasy leagues.
Kirk Cousins, Minnesota Vikings
Cousins was actually coming off the worst full year of his career in 2017. In his final season in Washington, he threw for just 4093 yards and dropped to 7.6 yards per attempt. However, his move to Minnesota had many people feeling optimistic. They had just been to the NFC Championship game with Case Keenum, who had at times lit up the scoreboard. His ADP of eighth among quarterbacks reflected the optimism that many people felt about him in Minnesota.
However, things did not go exactly as planned in 2018. Yes, he increased his passing yards, to 4,298 and threw for more touchdowns, 30. The issue was that his efficiency numbers fell even further, dropping to 7.1 yards per attempt and 10.1 yards per completion. Part of the reason for the continued decrease in his efficiency was his protection. We spoke about how Andrew Luck for the best blocking of his career in 2018. Cousins had a second rough year in a row last season. After never being sacked on more than 5% of his pass attempts in his four seasons as a starter, that jumped to 7.1% in 2017. In 2018, it improved to 6.2%, and a lot of that was due to Cousins efforts to be more mobile and get rid of the ball quicker.
There was also an issue within the organization itself. There was clear friction between the offensive coordinator, John DeFilippo, and head coach, Mike Zimmer, and that frustration was seen on the field. However, with that situation cleared out and Gary Kubiak bringing his offensive mind to Minnesota as an offensive advisor, the feeling in the building should improve. Additionally, they are bringing in Rick Dennison to be the offensive line coach. Hopefully, these changes will see improvements for Cousins and a bounce-back year in 2019. Cousins could be a sleeper when next year's drafts roll around.
More Fantasy Football Year-in-Review