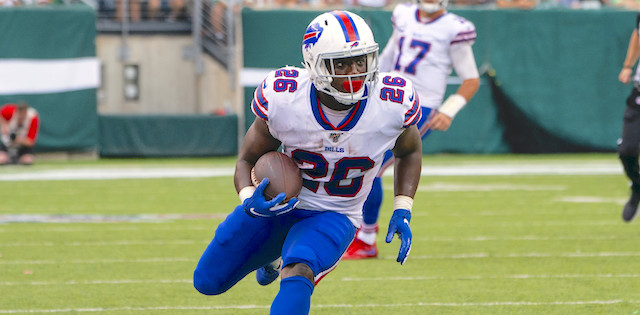 This article's content may vary week-to-week, but generally, it will be answering questions fielded from either the @RotoBallerNFL twitter account or my personal one (@RotoSurgeon). This week, the focus is on start/sit questions, and there were plenty. Every week, many of us struggle with which quarterback to start, or who to flex, and I am here to help.
The questions selected will combat difficult decisions that might be specific to Week 11 starters. We have seen plenty of early risers and fallers who may not make the cut in our lineup as we stumble through the season. The hype and shine wear off some places and beginning to glisten elsewhere. However, sometimes, it is just best to not rock the boat (particularly if things are going well).
If you need any questions answered in the coming weeks, feel free to follow and ask either account and we will make sure to respond promptly.
Editor's Note: Get any rest-of-season NFL Premium Pass for 50% off. Our exclusive DFS Tools, Lineup Optimizer and Premium DFS Research through the Super Bowl.
Sign Up Now!
Week 10 Mailbag
Need Ppr flex, Singletary, John brown or Hollywood brown?

— Chris Mendivil (@cmend02) November 14, 2019
Verdict: Devin Singletary
Singletary's out-snapped Frank Gore over the past three weeks and is firmly in control of passing-downs. He is going up against a soft Dolphins' defense in a game that will be scripted towards the run in the second half. Although much of his production has come from the pass, he has a chance to break some big runs this weekend with a solidly projected volume. Singletary's teammate, John Brown, is a strong play as well, but it is typically best to side with the running back in a coin-flip decision. Marquise Brown would be more strongly considered had he not missed practice this week with an ankle injury. His questionable designation for Sunday makes it hard to trust him although he would be set up in a high-scoring matchup that would require a ton of passing on Baltimore's end.
Kirk or Crowder?

— OliveskinnedGump🌐 (@bodan1) November 14, 2019
Verdict: Jamison Crowder
Revenge game, baby! Crowder is set to face his former team for the first time ever. Although there is no certainty as to whether he holds any disdain towards the team that drafted him, it is fair to assume that he will want to have a big game back there in general. The Jets are a mess but at least they can do one thing right, and that is "feed Crowder". He has seen at least five targets in all but one game this season, and on three separate occasions has been targeted at least nine times. He's become Sam Darnold's go-to guy and will likely be utilized a ton against Washington's weak pass-coverage.
Christian Kirk's Week 10 eruption makes him a clearly appealing play but this week's matchup against the 49ers is hard to love. Kirk's game is primed for big games like this where he will have to be targeted deep, and often, however, it would be difficult to see him outproduce Crowder.
Winston or Brady ?

— Jim (@pgjpm) November 14, 2019
Verdict: Tom Brady
Both Jameis Winston and Brady are presented fantasy-friendly matchups in Week 11. Winston's opponent, New Orleans, is without top cornerback, Marshon Lattimore. On top of that, Tampa Bay is playing at home with an offense that is more balanced with a new-found running attack thanks to Ronald Jones II. However, Winston's turnover-prone nature and volatility make him hard to trust over someone like Brady, the most consistent QB of all time. Brady's ability to spread the ball around timely, and accurately will make it an annoying day for the Eagles' secondary. With a brand new target in Mohamad Sanu and vengeance brewed up from the Patriots' most recent matchup versus Philadelphia, this could turn into quite the day for the historically great QB.
Darren fells or Noah fant ppr

— Mando Rangel (@mandorangel19) November 13, 2019
Verdict: Darren Fells
This just comes down to whose QB I trust more. Deshaun Watson is significantly better than Brandon Allen and will find more ways to get his pass-catchers involved. Although Fant's snap-share and targets have increased with the departure of Emmanuel Sanders, he is hard to trust in Minnesota even though their defense funnels offenses to pass. Fells will be involved in a much higher scoring game against the Ravens with a combined game total 12 points higher than that of Denver/Minnesota.
More Start/Sit Advice