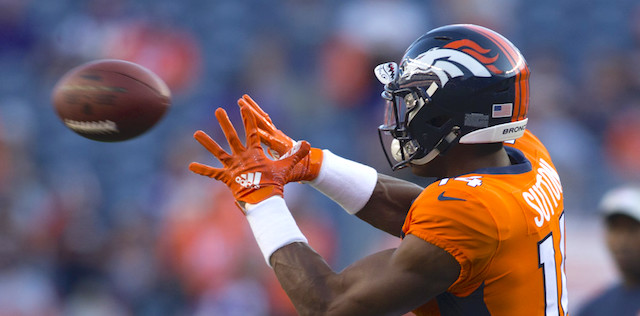 What have we learned this season in fantasy football? Well. Quite a bit.
With the Browns, we have learned that elite parts do not make a great machine. When it comes to the 49ers, we have learned the only way to use a run game to bleed games is when you have the defense to complement it. Did you hear me Bill Callahan? And of course, whether it be fantasy or regular football, the Dolphins suck.
With all these things figured out, there are still some things we need to look at. So, let us look at a few players to be concerned with. Or maybe not. Let's decide together.
Editor's Note: Get any rest-of-season NFL Premium Pass for 50% off. Our exclusive DFS Tools, Lineup Optimizer and Premium DFS Research through the Super Bowl.
Sign Up Now!
Le'Veon Bell's Efficiency and Outlook Is Not Pretty
Fun fact from Jason Moore of The Fantasy Footballers. Since 2004 there have been 211 players who averaged 20 or more touches per game. Le'Veon Bell is ranked 204 out of those players in the number of fantasy points this season.
Despite getting all the work out of the backfield, Bell is still having a bad season. Not disappointing, but bad. He is averaging less than 0.5 fantasy points per touch on the season and in Sunday's game, where the team needed to use him, he finished with only six.
Adam Gase is a bad coach. He has been promoted and rehired based on Peyton Manning making him look good. Manning made the Broncos look good. And he is the reason John Elway is still around. So, that tells you something right there.
Gase made it very clear he did not want Bell on his team. He has also made it very clear he does not know how to use running backs. Both of these factors lead to major concerns for Le'Veon Bell going forward in New York. Especially now that the trade deadline has passed and he is still on the team.
There are some great matchups ahead for the Jets and Bell. Games against the Redskins and two against the Dolphins mean he should get something done. But it may not be enough to save your season. Too little, too late as they say. If you own him in dynasty, I would keep him for a few weeks through the Dolphins and Redskins game before trying to get some good value from him. He is on the downside of his career and the year away did not do Bell any favors. If you do keep him the only thing to hope for is the same thing we are all hoping for. Adam Gase turning into a one and done head coach. Otherwise, next year could just be a tragic extension of this one for Bell and his owners.
Courtland Sutton May Struggle More Than You Think
Emmanuel Sanders is gone. Long live Courtland Sutton. Or maybe not.
Through seven games this season, Sutton was the WR12 for fantasy. Those games were played while sharing the field with Emmanuel Sanders who is now with the 49ers. The same could be seen last season where he was far better with an opposing receiver to distract defenses than he was after the injury to Sanders and the trade of Thomas. Who stepped up last season in the absence of the top two? It was Daesean Hamilton. Not Courtland Sutton. So, the hype he is now getting is a little baffling.
We know Joe Flacco has a strong arm and can fling it downfield. But this is not his game anymore. Honestly, it never really was. Now he is likely out for five or six weeks with a neck injury. This means a backup will be taking over.
One thing we know about backups is they normally work the most with backup receivers. Like Hamilton.
This means new starter Brandon Allen will have worked more with him and not Sutton. Even if Sutton is better, and this is yet to be proven, the rapport with Hamilton will make him the likely candidate to have better games. Not just because of his connection from practices, but also due to the fact he will be taking over the slot role vacated by Emmanuel Sanders. Courtland Sutton will be getting more coverage from the opposing team's number one cornerback and this will limit him even further.
That being said, no one in this offense in the passing game is a must-have. Courtland Sutton seems like the riskier of the two as it looks now. Where in previous weeks he was a starter at the wide receiver position, now he falls in as a possible flex option and even then, you could do better.
George Kittle May Not Produce Like 2018, But That's OK
Is George Kittle one of the top tight ends in the NFL? Sure. At least he was last year, and the perception has carried over to 2019.
He has been moments away from a great season. With four touchdowns called back due to penalties, this season could be just as good as last season. But without those scoring plays, it has not been so exciting for a player you spent a second-round pick on.
Kittle is still the premier pass-catcher on the 49ers. He is leading the team in targets and target share. But this is not where issues arise. The issues arise when you look at the offense.
Even in a 51-13 drubbing of the Panthers on Sunday, George Kittle finished with a mediocre line of six catches for 86 yards. While we are not complaining about 14.6 fantasy points from a tight end, we would like to see more. Especially in a game so lopsided. But instead, San Francisco did what they have been doing this season. Running the ball down people's throats. Whether it was Tevin Coleman running for over 100 yards and three touchdowns on only 11 attempts, or the rest of the group doing cleanup work, it seems the only bonafide options in the offense are in the running game.
I am not telling you to trade away George Kittle for nothing. He is still going to finish very high in the ranks at the tight end position. Last year it was clear that he, Zach Ertz, and Travis Kelce were head and shoulders above all others. The same can not be said this season. This really shows you why it is a bad choice to select a tight end so high in drafts. Whether it was Rob Gronkowski in previous years or the likes of the big three this season. I mean, where were Darren Waller and Austin Hooper drafted again?
Don't think of this as a warning or failure on the part of George Kittle. Think of it as more as a warning not to expect the boom games like last season. This team is built to not need it. And despite what we fantasy players may think, these teams are still in it to win real-life games. Not fantasy games.
More Weekly Lineup Prep