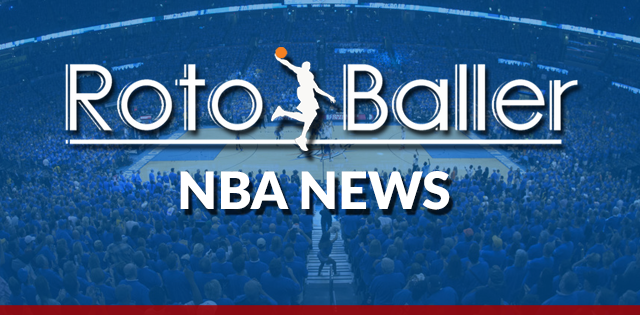 Welcome to the RotoBaller NBA Recap. In this feature, we will highlight one key fantasy basketball takeaway from each night during the past week. These viewpoints can be both positive and negative and will hopefully help to provide insight into different roster moves you should consider making.
Fantasy basketball has a lot of moving pieces with all the different scoring settings that are possible to play under, so I will always do my best to spotlight where players gain or lose value in certain game types.
Without further ado, let's get right into the 13th week of the season and try to figure out how to take advantage of what we saw transpire.
Editor's Note: Our friends at Monkey Knife Fight have the best, most fun, fastest growing DFS props game! It's super simple to play and to win real money. Just choose your NBA, NHL or PGA game, and make your picks! Get a 100% instant deposit bonus up to $50 using promo code: BALLER. That's $50 for free - don't miss out!
Play Now!
Monday, January 13th
Christian Wood Is Worth A Speculative Addition 
As someone who went to UNLV for college, I don't get many opportunities to relive the glory days of our program. In reality, a lot of those historic moments came before I was born or old enough to appreciate the magnitude of what was happening, but it is always nice to get a chance to talk about someone from the school that is finding success professionally. I feel as if all we do is discuss players who have failed in the past. And yes, I'm looking at you, Anthony Bennett.
Wood was a freak athlete for UNLV who was as likely to hit a basket from deep as he was to block a shot out of nowhere. That two-way ability always made him an intriguing prospect to me, and that belief might come to fruition after Blake Griffin suffered what looks to be a season-long injury.
Wood's 18 points, nine rebounds, two steals, three blocks and two three-pointers on Monday night helps to explain the kind of value you could be acquiring off the waiver wire if the Pistons do decide ever fully to unleash the now 24-year-old, but this is far from guaranteed production, and you should be prepared for some ups and downs for the time being. Wood has enough upside that makes me willing to take a shot on him, but there is no guarantee of what you are going to get nightly, at least for now.
Tuesday, January 14th
Omari Spellman Might Not Be As Intriguing As Some Initially Thought
Anytime you hear Golden State Warriors and starter in the same sentence, you should at least dive a little deeper into the situation. I was never overly bullish on Omari Spellman's fantasy value going forward, but that never meant he wasn't worth taking a flier on if you had the bench space available.
Spellman went on a tear earlier in January, making 15-of-24 three-point attempts over a six-game stretch, but his showing on Tuesday night should at least give you second thoughts when it comes to what kind of production you should expect nightly.
Spellman wasn't terrible by any means, scoring 10 points to go along with four rebounds, but there does seem to be this dreadful trend taking place that the second-year product might not be good for much more than your occasional scoring outburst and a steady dose of threes. I wouldn't drop him quite yet, but with Willie Cauley-Stein and Eric Paschall both vying for minutes against him, there are going to be some evenings where Spellman isn't worth the headache. He remains a weaker hold in 12-team settings, but a strong case can be made for moving on in any other league.
Wednesday, January 15th
Jamal Murray Goes Down; Monte Morris Is Your Add
Jamal Murray was helped off the floor after turning his ankle on Wednesday night against the Charlotte Hornets.
Murray couldn't put any weight on his left ankle as he exited, although ankle injuries are never quite as cut-and-dry as you would like when it comes to the extent of the harm done. An MRI for potential ligament damage will need to be run, and we will get a better idea of the severity after that.
I'd keep a close eye on this situation as the week progresses, but Monte Morris is a strong add in all leagues, even if it is just for a few games.
UPDATE: Jamal Murray is expected to miss multiple games, but tests didn't reveal any significant damage. That is excellent news for Murray owners, as the injury looked as if it could have been much worse. Morris will get a short-term boost that makes him startable in most leagues, but the positive update on Murray doesn't warrant the same intrigue as initially thought. 
Thursday, January 16th
Deandre Ayton Dazzles On Thursday
It has been a weird start for Deandre Ayton during year-two, but the former Arizona product is beginning to show his worth on a nightly basis.
Ayton dominated the Knicks on Thursday, making 11-of-15 shots from the field for a season-high 26 points, but it was his career-high 21 boards that really stole the show.
The buy-low window for Ayton as he served his suspension is unfortunately over, and if you were smart enough to hold onto him during that period, you should have an early-round producer going forward.
Friday, January 17th
How Much Will Victor Oladipo Hurt Malcolm Brogdon?
The short answer to this question is probably not a massive amount, but there is going to be a transition period once Victor Oladipo gets healthy.
Malcolm Brogdon is currently averaging 78.1 touches per game, second to only Domantas Sabonis for the Pacers, but it would be foolish to believe that Oladipo doesn't slowly begin to cut into that production as he becomes healthier.
We aren't going to get a clean bill of health overnight from the Pacers superstar, but there is room for Brogdon to fall in the upcoming months. Brogdon has produced nearly top-50 nine-category value in his absence, but I don't believe it is naive to think that we see that production slip 10 to 20 spots as the year progresses.
More Fantasy Basketball Analysis