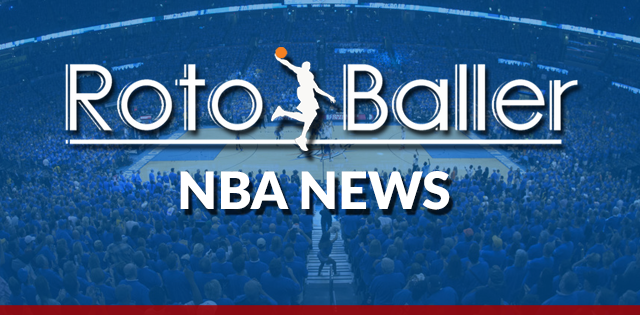 Welcome to the RotoBaller NBA Recap. In this feature, we will highlight one key fantasy basketball takeaway from each night during the past week. These viewpoints can be both positive and negative and will hopefully help to provide insight into different roster moves you should consider making.
Fantasy basketball has a lot of moving pieces with all the different scoring settings that are possible to play under, so I will always do my best to spotlight where players gain or lose value in certain game types.
Without further ado, let's get right into the 12th week of the season and try to figure out how to take advantage of what we saw transpire.
Editor's Note: Our friends at Monkey Knife Fight have the best, most fun, fastest growing DFS props game! It's super simple to play and to win real money. Just choose your NBA, NHL or PGA game, and make your picks! Get a 100% instant deposit bonus up to $50 using promo code: BALLER. That's $50 for free - don't miss out!
Play Now!
Monday, January 6th
Jordan McRae Continues Hot Form
Jordan McRae remained hot for the Washington Wizards, accumulating 19 points to go along with seven rebounds, one assist, three blocks, two steals and two three-pointers in 38 minutes of action.
McRae has been on a strong run recently with averages of 17.5 points, 4.1 rebounds, 3.0 assists and 2.3 threes per game over his past 10 contests, and despite Bradley Beal returning to the lineup shortly, the shooting guard out of the University of Tennessee remains a hold for now.
McRae's volume-based shooting that has resulted in averages of 35 percent over his past four contests does leave something to be desired, but his production of top-100 value over the past two weeks in nine-category leagues is worth the one category punt.
Tuesday, January 7th
Sekou Doumbouya Is A Must-Add 
With Blake Griffin likely out for the season after having knee surgery, Sekou Doumbouya is going to receive all the run he can handle in Dwane Casey's offense
On Tuesday night, the rookie was only able to put together 15 points, two rebounds and three steals, but none of that is necessarily a negative since Doumbouya's role isn't going anywhere. The quiet performance should allow you to sneakily add the French product, and his ability to produce across the board makes him an interesting commodity in most settings.
Over his last four games, Doumbouya is posting top-100 numbers in nine-category settings with 13.0 points, 7.0 rebounds, 1.5 steals, 0.5 blocks and 1.3 triples. There are going to be some ups-and-downs that you have to encounter, but his mixed-bag of production will make him worth the ride.
Wednesday, January 8th
Should You Pickup Eric Gordon?
Eric Gordon has been a potent scorer since returning from his mid-season knee surgery, generating 15.2 points and 3.0 shots from deep.
While all that is promising for those desperate for a player that can contribute points and threes, there are a handful of things I dislike about adding him. For starters, Gordon's field goal percentage will hurt your lineup, and his lack of production is many of the other qualifying statistics won't help either.
I'd anticipate we see the Rockets ease the 31-year-old back into action, meaning I'd doubt they play him for a few weeks when the team has a back-to-back set placed in front of them. That hasn't been a street we have crossed yet, but we will get more answers on that front when the Rockets play on Thursday.
UPDATE: Eric Gordon was indeed rested on Thursday. With the likelihood of missing random games and only two categories worth of production, I am leaving the sharpshooter on the waiver wire in standard leagues. 
Thursday, January 9th
Jarrett Culver Is Quietly Coming Around 
Don't look now, but Jarrett Culver has averaged 30.6 minutes per game so far during January, scoring 14.0 points to go along with 5.4 rebounds, 2.2 assists, 1.0 blocks and 1.6 steals while connecting on 1.2 shots from deep.
Those averages are skyrocketed totals compared to the production that he provided earlier in the year, but how logical is it to expect this run to continue? Personally, I am adding him in all standard settings, as there isn't too much downside if you can get around his poor shooting from the field.
Culver's minutes have seen an uptick, his aggression level on offense has reached a new level and he has been a steady provider in most statistical categories as of late. That is enough to warrant more than consideration, and it seems likely that his 35% ownership level on Yahoo won't last for much longer.
Friday, January 10th
Tim Hardaway Jr. Scores 22 On Friday 
Tim Hardaway Jr. posted 22 points against the Los Angeles Lakers on Friday night, adding seven rebounds, one assist, one steal and three three-pointers in 32 minutes.
The performance was Hardaway's first 20-point game since returning from a three-game absence because of a hamstring injury, but it has been a wild ride this season if you own the explosive scorer.
Hardaway Jr. can help squads that are in need of scoring and three-point help, but his lack of production in other areas makes him more of a deep league option than a standard choice because of those flaws.
More Fantasy Basketball Analysis