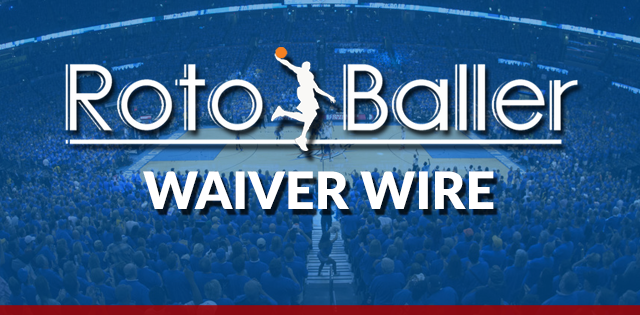 The waiver wire is where leagues are won and lost. The draft is long past and now your rosters feel completely different if you are even moderately active. Players come and go due to poor performances and/or injury all the time. Staying on top of your needs is essential to winning matchups and grinding your way to a championship.
Be mindful of some of the players on your roster as they may be off to slow starts, and it could take another week or two to see the return you expected when drafting them. Typically, you should be looking to drop those on the end of your bench who, even if productive, do not provide a real long-term outlook. Stay the course with the talent you drafted.
As a reminder for most leagues, it is crucial to plan ahead. Waiver wire adds, scheduling and player injuries are all things to consider. Make an effort to improve your team by maximizing your weekly adds and utilizing streamer spots via the waiver wire. Be wary of weekly streaming options and stay ahead of your opponents. Our staff at RotoBaller has great insight and daily columns on how to improve your squad and tips to make your team successful, so be sure to check them out! Now, let's get prepared for Week 6.
Editor's Note: Get any full-season NBA and DFS Premium Pass for 50% off. Our exclusive DFS tools, Lineup Optimizer and daily Premium DFS Research.
Sign Up Now!
Week 6 Schedule
4 Games - Heat, Magic, Pacers, Hornets, Grizzlies, Lakers, Nets, Spurs, Clippers, 76ers, Jazz, Bucks, Celtics, Hawks, Raptors, Wizards, Warriors, Pistons, Thunder, 

3 Games - Bulls, Pelicans, Mavs, Kings, Cavs, Knicks, Blazers, TWolves
2 Games - Nuggets, Rockets, Suns
Week 5 Standard Leagues - Waiver Wire Pickups
*Securing your categorical needs at this point is important, especially if you're playing in head-to-head leagues*
Columns are written based on H2H 9-category standard size leagues:
Alec Burks - SG - Golden State Warriors (47% owned)
Burks is printing points for the time being. With the Warriors decimated, he has emerged as one of their leading scorers alongside D'Angelo Russell and Glenn Robinson III. With at least 20 points in five of his past ten games, Burks cannot be ignored in most leagues. The field goal percentage is a bummer but that is a bullet you have to bite for this sort of production off the waiver wire. He shoots threes, grabs boards, provides assists, and doesn't turn it over much. Burks is a must-own in 10-plus teamers until further notice.
DeAndre Hunter - SF  - Atlanta Hawks (37% owned)
Hunter's been on a scoring tear of late and deserves acknowledgment. The field goal percentage might not be pretty but that is acceptable if you're punting it or can counter-balance it with the rest of your roster. Hunter's points, threes, and rebounds are valuable. He should continue to receive these shots until John Collins returns and takes up a large chunk of usage.
Jae Crowder - SF - Memphis Grizzlies (33% owned) 
Crowder's carved out a nice role in the Memphis offense as a tertiary scorer. He may not be efficient, but he gets shots up and that's all we're looking for here, especially given that so many are from three. He's brutal for both ratios and is not too clean with turnovers making him hard to stomach unless you've built around Russell Westbrook and Ben Simmons. However, with six rebounds, three assists, and a steal per game, you could look past that mess if need be. He's better off for deeper leagues but could be streamed in a 12-man.
Norman Powell - SG - Toronto Raptors (22% owned)
Powell is viable until Lowry returns as he has shown enough to warrant ownership since gaining a starting role. His minutes have jumped up to nearly 30 per game and he's seen an increase in shot opportunities and ball-handling duties. He provides points and threes with low turnovers, good ratios, and some rebounds/assists. Lowry may return by next week, meaning this is unfortunately temporary.
Rodney Hood - SG - Portland Trailblazers (17% owned)
Rodney Hood's shown enough upside in a handful of 20-point outings this season to become a must-own in 12-plus team leagues. He does not hurt ratios, hits threes, grabs steals and plays a ton of minutes. Although there is no category for minutes played, it is always good to see a player consistently on the floor because the opportunities will come their way on occasion, and if the player is clicking, that can result in a handful of great games that carry him into fantasy relevance. Hood's more mediocre performances are valuable too which makes him a great addition even in some shallower leagues.
Chris Boucher - C - Toronto Raptors (12% owned)

Boucher is viable until Ibaka's return to the lineup. Boucher's performances have been inconsistent, but with what he provides, it is worth the risk. A big man who could double-double, block shots, hit the occasional three and not hurt your ratios is valuable. He is worth looking at in deeper leagues, and should only be added as a streamer in shallower ones.
Donte Divincenzo - SF - Milwaukee Bucks (11% owned)
The primary beneficiary to Khris Middleton's absence. DD is doing some stuff now that he has a legit role in the offense with the ball in his hands. He's scoring double-digit points per game, grabbing boards, sprinkling in assists and actually racking up steals at a good rate. He's worth the streaming in shallow leagues and owning in 12-plus teamers until Middleton returns.
Shaquille Harrison - SF - Chicago Bulls (4% owned)
Until Otto Porter Jr returns, Shaq Harrison is an intriguing piece for deeper leagues. He displayed great multi-cat production in two of his past three games. If you can ignore his most recent busted outing, he looks like a sneaky piece that could help someone in a 14-plus team league. The stocks, rebounds and asssits look promising enough to keep an eye on him.
More Fantasy Basketball Analysis
By popular demand, RotoBaller has aggregated all of our fantasy basketball NBA waiver wire pickups into a running list of NBA waiver options, so bookmark the page and check back often for updates.