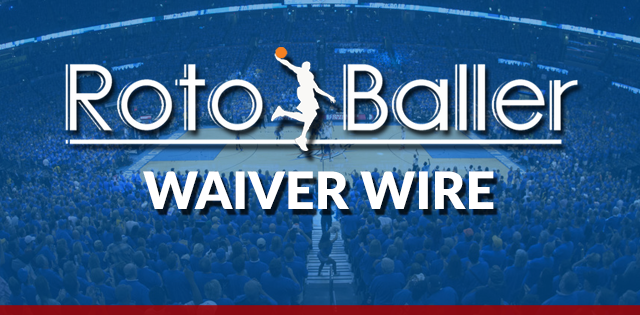 The waiver wire is where leagues are won and lost. The draft is long past and now your rosters feel completely different if you are even moderately active. Players come and go due to poor performances and/or injury all the time. Staying on top of your needs is essential to winning matchups and grinding your way to a championship.
Be mindful of some of the players on your roster as they may be off to slow starts, and it could take another week or two to see the return you expected when drafting them. Typically, you should be looking to drop those on the end of your bench who, even if productive, do not provide a real long-term outlook. Stay the course with the talent you drafted.
As a reminder for most leagues, it is crucial to plan ahead. Waiver wire adds, scheduling and player injuries are all things to consider. Make an effort to improve your team by maximizing your weekly adds and utilizing streamer spots via the waiver wire. Be wary of weekly streaming options and stay ahead of your opponents. Our staff at RotoBaller has great insight and daily columns on how to improve your squad and tips to make your team successful, so be sure to check them out! Now, let's get prepared for Week 4.
Editor's Note: Our friends at Monkey Knife Fight have the best, most fun, fastest growing DFS props game! It's super simple to play and to win real money. Just choose your NBA, NHL or PGA game, and make your picks! Get a 100% instant deposit bonus up to $50 using promo code: BALLER. That's $50 for free - don't miss out!
Play Now!
Week 5 Schedule
5 Games - Suns
4 Games - Pelicans, Hornets, Bucks, Mavs, Bulls, Knicks, Spurs, Blazers, Cavs, Clippers, Nets, Jazz, Rockets

3 Games - Heat, Lakers, TWolves, Nuggets, Celtics, 76ers, Kings, Wizards, Warriors, Raptors, Thunder, Suns, Hawks
2 Games - Pacers, Grizzlies, Magic
Week 5 Standard Leagues - Waiver Wire Pickups
*Securing your categorical needs at this point is important, especially if you're playing in head-to-head leagues*
Columns are written based on H2H 9-category standard size leagues:
Willie Cauley-Stein - C - Golden State Warriors (48% owned)
Willie Trill is getting plenty of run and is producing similarly to how he did in Sacramento. With the team's injuries piling and the Warriors tanking, he should remain heavily involved all season. As he gets more incorporated into whatever system is left in Golden State, his numbers should provide for a good fantasy season. As long as you are comfortable with a slight free throw percentage hit, he can be a great boost to field goal percentage, rebounds, blocks with little, to no turnovers. Cauley-Stein is a consistent provider who might end up as the best player on the team in a few weeks if their bad luck continues to linger.
Terrence Ross - SF - Orlando Magic (40% owned)

Terrence Ross is having a rough start to the season but has some decent upside. Scoring, threes, and steals are what he provides with a FG hit involved. His three-point percentage is significantly lower than his career average, and although it may not revert all the way back, there should be a decent regression to the mean over the next few weeks. Ross is a valuable player who was ranked in the top-100 last season. The Magic's offensive woes are unfortunate but could turn with a hot streak from Ross who is basically a sparkplug off the bench. He's been better of late, and providing threes, points, steals and a good FT percentage.
Maximilian Kleber - PF - Dallas Mavericks (40% owned)
Maxi Kleber's remained an integral part of Dallas's rotation even with the addition of Kristaps Porzinigis and the return of Dwight Powell. Kleber's ability to defend and shoot well from the perimeter has anchored him into nearly thirty minutes per game. Kleber is nothing more than a role player in fantasy and reality but those are necessary to win. He can provide threes and blocks at a good rate while not hurting turnovers or ratios. His scoring and rebounding have improved from last season and as long as he does not lose playing time, he should remain a fantasy asset in non-shallow leagues.
Kenrich Williams - SF - New Orleans Pelicans (20% owned)
Brandon Ingram's knee is flaring up, Lonzo Ball has a hip issue, and Derrick Favors is hurt too. The Pelicans are a dumpster-fire when it comes to health at the moment, and Kenrich is the only constant. He's been available all year and has seen a jump in minutes/production recently. Threes, rebounds, steals and a little bit of scoring/assists are what should be expected. He is not flashy, and comes with an ugly FT percentage (albeit on low volume) but could be valuable if Ingram or Ball are set to miss major time soon. If everyone on the roster is healthy, Williams is useless, however, that is unlikely at the moment. Consider Williams a solid short-term add in deeper leagues.
Langston Galloway - PG  - Detroit Pistons (13% owned)
What is going on in Detroit? This team is a mess and for some odd reason, Langston Galloway has found himself fantasy-relevant. With Reggie Jackson out for the foreseeable future, Galloway has taken on a major role on this roster. While the production may be fugazi, we must acknowledge it given that it's been over two weeks now that he's provided value. Galloway is worth taking a shot on if you need scoring, threes and a free throw percentage bump. He does not seem to be egregiously hurting any one category but that could change in an instant. Add him for now and drop at the first sign of struggle.
Troy Brown - SF - Washington Wizards (11% owned)
Troy Brown's been fairly productive since his return from a preseason injury. Brown missed three games to start the season and has seen his minutes fluctuate in the games since. As we get deeper into the year, with Brown's minutes stabilizing, he could prove a reliable wing for fantasy purposes. He can do a little bit of everything outside of blocks while not hurting you anywhere. Much like a poor man's Otto Porter Jr. he will give you threes and steals with points and rebounds mixed in.
Sterling Brown - SG - Milwaukee Bucks (3% owned) 
Brown's been a productive player in limited playtime this season. Although he busted in the Bucks' first game sans Khris Middleton, Brown showed a glimpse of what could be for the next month on Saturday. His stat line was nothing glamorous, but 10 points, six rebounds, and four steals with two threes and no turnovers is something to work with. The assists should not be expected on a regular basis but the scoring, rebound, threes, and steals (which he's provided in prior outings) should be. Brown is viable in 12-plus team leagues and could be a sneaky grab with a four-game week ahead.
Garrett Temple - SG - Brooklyn Nets (3% owned)
Caris Levert's injury has opened up minutes/usage for Temple. Although Temple is not the most productive player, he could see a value bump over the next few weeks as LeVert works his way back. Temple's only viable for punt FG builds. his value derives from threes and steals. Ownership should be left to those in 14-plus team leagues because of his long track record of mediocrity.
More Fantasy Basketball Analysis
By popular demand, RotoBaller has aggregated all of our fantasy basketball NBA waiver wire pickups into a running list of NBA waiver options, so bookmark the page and check back often for updates.