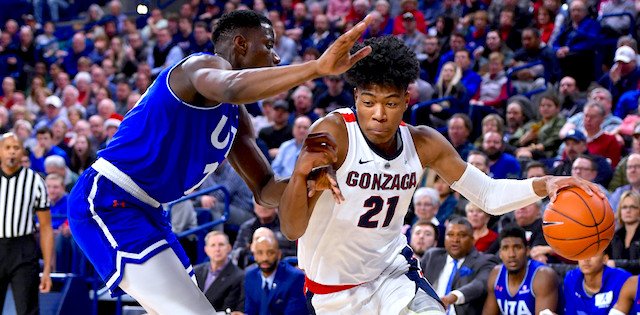 What Appears In This Article?
hide
Welcome to Rotation Watch! Each week this article will break down who is gaining and who is losing minutes around the NBA. Fantasy managers want the players that are getting the opportunity to shine, not the ones who are sitting on the bench and watching from the sidelines.
The fantasy basketball season is in full swing now. Fantasy football is winding down and fantasy baseball prep is still a month or two away. So that means it's all eyes on the hardwood for the next couple of months. Well for those of you that have been gone for a while, welcome back! When you last checked in on basketball, the Golden State Warriors were still a considerable dynasty and must-haves in all formats and the Washington Wizards were a wasteland devoid of talent. Well, times are changing. This week's article recommends not one, but TWO Wizards players while dropping a former fantasy staple.
So without further ado, let's start searching those box scores from December 1st to December 8th and look for those hidden gems that are grabbing some minutes to help your fantasy basketball team.
Featured Promo: Get any full-season NBA Premium Pass for 50% off. Win big with our exclusive DFS lineup tools, matchup rating projections, powerful Research Station, Lineup Optimizer, daily DFS lineup picks/cheat sheets and more!
Go Premium, Win More!
NBA Playing Time Changes
Spencer Dinwiddie (PG, SG - Brooklyn Nets)
Season: 29.7 Minutes per Game
Week 7: 33.7 Minutes per Game
Kyrie Irving is still dealing with a nagging shoulder injury that has cost him over a dozen games this season, but Spencer Dinwiddie owners are not complaining one bit. Dinwiddie has scored at least 20 points in 10 of the 12 games since he returned to the starting lineup for the Brooklyn Nets.
Dinwiddie is the primary offensive option for the Nets right now and in Week 7 he ramped it up with 33.7 minutes per game. He averaged 20.3 points, 8.3 assists, 4.0 rebounds, 1.3 steals, and 1.0 made threes. On ESPN's Player Rater he is ranked as the seventh-best point guard but is inexplicably not owned in 100% of leagues.
If this applies to your league, fix this error immediately and pick up Dinwiddie. There are reports that Iriving is close to returning, but until you see him step on the court, those reports are just that, reports.
RJ Barrett (SG, SF - New York Knicks) 
Season: 32.2 Minutes per Game
Week 7: 26.0 Minutes per Game
If the New York Knicks aren't the most dysfunctional franchise in the four major sports, then they must be pretty close. They hold that title in the NBA. They fired their head coach, David Fizdale, after less than two seasons in charge of a rebuilding project and are just floundering in NBA purgatory.
Unfortunately, this seems to be directly affecting the 2019 lottery pick, RJ Barrett. He hasn't had a smooth transition to the NBA level by any means and this latest development further muddies the waters if his rookie season.
In Week 7, his development seemed to take a step back as he played six minutes per game below his season average and that made his counting stats take a significant hit. In the three games, Barret averaged 7.7 points, 4.0 rebounds, 3.0 assists, and 0.7 made threes per game. Those were all below his season averages. Watch him over the next couple of weeks because things could get ugly for the rookie, and your fantasy team, in New York.
Rui Hachimura (SF, PF - Washington Wizards)
Season: 29.5 Minutes per Game
Week 7: 39.5 Minutes per Game
With great injury, comes great opportunity. I think Uncle Ben said that in an alternate version of the Spiderman comics. Don't check that though. Thomas Bryant was diagnosed with a stress reaction in his foot during Week 7 and it has thrust Rui Hachimura into the spotlight.
The 2019 lottery pick saw his minutes balloon to 39.5 per game in Week 7 and his raw numbers followed suit. In his three games, Hachimura averaged 18.3 points, 6.5 rebounds, and 2.5 assists. Those are very usable numbers for fantasy basketball managers.
He is currently owned in less than 50% of leagues, but with Bryant sidelined for at least three weeks until he is reevaluated expect Hachimura to continue this production and become an early Christmas present for the fantasy managers that scoop him up.
Davis Bertans (PF - Washington Wizards)
Season: 28.8 Minutes per Game
Week 7: 34.5 Minutes per Game
Your eyes are not deceiving you. You do not need to find medical attention. This is the second Washington Wizards player of this week's article. Who had more three-pointers made in Week 7, James Harden or Davis Bertans? Ding ding ding! Davis Bertans is correct. He drained 16 threes compared to Harden's 10. That is insane.
Bertans, like Rui Hachimura, is benefiting instantly and enormously with Thomas Bryant sidelined. During Week 7, Bertans scored 22.5 points per game, which is seven points more than his season average of 14.9 points per game. That can be attributed directly to his three-point shot. He has hit at least four three-pointers in five straight games and 10 of his last 13.
Somehow he is only owned in 27.7% of ESPN leagues, and if your league is one of the 72.3% that is asleep at the wheel you should call shotgun and ride the Davis Bertans express to great fantasy production through the holiday season.
Draymond Green (PF, C - Golden State Warriors)
Season: 27.8 Minutes per Game
Week 7: 27.5 Minutes per Game
The final player of Week 8's article brings sadness. Draymond Green used to be a staple of fantasy basketball championship rosters. His all-round contributions to the box score were never flashy, but they were the foundation of which many a championship team was built.
Now, in 2019, those days seem like a lifetime ago. Green cannot seem to find a rhythm and his game log this season is littered with DNPs. His defensive numbers are still strong and had 3.5 steals per game in Week 7, but he cannot create his own offense. He averaged 7.0 points, 3.5 rebounds, and 5.5 assists during his 27.5 minutes per game in Week 7.
It's painful to say, but Draymond Green is an easy cut candidate in standard leagues if you need to make room for a hot waiver wire pick up. Until he regains his running mates, Stephen Curry and Klay Thompson, Green will be flailing on a team that isn't going anywhere this season.
More Fantasy Basketball Analysis